Beautiful DIY Bookshelves that you can hang on any wall! Make these quick and easy floating bookshelves for your reading nook!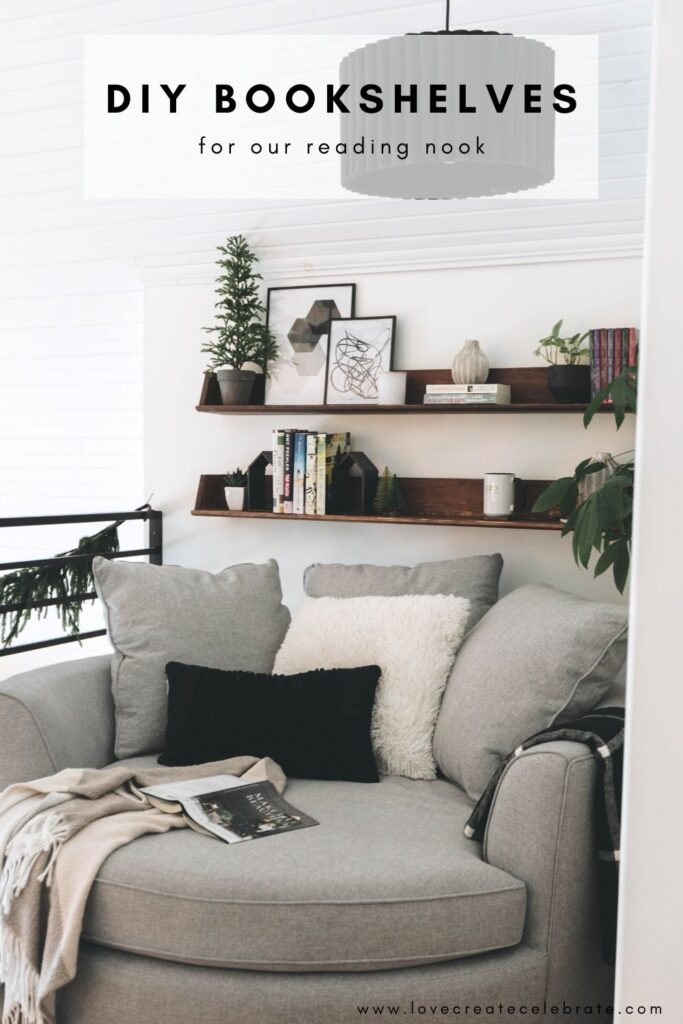 We're making a reading nook! We're putting this reading nook together one project as a time, and today we're tackling some DIY bookshelves! We bought this big oversized chair that fits perfectly into the nook. Now we're looking for a way to add some functional storage and idea number one was some floating DIY bookshelves behind the chair.
*This post was sponsored by Kreg and Build Something, and may contain affiliate links. As always, opinions are 100% my own. For more information, please see my disclosure page.*
If this is going to be a reading nook, it needs to have a few spots to rest your books and your coffee mug (or glass of wine!).
I designed some shelves to sit above the chair that I thought would blend nicely into the space. High enough that no one hits their head on them, but low enough that it's easy to pick up and put down your coffee.
Pocket-Hole Joinery
Almost every one our builds includes pocket hole joinery, including this one! If you've never heard of pocket holes, it's basically a way to have your wood pieces attach by drilling into the board through an angled hole. It allows you to hide your joinery and gives you a strong connection between the two pieces.
We have Kreg's K5 Master System and we love it. I can honestly say that we use it on almost all of our builds because it's so practical (& affordable!).
On this build, we use the pocket hole jig to attach the vertical and horizontal shelf boards. It only took a few minutes to add all of the pocket holes and then we had a beautiful complete finish.
PLUS the pocket hole jig is on sale right now for the holiday season! Grab one while you still can – you absolutely won't regret having one for your future builds!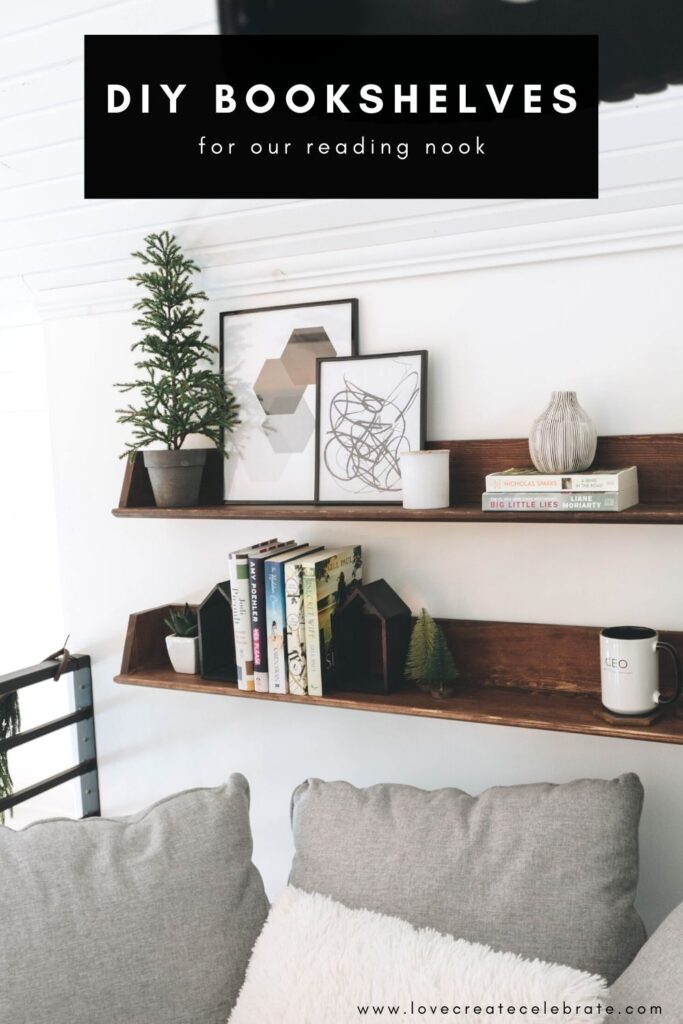 How to Build Your DIY Bookshelves
Whether you have some woodworking skills or you're a beginner woodworker, this will be an easy build for you! It's a couple pieces of wood, cut to size, and attached with pocket holes.
The more complicated parts of the build are the nicer finishes, such as routering (rounding) the edges of the boards, and building the angled side pieces.
If you have the tools to do the routered edges, just sand them briefly to round them and don't worry about that specific part of the design. Same for the angle measurements – straight cut side pieces will look amazing too!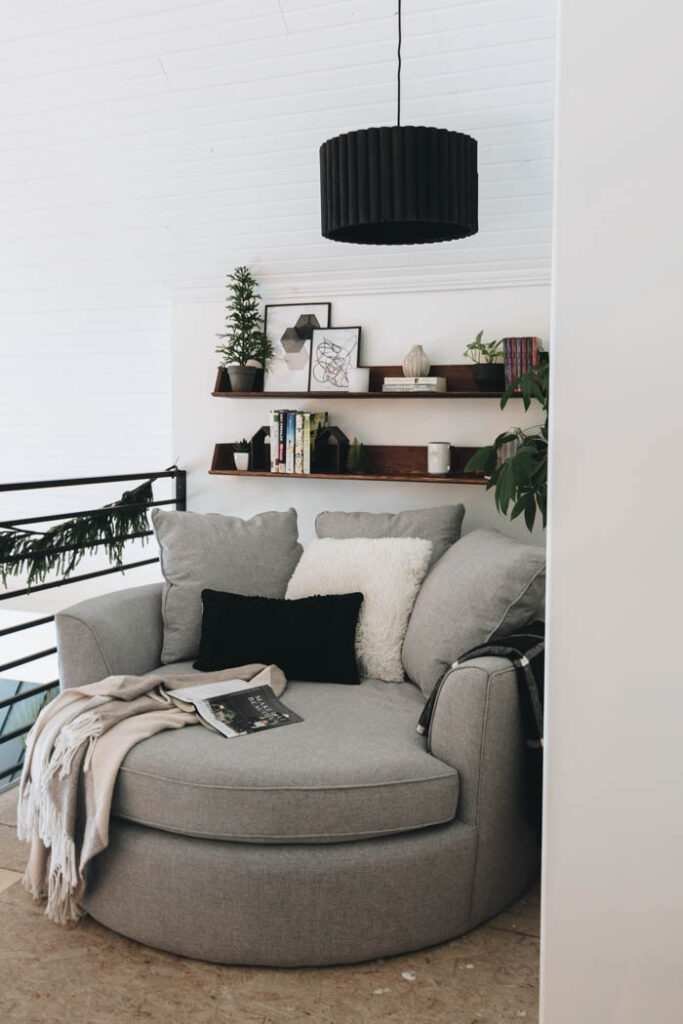 To build our DIY bookshelves, we teamed up with Build Something to share the full build plans on their site.
If you've never heard of BuildSomething.com it is a website full of great build plans, that are available for FREE.
GRAB THE FREE BOOKSHELF PLANS HERE!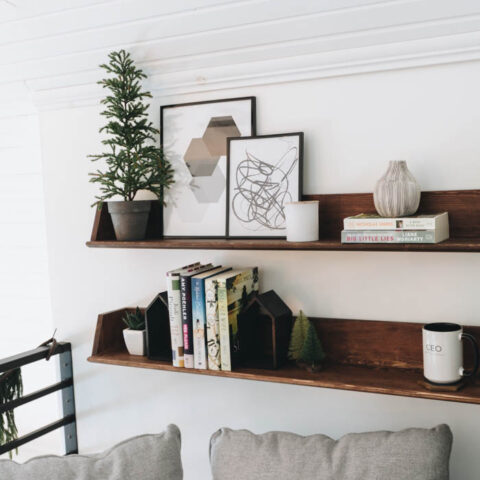 DIY Bookshelves
Beautiful DIY Bookshelves that you can hang on any wall! Make these quick and easy floating bookshelves for your reading nook!
Materials
4 1x8x8 boards
Pocket hole plugs
Pocket hole screws
Wood Glue
Stain
Varnish
Tools
Table Saw
Router Table
Mitre Saw
Sander
Pocket Hole Jig
Drill/Impact
Clamps
Brad Nailer
Instructions
Cut boards to size
Drill Pocket Holes
Add routered edges to boards
Add keyholes to back (for mounting to wall)
Sand wood
Assemble shelves
Stain shelves
Varnish shelves
Notes
For Build Plans and further instructions, see Build Something plans linked in post.
Recommended Products
As an Amazon Associate and member of other affiliate programs, I earn from qualifying purchases.
If you're looking for another great floating shelf idea, we made these shelves for less then $40 ($80 if you include the desktop!).