It's that time of year again where we share our project goal list! 2019 was an amazing year and will be hard to beat. Here's what we have planned for 2020 and we're very excited to be sharing it with you!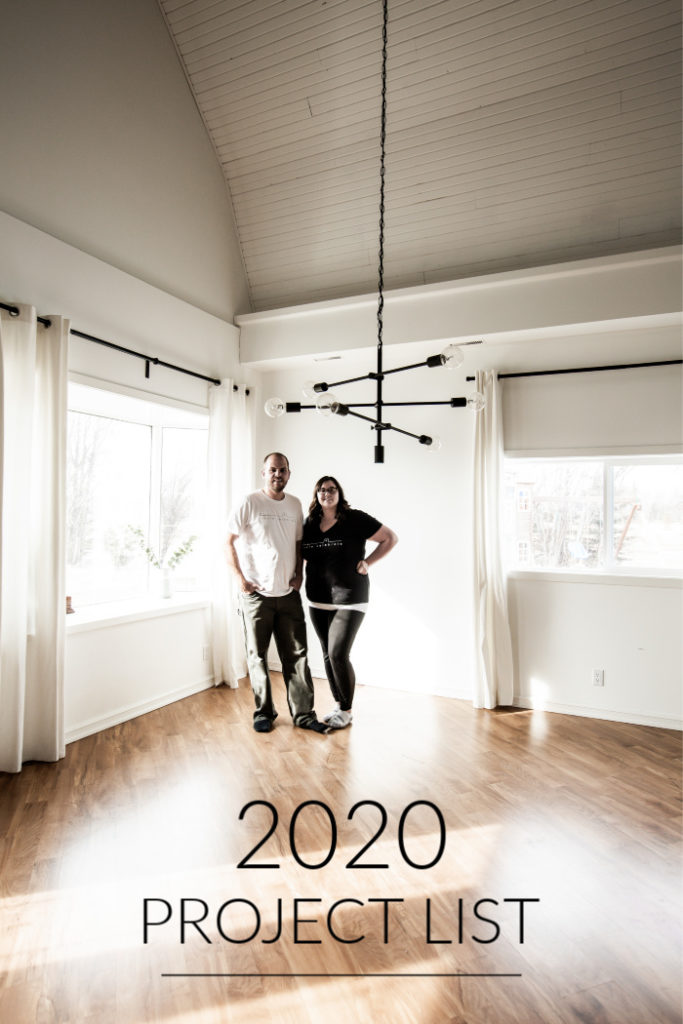 Happy New Year everyone!
I know some of you have been waiting for this post! We've had a sloooow start to the new year over here, and we're finally getting motivated to share some of our new reno plans!
MAJOR PROJECTS WE HAVE PLANNED
STAIRWAY – We are FINALLY going to tackle our stairway this winter! It's one of the first major projects that we are going to take on, and when I say major, I really mean MAJOR. It will literally take us months to tackle this space, because we are removing all of the old flooring, putting in new flooring (and flooring stairs is a huge job!), removing the railing, putting in a new railing, and styling the new space. It's going to make a massive difference, and it's going to look unbelievable, but it's a huge, time-consuming project.
LAUNDRY ROOM – Ok guys, this is another BIG one. If you've ever seen our laundry room, it's a huge mess. The ceiling is exposed pipes and vents, the walls don't have drywall, and the one window we have is covered up.
If all of that doesn't make this renovation complicated enough, we also have to find a way to incorporate a sink, fridge, and storage for cleaning supplies and "extras". OH! And we need to find a pretty way to hide the furnace and water heater. Sounds impossible… but we're tackling it this year and bringing you along for the ride!
THE SECRET PLACE – We have a tiny little space under the stairs that our kids love to play in. Think Harry Potter's room under the stairs. Our girls like to call it "the secret place", and all three of our kids love playing in it. Technically it isn't really a priority, but our kids are growing up! Our oldest just turned six, and we really want to create a fun space for all three of the kids before they are too old to enjoy it. So the secret place is on the list.
OUR BEDROOM – Alright guys, you saw that in 2019 we gave up our master bedroom to our three children to share. That left us in a tiny kids room that is barely big enough for our queen bed frame (there goes my dream of a king…. lol). The space is small, the closet is teeny, and there's zero character in the room right now.
In 2020 we want to expand one of the walls to open up the space – we don't have much room to steal, but we'll take what we can get! We want to expand the closet (possibly with built-ins?) so that we actually have space for all of our clothes (!!!). And I want to add some character. I haven't figure out what exactly that means yet… art, paint, texture?? Stay tuned!
SMALLER PROJECTS WE HAVE PLANNED
OUTDOOR SPACES – If you think "outdoor spaces" sounds vague, it's because it is, lol. We know that we want to spend some time upgrading our outdoor space this summer, but we don't know exactly what that will look like yet. Some of our ideas include a fire pit area, a pergola, an outdoor bar, our vegetable garden, new flower garden bed, and a basketball court (this is my priority, lol. Not Russel's!)
HALLWAY REVAMP – This project will be fun. Our hallway upgrades have been slow and gradual. This year we finally put in new hallway lights that I LOVE, and it's time to upgrade the rest of this forgotten space!
LIVING ROOM UPGRADES – Our living room was the FIRST thing that we tackled when we moved into this home. I absolutely loved the transformation, but now that we've been living here for a little while, I'm itching for some change.
I'm thinking about painting the back wall, adding shelves, moving/switching the sconces, and possibly even changing out a few furniture pieces.
BUILD A NEW TABLE – Ok, don't throw anything at me for this one. We built a DIY live edge table last year that I love. Absolutely LOVE. Buuuuuut someone asked us if they could buy it. Actually, a couple of people did! And Russel has always wanted to build his own hardwood table, so we might be switching out our tables once again if all of the stars align.
FURNITURE FLIPS – Furniture flips are always super fun projects for me. We actually have a few pieces of furniture sitting in our shop right now that we purchased last year, and this year we want to take some time to totally transform them into something modern and beautiful.
THINGS WE WANT TO DO, BUT MAY NOT GET TO
RV RENOVATION – This one hurts. It hits me right in the gut. I'm itching to renovate our new-to-us RV. It's outdated, it needs work, and it's a super exciting project! But we've had a few things come up recently, including work outside our home that has to take priority. We could do the work in the summer, but honestly, we'd rather be using it in the summer. So if we get to it at all this year, it will likely be next winter. *fingers crossed though*
BACK PATIO DOORS and WINDOWS – We really need to tackle this. Reaaaally need to. Our back patio doors are rotting (they were originally bought used), and the windows along that wall need replacing. One of them has a huge crack all the way through it.
But replacing doors and windows is expensive, and great sponsors for those project are hard to come by, it's it's probably going to stay on hold until we can afford the upgrade.
The other thing that makes it challenging is that if are are going to change the windows, we think we want to remove the bay windows, possibly add more windows, and change the sizes. All of these changes add extra work to the interior and exterior of the house… so we're adding scope and still have no money, lol.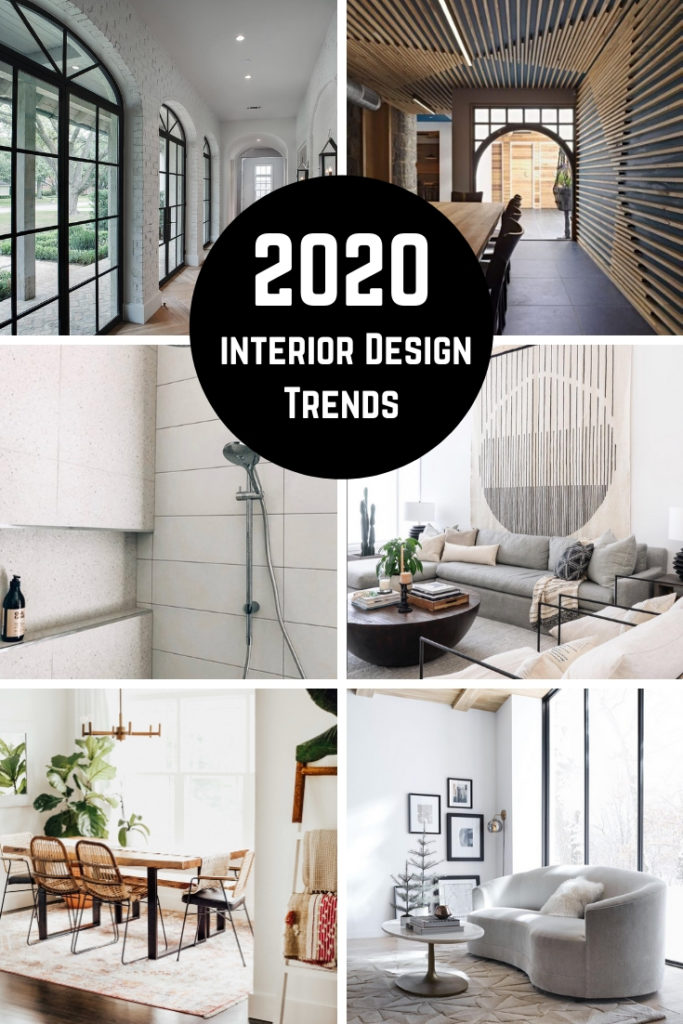 We've made some predictions about 2020 Interior Design Trends! Check them out and let us know your thoughts on these up and coming design ideas!