Hey hey! It's a new decade! I'm kicking off 2020 with one of my favourite posts – all about interior design trends. I spend my days delving into the design world and digging through inspiring Instagram accounts. I love seeing where the world is heading in the next year, and I love sharing my thoughts with everyone.
This is by no means an exhaustive list, but I thought I would highlight a few of the changes that I see coming. Some that I'm on board for 100%, some that I wish I could be on board for (we could use a new couch, right Russ??), and some that I'm seeing, but won't necessarily be diving into quite yet.
2020 Interior Design Trends
Here are a few of the 2019 interior design trends that I'm seeing come to life.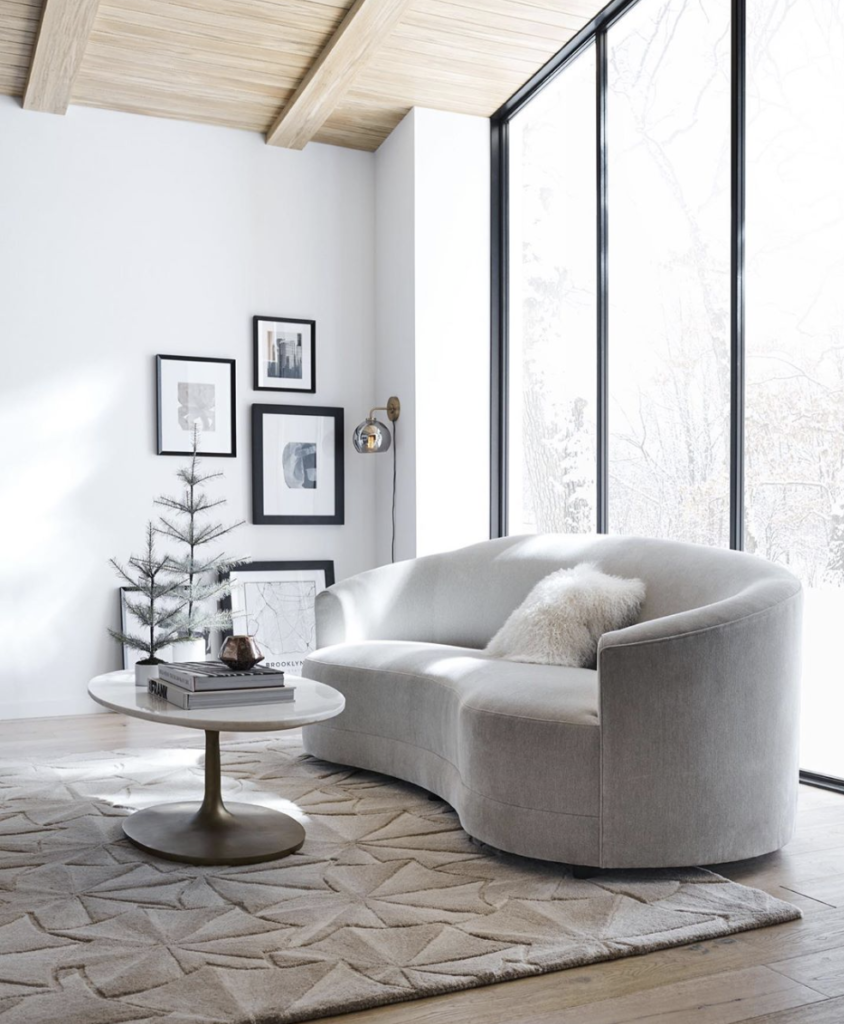 Curved Furniture
To be honest, I saw this trend growing throughout the year, but I feel like it's just starting to move into the more mainstream homes now. Even in modern design we are seeing less straight, stark edges, and more soft curves.
Couches, chairs and headboards with beautiful channeling, tables, mirrors, upholstered walls with soft edges. All these curves are leading to softer environments that are beckoning us to come and relax.
One Big Canvas, Not Just 5 Walls
Last year, I predicted that people will be taking advantage of that 5th wall (a.k.a. the ceiling) a little bit more. This year, I'm predicting that we see more and more designers ignore the corners as boundaries for their designs and feature walls.
I imagine paint and wallpaper moving between walls and ceilings. Wall treatments moving around corners and onto that 5th wall. The room is one big canvas without the boundaries of walls.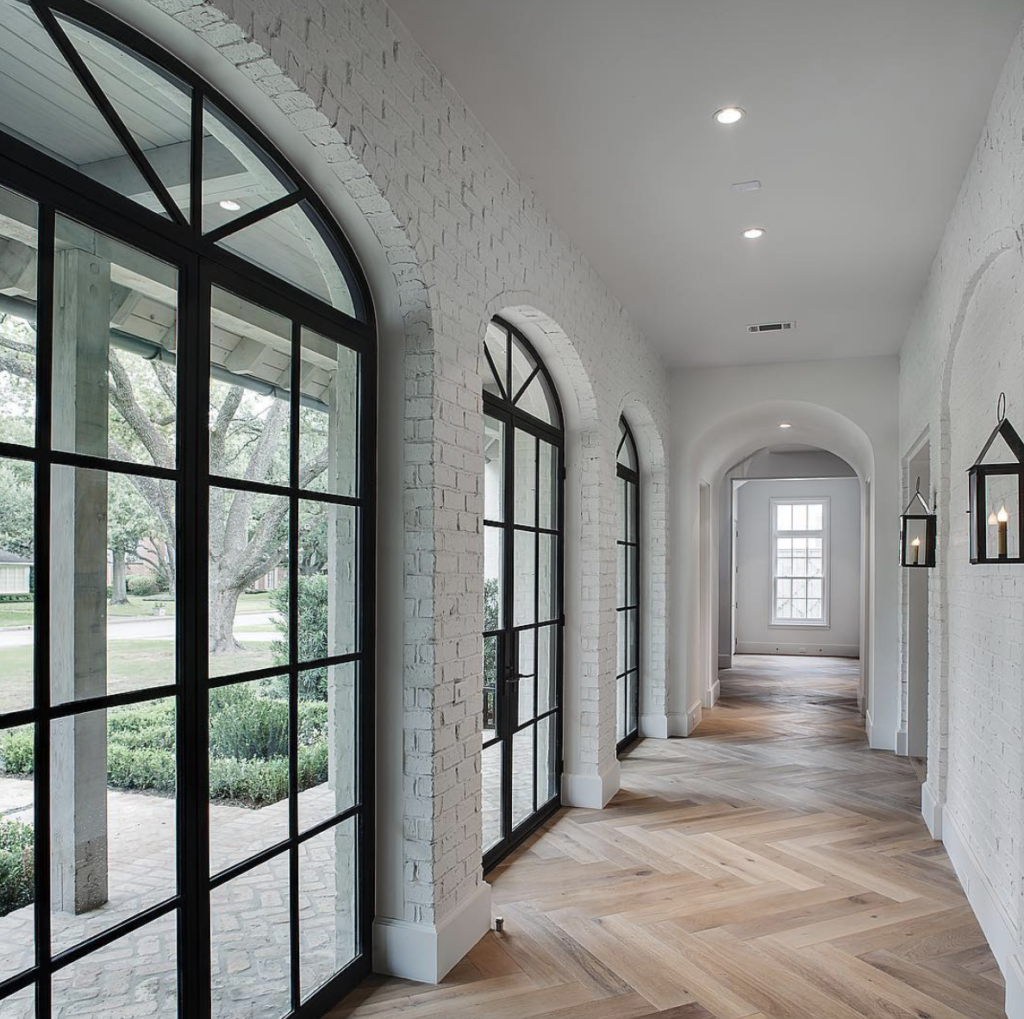 Arches Galore
Another trend I've been noticing all over Pinterest and the blogosphere? Arches! this kind of ties in with the trend towards curves and softness that we're seeing, but arches are popping up everywhere!
We're seeing it built right into the structure of homes, with hallways and front doors, but also in interior design, from arches fireplaces, to mirrors, and headboards. Lucky for us, we already have arches built into our hallways and we LOVE the architectural detail. We're hoping to do some work on both of our hallways (upstairs and downstairs) this year, so you may start to see those arches a little bit more this year!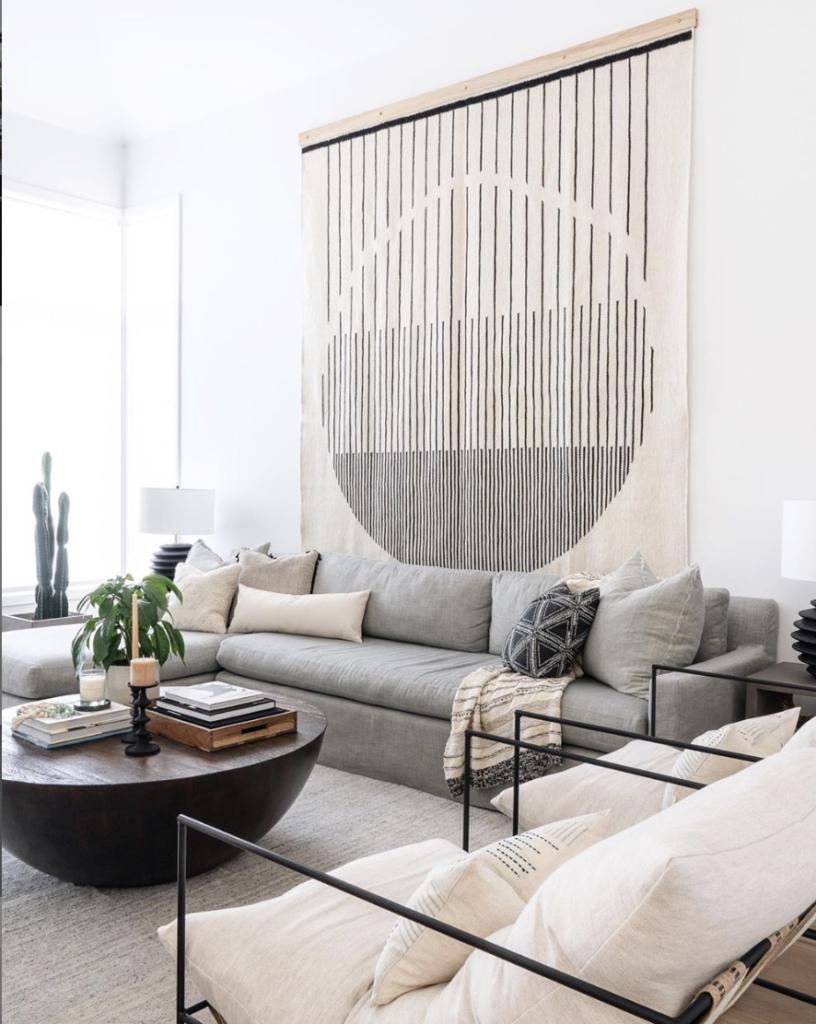 More Texture on the Walls
Is it just me, or are people getting bored of plain old prints and frames on the walls? Wall textiles and sculptures have always been around, but they seem to be on the rise, popping into more and more homes.
Beautiful weavings are on walls in every home. Huge, large-scale textiles and blankets taking up walls to replace the gallery walls full of smaller frames, and textured art (like the pieces popping up throughout West Elm and Anthropologie) that are filling up every day homes. It's bringing new dimension into the home, and I'm here for it!
Natural Fibres
There is a definite shift towards seeing more natural fibres in homes. I think it aligns with the general trend towards more eco-friendly homes and zero-waste lifestyles. We're just craving the warmth of more natural elements in our homes.
I'm talking about wicker, rattan, jute, etc. We are already seeing it expand from simple home decor (baskets and ottomans) to beautiful movable furnishings, light fixtures, and permanent furniture.
The Comeback of Terrazzo
Terrazzo isn't a new product, but it's definitely making a comeback in 2020. It's a low maintenance material made from other types of stone (e.g. quartz, marble, glass, etc.) and held together by resin or concrete. It's often used in tiles, flooring, and countertops.
It comes in bold patterns (which I am personally not a fan of…), and subtle patterns, and has weaved it's way into a ton of simple faux DIY projects too (like my Terrazzo Easter eggs from last year). Mark my words, you're going to see more and more of it!
That's all I have for this year! What do you guys think? Are you noticing any of the same trends for 2020? Or is there anything I missed that you think it on the rise? I'd love to hear!
If you're stuck with your decorating, check out this post on how to choose your own Whole Home Colour Palette!