Grab your FREE 2020 Calendar Printable. LOVE the design of these beautiful, modern calendars! Grab yours and stay organized this year!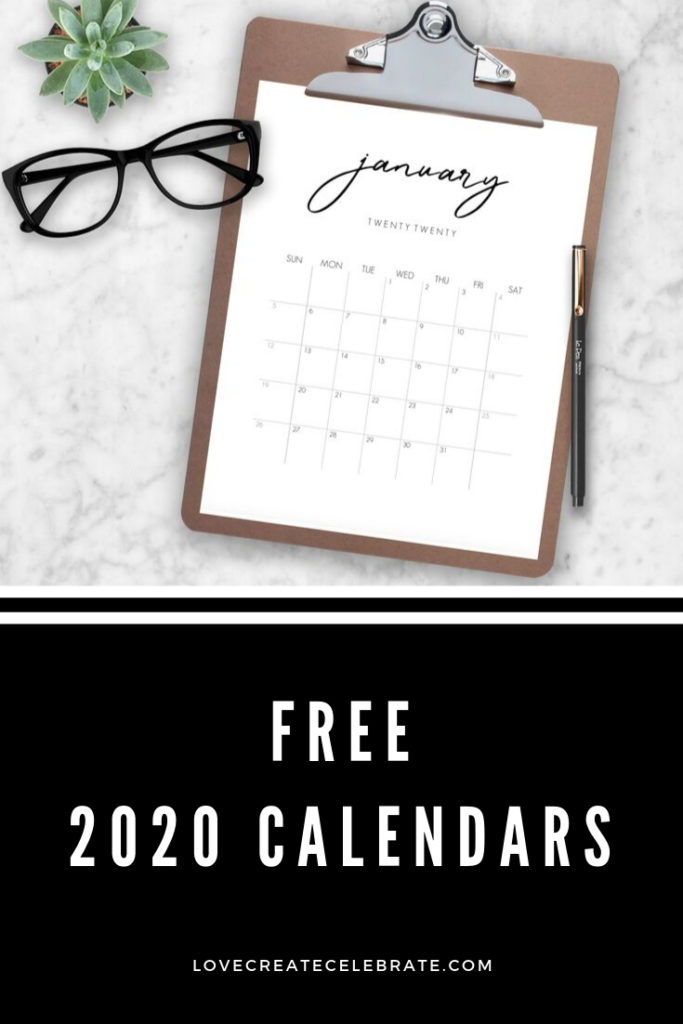 Another year, another calendar! Can you believe that we are headed into 2020?! I honestly still cannot! The 2019 year is flying by in a whirlwind, but I'm excited for what 2020 has to offer! I know we all have calendars and reminders on our phones these days, but there is just something about having a physical calendar to print off and hang in the office. I've had mine hanging in my home office since the day it was renovated, and I look at it almost daily! So I'm back offering a FREE 2020 Calendar printable for all of the other calendar lovers out there!
When you download this free printable, you get all 12 months of calendars in one PDF document. You can save it and print a new one off every month, or print it all off at once!
Or if you're anything like me… you can forget where you downloaded and saved it, and come back to sign up again, lol.
I love having a vertical hanging calendar! Readers have sent me pictures of there calendars hanging in cubicles, sitting in the front of a binder, and hanging on a clipboard, like I've done in my home office. And it always looks amazing!
I can't wait to hear what you think of the minimal design this year! If you're putting up pictures on Instagram, don't forget to tag me so that I can see how you're using your calendar! Tag @love_create_celebrate so that we can check it out!
Grab your free 2020 Calendar Printable
This calendar is available for FREE to all of my e-mail subscribers! As soon as you sign up with your name and e-mail address, you'll get the calendars delivered to your inbox!
Sign up here for your FREE calendar:
Thank you so much for joining our amazing community!
Like Last Year's Calendar Design?
Did you like last year's design better? Every year I offer a new free Calendar for download. I love changing the designs and trying something new with the physical boxes. Buuuut, I always get a few people asking me if the previous design is also available, so not it is!
If you prefer last year's calendar, it's available to download for less than $5 HERE. As soon as you order, it will be delivered to your inbox!
Want a 2021 Version of the FREE calendar?
You're in luck! We have a new design available for 2021 that you can find right here!
If you would like the same calendar, it's available to download for less than $5 right here as well!