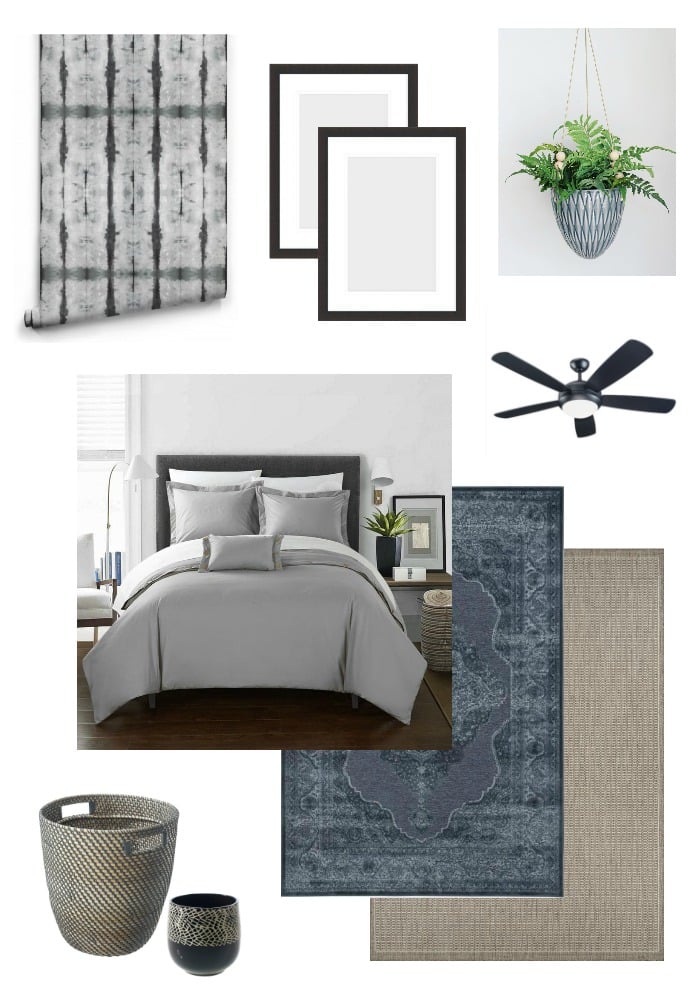 Hey everyone! We are officially past the half-way point in this Master Bedroom Project, and we definitely hit a few road bumps this week. This is week four of our 6 week design challenge. Linda at Calling it Home challenges us to completely redesign a room in our homes in just six weeks, and I'm really wondering if we are going to have it done this time around!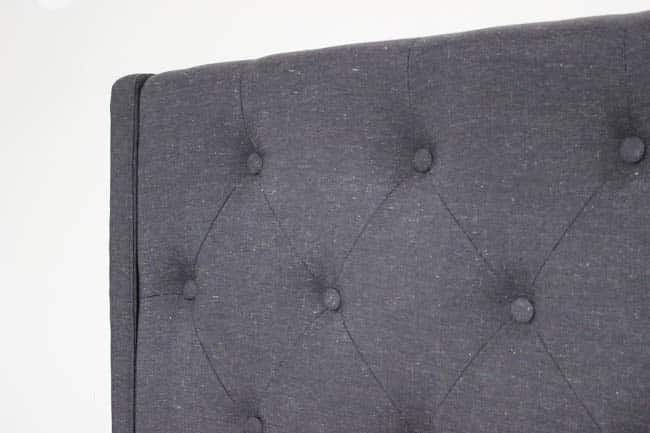 We started the week by assembling our new headboard. We've had this headboard waiting for ages… I mean months and months. So there's no going back! I needed to design the space around this headboard cause it was staying! But I love the colour, and I love the tufted back and the studs, so it should't be a problem.
The next thing we did was install our brand new matte black light fixture . My husband insisted that he could not live without a ceiling fan, so we had to compromise, but I think I still won. The fan looks so sleek.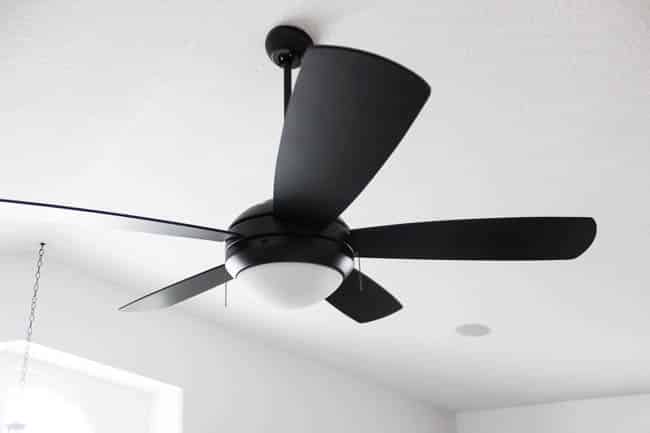 Then we hung my sliding barn door back up, I really needed it in place to start getting a full vision for the space.
Then I finished ripping down all of the wallpaper and washing down the walls. Washing down the walls was really important, because even though the wallpaper came off easily with no problems, the glue was still there.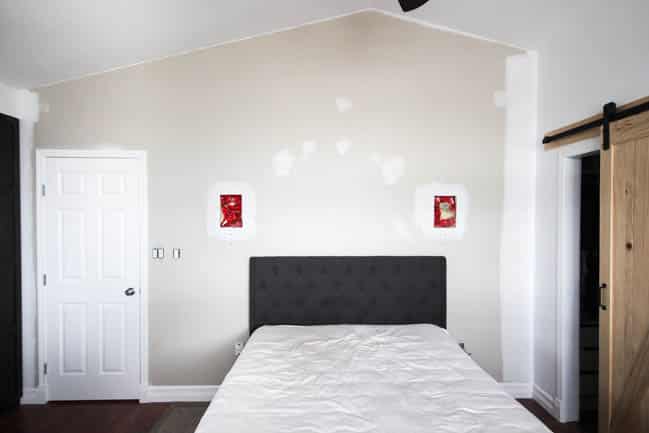 And this is what happens when toddlers catch you taking pictures…. lol.
And then we put up some new wallpaper!! I was SO excited to get this stuff up and see how it looked in the space.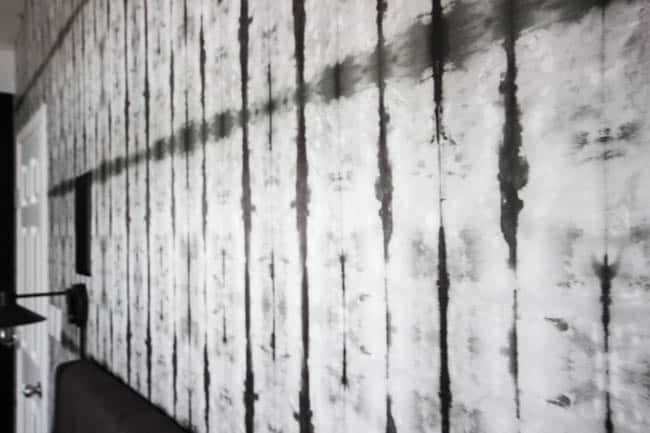 I LOVE the pattern, but looking at it in a bland space like this… it's giving me teenage boy bedroom vibes. Instead of romance and candles, I'm seeing visions of dirty socks and empty pizza boxes on the floor.
So I'm trying to decide how to fix the problem. Originally I was going to put my two original photos back on the wall, but I think the pattern is so bold with my vaulted ceiling that I need to add something more to fill the space. Also, I was thinking of painting my bedside tables black, but I think that will add to the teenager vibes instead of take away.
I'm hoping to fix this by adding:
1. Feminine accents
2. Colour
3. Texture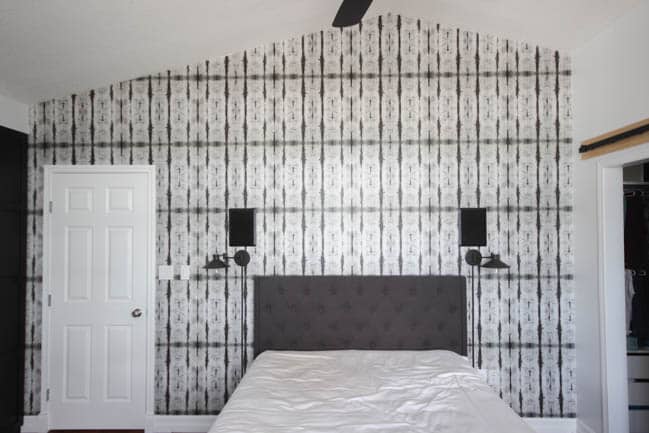 Here are my questions for you…
Should I paint my side tables:
1. Navy Blue
2. White
3. Maroon
4. Find new wooden ones
5. Other – suggestions please!
What do we think about adding a gallery wall something like this (below). Please excuse my rough rendition. I think that doing this would add height and bring your eye up to that peak in our vaulted ceiling. I'm thinking of DIYing a large canvas and some small pieces to add colour (navy and maroon mostly), as well as a few wooden frames, but still keeping a lot of negative white space with white frames, mats, and empty space.
Is this idea:
1. Unnecessary
2. Perfect
3. Ok, but I have a better idea (please share!)
Or I could tear it down and paint the wall a dark colour?
Please share!!
In the meantime… I'll just sit and stare at my new bathroom. If you haven't popped over, make sure you go check out the finished space!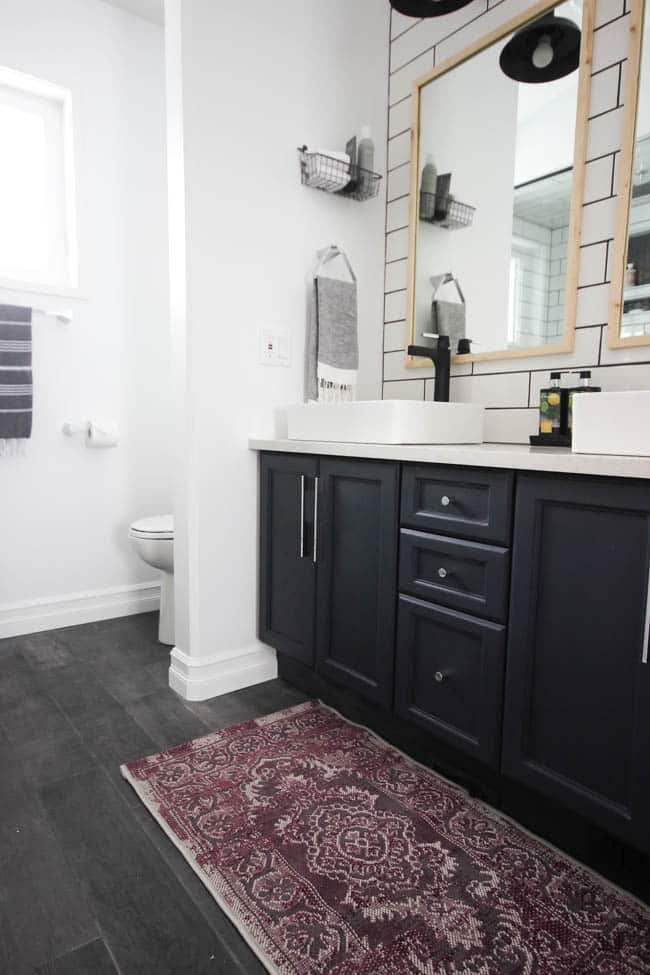 I've updated our 6 week to-do list so that you can keep up with our progress:
Paint walls
Strip old wallpaper
Put up new wallpaper
Buy rugs
Get new duvet
Get new fan
DIY some throw pillows
Strip and paint bedside tables
DIY new handles for bedside drawers
DIY artwork
Print photos for frames
Strip fireplace tile
Put up fireplace brick
Refinish fireplace mantel
Create Gallery Wall
Add some colour (whatever that means!)
Well… instead of knocking off a whole ton from my list, I added to it. Significantly…. lol. The hubby is outta town for a few days, which will either make me incredibly lazy, or super productive! Here's hoping I get enough done!
Wayfair / Plush Rugs / Milton & King
Afloral / Fusion Mineral Paint
Click HERE to see more great One Room Challenge Participants!