Looking for modern home office design ideas? These plans for a small office space, including IKEA cabinets, are both affordable and beautiful!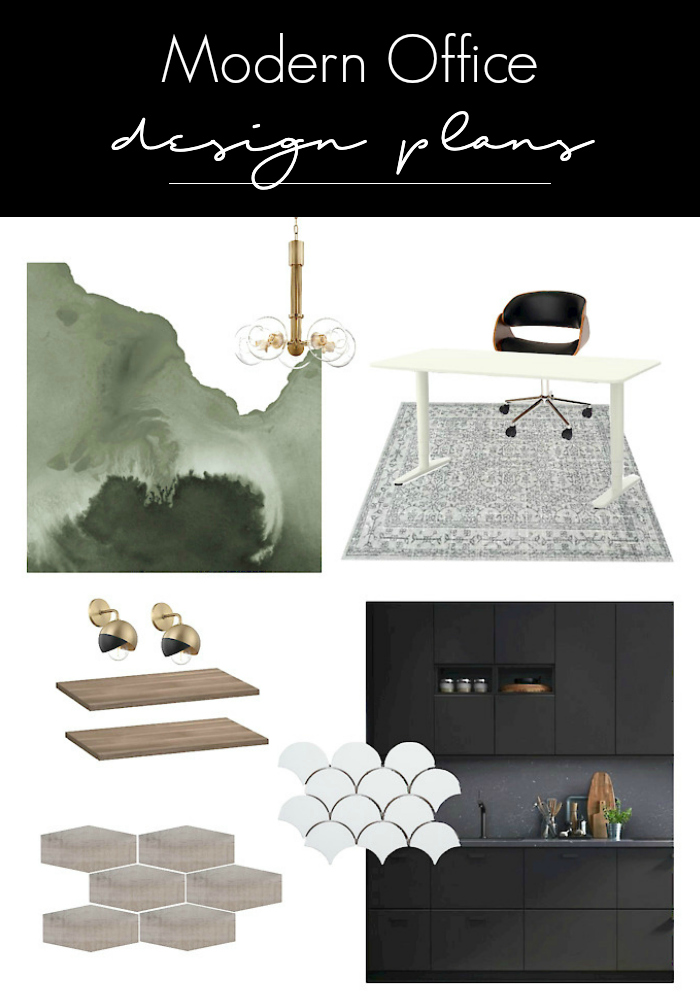 Every renovation we start is exciting. Putting plans together and sketching out ideas. This time we are planning our home office and it feels especially exciting because it's my space. Sure, Russ will be in there working at my desk occasionally, and my kids will sit in there colouring while I work, but overall, it's my space to work, and I can design a space that meets all of my needs, yet still looks amazing!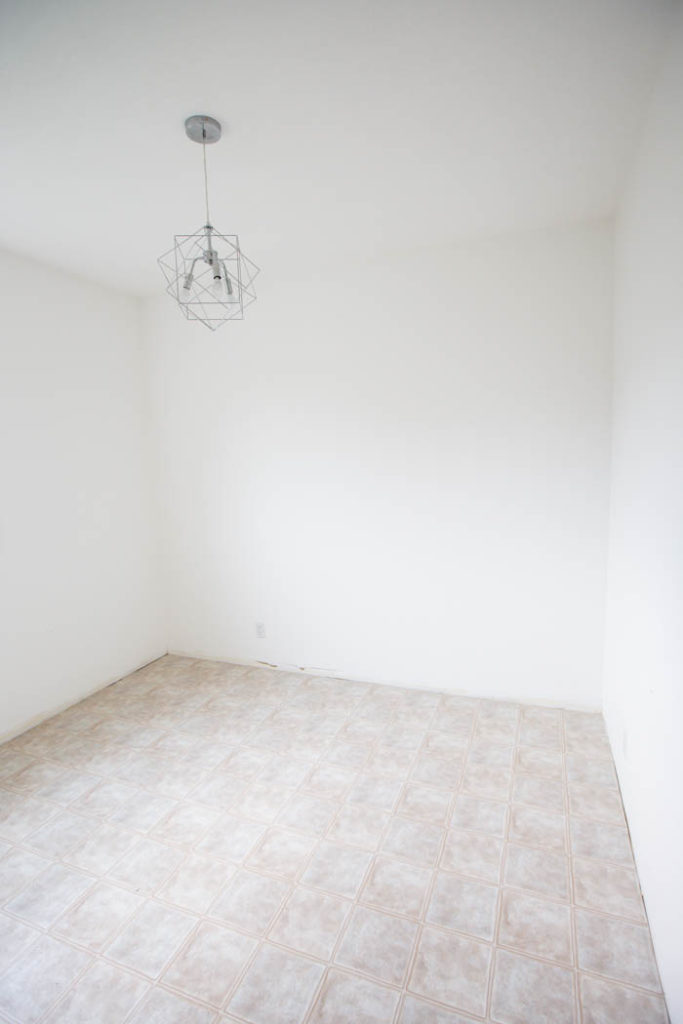 *This post may contain affiliate links. When you buy a product through one of my links, I get a commission at no cost to you! Thanks for supporting my blog so I can continue to bring you posts like these. For more info, please see my disclosure page.*
Here's the space we are working with. The white walls help it feel big, but overall it's a small space. My old, crowded, and disorganized home office used to be housed here, but we cleared everything out for this renovation, in hopes that I'll be able to make some changes that help us organize the space a bit better – a home for everything!
There are a few things I wanted in this space. I'm a stay-at-home-mom and an entrepreneur. I need a space to DIY in, photograph in, take videos in, and to hide in relax in.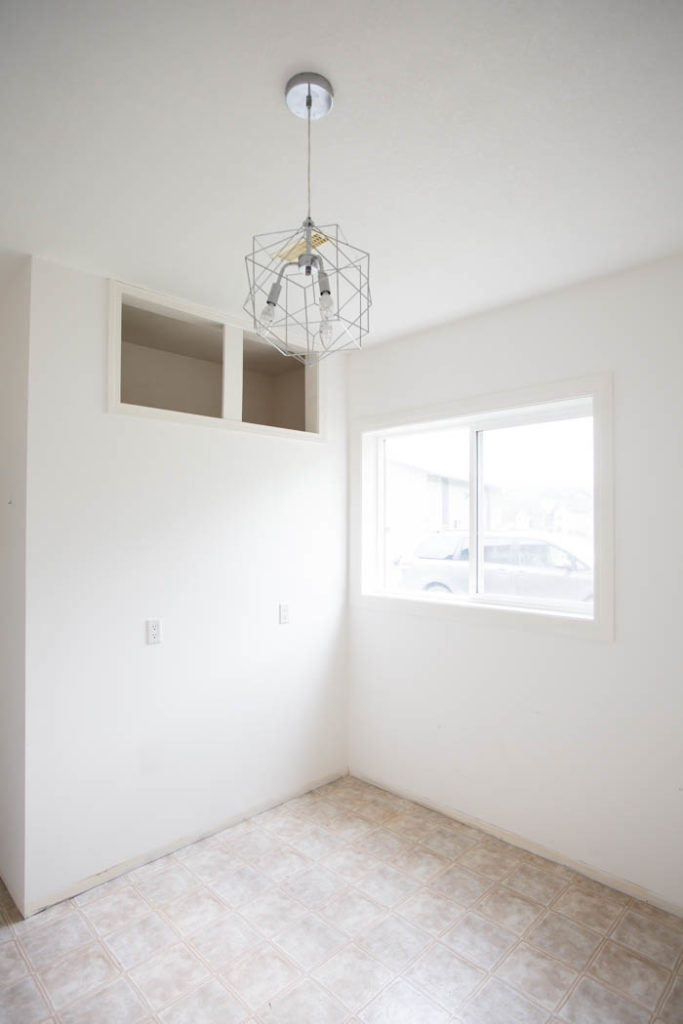 The main things I was needing from our Modern Home Office Design:
Storage – Everything needs a home. I want to have a ton of organized storage so that I know exactly where to find things and everything can easily be hidden away. Space for my files, space for my larger tools (like my Cricut cutting machine or sewing machine), and dedicated spots for all of my smaller DIY materials.
Large work surface – Isn't this a must for all home offices?? I don't exactly need this surface to be white, but it's a huge bonus if it is, because aside from doing a ton of DIY projects on here, I'll be using the desk for some simple still photography too. And then, of course, my laptop will be living there too!
A pretty background – Obviously when I set out to do my office space, I wanted it to be just as beautiful and modern as every other space in our home, but I also needed a space that I could "stage". A space that I could sit in front of to shoot video intros. With three children, renovations on the go, and a busy lifestyle, there is rarely a perfectly clean background for me to shoot in front of. I'm looking for a pretty space with nicely styled shelves that I can keep clean and sit in front of. Don't hold it against me if I'm not making a ton more YouTube videos though… did I mention I'm a mom of three…. lol.
A chair to cozy up in – I do a LOT of list-making. I'm a planner. And when I'm planning and scheduling, I'm very rarely sitting at a desk, or in a stiff chair. I'm cozying up in a comfy chair, staring at my planner and my notebook and endlessly scheduling. A chair is a must. I also have three children and a husband that will be migrating into my office on occasion, so a spot for them to cozy up in while they colour beside me, or chit-chat with me, is pretty high on the needs list too.
An inspiration board – I don't know exactly what this will look like, but I've always dreamed of having an inspiration board in my office. A cork bulletin board, or a hanging piece…. I haven't decided yet. But a way to hang up pretty inspiration pictures, fabrics, or paint swatches would be a dream come true.
Our Modern Home Office Design Ideas
The First Renovation Vlog
We did a thing! We started discussing our renovations live for everyone in our first vlog ever! Each time we give you an update on the space, we're also going to share some video updates of us doing projects live and discussing some of the changes we want to make.
First we cleared out the entire room, purged items, gifted items, and sold items. Now we have a completely blank space, and we're excited to share the design plans.
Watch as we explain all of our home office design ideas for this small space:
Some of my favourite home office products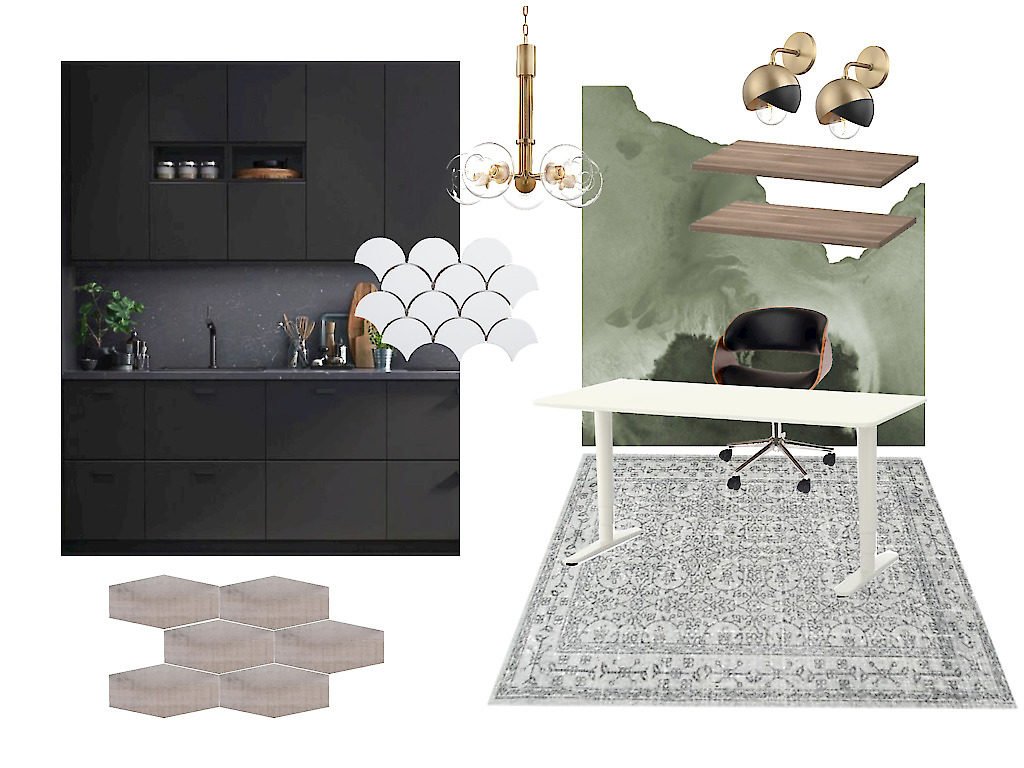 This is the mood board I created for the space. There's so much going on here! I'll unpack a few of the gorgeous items that we're working with.
The first plan is to fill my need for storage with a full wall of cabinetry! Guys, I'm swooning just thinking about this wall. We decided to go with the black doors (Kungsbacka) and cupboards from IKEA and It's actually part of their kitchen cabinet system that we customized for the office. It's just the most affordable option out there and I was DYING to get some black cabinetry in our home so this is the perfect space to try it out!
The walls are all going to stay white. I considered dark wall colours, dark ceilings, wallpapers, wainscotting… all of the things! But in the end, I still plan to use this office for a lot of photography and videography, and I really wanted to make sure I had enough light and white walls to bounce light.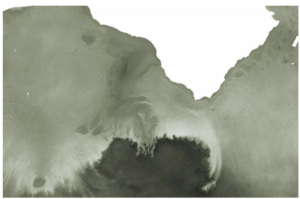 I bet you're wondering about that big gorgeous mural in the photo! It's a large watercolour mural from Murals Wallpaper. I searched for so many different wallpapers until I saw this and stopped dead in my tracks. I really fell in love with this design. If I have to stare at a wall to work, I wanted that wall to inspire me. I truly think that this design will do just that!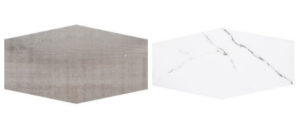 When it came to the floors I really debated! We decided to go with tile floors because we wanted to add heated flooring (hello coziest office EVER!), but then I debated on what tiles to use. I wanted a larger format tile with character. I have always loved the hexagon tiles from Jeffrey Court and debated between the marble ones and the faux wood grain ones. Ultimately I decided on the wood grain because I thought it would add a bit of warmth to the space.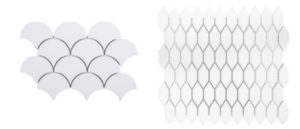 I didn't want to have an entire wall of black cabinets, so I actually decided to add lower cabinets to the center of the wall and put shelves above, with a tiled background. I thought it would be beautiful to look at, but also would provide a lovely background for videos (as long as I can keep the shelves clean!), and for photographing DIYs!
For tiles here, I debated between the scalloped white ones and the white dovetails, but ultimately decided on the scalloped ones because I thought they were more feminine than I would put in most of the other shared spaces.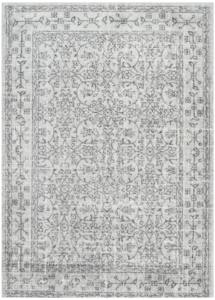 I debated putting a rug in this space, especially considering the heated flooring (which will will have to make sure is set to not get very warm! Buuuuut a tiled floor without a rug of any kind just seemed to cold to me. Remember, I want this to be a space that I relax in. And I found this simple, low pile grey rug with a beautiful pattern that is perfect for rolling my office chair around on.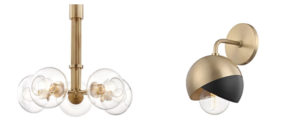 The lighting in here is another show-stopper! Having a chandelier in the space was almost a deal breaker. I mean, could I have lived without one? Yes…. Did I want to? Nope. This brass chandelier will add so much to the space visually! It's beyond beautiful! And when you give a girl a chandelier… she's gonna want some sconces to go with it… enter two gorgeous, coordinating wall sconces!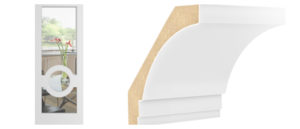 The final part of the plan that we've narrowed down is the door and mouldings. We decided to add crown moulding. Right now our wall ideas aren't all that cohesive. I'm not adding any paint or wall treatments on two of the opposite walls, then one wall has full cabinetry, and the other one has a full wall mural. I thought adding the crown moulding would be a great opportunity to blend all of these scenes together seamlessly. Since our office has never had a door, this was also a great opportunity to add a beautiful door to the space. I first saw the one above in my friend Andrea's office and LOVED it!
That's where we're at! There is definitely going to be more details coming to this space that I haven't decided on yet, but as soon as I put all of my thoughts into a mood board I knew I was headed in the right direction. These modern home office design ideas came together beautifully and are already inspiring more ideas for this space!
Speaking of offices, don't forget to check out the SHARED COMPUTER DESK that we already created!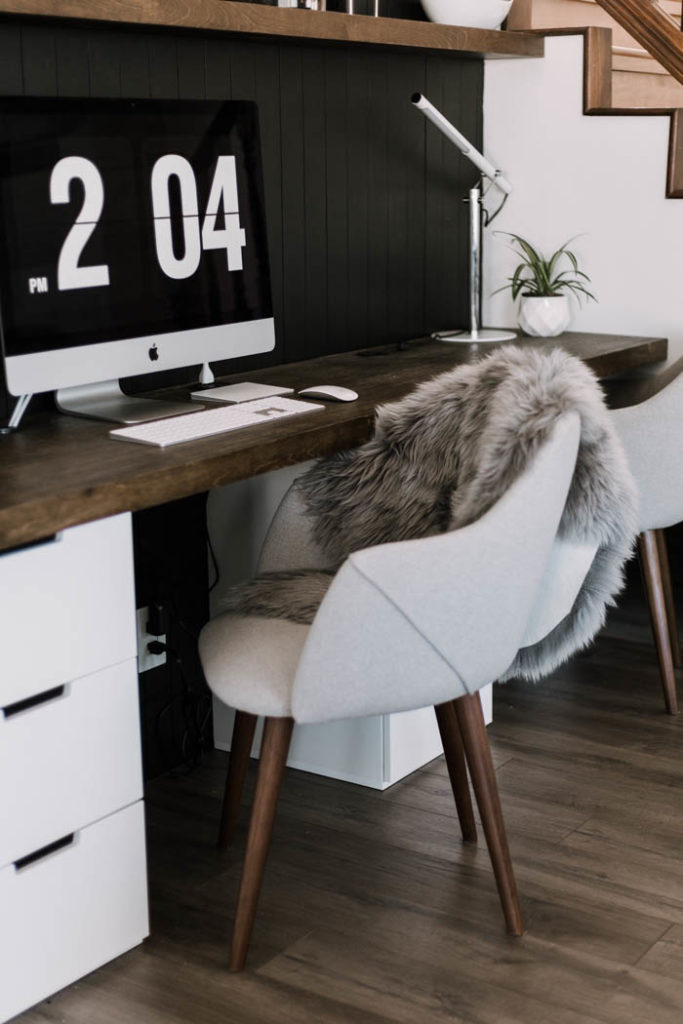 Of if you want to see how our last renovation turned out, check out the MODERN DINING ROOM REVEAL.