This uninspired space became a beautiful modern dining room in just a couple of days during this weekend renovation!
Renovation weekends may just be my favourite weekends of the year. A couple of weeks ago, Russel and I completed another one of our "weekend renovations" and it was amazing! It takes a little bit of planning and preparation, but we completely transform a room in just three days. Our overcrowded, uninspired space underwent a few major changes and became a beautiful modern dining room in no time. If you've ever thought you didn't have the time to do a home renovation, this is all the motivation you need!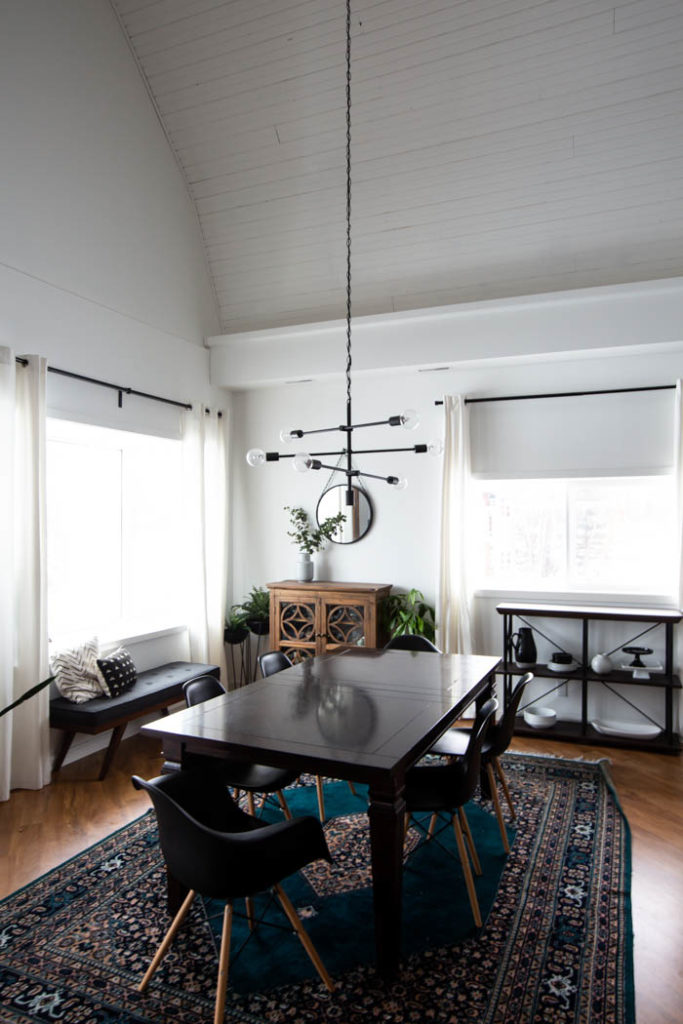 *This post may contain affiliate links. When you buy a product through one of my links, I get a commission at no cost to you! Thanks for supporting my blog so I can continue to bring you posts like these. For more info, please see my disclosure page.*
Here's what our dining room space looked like the day before we started renovating. Like I said… crowded and uninspired. It was really lacking cohesion, both within the room itself and cohesion with the rest of the home.
Here's a few things we wanted to change to make our modern dining room:
Add a feature wall
Add a new table, and
Change the flooring
I shared our Budget-Friendly Makeover Plans the week before we tackled the space. At the time I wasn't happy with the inspiration board I created, because it was impossible to find inspiration photos that represented what I actually wanted to do in the space! If you hop back over to that post now, you'll probably have a better idea of what I was trying to explain!
The existing table was functional (we're selling it for some lucky college student to scoop up!), but I HATED those cracks all along the sides of the table. My children were experts at stuffing those cracks full of crumbs.
The dining space lacked character and I LOVE the depth that a moulding accent wall adds. I also love the moody vibes of a deep colour, and wanted to add a rich, dark colour to the space, and do something creative with it.
Almost all of the main floor in our home already had it's flooring changed. Some to this same laminate. This little section of flooring was the last remaining evidence of the orange flooring that previously graced these floors, and I couldn't wait to remove it.
Watch Our Weekend Renovation: Our New Dining Room
The best part about doing our weekend renovations is sharing it with everyone! We shared the entire process live on Instagram over the three days! We had 1000s of people watching, cheering us on, and motivating us to keep going! I can't believe what we got done in those three days, and I'm incredibly proud of the space.
If you didn't watch, I saved all of the videos on the Love Create Celebrate Instagram Page. Catch up in the saved highlights here:
After the room was done, we filmed a quick video reveal of the space! We shared all of our thoughts, including all of the things we wish we had gotten done, and all of the things that didn't quite go according to plan!
Here's our weekend renovation reveal:
Our Modern Dining Room Reveal
We did it! New flooring, a new moulding feature wall, and a new table in three fun-filled days. Our children were home keeping us busy on the sidelines, and we had a couple of setbacks, but we did it! We were totally exhausted at the end of the weekend, but it was all worth it for our beautiful new modern dining room!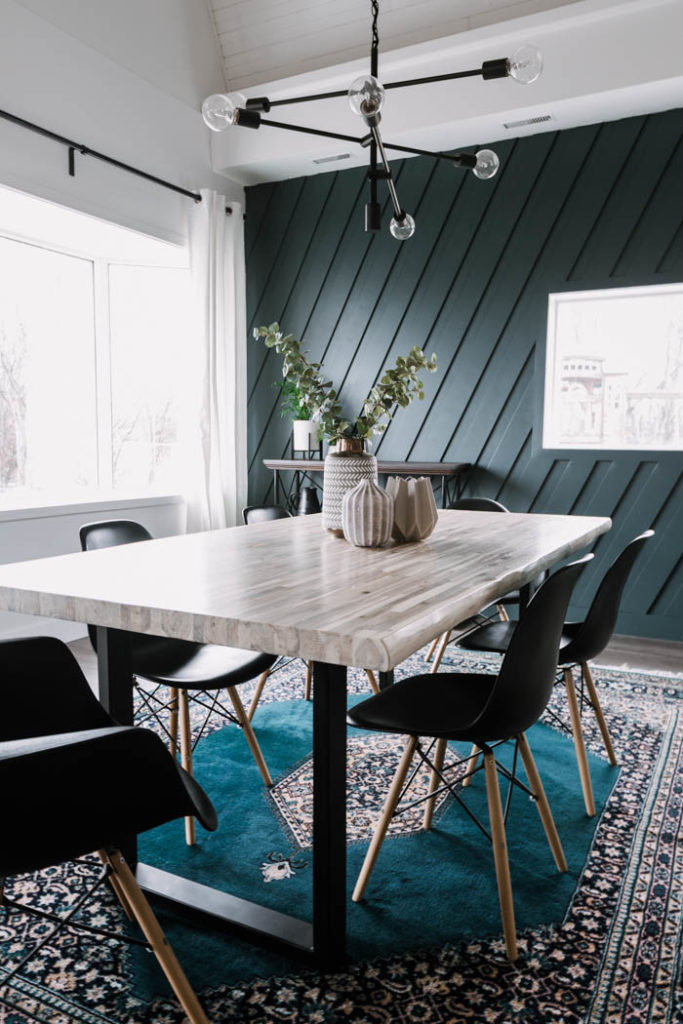 The new feature wall is EVERYTHING! We used simple flat stock from Metrie (basic base board moulding) and attached it to the wall on an angle, to create a beautiful, almost Art Deco-esque design.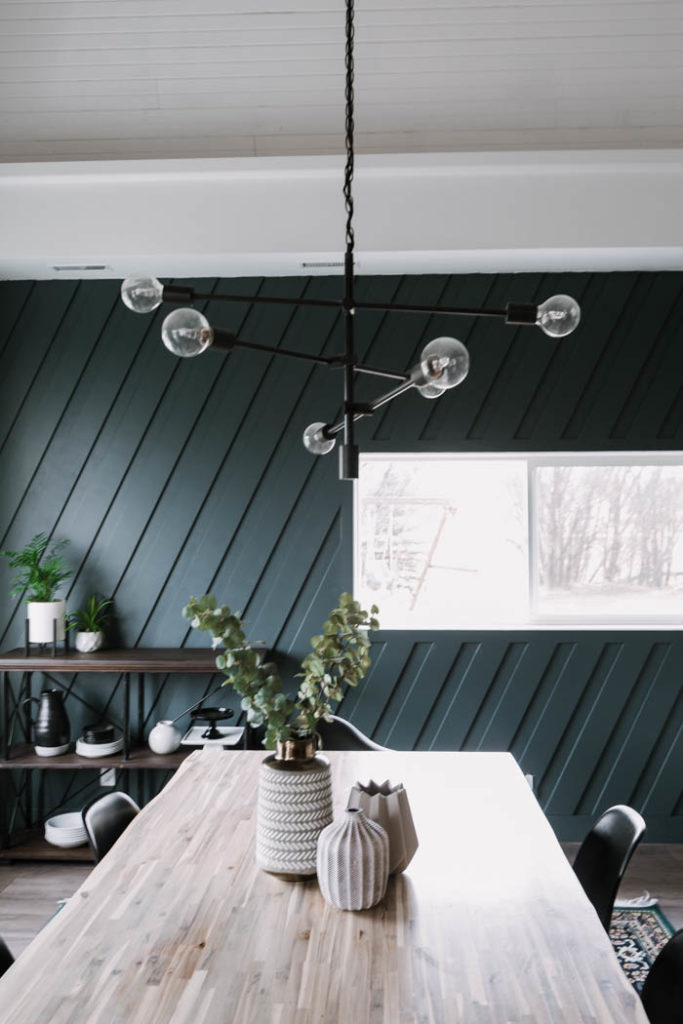 It was a bit more work than we anticipated. Ok… a lot more work. But worth every second! The pattern was exactly what I had envisioned before I started. I stressed over the angles of the moulding boards, the colour on the wall, and which way to set the angles, but in the end all my stress paid off.
To hear more, check out the full tutorial on how we made that amazing moulding accent wall!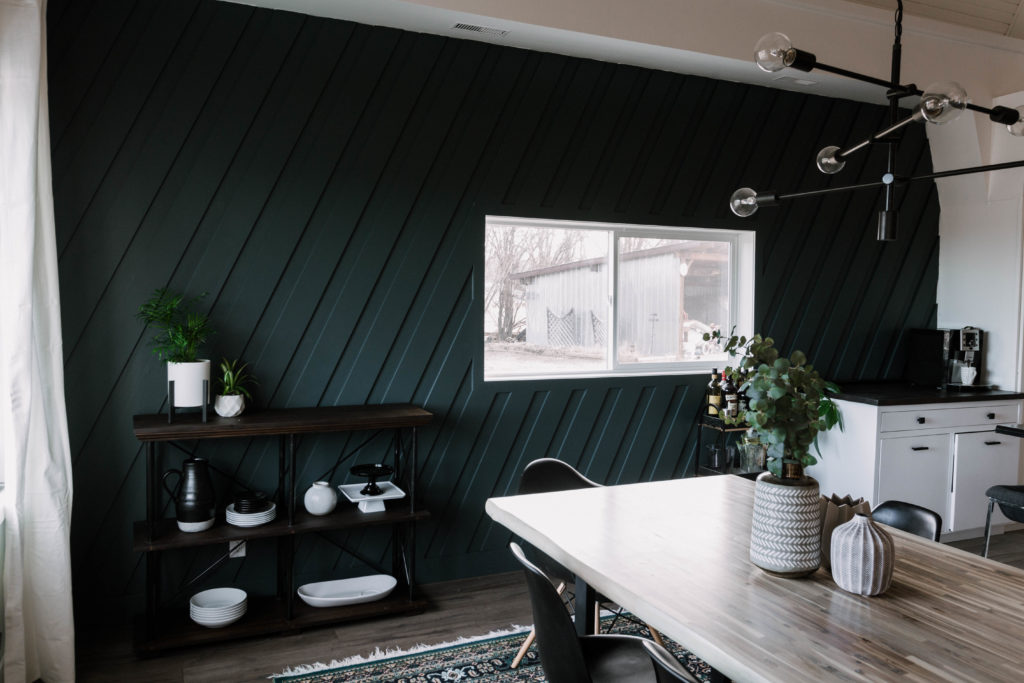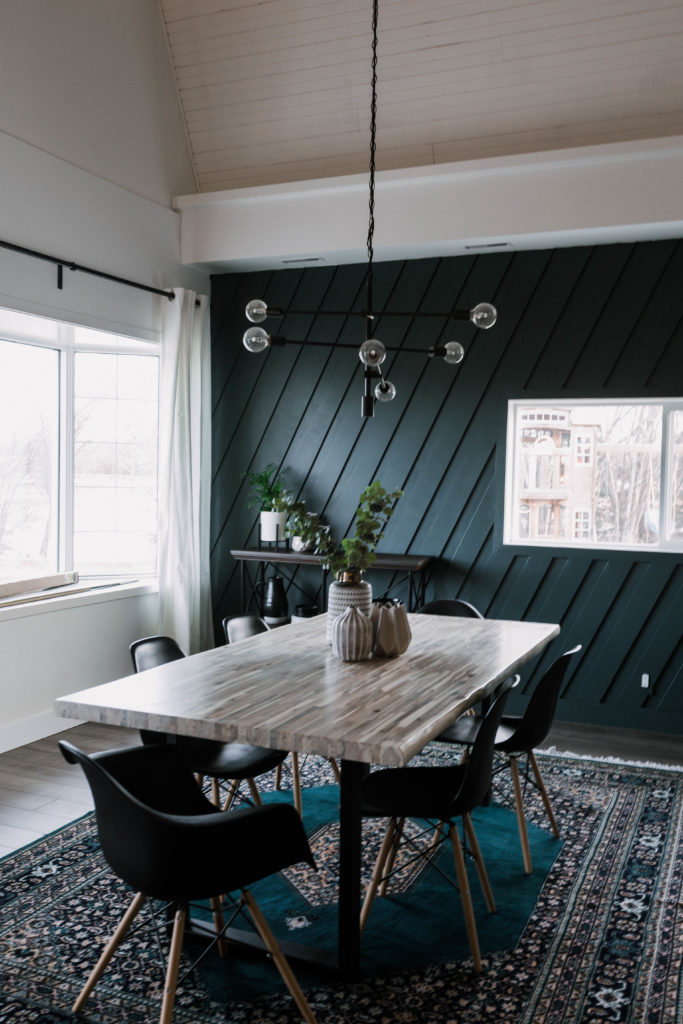 The table was the other huge project that we took on this weekend. We bought two gorgeous live edge countertops, and some great steel legs, put them together and created a beautiful modern dining table.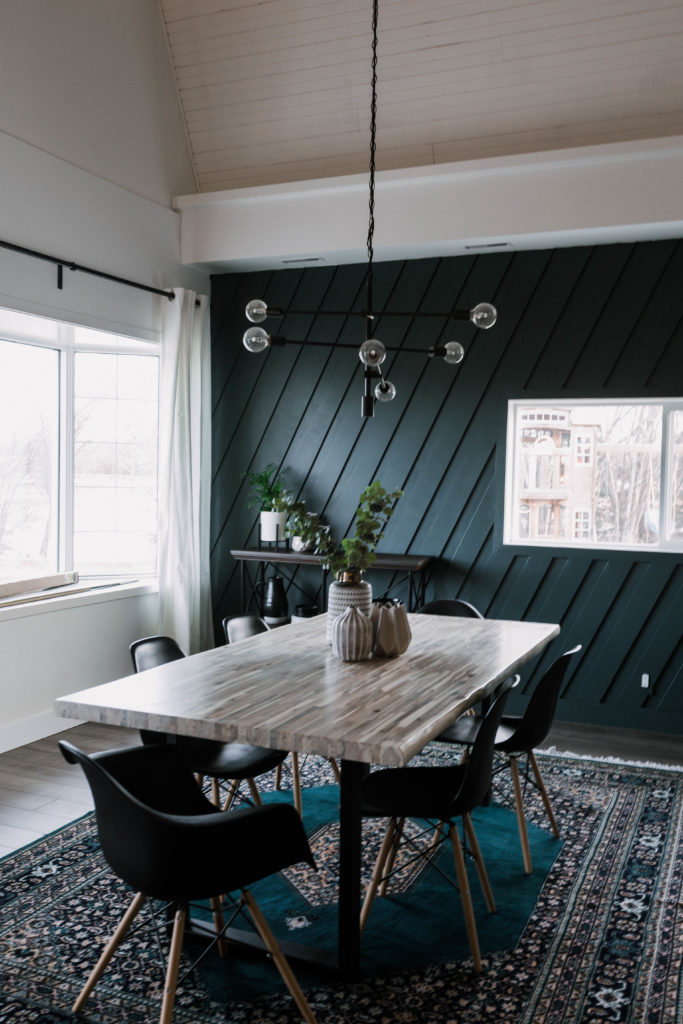 We used Rustoleum flat black spray paint on the legs, and beautiful white stain on the tabletop to give it a gorgeous, unique finish.
Check out the full tutorial for our DIY live edge table if you're interested in making your own unique modern table!
The final step was redoing all of the flooring in the space. We chose a beautiful brown grey laminate. We ripped out all of the old flooring in less than 20 minutes, and added all of the new flooring in just a couple of hours.
If you'd like to learn more about how to install laminate flooring, check out this video tutorial! We give tons of tips and tricks to show just how easy the process can be!
Hope you liked our three day transformation! There were a few things that we hoped to accomplish over our three days that we didn't quite get to. I was hoping to put shelves overtop of our coffee station, to hang a mirror, hang more curtains, and maybe even DIY some artwork. It seems crazily ambitious now, but I think you have to be overly ambitious to take on a weekend renovation in the first place, don't you?! lol.
We're very happy with what we did get done, and we can't wait to take on another project like this. Like I said in the beginning, these renovation weekends are some of my absolute favourite weekends.
Modern Dining Room Sources:
Wall Paint – Midnight in NY by Behr
Rug (similar)
Home Depot / Rustoleum / Metrie / Golden Select
Don't forget to check out our DIY Live Edge Table Tutorial!