Want to tackle your own Exterior House Painting? Here's how we quickly and easily transformed our exterior with paint and a paint sprayer!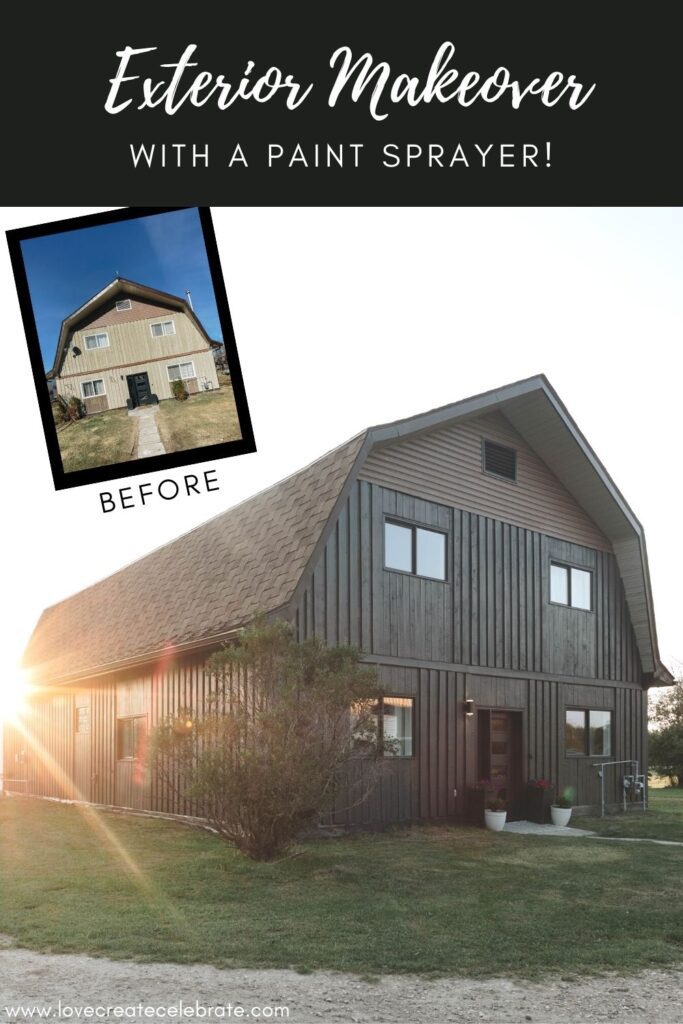 If ever there was a home that needed some some fresh paint, it was ours! Our house had chipping, and peeling paint, a few rotten boards, and some blank walls from where we removed a side entrance once. And did I mention I wasn't a big fan of the current colour…. it needed some modernizing!
How to Update Your Exterior on a Budget
If you know anything about our renovation style, then you know that we do things on a budget. We DIY as much as humanly possible, and do most of our renovations on a budget. Here's a few choices we made to help with renovating our exterior on a tighter budget.
We did all of the labour
When I say we did all of the labour, I mean we did ALL of the labour. Other than professionals replacing a couple of windows, we did everything from designing to sanding every board, and painting everything.
We have a whole tutorial on how to properly prepare your house for painting, and now a whole tutorial on how to properly paint the wood siding. This is definitely something you can tackle yourself if you're able to dedicate the time!
*This post was sponsored by Wagner and may contain affiliate links. When you buy a product through one of our links, we get a commission at no cost to you! Thank you for supporting our blog so that we can continue to bring you posts like these. For more information, please see our disclosure page.*
We used the right tools
We had two new tools for these projects that made them go MUCH faster. Sometimes you have to spend a little more in order to save time, frustration, and money (I'm looking at you second coat of paint!) in the long run. The two things that helped us transform our house were:
The PAINTEater – for sanding down every wood board more efficiently than a traditional sander
The Control Pro 190 – We used a high efficiency airless sprayer that saved us a ton of time and money
We painted the windows instead of buying new ones
New windows would easily cost upwards of $15,000 for our home. Our windows were fine, but they didn't have a warranty on them, and we wanted a change, so we took a risk and painted both our wood and vinyl window frames! If you're curious about this one, we will be sharing a full tutorial soon!
We chose changes that would make the biggest impact
Could we also have spent money on new shingles? Yes, I'd love a black roof! Could we also have replaced the upper siding with cedar shakes? Absolutely, and I would LOVE them!
But budgeting is also about prioritizing.
We made low cost changes with big impacts
There are a lot of little things you can switch out to update the exterior of your home as well. We switched out our doorbell for less than $10, and it looks a million times better. Some other things you can switch out affordably are lights, house numbers, vents, lock sets, handles, welcome mats, planters, mailboxes, etc.
DIY Exterior House Painting
If you want to tackle your exterior house painting on your own, it's definitely possible to DIY!
Proper Preparation
Make sure that before you start painting you go through all of the important steps of preparing the house for paint. You can read all about these steps in detail, but here are the basic steps for exterior house painting preparation:
Do a visual check
Check your paint type
Sand the siding
Remove any rotting, split, or damaged boards
Get the hard to reach areas
Make sure everything is sealed
Pressure wash
Another thing you want to consider is removing any unused satellites or antennas that are no longer used. You may want to remove these and patch the holes.
Once we were ready to paint we removed vents that couldn't be painted, the gutter downspouts, electrical outlet covers, lights, and doorbells. We also loosened some of the utility boxes so that we could paint behind them. Finally we taped off anything that we wanted to paint around, including gas lines and the gas meter, outdoor faucets, and windows.
Do I have to prime the exterior before painting it?
It's important to prime bare exterior wood prior to painting because it seals the grain, prevents bleed-through and improves paint adhesion. It seems like extra work, but it can save you time and paint.
Since we had already gone around our entire house sanding and prepping all of our wood siding, we needed to prime to seal the wood and give us a nice surface for the new paint colour.
It's just as important to prime other materials, such as stucco, metal and concrete, for similar reasons.
When you're painting an already painted surface to freshen it up or to change the color, you can often omit the primer. In lieu of primer, you should thoroughly clean and scrape the surface you're about to paint, and that may cause some paint to flake off and reveal the unpainted surface. You should spot-prime these unpainted areas.
How to protect areas you don't want painted
Before you start spraying you are going to want to think of the areas you don't want to paint. In ouse case we didn't want to get paint on things like the gasline, facuets, outlets, soffit, utility connections, windows, or doors. We used a coupe of different methods to protect theses things.
How to Use the Paint Sprayer
The manual that comes with the sprayer is a great resource, the follow are excerpts from Wagner's site for quick breakdown of how to use your Wagner Sprayer :
The first step is to determine what you are painted and to confirm your paint tip size. As we were painted a water based latex paint (for the primer and top coat) the 515 tip that came with the sprayer worked perfectly. Wagner as a great chart below with recommended tips for your control pro.
Next is to attach the hose to the sprayer and gun. You are going to want to make sure to hand tighten all connections with a wrench (careful to not over tighten).
How to prime the paint sprayer
Press the pusher stem to make sure the inlet ball is free
Place the the suction tube into pail/can of paint, and hold the return tube into a waste container.
Turn the PRIME/SPRAY knob to PRIME.
Plug in the sprayer and slowly turn the pressure control knob clockwise to setting '2'. Allow pump to run until you see spray material flowing from the return tube.
Switch the pump OFF (0) by turning the pressure control knob completely counterclockwise.
Loading Paint
Make sure the tip guard is removed. Point the spray gun into a separate waste container. Unlock the spray gun trigger. Squeeze and hold trigger for steps 2-3.
Slowly turn the pressure control knob clockwise to setting '2'. Turn the PRIME/SPRAY knob to SPRAY.
Continue to squeeze trigger until the material is flowing freely through the spray gun and perform the Pressure Relief Procedure (see manual for details).
Make sure the spray gun trigger is locked. Thread the spray tip guard assembly onto the gun. Tighten by hand.
Make sure the spray tip is rotated forward to the spray position, with the arrow on the tip facing forward. Unlock the spray gun trigger.
Slowly turn the pressure control knob clockwise to the maximum setting (5). Turn the PRIME/SPRAY knob to SPRAY. Point the spray gun at a piece of scrap material/cardboard. Pull the trigger and practice spraying.
The best techniques for spraying
First test on a scarp board or cardboard piece to test your spray pattern, its better to figure out before you start on the actual piece you want to paint. Note – While spraying, the spray guard / tip assembly can be rotated to better suit your spraying motion.
2. Press the trigger on your gun after starting the stroke. Release the trigger before ending the stroke. The spray gun should be moving when the trigger is pulled and released. Overlap each stroke by about 50%. This will ensure an even coating. Note you should flex your wrist as you move in order to keep gun parallel to the surface.
3. Hold the spray gun level keeping a uniform distance from the piece you are spraying as you go. As we were using the 515 tip the recommended distance was 10-12″ away (noted in the chart above).
Now you should be ready for your DIY house painting project!
How to clean your paint sprayer
If you are just taking a break (for less than 16 hours) you can store your paint sprayer as follows:
Perform the Pressure Relief Procedure (see manual for details).
Turn spray tip 90º. This will prevent air from drying out any spray material that may be inside the spray tip. Wrap spray tip in a damp rag and then place entire spray gun in plastic bag.
Pour 1/2 cup water slowly on the top of the paint to prevent the paint from drying. Place the entire spraying system out of the sun.
Once you are ready to start painting reverse the steps above and stir any sitting water with stir stick in paint bucket.
Clean up for end of day/end of job:
Perform Pressure Relief Procedure (see manual for details).
Remove the tip guard from the spray gun.
Remove the spray tip from the tip guard. Place both into a container of the appropriate cleaning solution.
Submerge suction set into a bucket with the appropriate cleaning solution (warm soapy water for latex or mineral spirits for oil based materials)
Point the spray gun at the side of a waste container. While squeezing the trigger, turn the pressure control knob to '2', and turn the PRIME/SPRAY knob to SPRAY.
Continue squeezing the trigger until fluid is coming out clear. You may need to get new cleaning solution.
Perform Pressure Relief Procedure, page 10.
Remove the inlet filter by pulling if off the suction tube. Clean by hand using a soft-bristled brush. Remove the tip guard and spray tip from the cleaning solution. Clean by hand using a soft bristled brush.
IMPORTANT: Fill a bucket with warm, soapy water. Following steps 5-7 in the "Spraying" section, spray at least one gallon of warm, soapy water. This will ensure that the spray tip will be completely clean for the next use.
Perform Pressure Relief Procedure, (see manual for details). Remove the suction tube. Run water from a faucet through the tube to flush out any remaining material. Do not reinstall the suction tube.
Remove the spray tip assembly. Repeat step 5 from above, continuing to squeeze the trigger until no fluid comes from the gun (this will purge any remaining water in the spray hose). Turn PRIME/SPRAY knob to PRIME. Turn power OFF. Attention Do not allow the pump to run for more than one minute without fluid.
Reattach both the inlet filter and spray tip/tip guard assembly
If you have any questions of the above or need further clarifications be sure to reference your Wagner Owner Manual as it has great in-depth step by step instructions and photos of the above steps.
Our Exterior House Painting Before and After Photos
I honestly can't believe how beautifully this paint colour turned out! I'm in love with the new paint colour and the new modern look of our home!
Here's what the home looked like a few weeks ago: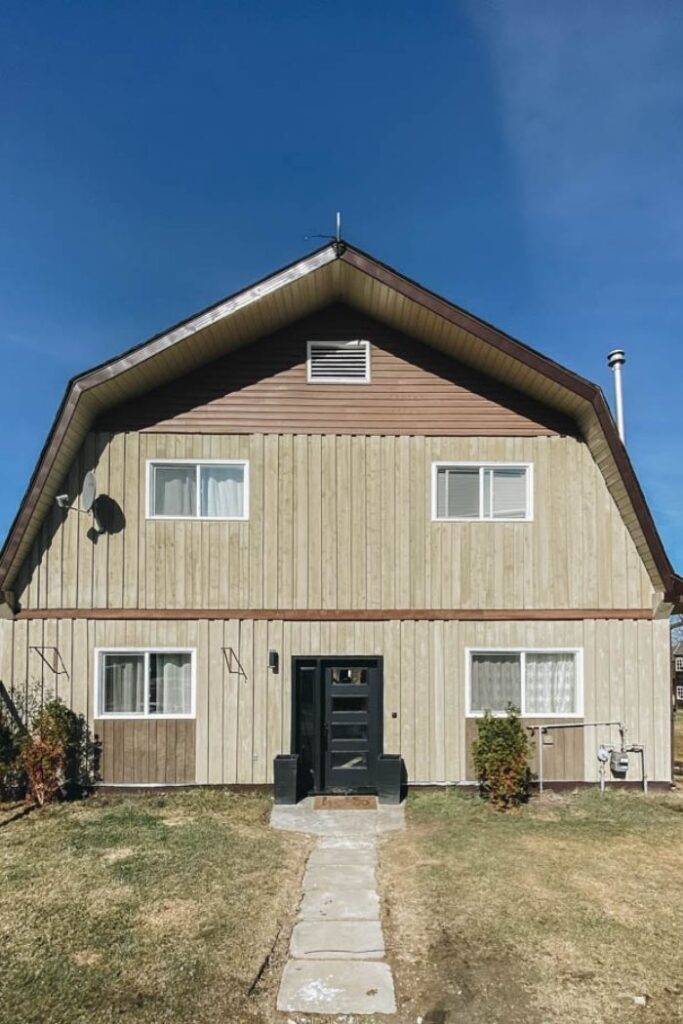 And here's what it looks like now:
We're so happy with the transformation! If you have any questions about the process, please ask!