These gift crates are the perfect gifts for woodworkers (or any guy on your list!). Instead of the traditional gift basket, why not opt for gift crates!
I've said it before and I'll say it again, men are the HARDEST people to buy for! I'm not just talking boyfriends and husbands! I'm talking brothers, fathers, grandfathers, opas, uncles, you name it! Other than a case of beer or a bottle of whiskey, how do you know what to get as a gifts for woodworkers?!
I've tried to make gift giving as easy as possible for you this year. Gift Crates make great gifts for woodworkers, or any guy on your list! And I've got tons of suggestions for filling them!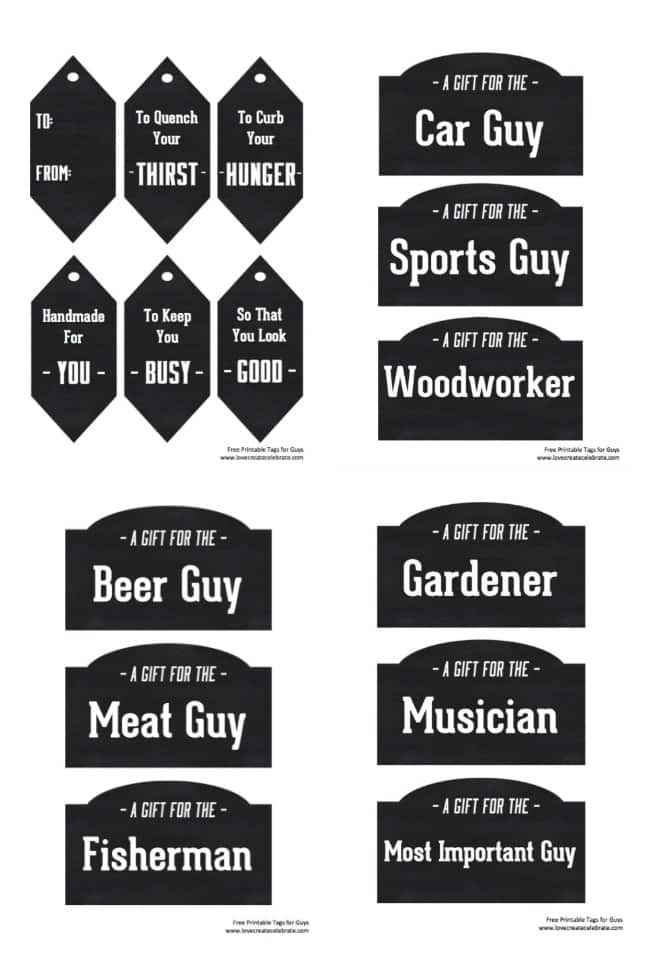 *This post may contain affiliate links for your convenience. Thank you for supporting Love Create Celebrate. For more information, please read my disclosure policy*
This all started with me looking for an alternative to the gift basket for guys on my list. Gift baskets don't really seem all that masculine, which is why probably guys don't get them as often.
I could always think of types of things that my brothers or husband liked. "He's a car guy", or "He's really into music", but even when I knew those things, I still didn't know what to buy him as a gift! What do woodworkers need? What do fishermen use?
So I started asking around. I questioned a bunch men I knew with different interests, and they gave me a TON of great suggestions for what to buy guys with those interests, starting with great gifts for woodworkers!
Start by printing off your free printable labels HERE:
(You are also agreeing to our Privacy Policy)
I tried to make a label for every guy on my Christmas list. If your guy isn't there, print off that "Most Important Guy" label. I don't know any man that would refuse that one, haha.
Since I had EIGHT great gift crates for guys, I broke them up into a few different posts, and the ideas for other guys are linked below. This post will highlight ideas for the woodworkers in your life.
Great Gifts for Woodworkers
If there's any type of gift for guys that I know about, it's woodworking tools. My husband is an avid woodworker, so I'm always picking up tools for him and filling stockings with his suggestions. There are a ton of things that you can always use more of in the garage!
Gift Ideas for your Woodworkers
Here's what you need to fill up and style your crate. The buffalo check ribbon was used because I was originally sharing these as Christmas gift ideas, but honestly, you can change the ribbon, or remove it completely, and use these for Father's Day, birthdays, anniversaries, promotions… basically anything worth celebrating!
Suggestions for gift crates

:

I tried to put items of varying costs into this suggestion list. That way if you are trying to do a crate under $50, you can find things here, and if you're doing a crate for $200, there's also enough suggestions to fill it up!
DIY Gifts for Woodworkers
Another great idea is to customize gifts for your woodworkers! I long time ago I made a custom "Mopar or No Car" sign for my husband and it's probably one of his favourite gifts.
Personalizing gifts by building them yourself always bring more meaning! Here are some ideas for different skill levels that any woodworker would enjoy: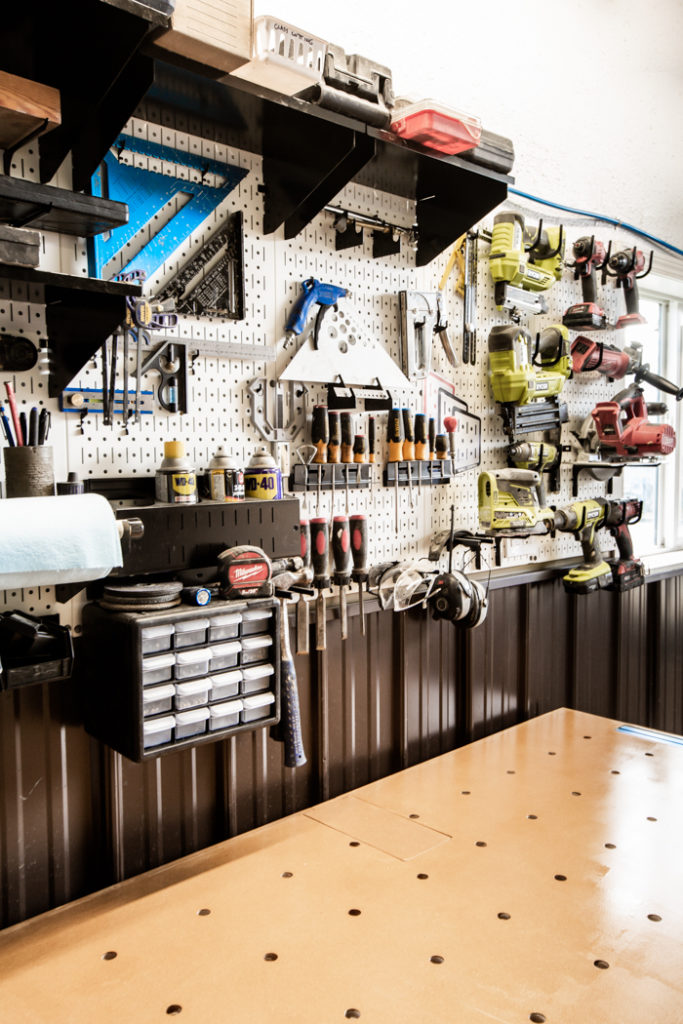 Garage Storage as Gifts for Woodworkers
Another great gift idea for the woodworkers in your life are tool storage solutions. Our absolute favourite is anything from Wall Control. The pegboard system can be a bit of an expense initially, but after that the accessories are very affordable!
If you want more information on how to use the Wall Control system, we shared our entire organization system, and honestly we've been so happy with it! Having a convenient way to organize all of your tools and supplies in the garage is beyond amazing!
Let me know if there are other gifts for woodworkers that we should add to the lists!
A bunch of these suggestions are things that men in garages or shops can use over and over again. My husband is always losing his tape measure and misplacing his utility knives. I have almost bought him a new tape measure every year, and he uses ALL of them (or wore some out completely).
If those suggestions aren't enough, I also created a great list of 20+ gifts for Men under $50!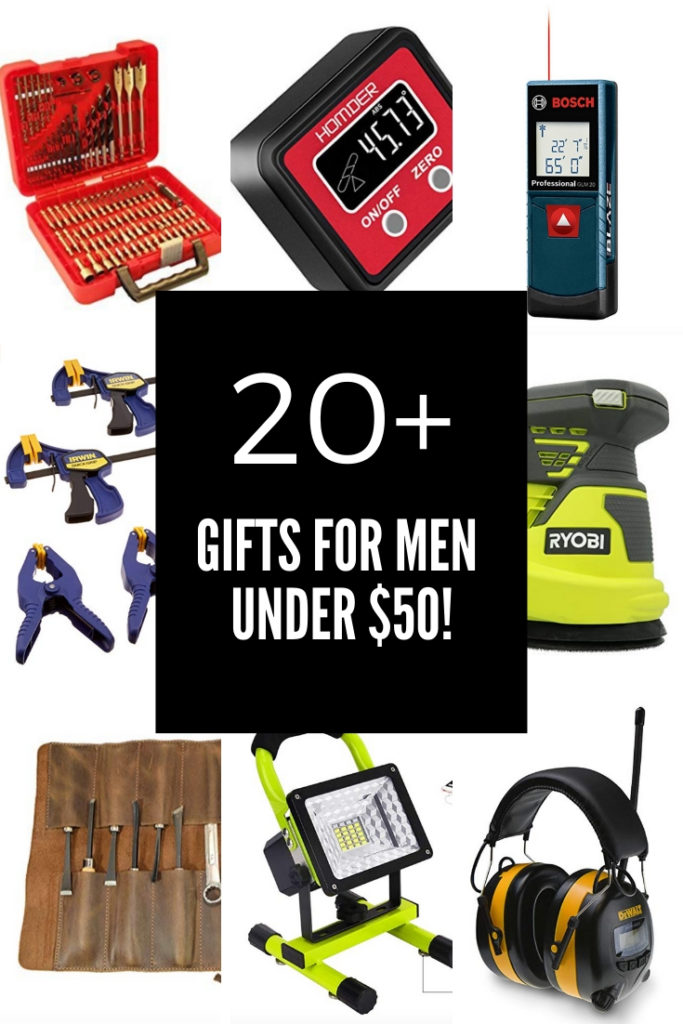 There are so many unique gift ideas for guys on this list, that I'm sure you'll find enough for any woodworker you're looking at this year!
Don't forget to check out the rest of the gift crates for guys!
OTHER CRATE IDEAS:
When I was having trouble finding gift ideas for the woodworker in my life, I knew others would be having the same troubles, so I rounded up a few ideas for some other interests.
Follow these links to get a great list of suggestions and gift ideas!
Car Guy / Sports Guy / Woodworker (here) / Fisherman
Beer Guy / Meat Guy / Gardener / Musician
If you're looking for more great gift ideas for men, try these….