A modern DIY Coffee station for the home! Love the decor and styling of this contemporary coffee station! You can put it over any countertop in the kitchen!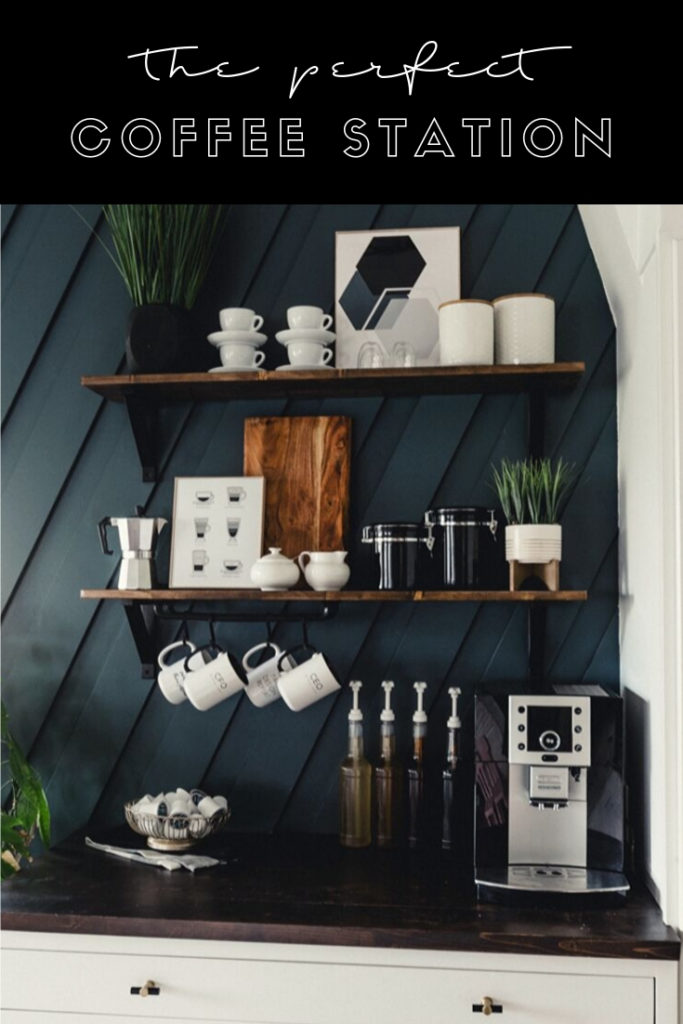 Remember six months ago when we completely renovated our dining room in just THREE days?! It was amazing! But what if I told you that I got disappointed around 9pm on our last night? I had BIG plans, which included a little coffee station, and at 9pm, I came to the realization that I wouldn't get it all done. Spoiler alert: it was still amazing. Well… six months later we're finally knocking that last project out of the park with our modern DIY coffee station!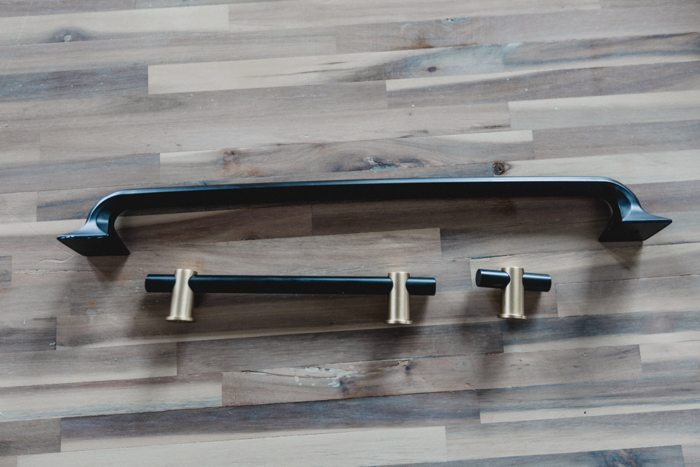 *This post was sponsored by Schaub and Company, and may contain affiliate links. As always, opinions are 100% my own. For more information, please see my disclosure page.*
Each month a few friends and I share a new modern home decor or DIY idea for our Modern Handmade Home series. This month we are partnering with Schaub and Company. They're a hardware company with the most gorgeous modern cabinet hardware! Honestly, your jaw will drop.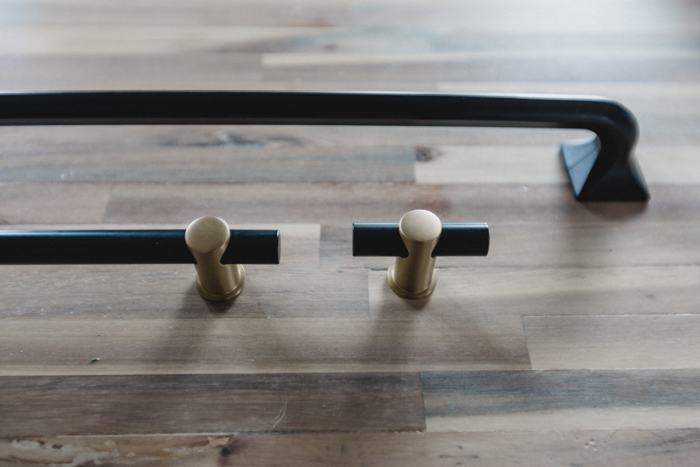 As soon as I saw these pulls, I knew what I wanted to use them for. It was the perfect excuse to finally finish that coffee station. They had a beautiful line of pulls and knobs called Fonce, which were matte black and brass and caught my eye immediately.
Changing out the cabinet hardware wasn't necessary for making our coffee station, but it was a really nice way to define the space as separate from the kitchen.
We also found the most beautiful contemporary appliance pulls and immediately I was picturing my gorgeous modern mugs on there!
Modern DIY Coffee Station Video Tutorial
If you want to watch this coffee station transform in no time at all, watch this video! Plus, you can watch as I style the coffee station! See how I plan and rearrange items as I go.
How to Make a Modern DIY Coffee Station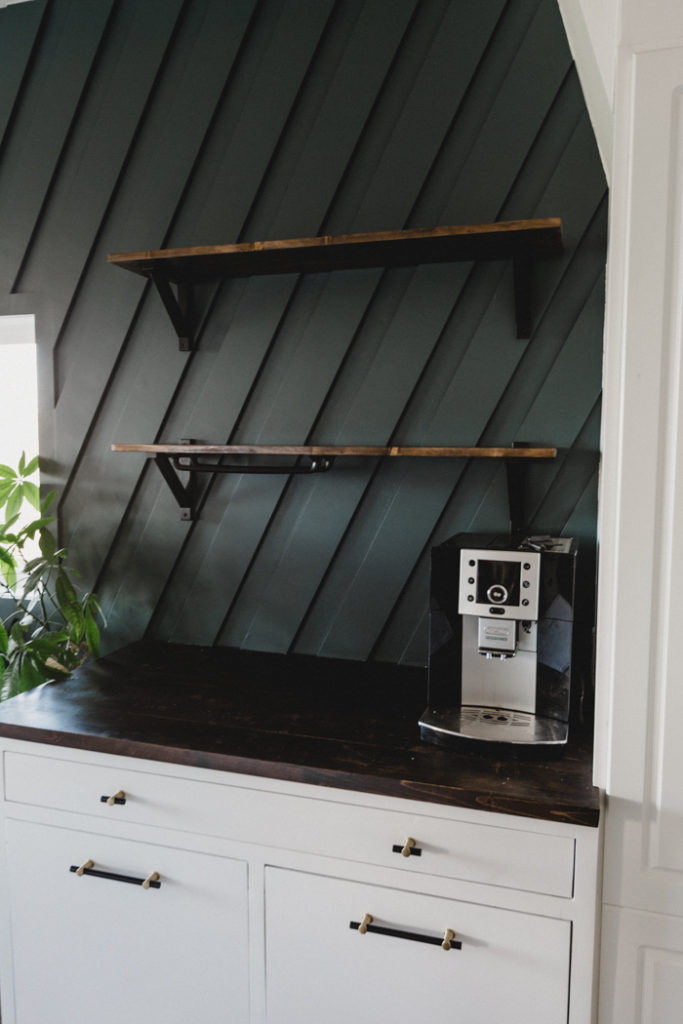 If you have a blank countertop, you can make your own coffee station! All we did was create two shelves using pine board and some $2.50 IKEA brackets!
That's it guys. Stain your shelves any colour you want, and varnish them to protect them (because they may just get coffee or sticky syrups on them). We choose to stain ours dark walnut because we love the deep dark colours against our feature wall there, but we also brought in a few more wood colours in the decor as we styled the space.
Once we had the shelves up, we added our pretty new pulls and knobs, to the cabinet that was already there, and then added two appliance pulls under the lower shelf we had just built so that we would be able to hang mugs within easy reach.
Quick Coffee Syrup Hack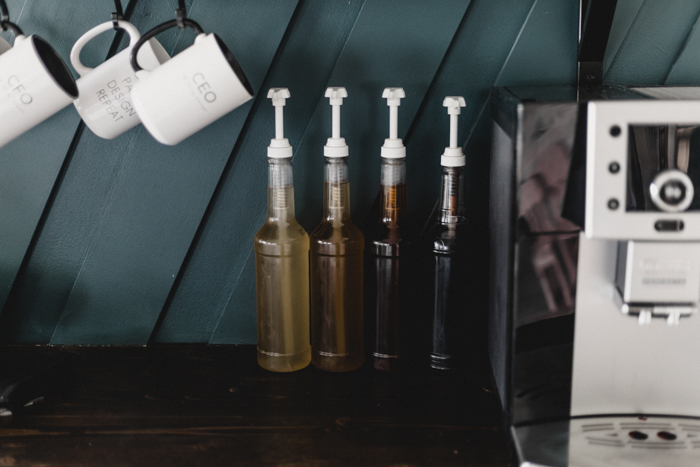 The only other thing that we spent any real time or effort on was adding these cute syrup bottles to the counter. If you've never used these before, they are flavour syrups – we only buy sugar free ones and we LOVE them.
We have four of our favourite flavours here, and we did two quick things to beautify them: remove the labels (watch the video above to see how – *hint* it was harder than I thought!), and add some cute white pumps.
Our Styled Modern DIY Coffee Station
If you're anything like me, then the only reason you're check out a post about a coffee station, is to peek at how they styled the space! lol. I love a pretty styled shelf, and this one is functional too, which is a huge bonus!
All of the sources are linked below (but if I missed something let me know!), and if you want to see exactly how I styled the space, watch the video above!
Without further ado…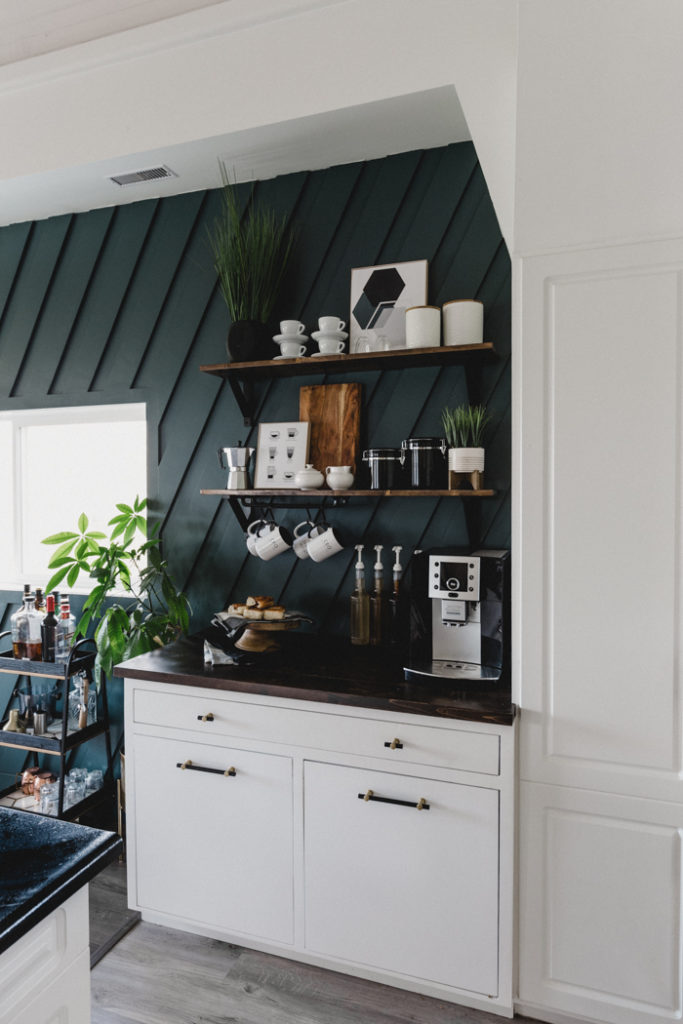 I feel like I'm looking at a whole new cabinet with the new pulls and knobs! It's amazing how easily hardware can change a space!
We actually were gifted the coffee machine that this entire coffee station is built around! We were so lucky too because the coffee it makes is unbelievably good!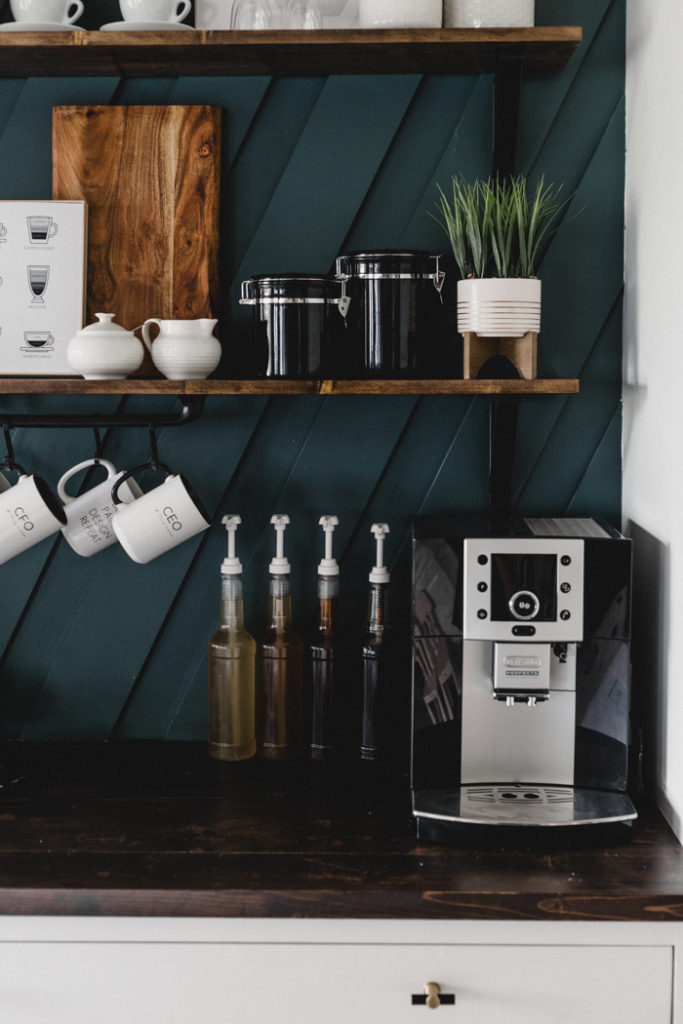 The syrups stay on the counter because we use them every single day! They could fit on the shelf, but I just don't want to bring them down constantly. You know they would end up on the counter anyway!
Everything we use regularly is on the first shelf. Creamer and sugar cups for guests, the coffee beans in their containers, and the coffee mugs in easy reach.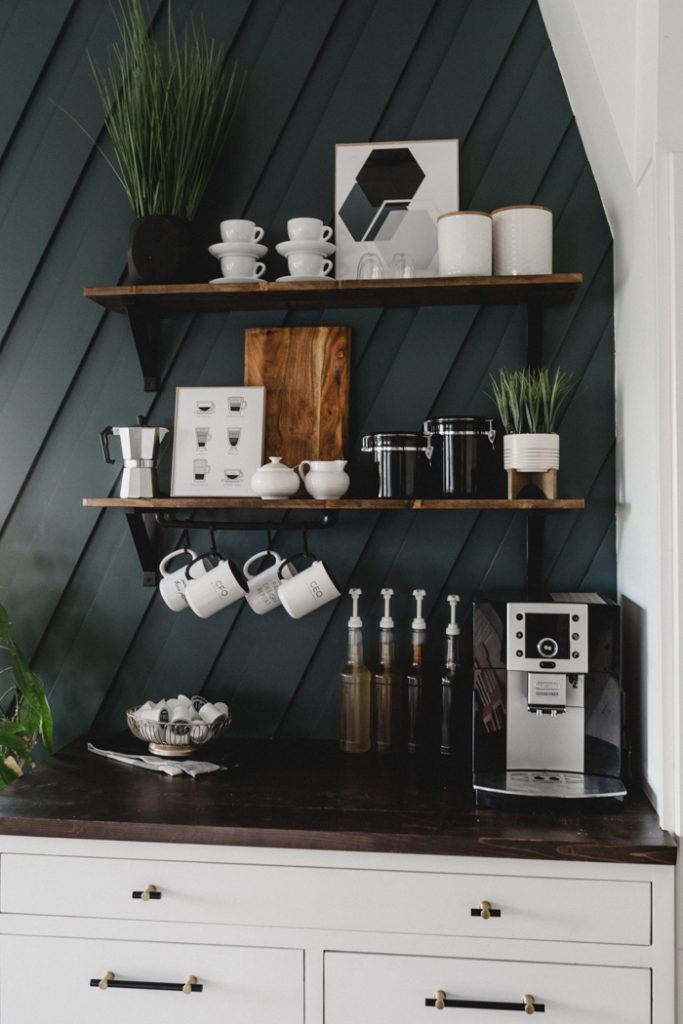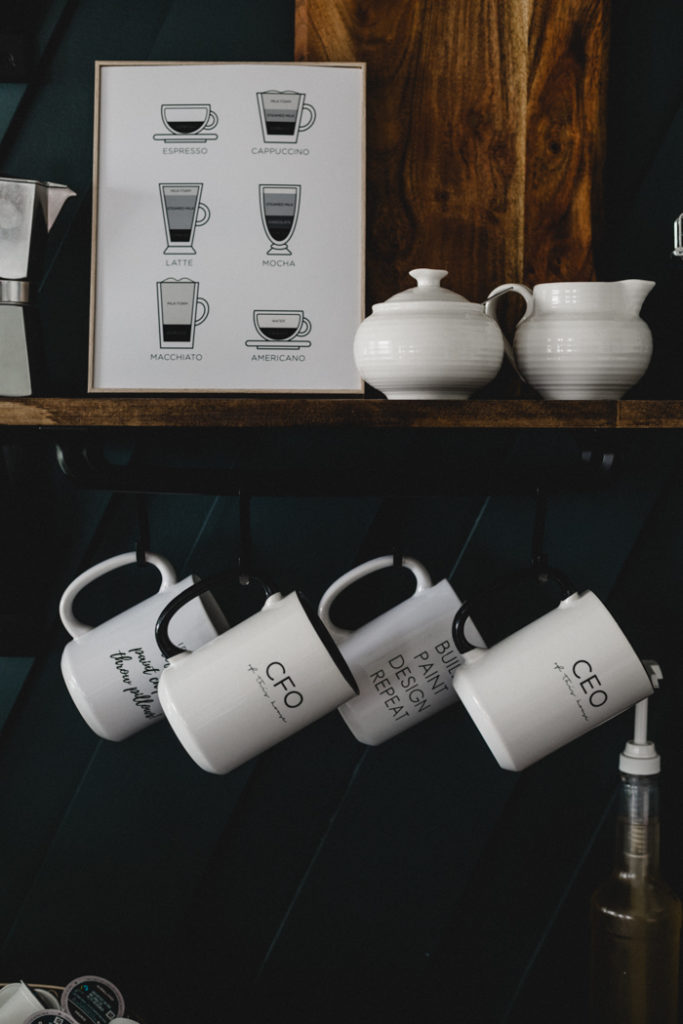 The mugs look so perfect on that appliance pull! It fills up the space in a practical way.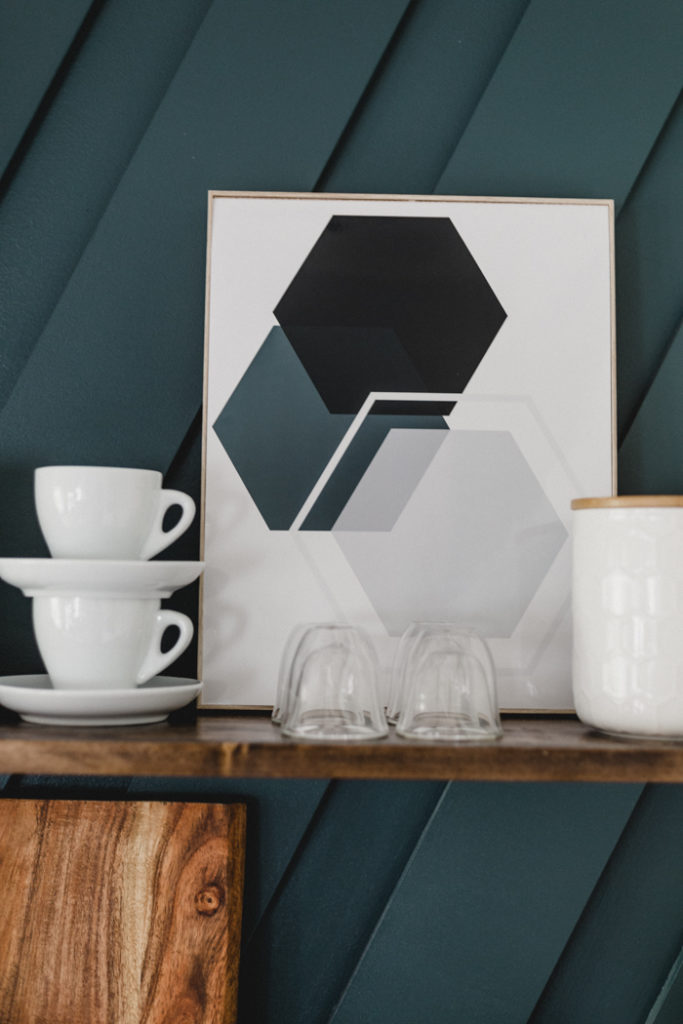 Adding some simple modern art really speaks volumes in these shelfies! They are the perfect backdrops for all of the coffee decor! And bonus – coffee prints usually add height too!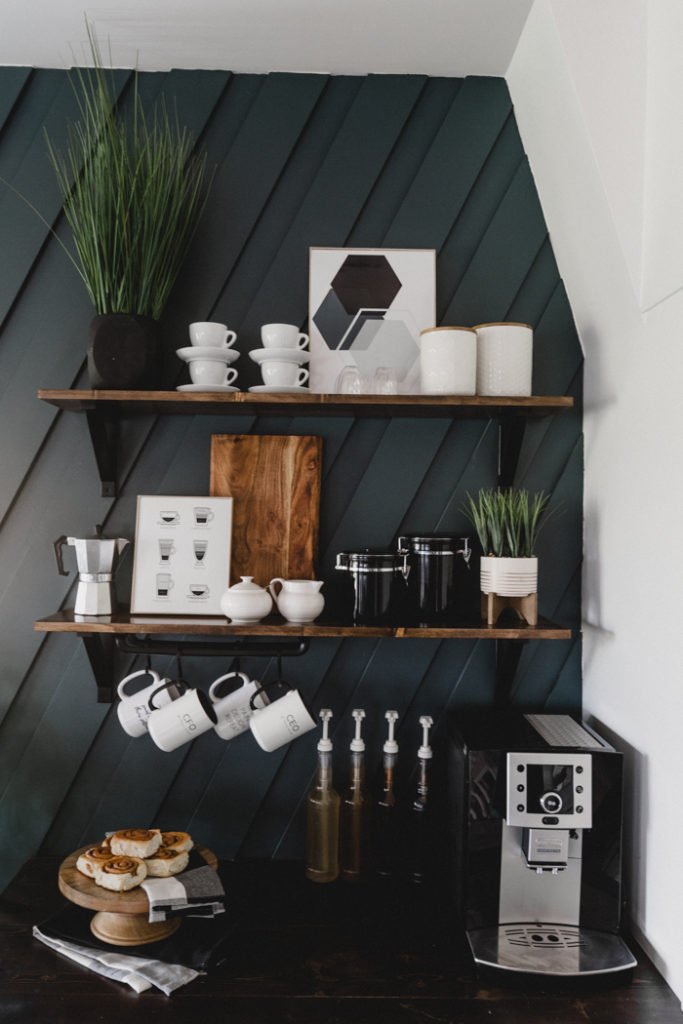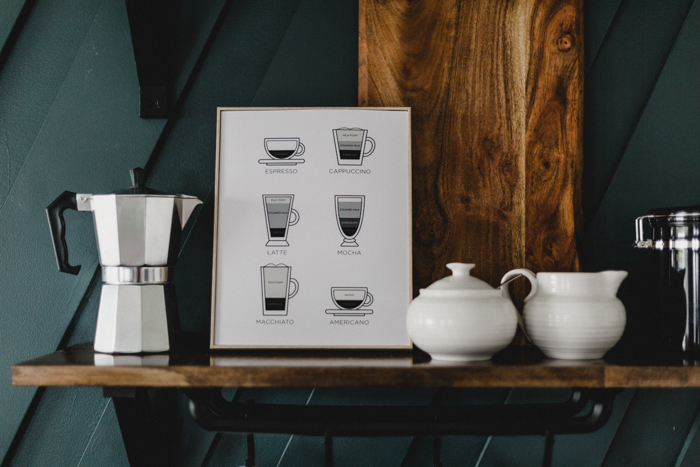 I love how the space turned out. Making my morning coffee was already my favourite part of the day! Now it's gonna get a whole lot happier!
Modern Coffee Station Sources
Here is everything you need to decorate your own beautiful coffee station:
Knobs
Pulls
Appliance pulls
S Hooks
Syrup Pumps
Hexagon Print
Coffee Print
Coffee Bean Containers
CEO and CFO mugs
Cappuccino Cups
Espresso Cups
Wood Stain
Brackets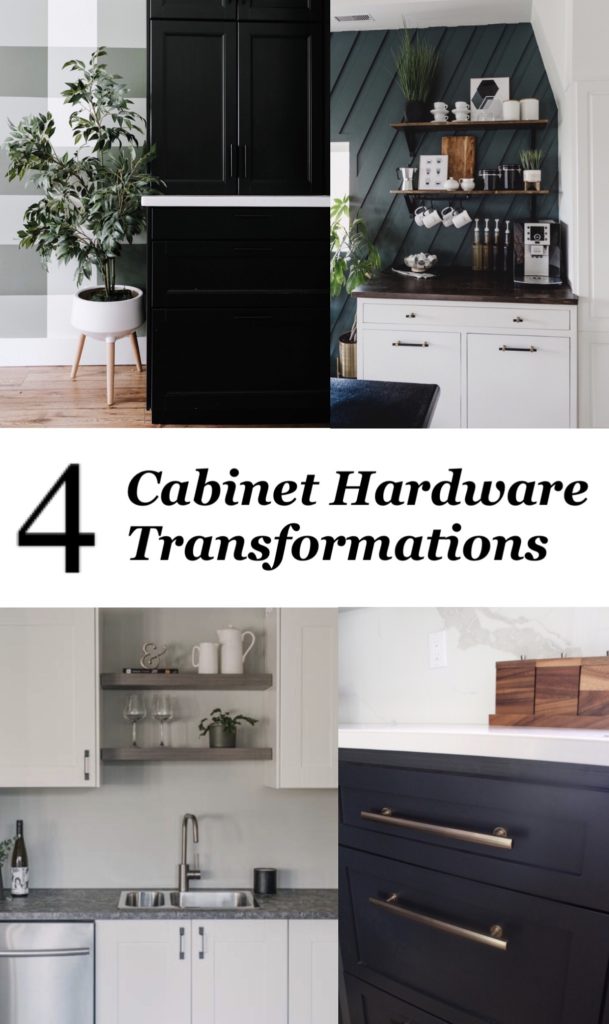 Find more great cabinet hardware inspiration from these great makeovers:
Basement Kitchen Renovation by Lemon Thistle
New Kitchen Cabinet Pulls by Harlow and Thistle
Updating the Kitchen by The Learner Observer
And if you're wondering about the beautiful Moulding Accent wall behind the coffee station, here's how we made it!