These gift crates are the perfect gifts for fishermen (or any guy on your list!). Instead of the traditional gift basket, why not opt for gift crates!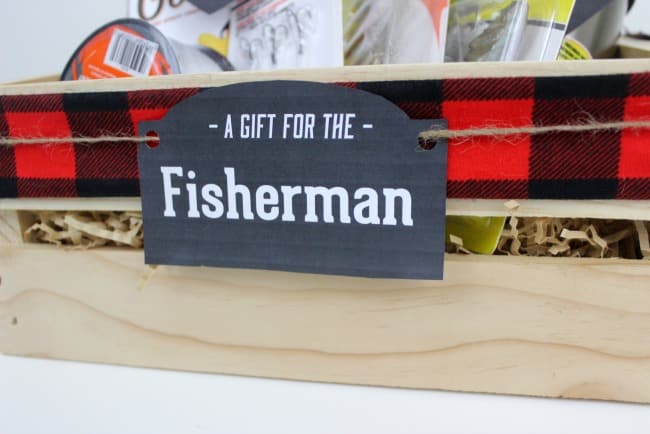 If you're here, chances are that you are struggling to find the right gift for the fisherman in your life! Men are soooo hard to buy gifts for. Whether you are looking for a few small items, or a few large ones, I've rounded up some of the best gifts for fishermen that I could find!
When I first decided to make some gift baskets for men, I started with the woodworker. It was the easiest gift basket to make because I already had several woodworkers in my life and was used to buying for them!
After I did that gift crate, I realized that there were a ton of other "interests" out there that people needed ideas for! So I started creating gift baskets for the other guys I knew, hoping to find ideas for as many of them as possible.
Since I don't know anything about fishing myself, these gift ideas for fishermen came almost entirely from friends of ours who let me ask them questions, lol. Hopefully this list helps you find what you're looking for!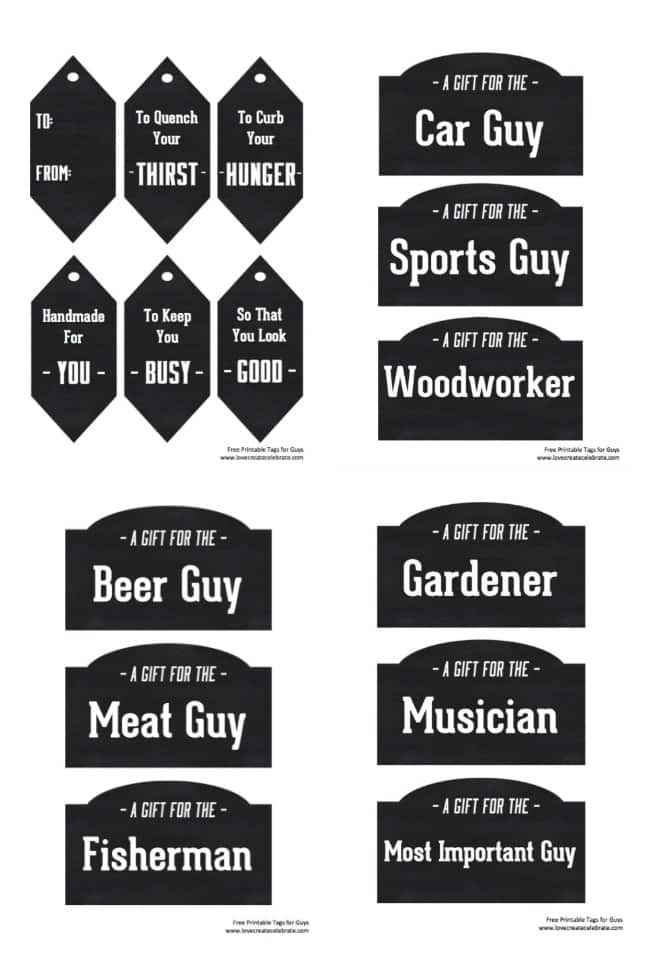 *This post may contain affiliate links. When you buy a product through one of our links, we get a commission at no cost to you! Thank you for supporting our blog so that we can continue to bring you posts like these. For more information, please see our disclosure page.*
Start by printing off your free printable labels HERE:
If you're making gift crates (my masculine alternative to gift baskets), then you may want to download some of these printable tags to go with your gift.
These printables are available for free to anyone on our e-mail list and can be downloaded below.
(You are also agreeing to our Privacy Policy)
I tried to make a label for every guy on my Christmas list. If your guy isn't there, print off that "Most Important Guy" label. I don't know any man that would refuse that one, haha.
Since I had EIGHT great gift crates for guys, I broke them up into a few different posts, and the ideas for other guys are linked below. This post will highlight ideas for the fishermen in your life.
Gift Ideas for Fishermen
Is there a fisherman on your list this year? Of all the idea gift crates I made, this fisherman one was the hardest to come up with ideas! I actually don't have any fishermen in my life, or on my list, but I know a TON of people who do, so I thought this would be a good crate to include.
I had to search out a few people who actually liked fishing to make this list work. Because of that, some of the suggestions are more generic, but I tried to add some specifics to help you out too! Let me know if you have any suggestions to add!
What you need for a gift crate

:
Suggestions to go inside the gift crate

:

Here are some of the items that I think any fisherman would enjoy receiving in a gift crate.
Waterproof Phone Case (we have one of these and they are amazing!)
Microfiber bait towel (because no one wants those smells or textures on their hands all day!)
De-Fishing Soap (to get rid of the smell afterwards!)
Hooks
Bait
Lures
Fishing line
Thermos or coffee mug
Water bottle
Gold fish crackers
Larger Gifts for Fishermen
These are hard guys to shop for! If you're looking for a few ideas that don't fit inside of a crate, I've gather a few of those for you as well!
I hope you were able to find some great ideas here! There are so many more ideas out there, but I tried to narrow it down some of my favourites, and I only ever share the ones that I would actually buy too!
Don't forget to check out the rest of the gift crates for guys!
OTHER CRATE IDEAS:
I couldn't just create one great gift list without considering some of the other great guy interests out there! So I made a few other lists as well, and you can see them all by following the links below!
Car Guy / Sports Guy / Woodworkers / Fisherman (here)
Beer Guy / Meat Guy / Gardener / Musician
If you're looking for more great gift ideas for men, try these….