A minimal Scandinavian inspired garland to your holiday decor. This DIY snowflake garland is super easy to make using wooden snowflakes from the Dollar Store.
I have the easiest Dollar Store DIY project for you today. You know I love taking affordable Dollar store items and turning them into beautiful home decor. The holidays are my favorite time of the year and I love making holiday decor because so many people are decorating and looking for ideas. This snowflake garland is beautiful and minimal and Scandinavian-inspired. I know you're going to want to make your own when you see how easy it is to make!
Make sure to check out our holiday home tour, you will love the nordic influences in this Christmas home tour!
*This post may contain affiliate links. When you buy a product through one of our links, we get a commission at no cost to you! Thank you for supporting our blog so that we can continue to bring you posts like these. For more information, please see our disclosure page.*
How to Make a Snowflake Garland
Supplies Needed
Step-by-step Tutorial
I found these wooden snowflakes at Dollarama for just a couple of dollars. There's a whole bunch of snowflakes in here and I decided to make a really cute Scandinavian garland with them.
I started by pulling them all out and testing them on my leather cording. Some of the snowflakes didn't flow on nicely, or flow on at all. I worked to find the ones that fit the best the best and flow on nicely.
There were five that worked really well for this. Some of them actually had little holes that I could peek the cording through. I put the leather through, pulled it, and made sure that the leather cord was still nice and flat. Then I pulled it through the adjacent hole.
When the snowflake I was using didn't have holes, I just looked for a gap in the snowflake that was large enough to put the leather through. I put the cord through, made sure there wasn't a big gap that would allow the snowflake to fall off, and tightened everything.
I decided to use leather cording because something like jute or string would end up pulling as I was putting all of these snowflakes through. I didn't want to glue them on because I thought they would be more likely come off in the future, and I didn't want to see the glue marks. Instead, I just wanted to weave them through the actual snowflake to make my snowflake garland.
These snowflakes were actually pretty resilient, but I was still gentle when I was tugging the cording. It held onto the snowflakes really nicely. I strung all of the snowflakes on leaving three inches or so between each snowflake. I ended up with a good three to four feet of garland when I was done.
Our Finished DIY Snowflake Garland
Here's how the snowflake garland looked when it was all done. I love how quick and easy this project was!
I love how the little snowflakes accent the greenery! This would look gorgeous on the mantle above your stockings, above the fireplace, or just in the greenery above your window. It's just a simple touch that adds so much texture, and gives a little nod to nordic and scandinavian holiday decor.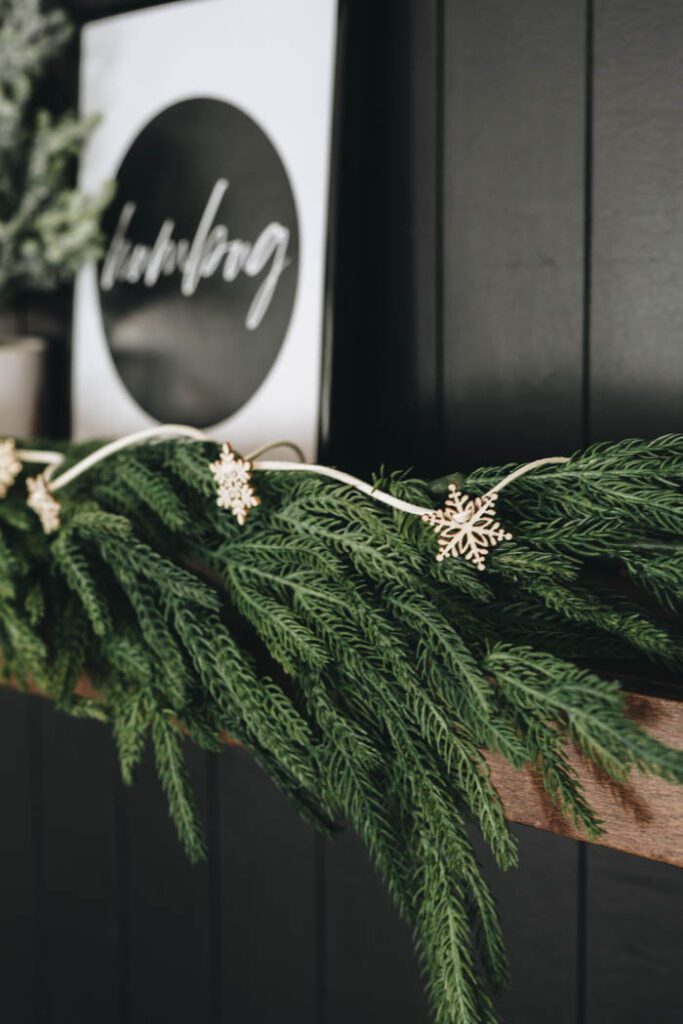 When I do Dollar Store crafts, I usually do a bunch at a time. I did five other projects with this one. Candy Cane Ornaments, Brass Wreath Ornaments, DIY snowglobes, House Ornaments, and a Modern Advent Calendar. You can watch me make this adorable snowflake garland and all of the other Scandinavian-inspired Christmas decorations in the video below!
If you're looking for another DIY garland idea, you will love this DIY Bell Garland!