*This post contains affiliate links. For more information, please read my disclosure policy*
The One Room Challenge for the fall is over, and our daughter's new Big Girl Bedroom is amazing, but my posts about the project haven't stopped! I had SO many individual projects during that quick six week challenge that there was no way I could share them all in that time! In week four of the challenge, I introduced these adorable and whimsical DIY Decorative Wall Hooks, and today I'm going to show you how I made them!
I started by pulling out my favourite, and by far most useful crafting tool, my Cricut Explore. I first had to decide what shapes to use, and since the room was taking a whimsical turn, I decided to go with some animal silhouettes. I chose a bird, an owl, and a butterfly because I know my daughter loves all three! I simply searched the images in their database, and them sizes them so that they were less than 6″ (which was the width of my wood). Finally I cut them out on cardstock.
Next, I layed the images down on my wood, and traced them to the surface. Then I cut out a box around the image so that each image had a separate block of wood.
I'm very sorry I didn't take a picture of the next step, by next, I cut out the images using my scroll saw. This is probably by FAVOURITE tool to use! I had to use a very fine blade so that I would be able to cut into the very small corners of the piece. If you've never used a scroll saw, you just have to make sure to saw into all of the corners at angles for both sides. You can't do any 90 degree turns with this tool!
Once the pieces were cut out, we got ready to add the wooden dowel hooks, My husband drilled a hole at an angle to the bottom, center of the hook. We just eyeballed the angles here. We used a smaller drill bit first (1/8″), to drill a pilot hole – if you start with the larger bit you can crack the wood or the wood binds and can injure you. Then we clamped the piece to our workbench, and used a larger drill bit (3/8″), which was the size of the dowel I used as the hook.
Once the holes were drilled, we cut down the dowels to 1.5 inches, cutting at an angle (again, eyeballing it!), and then we sanded the edges of the dowels so they would be safe for my daughter to touch.
Finally, I sanded down the animal hooks, attached the dowels with wood glue, and painted the hooks using three different colours of
Decor Chalky Finish Paint by Americana
: Vintage
,
Yesteryear
, and Innocence
.
We had to use these Flush Mount Picture Hangers
to attach the hooks to the wall: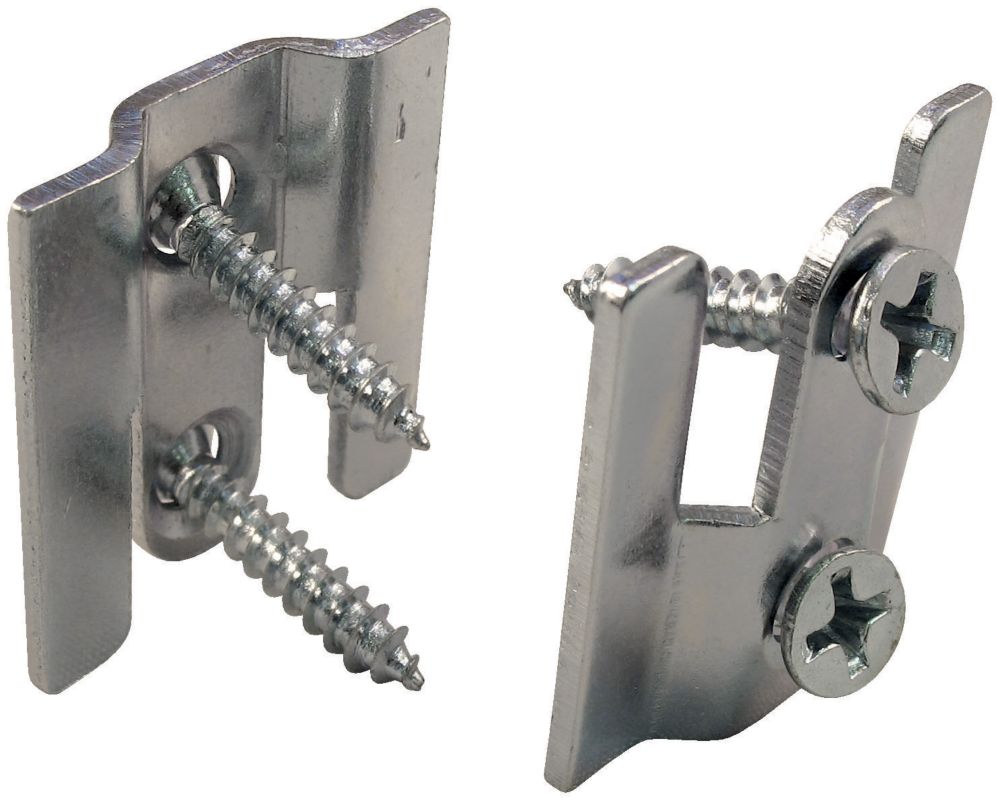 We used these ones because we knew they would be strong enough to hold her coats and bags, plus strong enough to withstand our daughter tugging at the hooks and pulling things down. They have done their job so far!
Hooks are installed and used daily. I hope you found the tutorial helpful. Or at least interesting!
In case you missed it, I shared my DIY Ombre Dresser tutorial last week!
See the entire Big Girl Bedroom Reveal here!