No bake lemon cheesecake is as good and as easy it sounds. It has all the flavor of the classic lemon meringue pie with the rich, can't resist texture of cheesecake. Of course, you can make this no bake lemon cheesecake any time of year, but it's especially good in the spring.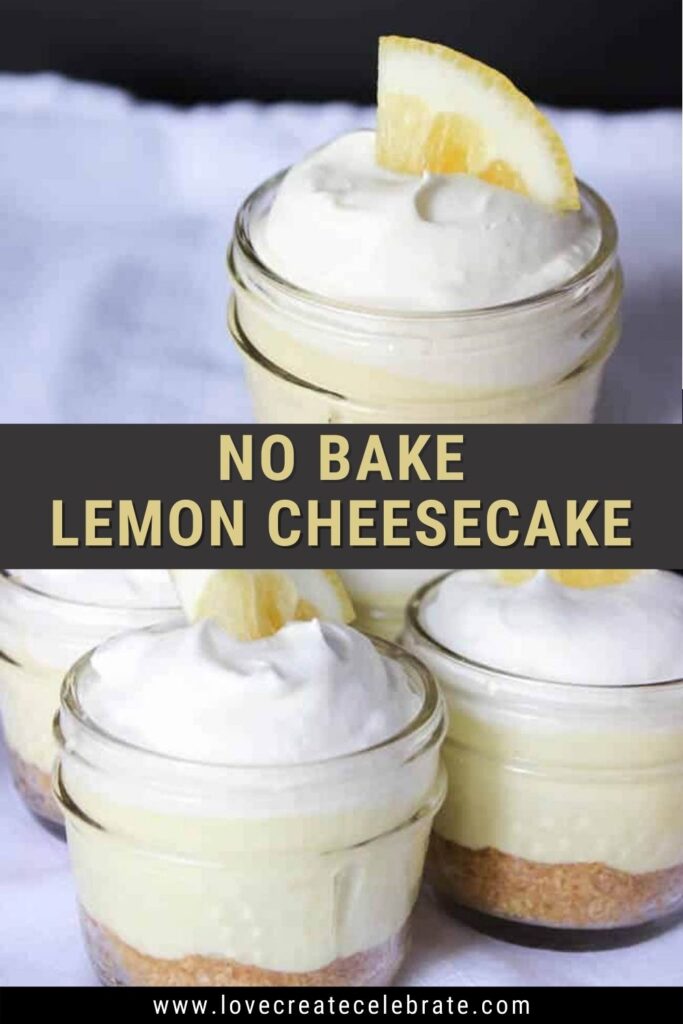 CA Spring is my happy place. I think we all let out a collective sigh of relief when the snow melts away, the green grass starts to peak out from the winter's leftover muck and we see the first buds on the trees. Is it just my imagination or do people start smiling more too?!
Spring is one of my favorite seasons of the year and where I live in Canada, in a small town in northern Alberta, I just can't get enough of it. The clunky winter boots and touques are stored away and out comes the rain boots and umbrellas. If we're really lucky, we may even get to wear some sandals while the ground is still wet!
The tulips and daffodils are flowering and their bright, beautiful colours can be seen everywhere. Another perk to springtime is that I get to send my kids outside without taking 45 minutes to bundle them up and I don't have to worry about their little fingers freezing while they're playing outside. When you have little kids and live in a cold climate, trust me, spring is life changing! Overall, life just gets brighter and easier in the spring.
If spring was a fruit, I think it would be lemon. Like springtime, lemons make me happier by just looking at them! Lemons are so bright, light and airy. I think the glorious flavour of lemon represents those beautiful spring blooms perfectly, don't you agree?! Lemons are so fresh, just like springtime air, and you know what they say: When life give you lemons…make mini lemon cheesecakes! That's how the saying goes, right?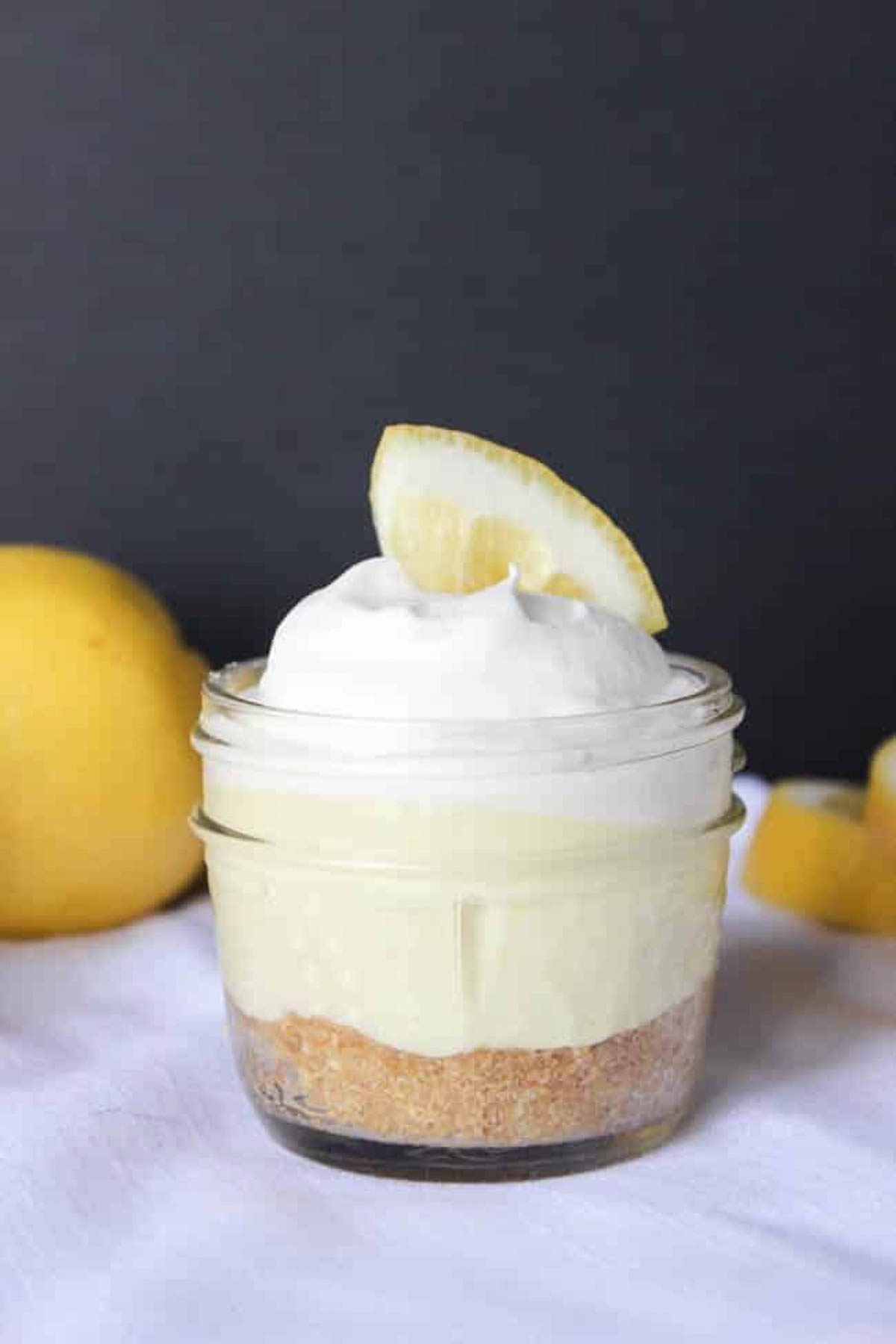 Before you get started on collecting the no bake lemon cheesecake ingredients, I recommend getting some mini mason jars. You probably already have some laying around your house somewhere, maybe tucked away in the corner of your pantry. If not, you can pick them up at a local craft of hardware store. I pretty much make all of my desserts in a mini mason jar. They are the perfect single-serving size!
Not only is the mason jar the perfect serving size, but it also looks great when you fill it with a layered, colourful dessert, like this no bake lemon cheesecake one. Mason jars have a rustic chic feel to them, so the desserts look picture perfect inside of them. Even though mason jars are pretty basic, they give off a classic yet trendy vibe. Topped off with a lemon garnish and served with a dessert spoon, this easy no bake lemon cheesecake looks impressive and is extremely appetizing, with minimal effort.
One recipe makes about 10-12 of these jars full, so if you're having a dinner party chances are this no bake cheesecake recipe should make enough for you to be able taste test one or two first! I mean, you have to eat some first to make sure that it's safe for your guests to eat right…? Haha! Or if you're really lucky, you'll have some leftovers to sneak away and eat later ;)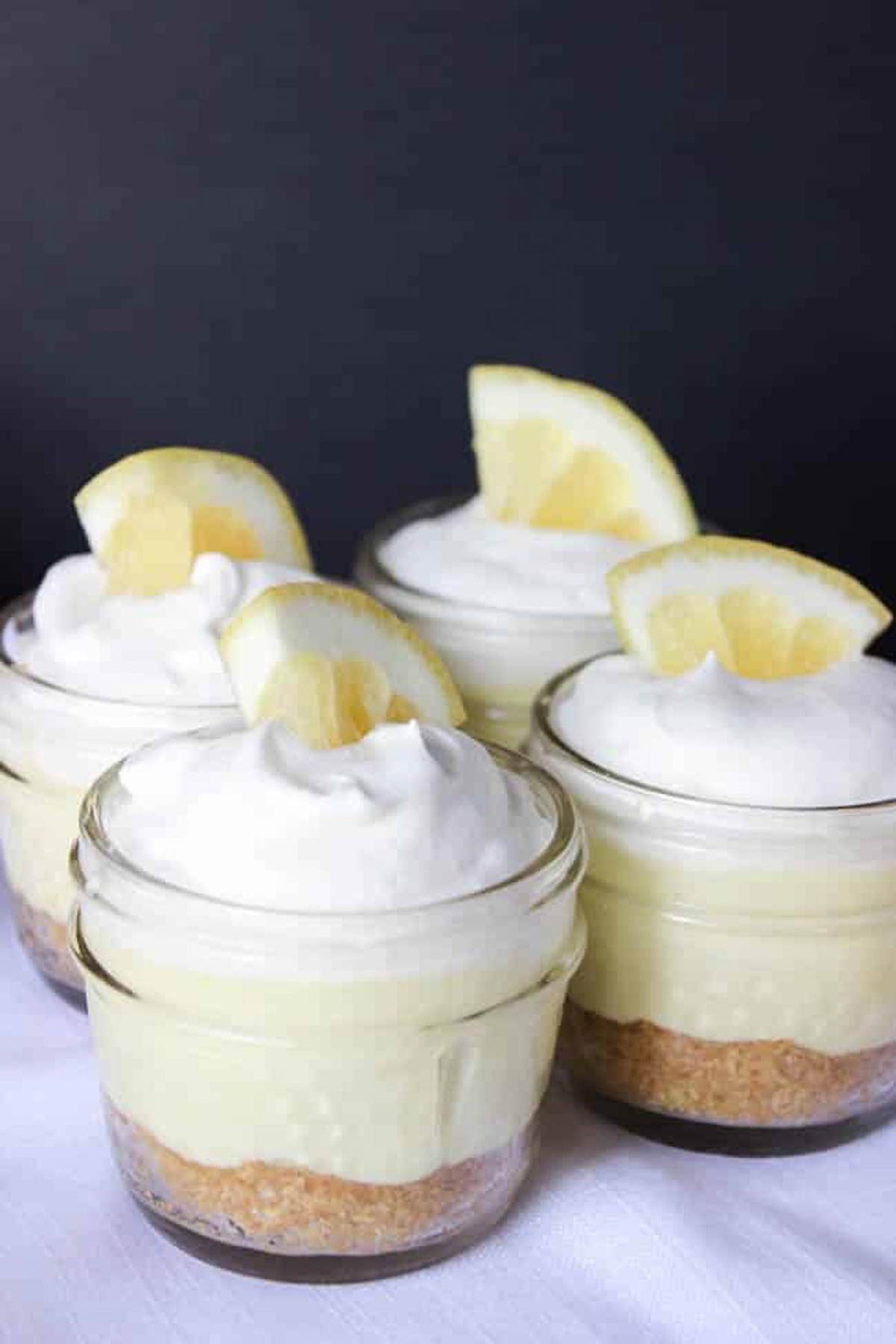 However, sometimes when I use a mason jar for my no bake lemon cheesecake I might end up with a bit more graham cracker crust at the bottom than I usually would if I were to make this dessert in, for example, a pan. I love the graham cracker crust so am totally ok with this, but if you want minimal crust then that's just something keep that in mind when making these.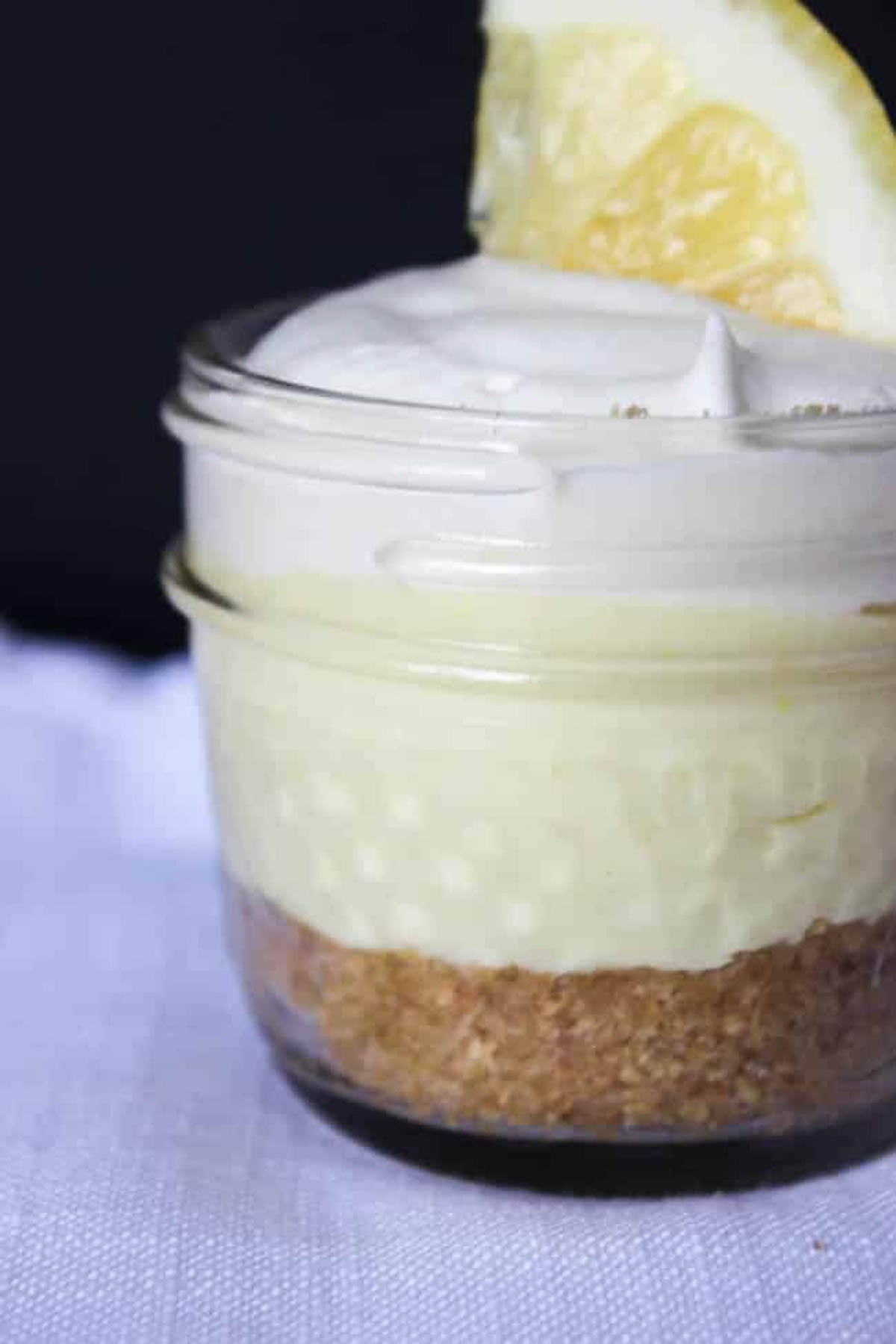 To find the perfect no bake lemon cheesecake recipe to share, I tried a few different options and varied a few of the ingredients to find the perfect balance of flavour. After a few taste testings I'm happy to say that I think I've found the perfect amount of lemon flavouring! Although if you're a real lemon lover, you can always add more. Or, if you wanted to tone it down a bit just add less.
This mini lemon cheesecake no bake recipe is a layer of crushed sweet graham cracker crust, topped with delicious, homemade tangy lemon meringue and finished off with decadent whipping cream. I add a slice of lemon on the very top for garnish – or for eating, if you so wish. You can also save some graham cracker crumbs to sprinkle over the top of the whipping cream if you'd like.
Here is the recipe for my no bake lemon cheesecake: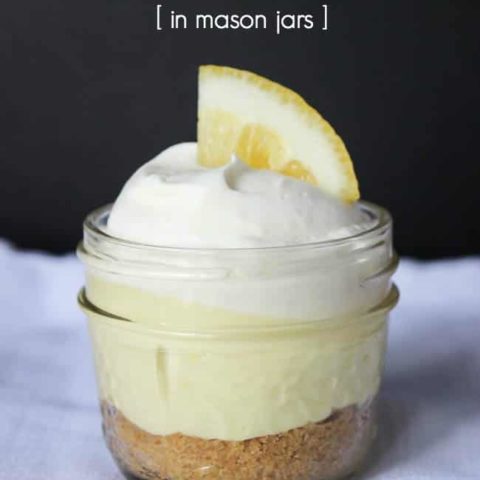 No Bake Lemon Cheesecake
A delicious dessert that you can make ahead and serve to your friends or family. Can make it in a pie plate or in individual servings.
Ingredients
1 1/2 cup finely ground graham cracker crumbs
1/3 cup white sugar
6 tbsp butter, melted
250g cream cheese, softened
1 can sweetened condensed milk (14 oz)
1/3 cup lemon juice
5 tsp lemon gelatin powder (eg. jello)
1 tbsp water
250ml whipping cream
yellow food colouring (optional)
1 lemon, to garnish
Instructions
Mix together graham cracker crumbs, white sugar, and melted butter. Press into the bottom of mason jars and let this set in the refrigerator for an hour, or until set.
Beat cream cheese until fluffy. Gradually add in sweetened condensed milk until combined. Stir in lemon juice.
Mix water and gelatin until gelatin is dissolved. Add to cream cheese mixture.
Pour mixture overtop of graham cracker base in each mason jar and chill for three hours.
Whip whipping cream until fluffy. You can add a tbsp or two of sugar to sweeten it if desired.
Top cheesecakes with whipping cream and a wedge of lemon if desired. Serve cool and enjoy :)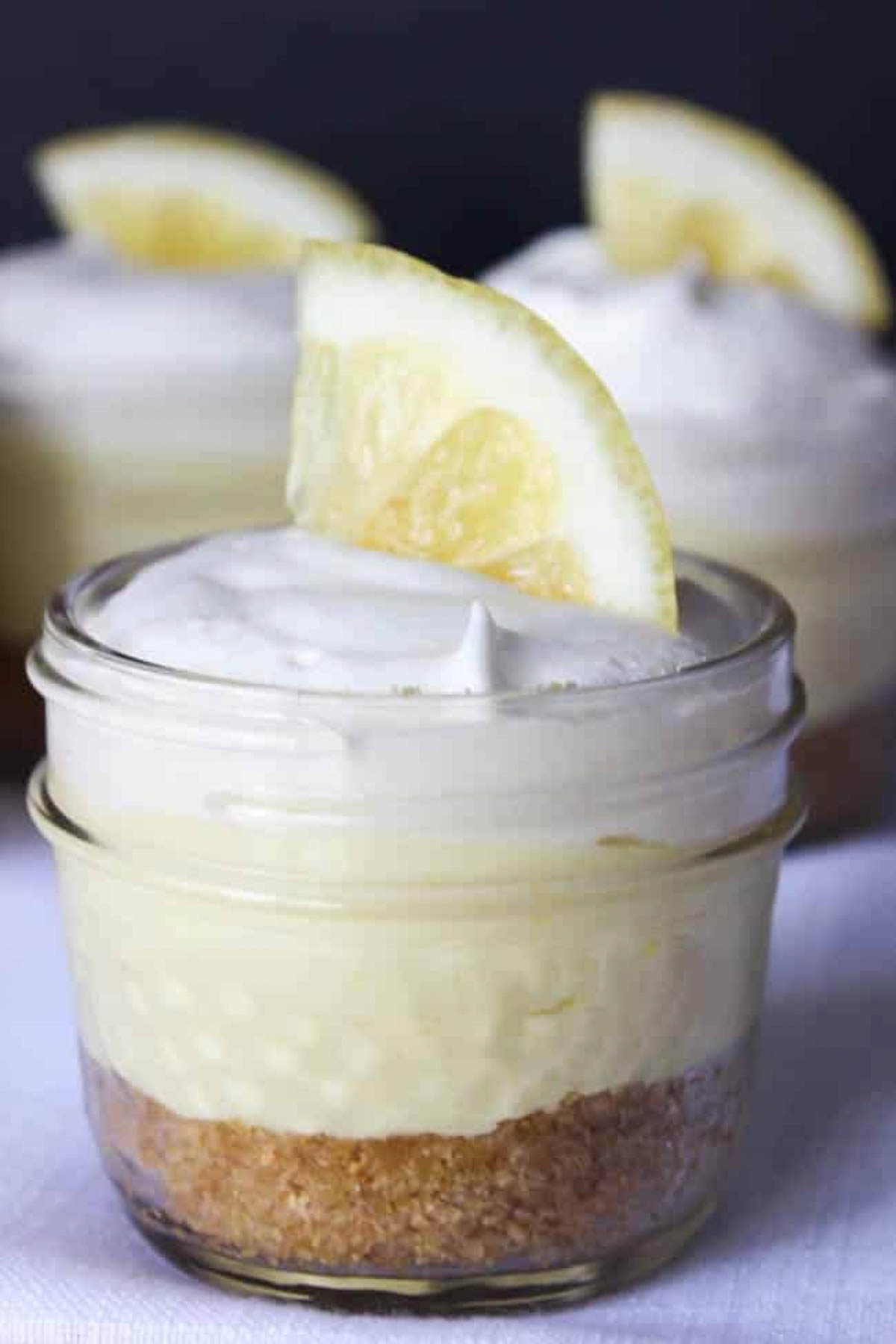 And voila! Perfection. Wasn't that easy and doesn't it look delicious? I think it tastes as good as it looks, too. It's perfect for those fresh, warm spring days and is certain to impress your guests.
I hope you enjoy this no-bake lemon cheesecake! If you like this cheesecake, you'll probably love this Cherry Cheesecake too!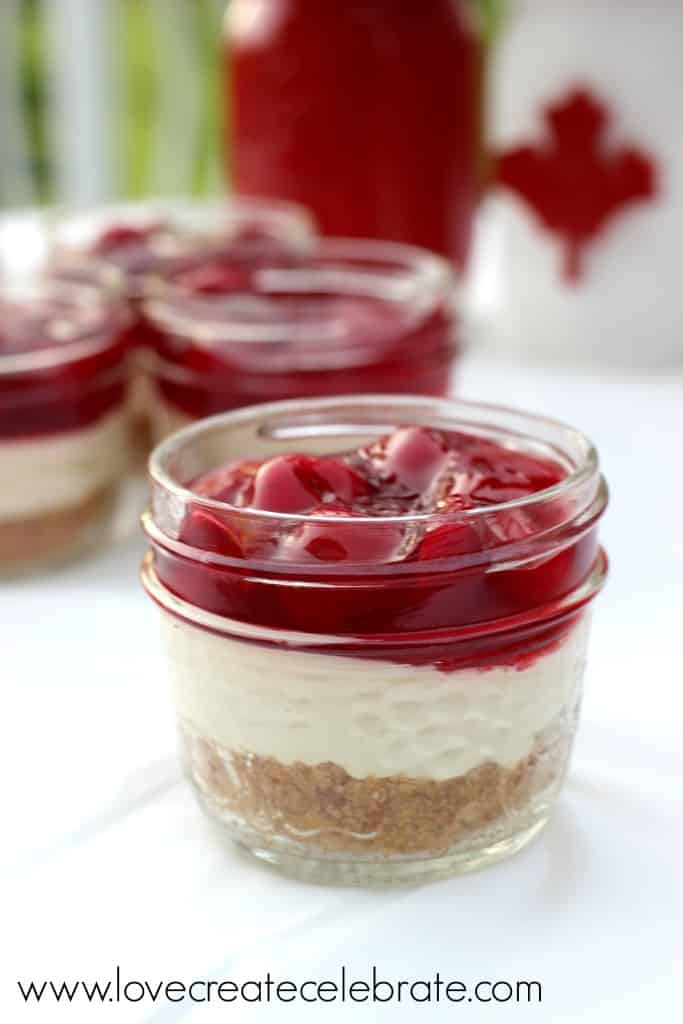 Or maybe you like the taste of mint and chocolate better?! If so, try this Mint Cheesecake!
Like the mini lemon cheesecake recipe, both of these are no bake. Easy peasy, right?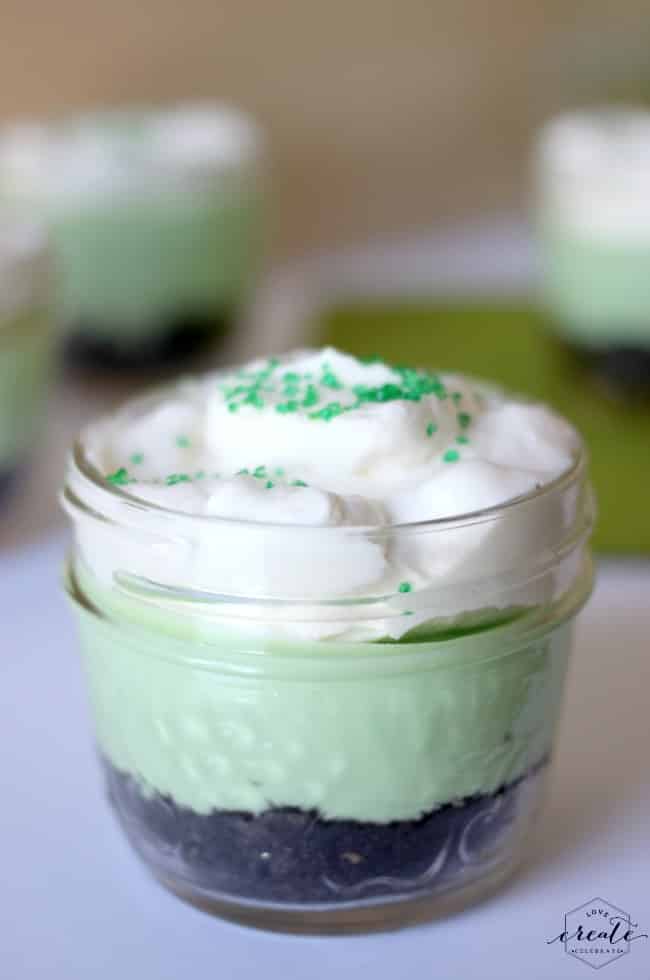 What do you think? Did you try it out? Or do you have a mini lemon cheesecake no-bake recipe to share?
I'd love to hear your thoughts!