Love these Modern DIY Mini Christmas Trees! Upgrade dollar store trees and give them some style with this quick DIY tutorial for the holidays!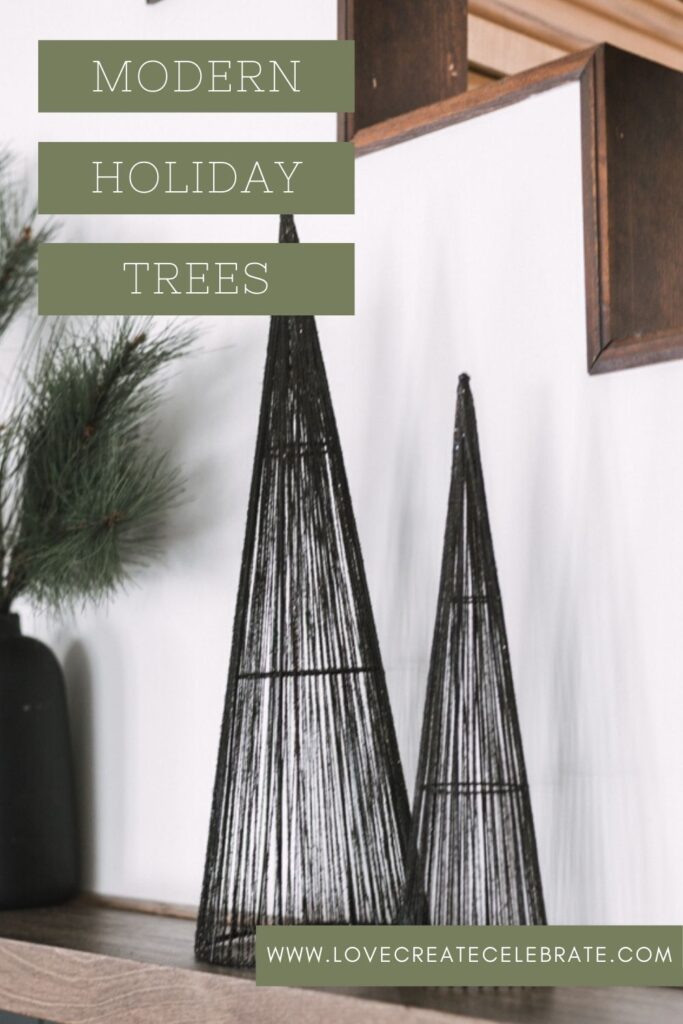 Modern holiday decor, that is also affordable, is hard to find. Especially in Canada. Everything considered "modern" tends to cost an arm and a leg. Unfortunately, that's the type of Christmas decor that I'm always looking for, which leaves me the option of spending a lot, or finding a way to make my own, like I did with these DIY Mini Christmas Trees.
*This post may contain affiliate links. When you buy a product through one of our links, we get a commission at no cost to you! Thank you for supporting our blog so that we can continue to bring you posts like these. For more information, please see our disclosure page.*
Here are the gold sparkly trees that I started with. They may not look it in the photos, but they are really sparkly. Full of glitter that fell off any time I touched them. Glittery glam is not very "me" and definitely didn't fit the vibe I was going for this Christmas.
When I decorate, I tend to move away from the more traditional reds and greens (although I always have a touch of those too!), and end up decorating with my favourite colour palette: black, white, green, grey, and wood.
It's a little bit Scandinavian, a little bit modern, and still incredibly festive! So although you can paint these any colour you want, I opted to stay in my palette!
The first step was to use the side cutters to cut off the ugly round ball at the top of the trees. There is so much glue underneath it, that it isn't needed, and it doesn't add anything visually.
The next step is to use the wire brush to brush off all of that extra glitter. You can't spray paint all of that glitter, but it would just keep falling off, and potentially show the colour underneath.
This step took the longest of everything because there was sooo much glitter, lol. Be careful while you brush because they are just strings going up and down, and they would be easier to break than wire if you were to hit them roughly.
The final step is to spray paint everything in whatever colour you choose.
Video Tutorial for these Mini Christmas Trees + Five Other Modern Decor Ideas
This Christmas video about my modern holiday Dollar store DIYs is one of my absolute favourites! I shared how I made these DIY mini Christmas Trees, and also five other modern holiday DIY ideas!
Honestly these holiday DIYs are all things that I will use year after year, and they are all so easy to make! Enjoy the video!
Don't forget to subscribe to our channel while you're there!
Our Finished Mini Christmas Trees
Black holiday decor is not for everyone, but to me it looks chic and timeless, and so contemporary! If you don't like the black you could paint them any colour, but I'm thrilled with how these turned out!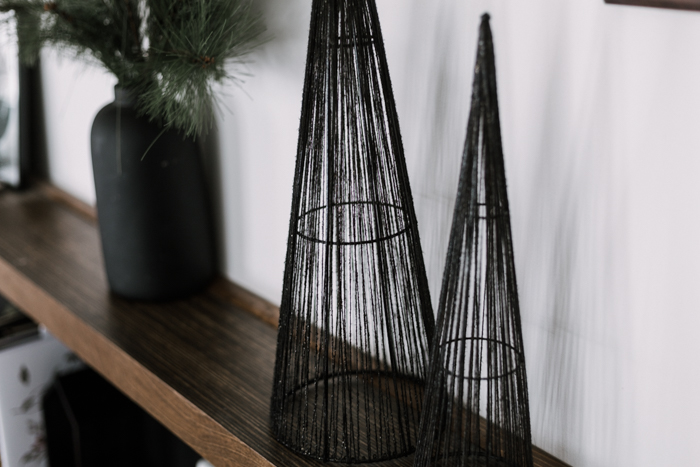 Here's how they look decorating our desk space. Next year I'll throw a bit more colour into this mix, but I will always and forever be a fan of black and white decor.
DIY Mini Christmas Trees
Love these Modern DIY Mini Christmas Trees! Upgrade dollar store trees and give them some style with this quick DIY tutorial for the holidays!
Materials
Dollar Store Trees
Black Spray Paint (or any colour)
Instructions
Use side cutters to cut the ball off the top of the trees
Use a wire brush to brush off as much of the glitter as you can
Spray paint your trees
Recommended Products
As an Amazon Associate and member of other affiliate programs, I earn from qualifying purchases.
For more modern inspiration, check out another beautiful holiday home tour!