Beautiful kids dress-up wardrobe! Build your own dress up storage to organize all of those princess dresses and dress up outfits!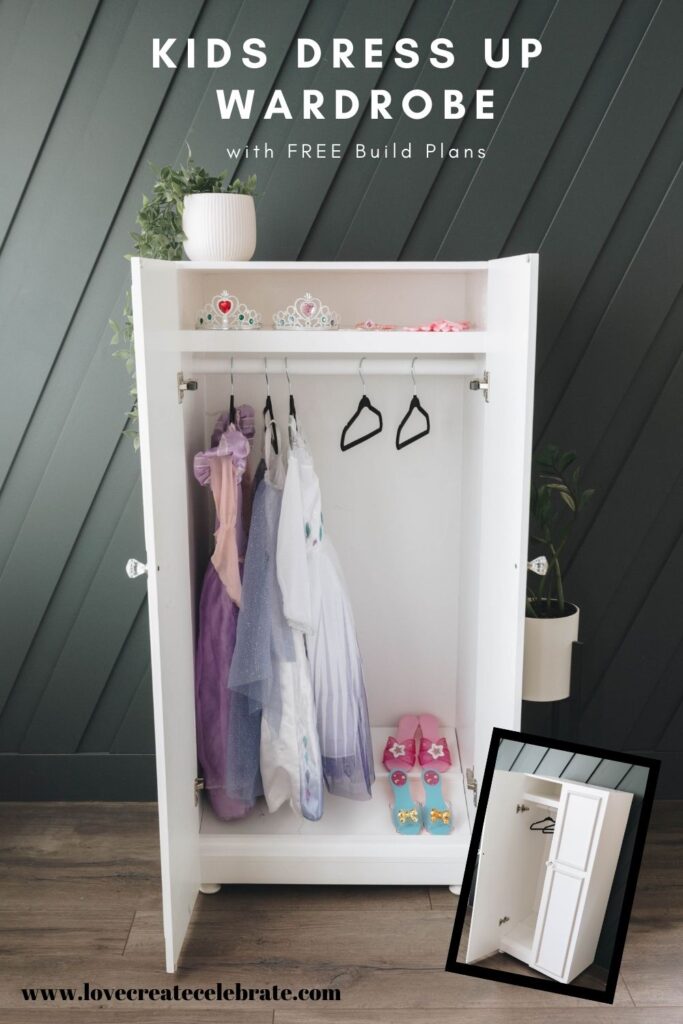 If you have a little one that likes to dress-up, you're going to love this next DIY! We are already thinking about Christmas, and wanted to make some of the gifts for our kids this year. Our five year old, who loves to dress up in anything and everything, doesn't have any dress up storage worthy of a princess, so we built her a new dress-up wardrobe!
*This post was sponsored by Kreg and Build Something, and may contain affiliate links. As always, opinions are 100% my own. For more information, please see my disclosure page.*
We decided to build this for our daughter for Christmas, but it could work for girls, boys, toddlers, etc. And it would be a great gift for birthdays too!
Or just build it for mom! My kids leave dress up stuff all over the floor while they are digging through bins for the perfect dress or pair of shoes, because they just can't see it all. This little dress-up storage unit is a life-saver for me because it organizes everything for them and makes play and clean-up easier. Everything has a home – and a pretty home at that!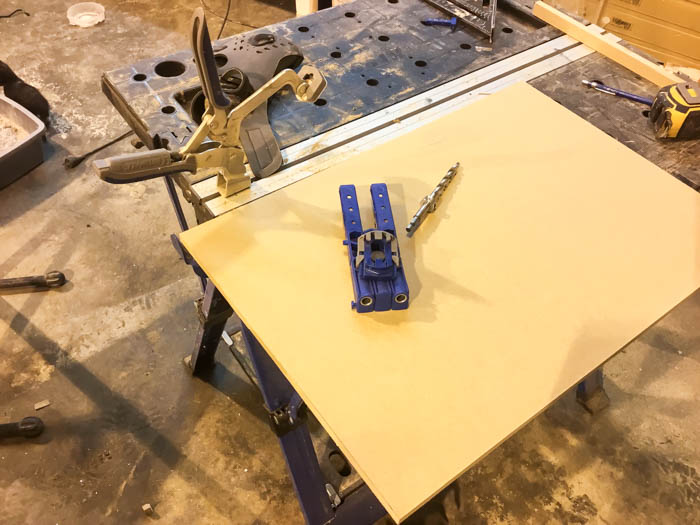 Pocket-Hole Joinery
Almost every one our builds includes pocket hole joinery, including this one! If you've never heard of pocket holes, it's basically a way to have your wood pieces attach by drilling into the board through an angled hole. It allows you to hide your joinery and gives you a strong connection between the two pieces.
We have Kreg's K5 Master System and we love it. I can honestly say that we use it on almost all of our builds because it's so practical (& affordable!).
On this build, we use the pocket hole jig to build the frame of the MDF cabinet. A simple way to join all of the sides and keep it strong for all of the kids that are going to climb, pull, and hang on this guy in the future, lol.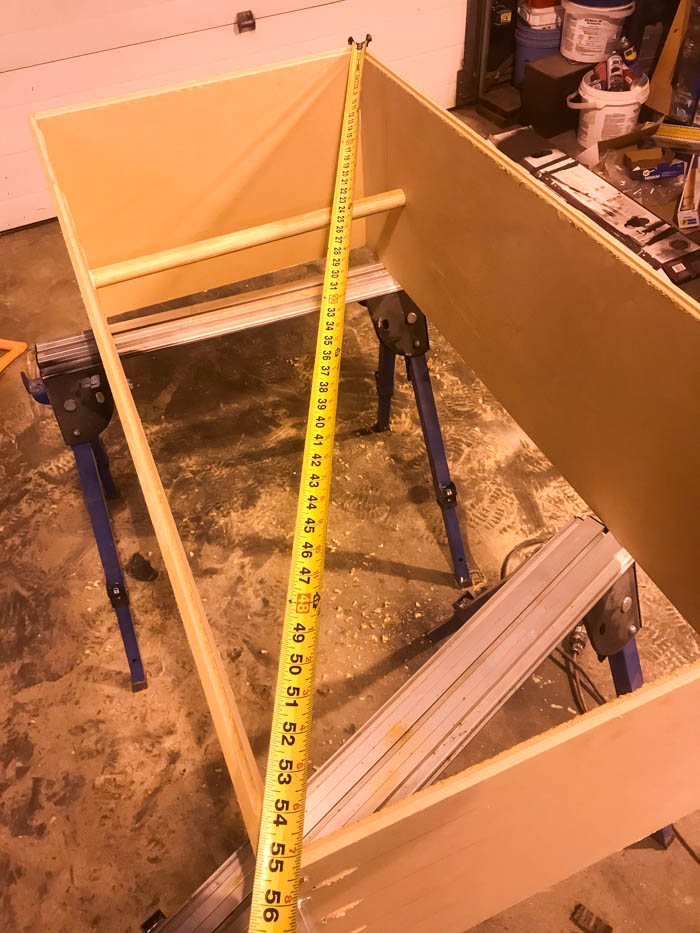 How to Build A Kids Dress-Up Wardrobe
If you have some woodworking skills, this will probably be a fairly simple build for you. It's an MDF frame, held together by pocket holes with a hardboard backing, and MDF cabinet doors.
We added our own dowel rod, but you can also buy a small adjustable rod and add that in to make it even easier!
The part of the build that could be more complicated if you've never done it before, is adding your own cabinet hinges. We also used the concealed hinge jig to add the hinges for the doors. It's a quick and easy way to find the correct placement for your hinges, and makes it extremely fast and easy to add them on! If you've never used a concealed hinge jig here's a quick video about it:
To build our dress-up wardrobe, we teamed up with Build Something to share the full build plans on their site. If you've never heard of BuildSomething.com it is a website full of great build plans, that are available for FREE.
GRAB THE FREE DRESS-UP WARDROBE PLANS HERE!
Finishing Your Dress Up Wardrobe
As you'll see in the build plans, we finished off our cabinet by adding custom trim and some cute crystal knobs. I think the trim is what sets this piece apart and real makes it feel like a miniature version of a real wardrobe.
We cut our own trim on our router table, but you can just as easily buy 1/2″ think trim and nail it down instead.
Since our dress up cabinet is made of MDF, the only real option is to paint it, but you can do with any colour you like. We choose to paint the entire armoire with Bit of Sugar and then to paint the trim with Sand Storm, both paints from Behr.
We used our favourite paint sprayer to paint the entire piece, and then used a small brush to paint the trim pieces.
Our Finished Dress-Up Storage Wardrobe
I truly cannot wait until Christmas now! This cabinet was so fun to make, but I already know our five-year old princess is going to play with it non-stop on Christmas morning!
With storage for her dresses, hats, shoes, and a secret compartment for her jewels, I know she'll be busy dressing and organizing all day.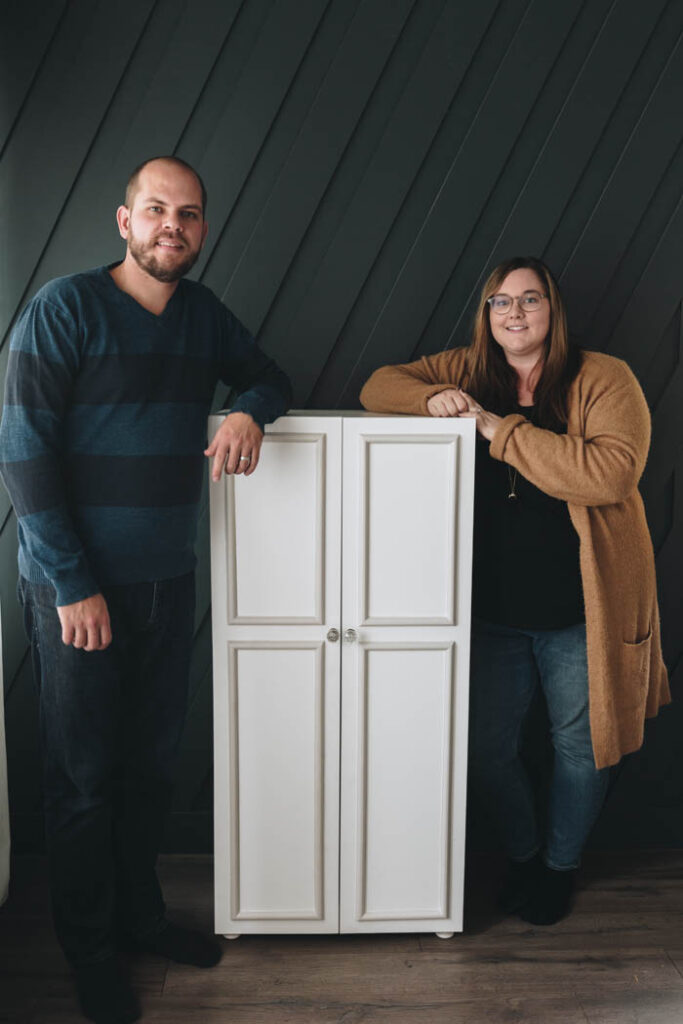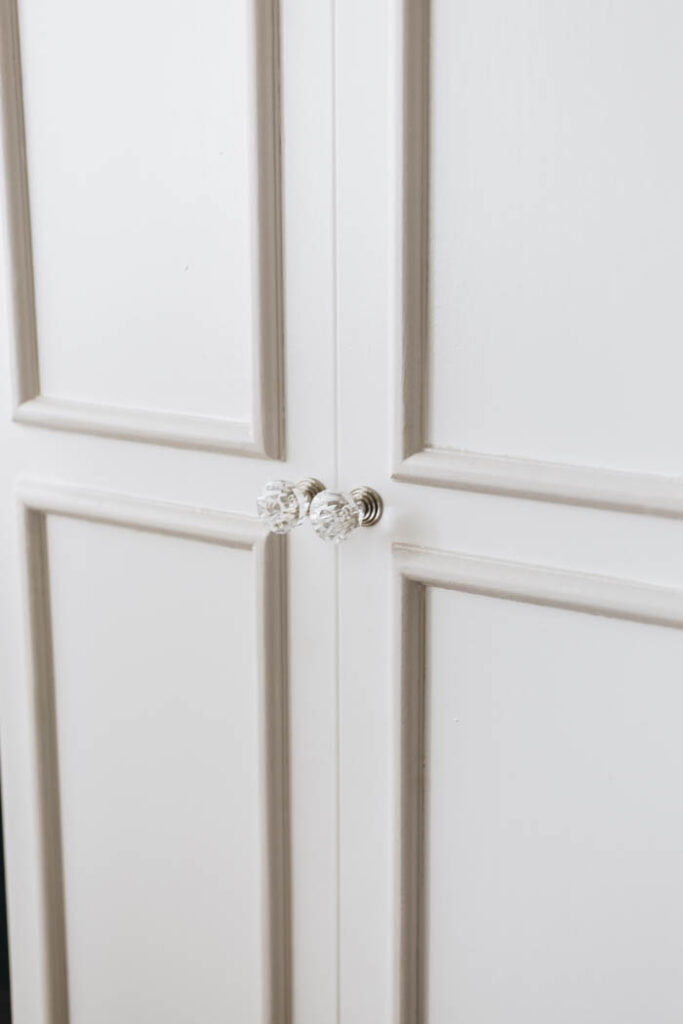 We don't have any pictures of our daughter using her dress-up wardrobe yet, but I'll try to add some after she opens it up! For now, here's my husband showing how to open the secret compartment below the shoes!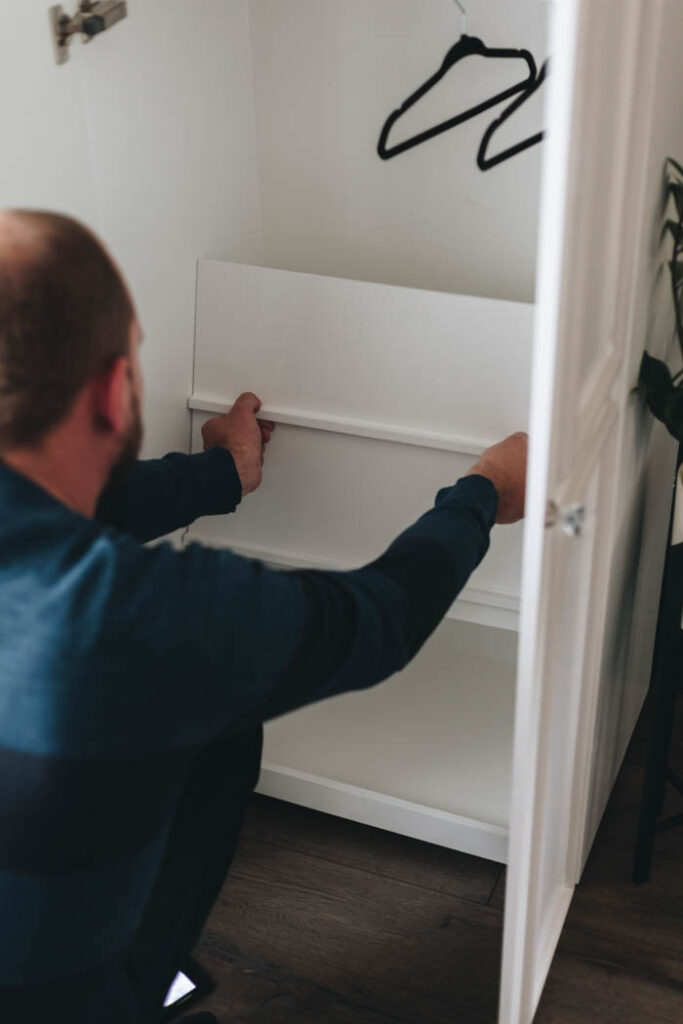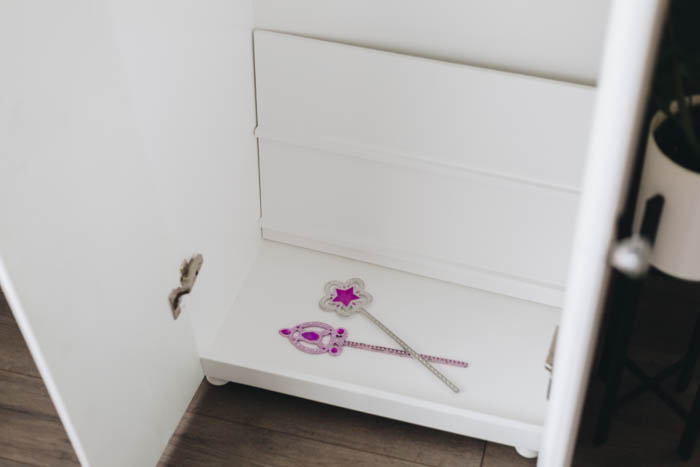 And here's how it looks full of princess goodies! Honestly, I think we will still add a few hooks to hang her jewellery on, but other then that, I think it's pretty perfect!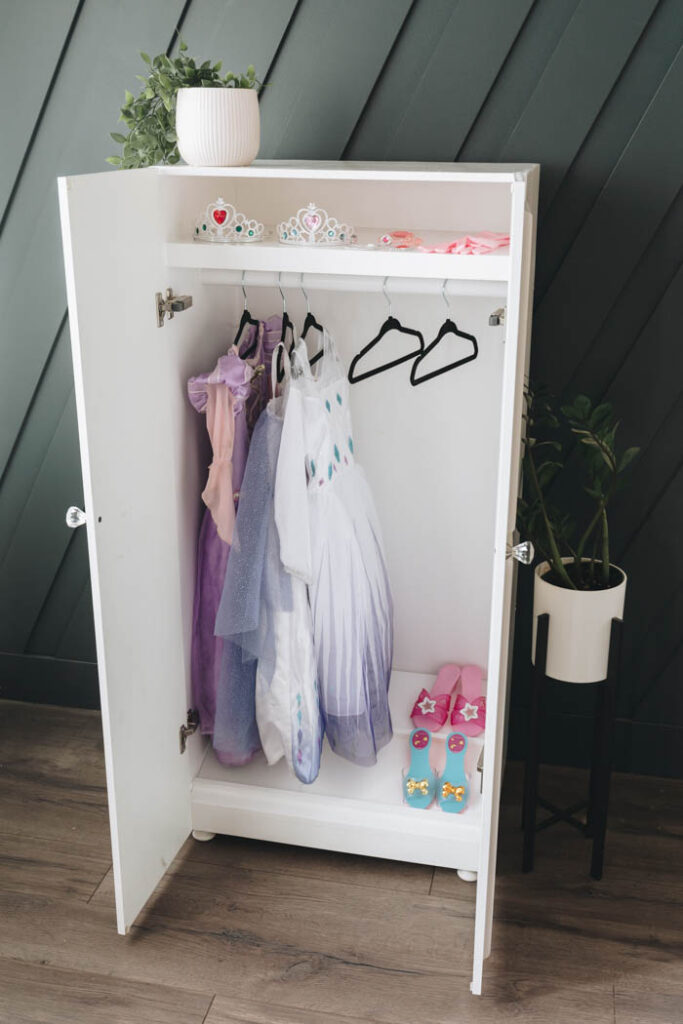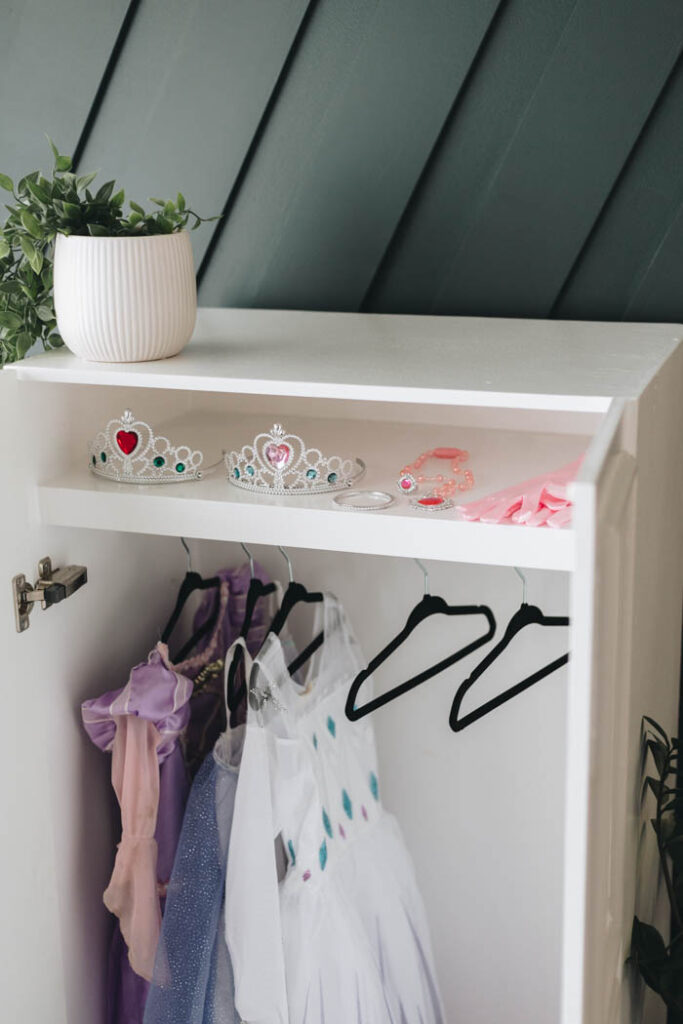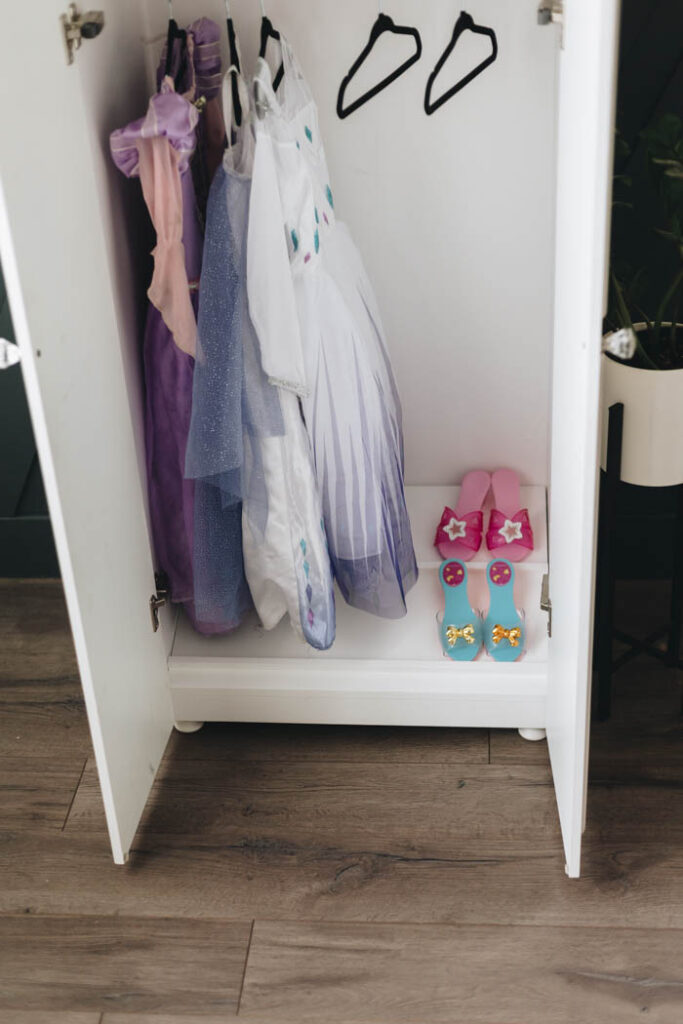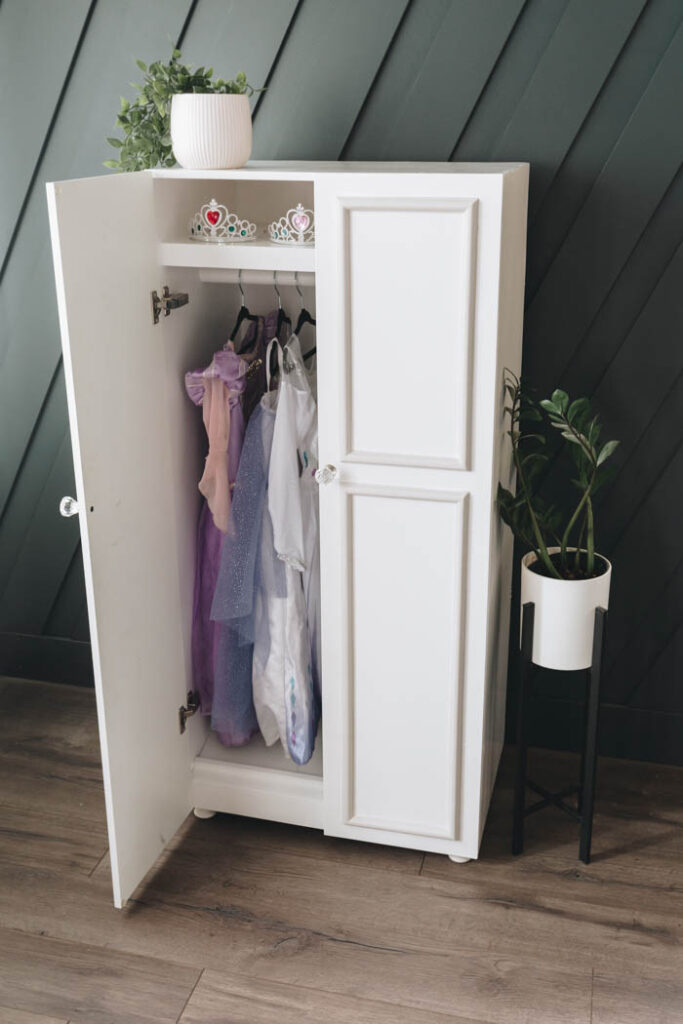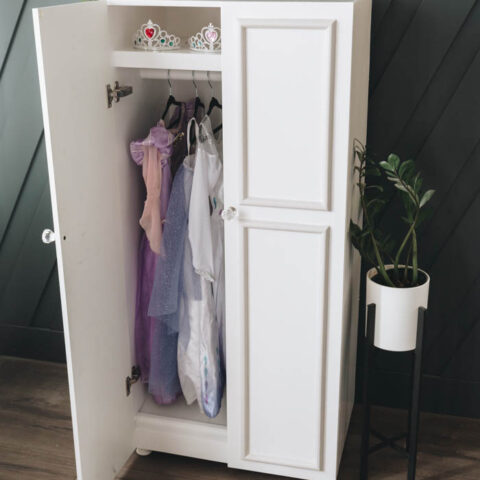 Kids Dress-Up Wardrobe
Beautiful kids dress-up wardrobe! Build your own dress up storage to organize all of those princess dresses and dress up outfits! 
Materials
4 x 8 sheet of 1/2" thick MDF
Pine dowel (1.25")
1/4" hardboard
Door Trim
Door Pulls
Cabinet Feet
Door Hinges
Paint
Tools
Mitre Saw
Table Saw
Kreg Pocket Hole Jig
Concealed Hinge Jig
Drill
Impact
Router Table (for DIY Trim)
Instructions
Cut MDF boards using cut list in plans
Drill pocket holes and holes for dowel
Route back edge of cabinet to allow for flush install of backing board
Assemble cabinet
Install backing board
Install shelf
Install shoe rack
Install doors and hardware
Cut and attach trim to doors
Attach feet
Paint cabinet
Notes
Read the post to find the build plans.
Recommended Products
As an Amazon Associate and member of other affiliate programs, I earn from qualifying purchases.
If you're looking for another great Christmas gift idea for kids, here are FREE build plans for a DIY LEGO table!