An easy DIY Letter Board! Learn how to make your own with dollar store supplies and spell out your own fun words and phrases!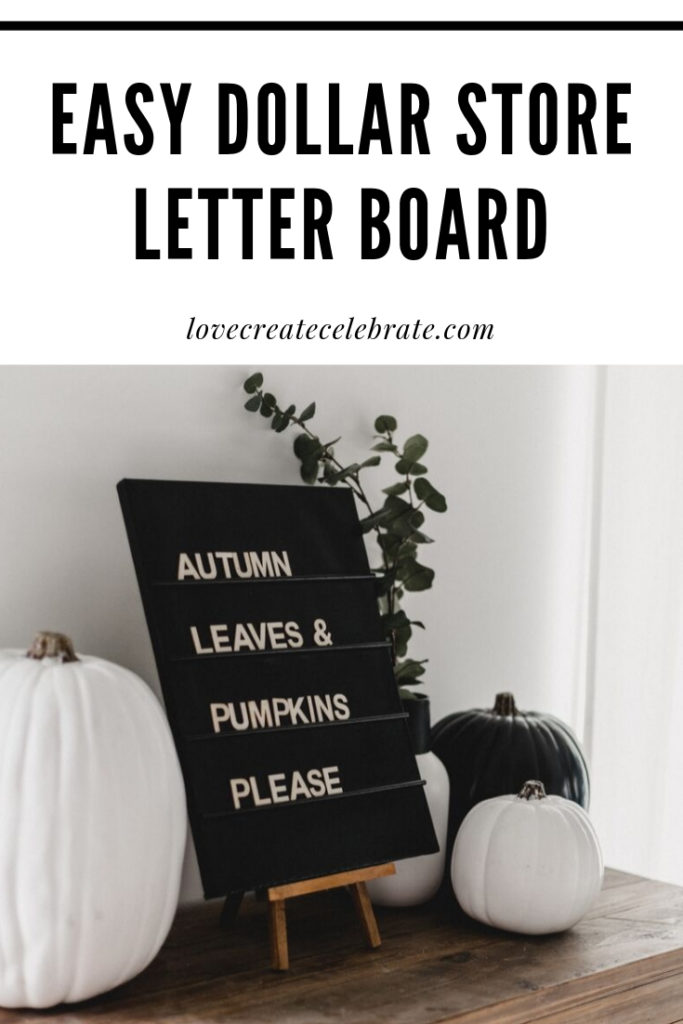 Letter boards are everywhere these days! And up north where I live, they're not all that easy to come by! I already own a couple of these, and honestly, I can't get enough of them! But they can be a bit expensive! I knew there had to be a better way, so I tried my hand at making one with dollar store supplies and I LOVE how our DIY Letter Board turned out! I love writing seasonal words and phrases on ours, and I know my DIY letter board makes a lot more appearances in the fall and holiday seasons, so I figured this was the perfect time to DIY one!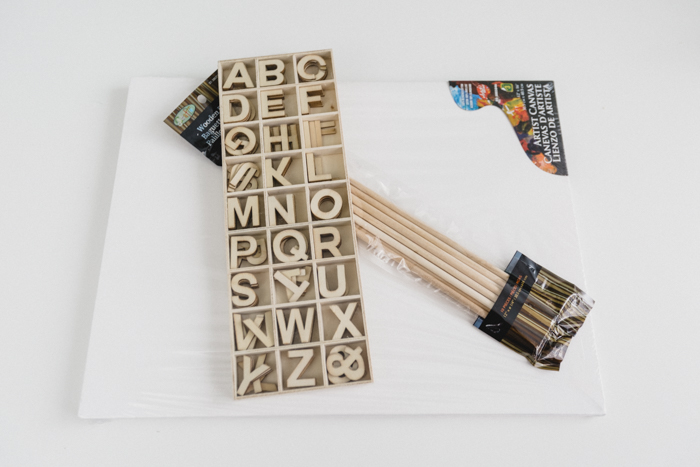 *This post may contain affiliate links. When you buy a product through one of our links, we get a commission at no cost to you! Thank you for supporting our blog so that we can continue to bring you posts like these. For more information, please see our disclosure page.*
Materials Needed for the DIY Letter Board
The beauty of this project, is how affordable it is and how easy it is to make! No tools. Barely any time commitment. And it still looks great!
Here's everything you need:
12″ x 16″ canvas
12″ dowels
Wooden letters/numbers
Small wood easel (optional)
Wood stain (optional)
How to Make Your DIY Letter Board
The first thing I did was create 4 rows for my letters to sit on. The letters I got from the dollar store are only about an inch high (so you can easily make more than four rows, but I thought the spacing would be perfect this way – with three inches between each line.
I started at the top and measured down making marks at 4″, 7″, 10″ and 13″. I started at 4″ instead of 3″ because I was envisioning the letters on the rows as well, and I thought with the letters on the lines, it would be the perfect distance from the top of the canvas.
When you're ready, glue the dowels onto your canvas. I found that the dowels didn't glue on perfectly straight (we're talking dollar store canvas here…), so I just put something underneath the canvas so that I could press down. The glue I used sets very quickly so it was perfect!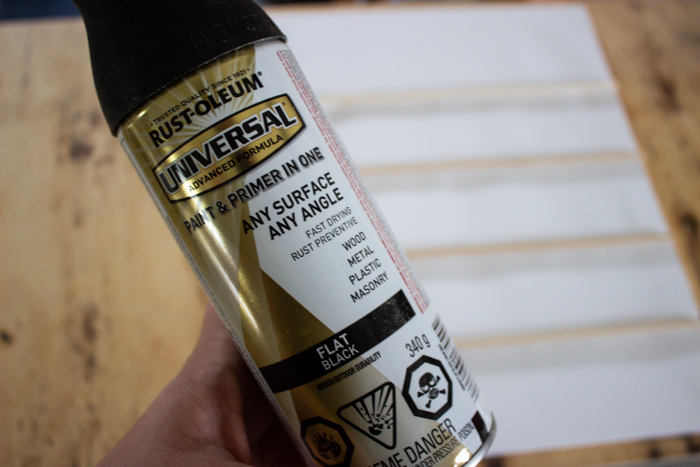 After the glue has dried, spray paint the entire canvas and dowel letter board. It needed about 3 coats of paint from all angles to cover nicely and get under all sides of the dowels.
I was originally just planning to lean my letter board on an angle on the wall, but I found this little wooden easel at the dollar store as well, which I thought would actually be perfect for setting the letter board on.
I stained my easel with dark walnut stain because I LOVE the colour, and put the letter board on top when it was ready!
Our Finished DIY Letter Board
I love how this guys came out! I can't believe how easy it was to make something fun and stylish for only a few dollars!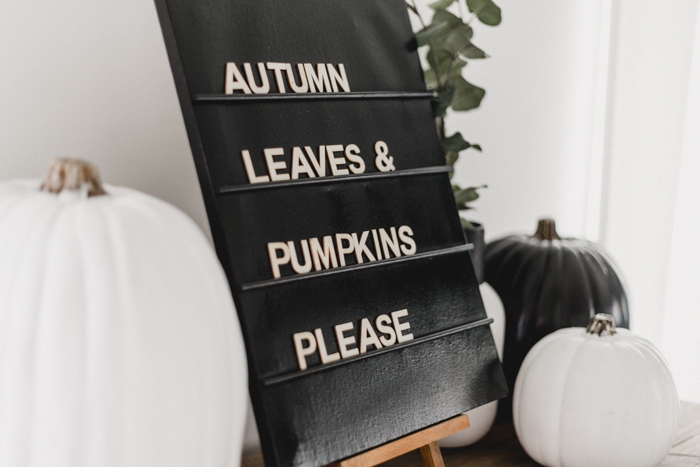 Two More Dollar Store Fall DIYs
I can't just make one seasonal dollar store DIY! You know I have to make more than that! So aside from the DIY Letter Board, I also made the most stylish raised pumpkin tray, and some cute, fall-themed vases to help decorate our home!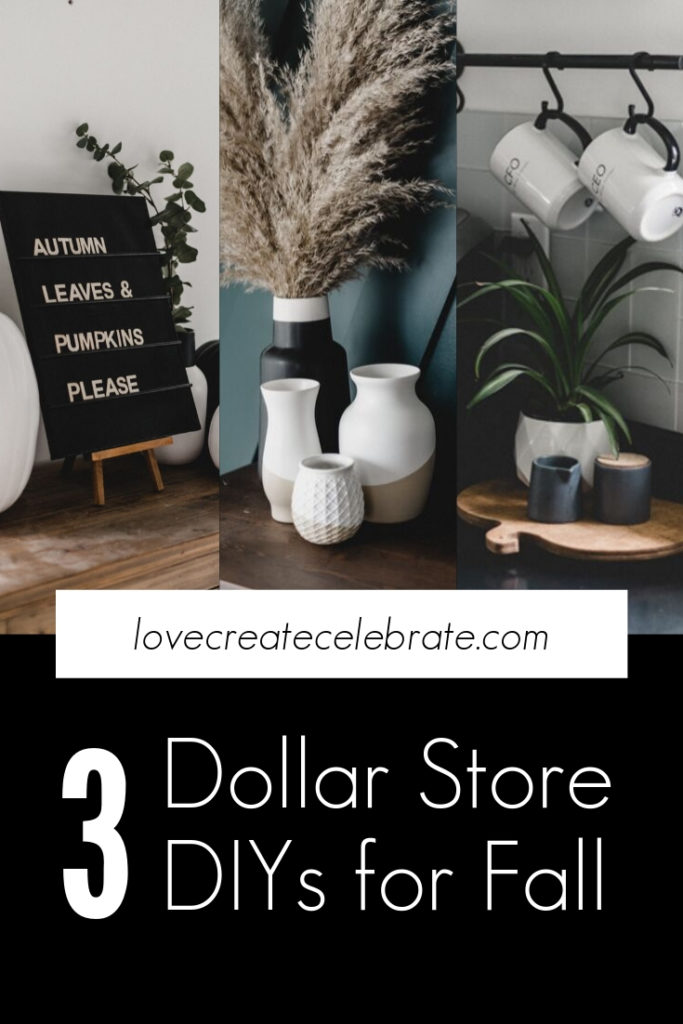 If you want to learn how to make any of these fun fall DIYs, this video tutorial will show you everything you need to know to make your DIY letter board, vases, and seasonal pumpkin tray!
I hope you liked those DIY projects! I love seeing transforming simple dollar store items into beautiful home decor!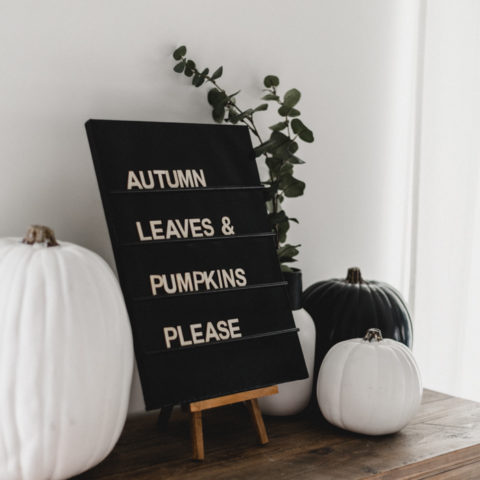 DIY Letter Board
An easy DIY Letter Board! Learn how to make your own with dollar store supplies and spell out your own fun words and phrases!
Materials
Canvas (12" x 16")
Wood dowels (12")
Wooden Letters
Black Spray Paint
Glue
Small Easel (optional)
Wood Stain (optional)
Instructions
Measure the side of your canvas and make marks on both sides 4", 7", 10" and 13" down from the top of the canvas.
Glue the dowels to the canvas, at the marked locations.
When glue is dry, spray paint entire canvas with dowels.
You can also use a dollar store easel to hold up your letterboard. Stain the easel any colour of your choice if desired.
Place new black letter board on easel, and use wooden letters to write out custom words and phrases.
Notes
The canvas, dowels, wooden letters, and easel were all purchased from the dollar store.
Recommended Products
As an Amazon Associate and member of other affiliate programs, I earn from qualifying purchases.
If you're looking for more great affordable DIYS, you may love these projects: