Make your own DIY Metal Wall Grid to help organize your office and home! This nordic inspired black wire organizer is a gorgeous statement piece!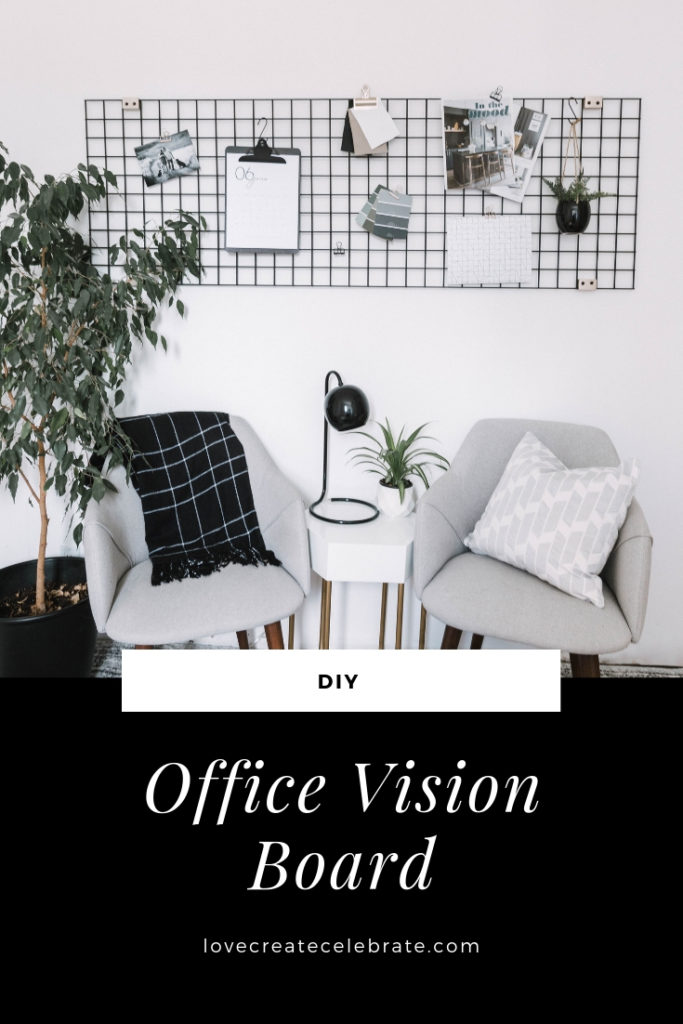 We are thrifty people, lol. When we renovate a space, we renovate it from top to bottom! We don't just move walls and electrical, but we make our own home decor and furniture (sometimes). We are currently mid-renovation on our home office project, and there are definitely a few extra DIYs getting thrown in. We shared all of our plans for that office already, which includes a complete overall of the space! One of the things that I said our office needed was some kind of vision board. I have dreamed of having a space to hang inspiration photos, share new projects, and just organize my life in general. This DIY Metal Wall Grid is our first DIY for the space, and hopefully solves all of these organization problems!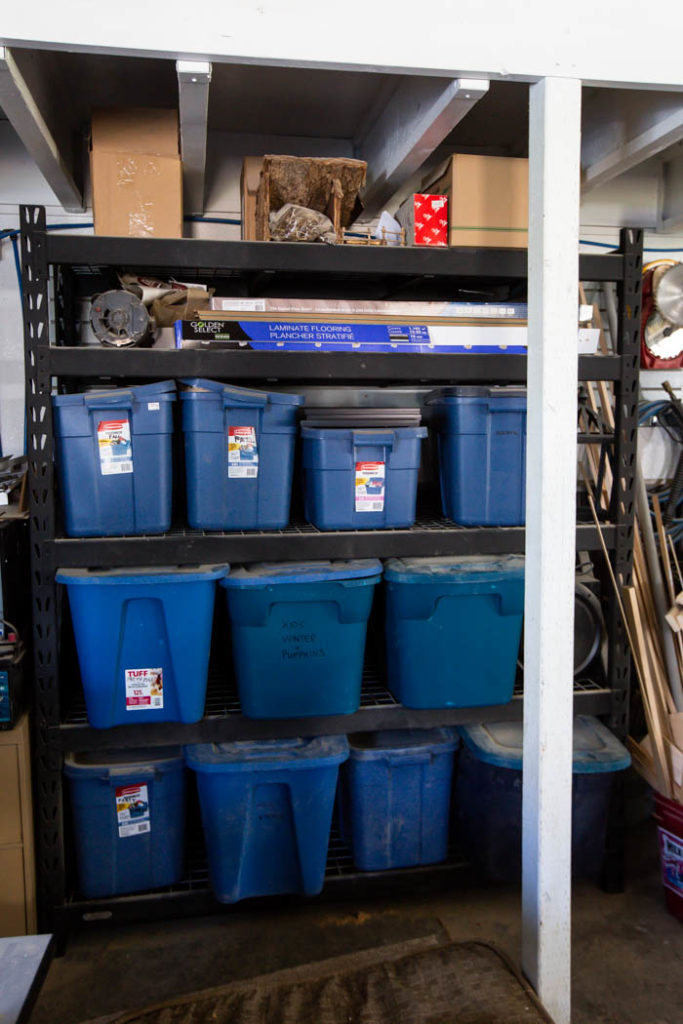 *This post was sponsored by Rustoleum and may contain affiliate links. As always, opinions are 100% our own. For more information, please see our disclosure page.*
Here's the gigantic piece of furniture that inspired the whole piece! My husband put this huge metal shelf into the garage a little while back. We use it to store boxes and bins of seasonal stuff – like Christmas decorations and winter coats. When I saw that he had an extra shelf lying around, it sparked this idea.
I've seen nordic metal wall grids before – mostly in beautiful monochrome office spaces, above desks. As I said before, I was dreaming up a way to add some organization and inspiration to my space, so when I saw this piece, even though it was huge I thought it might be able to work.
The metal shelf is huge. It's 66 inches long – over 5ft! Which would look completely ridiculous above my desk, which I'm sure is smaller! So it can't go above the desk. I've also been planning to put a big mural on the wall behind my desk, and don't want this metal wall grid (or anything for that matter!) to obstruct the view of art. On the other hand, I have a big empty wall on the door side of the office, that I've been trying to fill.
The only other plans for the wall where this metal wall grid will go are a comfy chair (although it's proving very hard to find!), a small table, and a plant. This could be the perfect thing to fill up the empty wall space.
Everything You Need to Make Your Metal Wall Grid
If you are planning to make your own wall grid it's SO easy. Because we are Lindi and Russel: great-at-making-work-more-complicated, we also made some DIY wooden brackets for the piece. I'll share how to make those below, and share the supplies here just in case – but you don't need to make them!
Everything you need:
Industrial Shelf (you can find similar ones here)
Pine Board
8 screws
How to Make Your DIY Metal Wall Grid
Guys, this project could not be easier. It's one step. Spray paint the shelf. That's it! lol.
We used the Universal Paint and Primer in One, which adheres really nicely to metal, so we really only needed two coats of spray paint. Then we flipped the guy over, and sprayed the other side twice as well.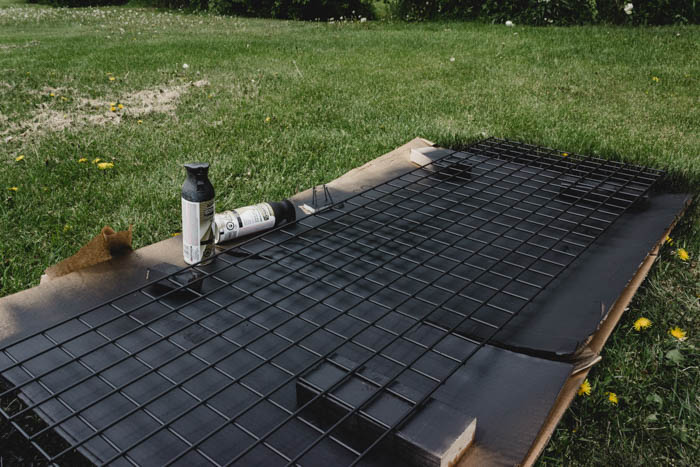 How to Hang Your Metal Wall Grid
There are two ways to attach your wall grid. The first and easiest way is to use screws drilled into studs on the wall to hang it. If I used this method, I would spray paint the screws first so that they still matched my colour scheme for the room, or if I wanted them black to match the grid.
The other option is to make some DIY wooden brackets to hold the memo board in place. This option is a little bit more complicated, but if you are comfortable with tools, it will only take you a few minutes to complete.
How To Make Wooden Brackets
Cut a 2×4" pine board down to 1 ¼" by 1 ¼" (at least 8" long)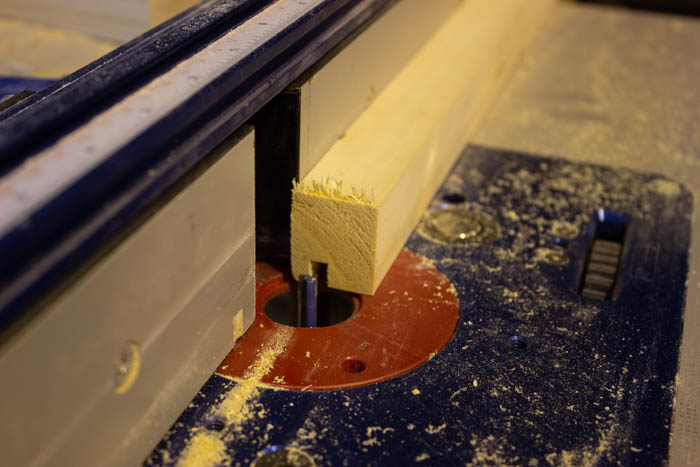 We want to put a groove into the brackets that the metal grid will sit into. Measure a 1/4" from the edge of the board, and use a router table to cut a ¼" groove along the length of the board. You can just use a hand-held router too, or a table saw to make these cuts if you don't have router table.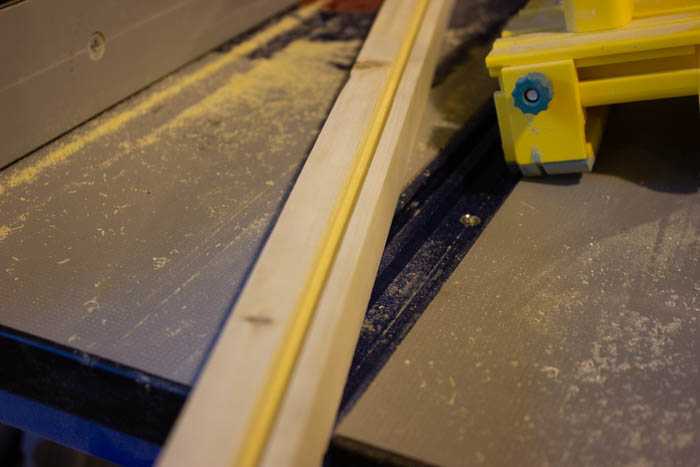 Cut the board into four 2" pieces to make four brackets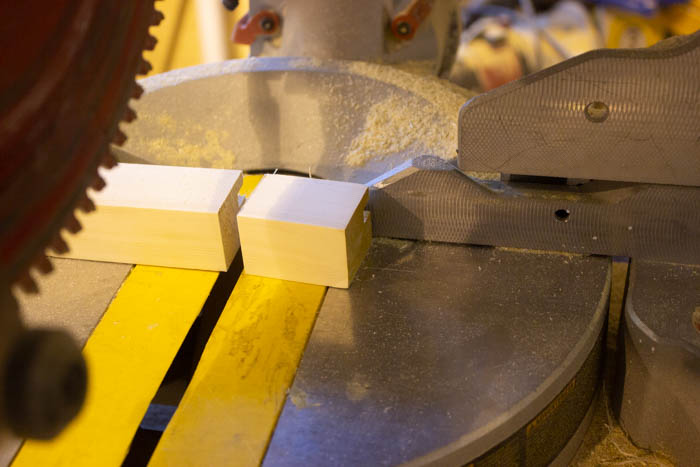 The final step is to prime and paint the metallic brackets. You may choose to spray paint your screws the same colour as your brackets so that they blend in nicely.
The final step is to mount the brackets and your grid to the wall. We mounted the top brackets first, then placed the grid into the grooves we made, slide the bottom brackets into place and then screwed them in. This way the wall grid was tight to the wall and didn't have a lot of opportunity to move around to shift while using it.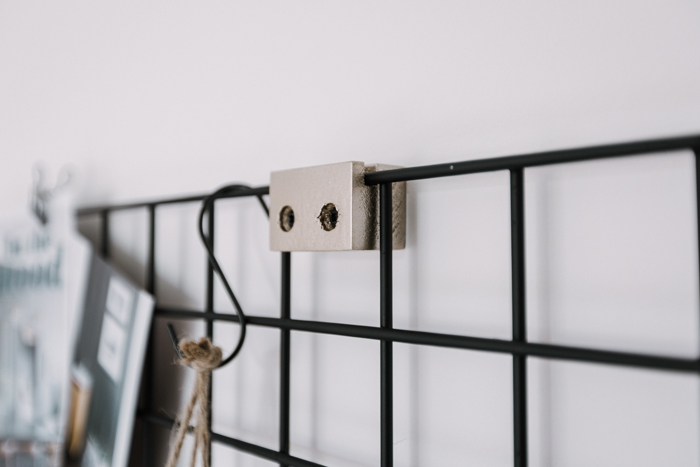 Our Finished DIY Metal Wall Grid
Here's what our office organizer looked like when it was done!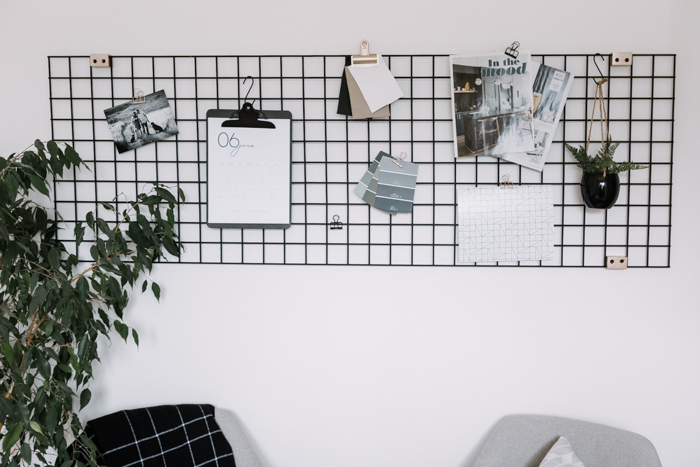 I LOVE this project. It was exactly what I envisioned. At first I thought it would end up being too big for the space, but it actually fills up the wall beautifully!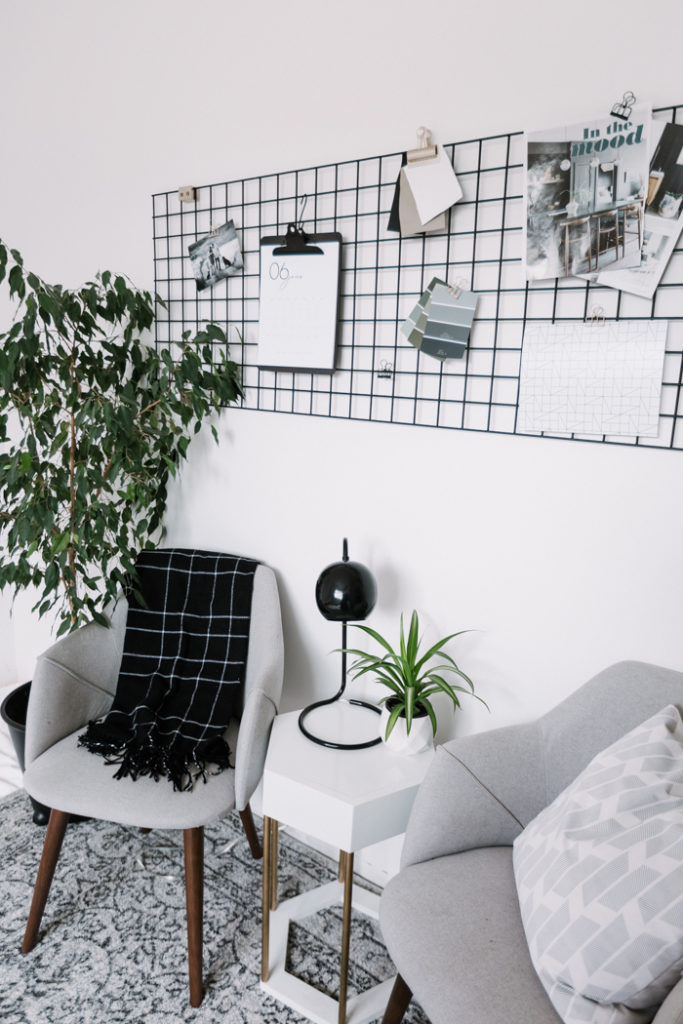 For now, I staged it with some pieces that I already had around the house, like my desk chairs, and my hexagon side table. The office still won't be done for another month or so, but I can't wait to see how it fits into the office designs that we have!
We also added some Binder clips and "S" hooks to hang things onto the board. We spray painted those with the same brass and flat black to match the overall look.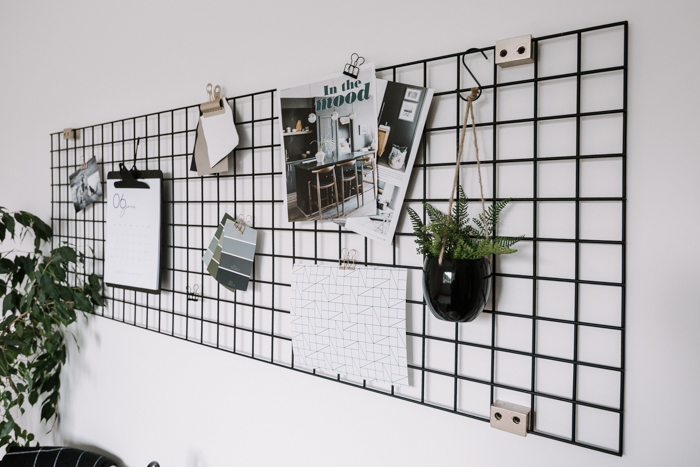 I'm really hoping that this DIY metal grid board looks just as good in my real office as it does in this staged one! I love the idea of ripping out magazine clippings, hanging up paint swatches and materials, and watching my vision for different projects come alive on here instead of cluttering up my desk space.
Honestly, desk organization was one of my huge reasons for wanting a board like this – just to keep everything together and visual. I am very much a visual learner and love to see my projects come alive in mood boards.
Our whole project is being shared over with Rustoleum Canada too! Be sure to check it out on their site!
Check out the FULL Home Office Makeover! The before and after is amazing!!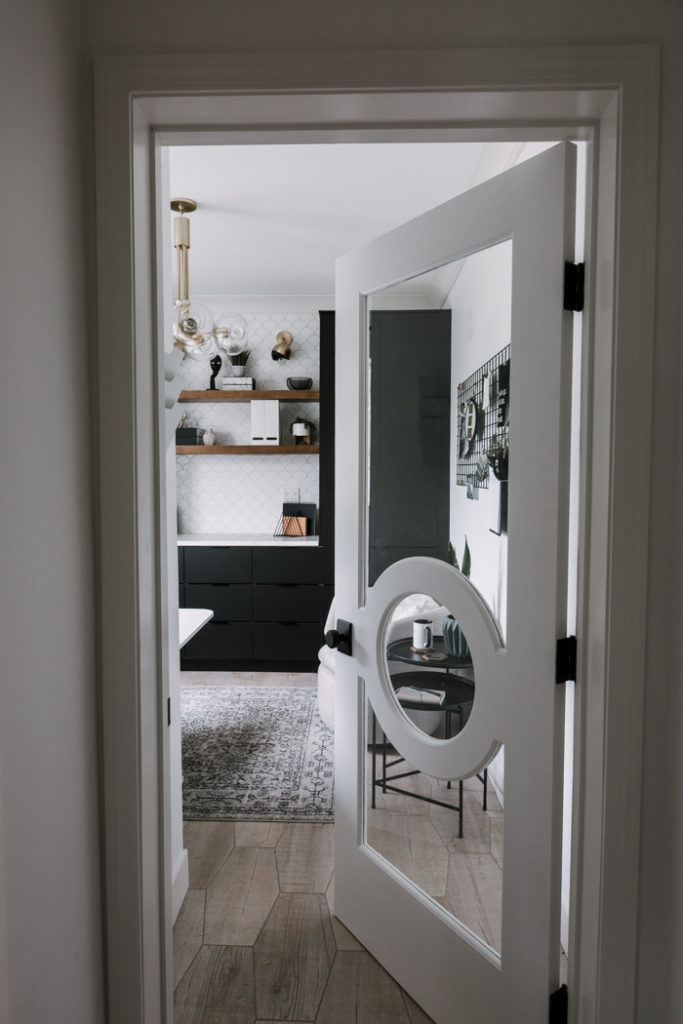 If you're curious about office spaces, we also made this DIY Computer Desk that was super affordable has been a HUGE space saver!