Create a Yoga Room at Home! Great tips, and tricks for setting up a home based yoga room on a budget! The perfect home gym or workout space!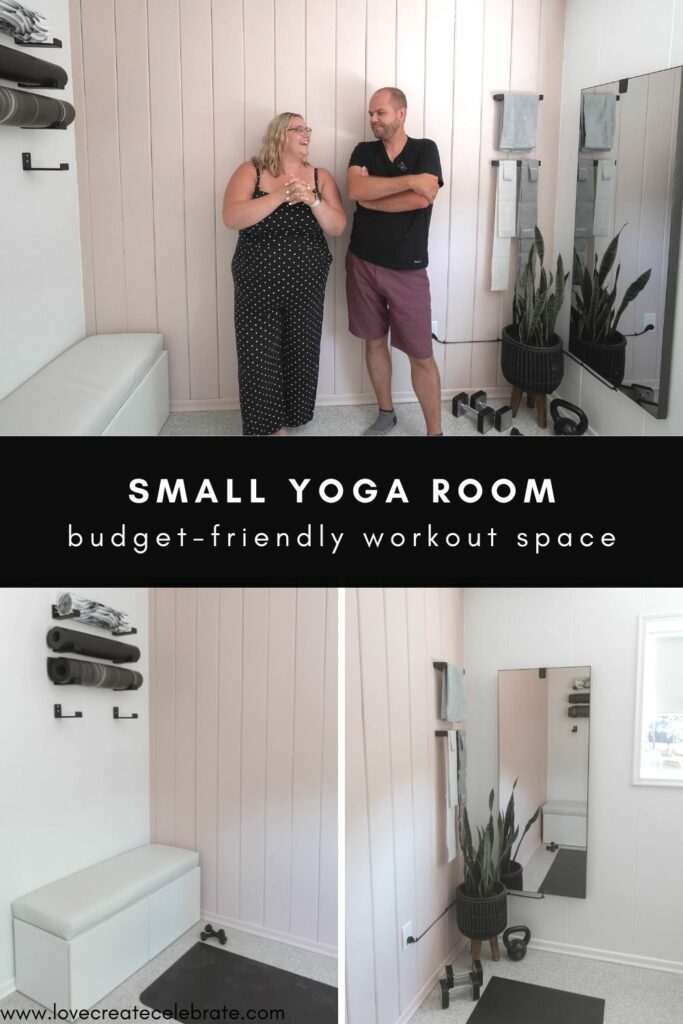 We've done countless renovations, including an entire house, but I've never done a whole room by myself, for myself. Until now! This week I turned a small space on the side of one of our existing rooms into our new yoga room at home.
*This post was sponsored by Wagner and may contain affiliate links. When you buy a product through one of our links, we get a commission at no cost to you! Thank you for supporting our blog so that we can continue to bring you posts like these. For more information, please see our disclosure page.*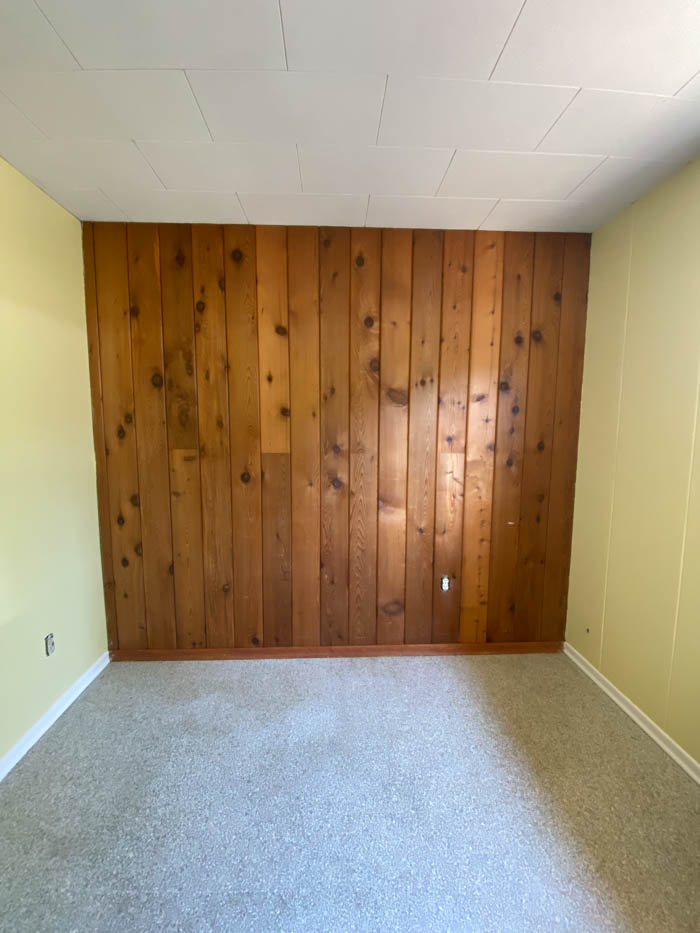 Our Small Yoga Room Space
This was the space before we tackled it. I've never been a fan of yellow walls, and while I don't mind the wood walls, I definitely wasn't looking for that level of visual warmth in a room that I planned to exercise in multiple times a week.
In a few years we are planning to completely overhaul the entire main floor of our home, and likely this wall will be moved or changed in some way, so this room makeover is only temporary.
Since the renovation is only temporary, we wanted to keep the entire makeover on a tight budget. Budget-friendly can still be beautiful and functional though. I'll still be using this room for the next couple of years so I need it to be a calming, inviting space that I actually want to use.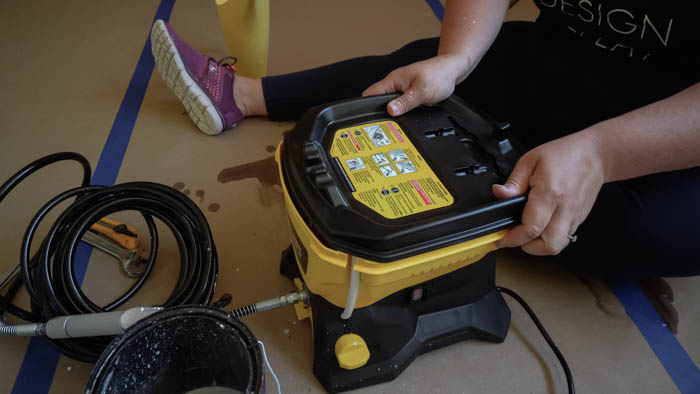 Creating Our Yoga Room at Home
Once I knew where I wanted to put all of the equipment, I started working on the space. The plan was simple, paint everything, add a storage bench, add some wall storage, and hang my Lululemon Mirror.
Workout Room Materials
Here's everything we used for this makeover:
The lululemon mirror and all of the workout equipment was stuff that I already owned and have been using for years.
Painting the Room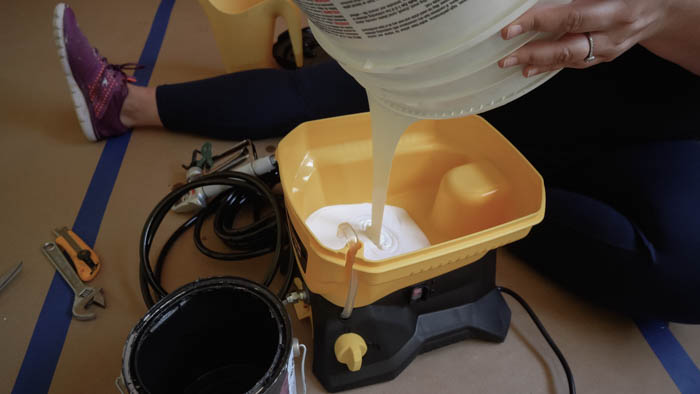 The first step was to get our our airless paint sprayer. Since we were planning to paint the ceiling, trim and walls, the paint sprayer was the fastest, most efficient way of painting the room.
We had to prep the wood before painting, so we gave it a quick sand so that the paint would adhere well, and then we washed all of the walls.
We removed everything from the room, taped off the only window, and covered the floors and then got to work priming. The sanded wood wall needed three coats of primer to get good coverage, and the rest of the walls only needed one.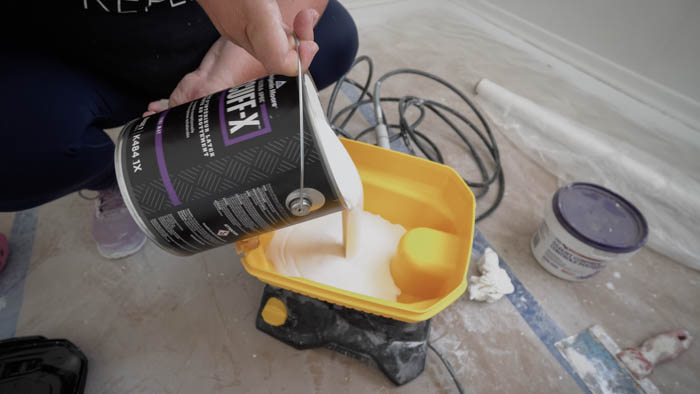 When the primer was dry, we used the paint sprayer to spray our paint as well. The beauty of this paint sprayer is that once everything is taped off, we can quickly and easily add a new coat of paint to the walls in just 20 minutes. The paint went on beautifully and left a gorgeous smooth finish!
Adding Storage and Organization to the Yoga Room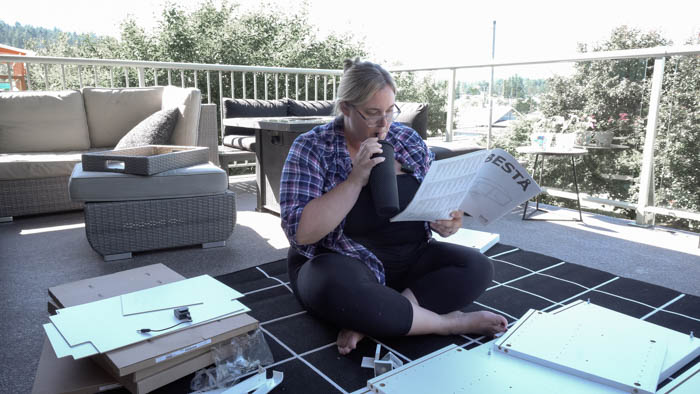 Once the paint was dry, and the taped off sections were removed, we could add some storage and organization. We had an old IKEA Besta cabinet that was sitting around for years, and moved to a new province with us, and we had no plans for it, so I decided to do a little IKEA hack.
I built the cabinet, and then built a DIY box cushion to sit on top of it. The cabinet acts as a storage unit for my workout equipment, and gives me a spot to stop and rest after my workouts.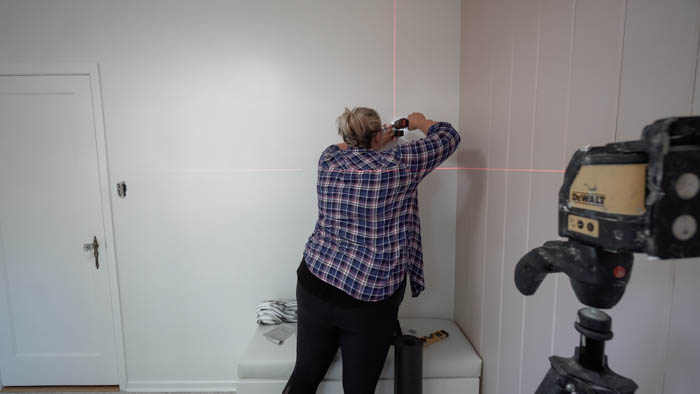 Next, I grabbed some hooks I found on Amazon, and attached them to the wall so that I had a place to hang my yoga mats and my roller. I also hung some bars on the other side of the room that I use to hang my towels and stretching bands on.
The Finished Yoga Room
When everything was painted and hung up, here's how the room came together! I'm so happy with the paint colours, the storage, and the organization.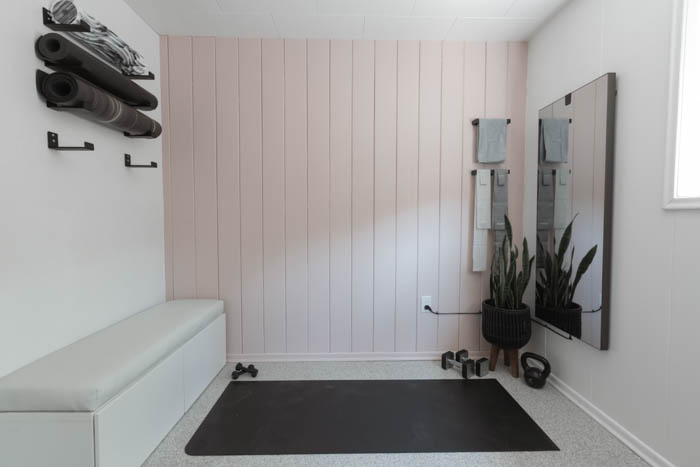 We created this whole calming space for around $500, including the paint and accessories we bought. If you want to see the full budget breakdown, you can see it during the reveal of our Yoga Room Youtube video.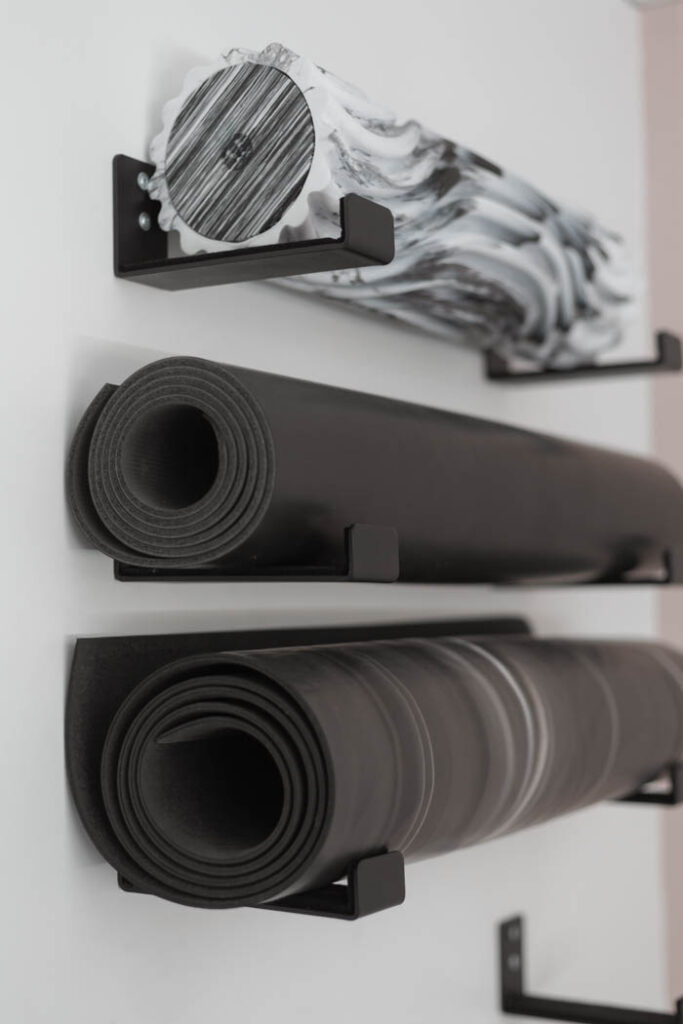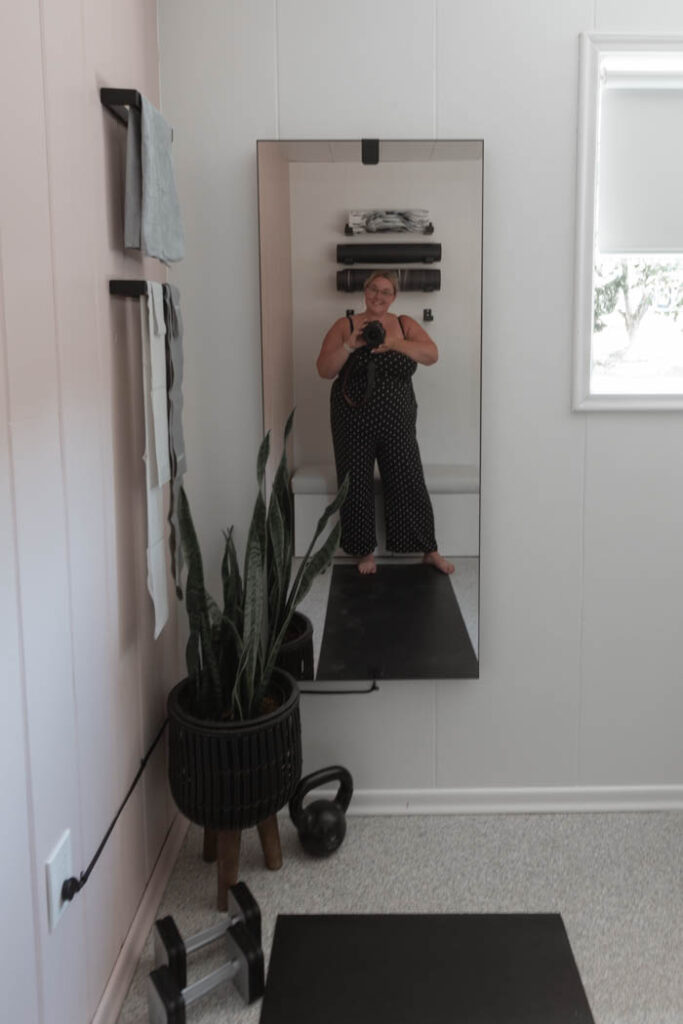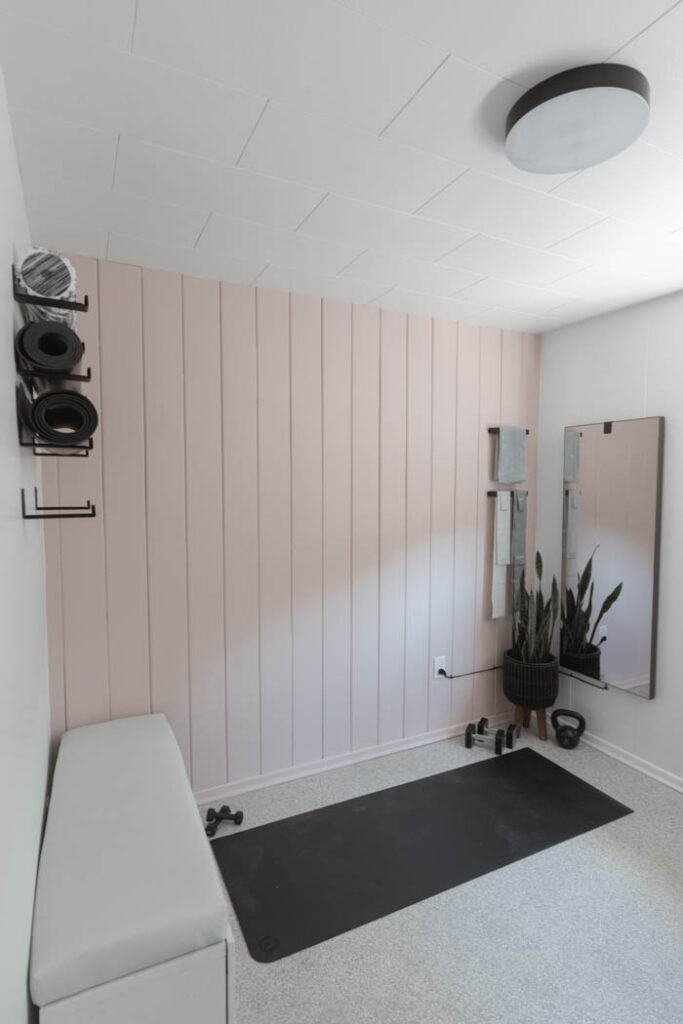 Yoga Room at Home Video
If you want to watch how this whole makeover unfolds, check out the Small Home Gym YouTube video! I show the paint sprayer in action, and go into some more detail about why I created this space for myself.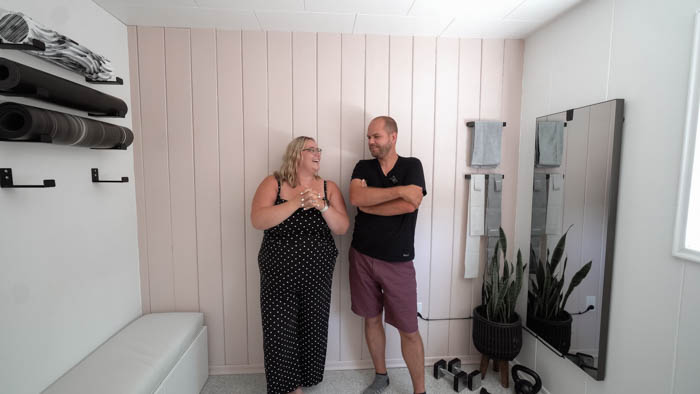 Want to learn how to do some more affordable makeovers? Check out this guide on How to Flip Furniture for Beginners!