A beginner's guide to refinishing furniture. A step-by-step guide to restoring, refinishing, and flipping furniture pieces.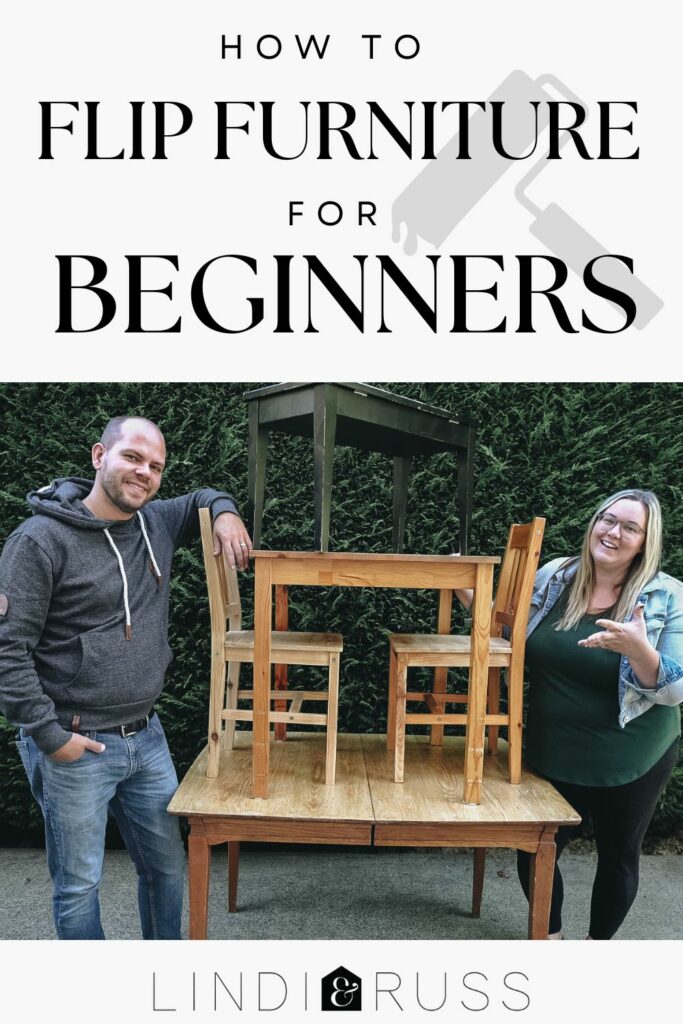 *This post was sponsored by Wagner and may contain affiliate links. When you buy a product through one of our links, we get a commission at no cost to you! Thank you for supporting our blog so that we can continue to bring you posts like these. For more information, please see our disclosure page.*
We wanted to compile a DIY step-by-step guide to lay out 8 simple steps for restoring, refinishing, and upcycling furniture pieces. It all started by visiting some thrift stores and scouring the local buy and sell pages to find some pieces that could use a second chance at life.
Some great places to buy furniture to refinish include thrift stores, garage sales, buy and sell pages, or even a relative (or that piece you inherited from family member that you forgot about). Older pieces of furniture might look intimidating or really worn out but if you know what to look for in good furniture, and with a bit of elbow grease, they can be transformed into a beautiful piece.
A furniture restoration project doesn't have to be a daunting task, following these pro tips will make the entire process simple and give you great results!
Guide to Refinishing Furniture
For this DIY furniture refinishing guide we decided to work on three different types of projects to showcase different tips:
First project was a IKEA dining room table set that was well used that would be painted by hand
Second project was an old piano bench that we would turn into a coffee table and would be painted and stained.
Third project was an oak dining room table we found on a buy and sell page that was fairly rough and needed TLC. This project would be a restoration.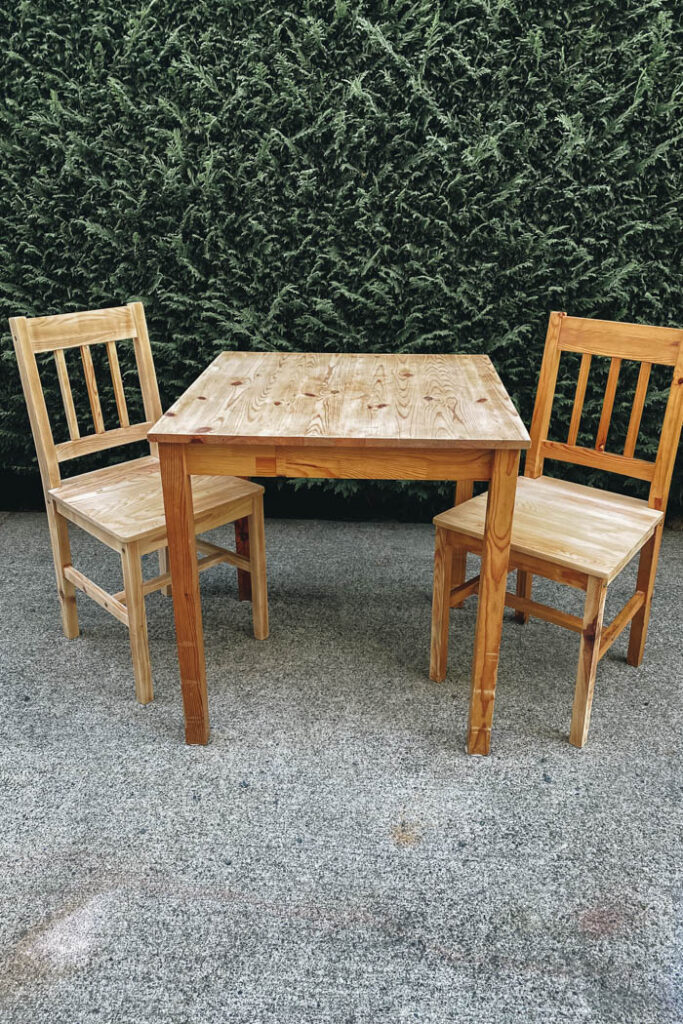 Tools and Supplies
Here is a list of tools and supplies you will want to help refinish those old worn items into amazing custom pieces. If you are a beginner woodworker, here are five recommended tools for beginner woodworkers that will help you transform your projects. However, many furniture flips do not require any power tools.
Whether you are painting, staining, or leaving a natural finish on your new furniture flip, you can use a paint brush, roller or paint sprayer. We rarely use a paint brush alone because of the brush lines left behind. With smaller or flat projects, we use a brush and roller together, but with the high majority of our projects, we use a paint sprayer.
Sprayer's like Wagner's Flexio 3500 really help with getting a nice smooth finish and eliminating those annoying brush strokes. You can use this sprayer to spray primer, paint, stain, and liquid top coats, so it's a great tool to invest in. Not to mention, it's great for painting interiors too! Here's a whole guide on how to use a paint sprayer if you're new to the tool.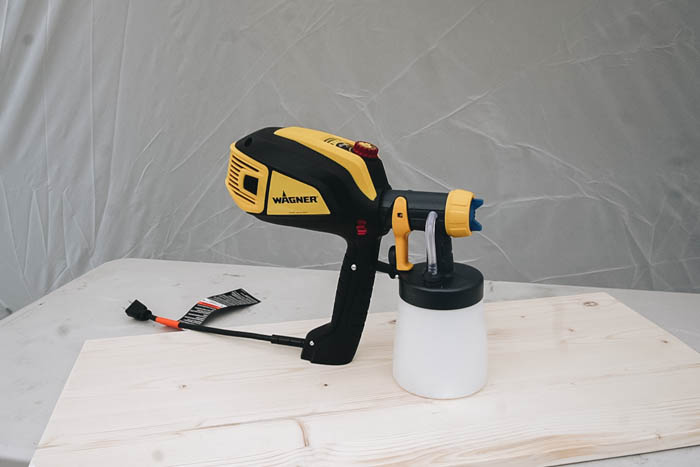 If you need a space to work in, you can also get spray shelters that help keep your piece out of the weather and away from bugs. They also catch all of your overspray so you're not making a big mess.
Make sure you follow all the manufactures safety precautions when using power tools, stripping and cleaning products, and stains, paints, and finishes.
Personal Protective Equipment (PPE)
Power Tools
Cleaning and Stripping Supplies
Hand Tools and Supplies
Option Tools
Finishes
Steps to Refinishing a Piece of Furniture
Step 1 – Assess the Piece
Is it Solid Wood?
The first step of refinishing a piece of furniture is to determine what it is made of and its current finish. If its made of plywood, solid wood, MDF, or particle board will affect how you should go about restoring the piece. To determine the type of wood here is a great article about wood types in furniture. You will also want to check if the piece is painted or stained. This will help you come up with the best refinishing process to restore your piece.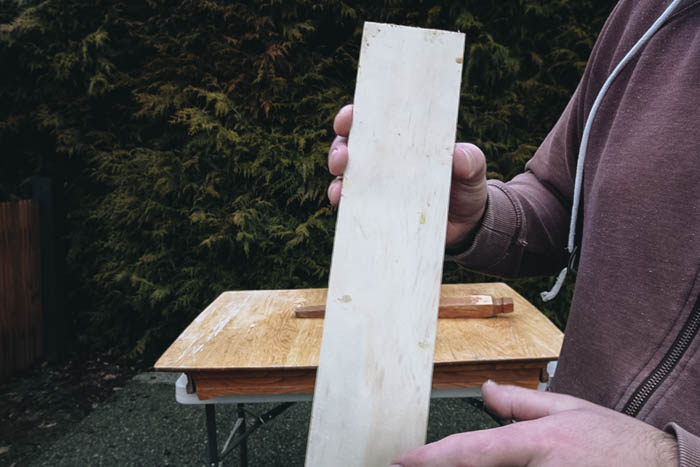 Items made of solid wood, plywood, or a veneer can be stained or painted. However for pieces made out plywood or with veneer you need to be careful that you do not over-sand. You can easily sand through the top faux wood layer, making the piece harder to refinish.
You can see if your furniture is made of solid wood or plywood by looking at the edge of the piece. Solid wood will have edge, face, and end grain that all line up (grain match). Plywood or items with a wood veneer will appear like solid wood but when you look closer you will notice that grain doesn't match up or you may see the build-up of layers of wood.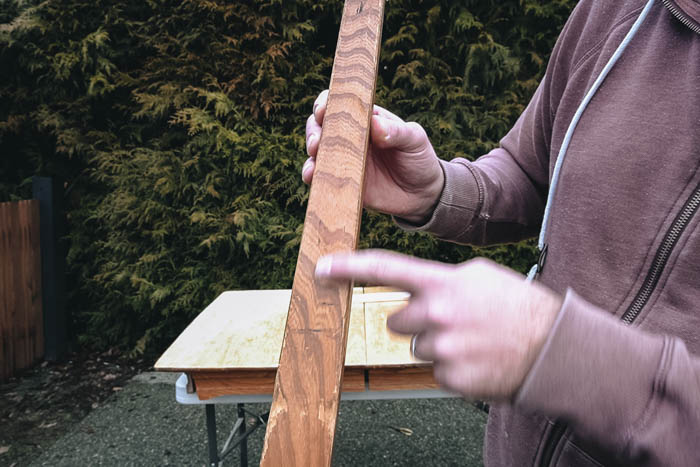 Type of Joinery
Also check for joinery types. Items with dovetail joints on the drawers or mortise and tenon will likely be a higher-end and well-built piece. A piece with butt joints or pocket joints are likely still good pieces just not as high quality as the joinery noted above.
Furniture made from particle board or MDF are better suited for paint. MDF or particle board is made up of small pieces of wood and all glued together. You can see by looking at edges and ends.
Is Your Furniture Valuable?
If you suspect that your piece may be an antique or may hold value in its original condition, it is worth investigating further. Some pieces may have stamps or logos on the back or underside that might help identify the manufacture (as below). There are also may be a local furniture appraiser that could assist in identify an antique furniture piece if you are unsure.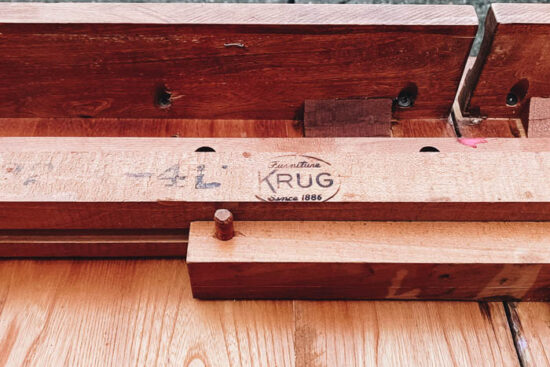 If the wooden furniture piece is a family heirloom or an antique you will want to be careful about you restore it to retain it's value. Depending on the condition of a heirloom piece, your best bet may be to talk to a professional.
Step 2 – Clean and Degrease
In order to get paint bond or to sand without clogging up your sanding discs it is always good to clean you piece before you start. You can use dish soap and warm water, but we like to use a TSP or its environmental friendly option which is Fusion Mineral Paint's TSP alternative.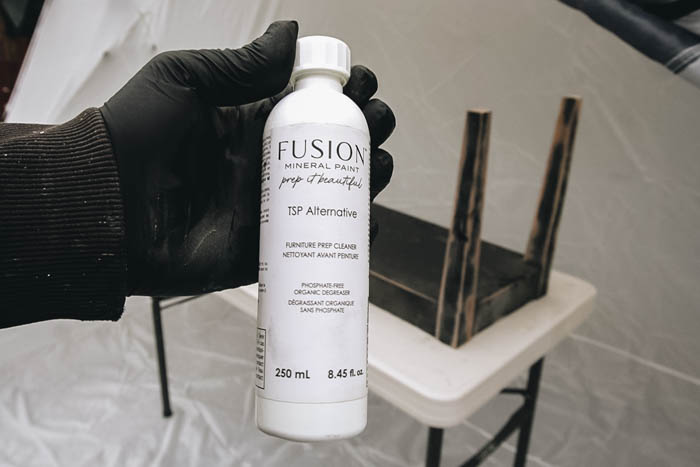 When cleaning you can use a soft cloth, microfibre cloth, steel wool or clean cloth (lint free) to wipe the surfaces down. Try not to use paper towel as it may leave behind residue.
Step 3 – Remove Finish/Old Top Coating
If dealing with old furniture, it's a good idea to complete a lead paint test. It is quick and easy and you don't want to be sanding lead paint and breathing it in as it is very harmful. You can find lead paint test kits on Amazon for a reasonable price.
Painting Prep
Before you start sanding you should determine if you are painting or staining the piece. If you plan to paint the piece, then you can use a sanding block or a fine grit sandpaper to scuff all the old paint and surfaces. This will allow the new paint to bond to the existing surfaces. Sand down any edges or un-smooth areas, as the condition of the base surface will determine how smooth your new finish is.
We always recommend painting a quick spot so you can test the adhesion of the new paint on the bottom or back side of the piece first. This will let you know if the paint adheres properly before completing the the entire piece. We did a great video on How to Paint IKEA Furniture that goes over paint and primer combinations and how to test the adhesion of paint to a piece.
Staining Prep
If you plan to stain or restain a wood piece you will want to bring the furniture piece down to raw wood.
Furniture Stripper
The best way to get rid of old finish, varnish, wax or paint is to use a paint stripper or chemical strippers. Use it in a well-ventilated area and wear the appropriate protective gear (rubber gloves, safety glasses, mask, etc.).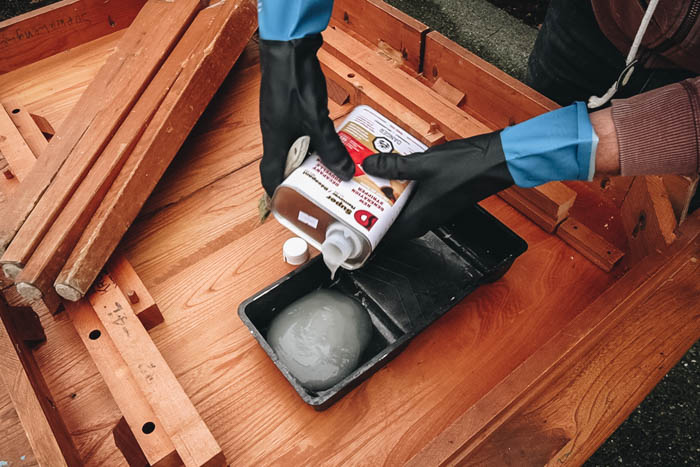 If the paint stripper didn't remove the finish, you can use a piece of plastic after the furniture stripper is applied to cover the entire piece to increase the effectiveness of the product.
Once the paint stripper has sat on the piece for at least 15-20 mins (or as per the manufactures recommendations) remove the plastic and use a putty knife or plastic scraper to remove the paste and existing finish off the piece. If there is any remaining finish you may need to apply multiple coats of the furniture stripper to remove it all.
We like to rinse the entire piece off once you are done with the stripper to remove any excess stripping product and debris. Let the piece dry fully until you move onto the next step.
Sanding
You will want to sand the entire wooden furniture piece. This will smooth out all the flat surfaces and remove any left over old finish that still may be present. Start with a coarse sandpaper (like 60-80 grit) and than move to medium (100-150 girt) and lastly a fine-grit sandpaper (200-220 girt). When sanding ensure you following the direction of the grain.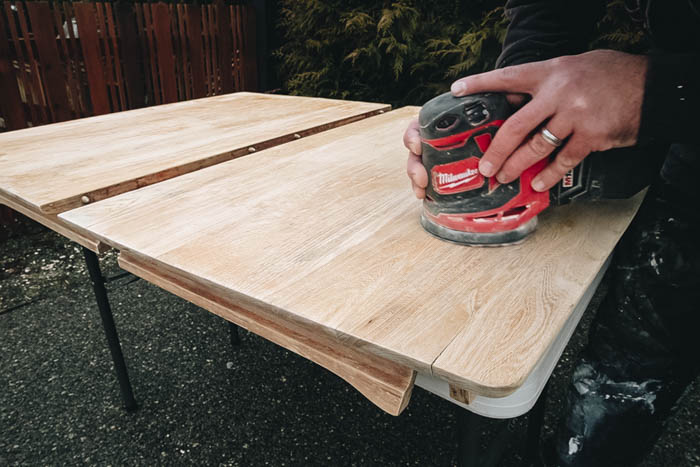 You want to sand along the grain of the wood for the best finish. An easy way to sand is with a power sander. However sometimes you may want use a foam sanding block or piece of sand paper to get into the hard corners, edges, or details of the piece. Once sanding is complete quickly go over the piece with a tack cloth to remove any dust and debris. If you don't have a tack cloth you can you a lint free damp cloth also.
Repairs
Once the piece is dry complete any necessary repairs by filling gaps or nicks with wood filler and sand it down until you can't feel any lines or bumps. If you can feel it, you will definitely see it when you apply paint. You can use wood filler from places like Home Depot, or Lowes, Amazon, or you can make your own custom DIY wood filler.
Finally, re-glue anything coming apart. You can use clamps or pin/brad nails to hold pieces together while glue sets. Clean off and sand any excess glue away because it will not take the new stain colour or will make bumps in your paint finish.
Step 4 – Modifications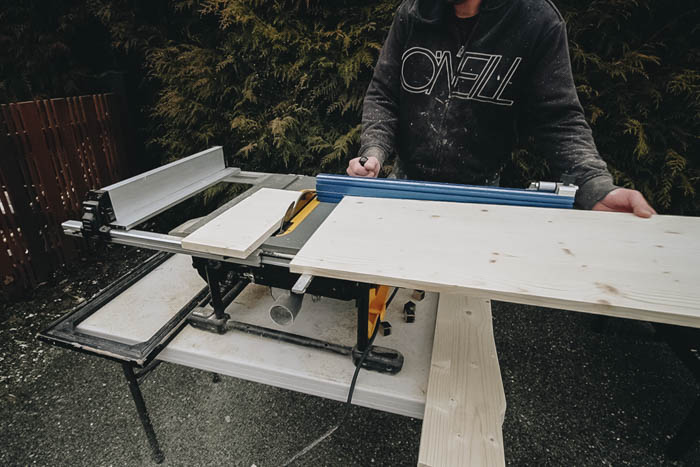 At this point if you need to make any modifications it is the best time to do it. For the piano bench project we had to cut the bench to a lower height and make a custom top to turn it into a coffee table. Things to consider for modifications include:
custom bases to modify a height of a cabinet, night stand or dresser
adding wood, dowels, moulding to add a texture or details to a piece
modifying drawer fronts to change the look of a piece (adding cane, glass, slab front, etc)
modifying the height of a piece by cutting or making custom legs
router chamfers, radius, or grooves on a piece
adding a wood detail to a painted piece
Step 5 – Using Wood Conditioner
It is a good idea to use wood conditioner to help with refinishing soft woods. You apply it with a paint brush over the bare wood and let sit 5-10 mins (or as per manufactures recommendations). The wood conditioner helps open up the pores of the wood. This allows the stain to evenly absorb along the wood surface and prevent a blotchy look in the new finish.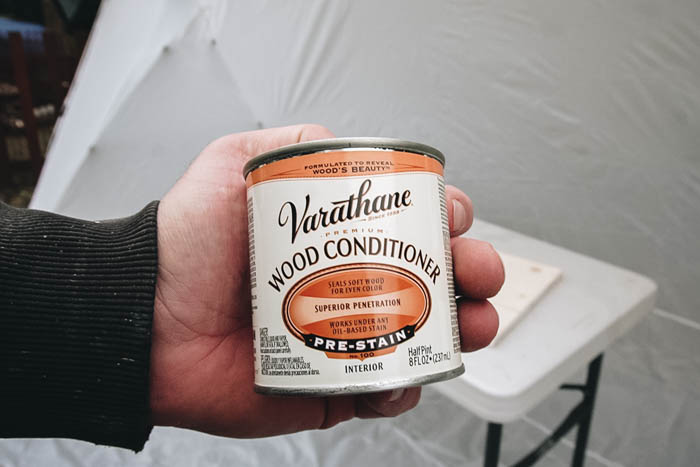 You can do it on hardwood as well, but it doesn't make as big of a difference, due to the tighter grain pattern of the wood.
Step 6 – Painting and Staining
When paint or staining you may want to use a drop cloth under the piece you are working on to catch any drips. Or you can use one of Wagner's spray shelters. These work great to keep the piece you are working on out of the elements and they also act as a drop cloth over the area you are working.
For smaller projects a brush may be just as fast as using a paint sprayer. When using a brush I like to back roll the flat surfaces with a foam roller or a roller like this. This will help minimize the brush stroke marks.
For mid-to-large projects we like to use Wagner's Flexio 3500 and the Detail Finish Nozzle. This combo works great for furniture pieces. The sprayer makes fast work of painting a piece. It leaves a nice smooth finish and gets into all the corners and detailed areas of a piece. The sprayer also comes with an iSpray nozzle which is great for spraying rooms and larger projects.
Step 6a – Painting
Paint Types
When it comes to painting pieces of furniture you will need to decide what kind of paint and process you want to use. We also recommend doing a light sand with a fine-grit sandpaper between coats.
Primer
When needed a shellac primer can be used if you have knots present on a wooden piece. Untreated the knots can bleed through you top coat and ruin your finish. A good primer can also be used to help bond the paint to the piece. Its always good to do a test area with the paint you want to use and complete a scratch test as shown in this video on where we show how paint IKEA furniture.
Chalk paint
We have only used chalk paint once and were not a huge fan. But it can be a good choice as it dries fast and can add a distressed looked. The finish is also subject to scratching or marking. Chalk paint can be a good option for a vintage and distressed look.
Milk Paint
Milk paint is a great environmentally friendly choice. It is generally sold in a powder and thinner consistency than chalk paint. To ensure a good finish a bonding agent should be used and some kind of top coat is recommended to preserve the finish.
Acrylic paint
We use Fusion mineral (acrylic) paint for most of our furniture flips. Depending on the paint you may need a bonding agent or primer. The Acrylic self levels really well and is stain resistant.
Latex paint
Latex paint can be used for furniture but you have to be careful of witch finish you use. You want a finish with a bit of gloss otherwise the piece may show scratches and marks faster. Latex can be cleaned up with water which makes it easier to work with.
Oil Paint
Oil paint is likely the most durable but also the most toxic. When using a oil based paint you will have higher volatile organic chemicals (VOCs), long drying times, and likely a higher cost. Oil paints are also banned in some areas. The positive about oil paints are that they bond to most surfaces and level really well. The clean up of oil paint is also more work as you will need to use mineral spirits or paint thinner to clean up brushes and paint equipment.
Apply Paint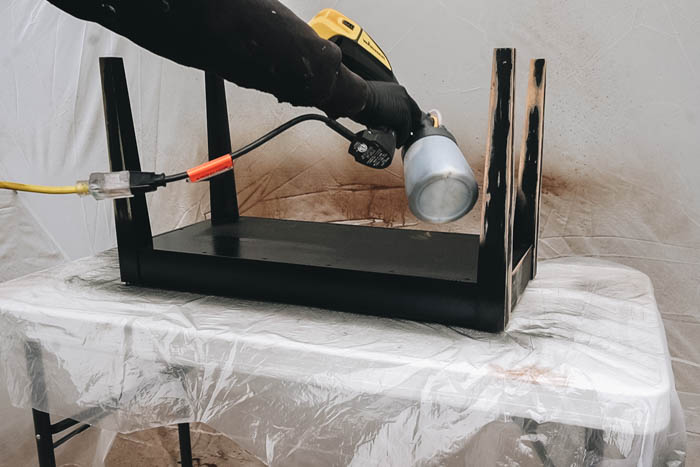 Once you pick your paint type you can apply to your first coat of paint to your furniture piece. When painting try to work with the grain and not add too much paint. The thicker the coat of paint you put on the higher the chance of runs and blemishes on your piece.
Usually you will want to have multiple coats of paint to have the best finish. Give the piece a light sanding between coats after you have ensure enough time has past and the paint is dry enough. Sanding will help give your finial surface a really smooth finish and ensure the coats bond well to each other.
Step 6b – Staining
Stain Types
If you are staining a wood furniture piece you have a couple of options for stain types:
Gel Stain
Gel stains are a good choice for vertical projects, and for any furniture piece where you need to hide blemishes. It does have higher VOC's than other stain types and requires a bit more work for clean up and a product like mineral spirts to clean paint supplies off. Gel Stains will also add some resistance from heat and insects.
Oil Based Stain
Oil based stains are easy to find and come in a lot of colours options. They do contain VOC's and require a mineral spirt or paint thinner for clean up. Oil stain can add resistant from rot, insects, moisture, UV damage. They are fairly easy to use and apply and
Water Based Stain
These are great choices for clean up and affordability. However the water based stains are not as durable and need some kind of topcoat to help protect the stain finish
Lacquer-Based Wood Stain
Lacquer based stains are great when you need a stain that dries fast. The smell is a lot (high VOCs) so used in a well ventilated area and wear the proper PPE. It has strong adhesion and penetrates deep in the wood. Gel stain adds resistant to the piece from moisture, heat, or insects. Due to the fast curing times this type of stain isn't recommend for beginners.
Natural Based Stain and Dye
These stains and dyes are a great environmentally friendly choice. Natural based stains however are not usually as durable and may not hold up as well over time.
Applying Stain
To add a coat of stain you can either apply with a clean rag, brush or sprayer. For larger jobs (especially something with lots of corners and details) a sprayer is definitely the way to go. We use the same Wagner Flexio 3500 sprayer that we used for paint for stain and it works great.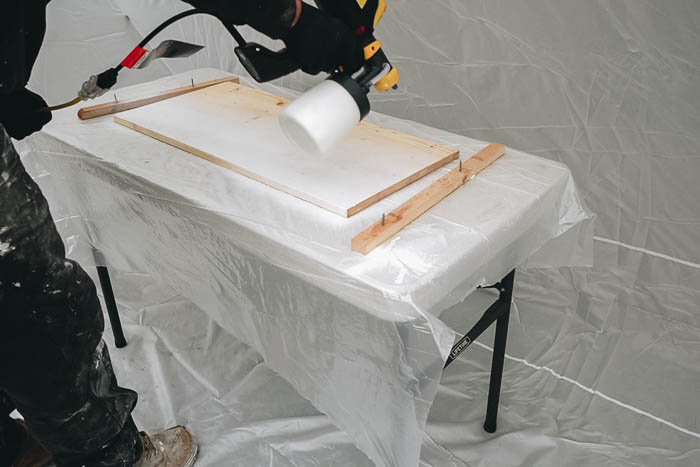 Let the stain sit on the furniture piece for 5-10 minutes to allow the stain to absorb into the wood. Use a clean rag (lint free) to remove any excess stain from the piece. You can mix or layer different stains to get custom colour. Or you can add multiple layers of the same stain to get a darker colour to get your desired color of the wood.
Try to work in a clean dust free work area for the best results. Wagner's Spray Shelters work great as for apply stains and finishes for your DIY projects.
Step 7 – Protective Coat/Top Coat
Before starting there are several types of finishes you can add to your stain and paint projects. Some of these come in liquids and some come in wax base and some are hybrids.
Oil Based
Generally more durable, oil based stains can give a great protective coat to your piece. Be careful though as oil based finishes can add a "yellow" look to your piece. Oil based finishes will also have VOCs so be careful while using and use in a well ventilated space.
Water Based
Water based top coats have come a long ways. They are a lot more durable and are really easy to deal with for clean up. The polycrylic sealer is one of our favourite clear coat finish as it doesn't yellow the finish, looks great, comes in a matt option, and is very easy to clean up.
Plant Based
There are some great environmentally friendly option for top coat finishes as well. Walrus Oil has some great plant based top coats that you can use. These are especially good if you are doing a project that comes in contact with food (like cutting boards).
Applying Top Coat/Protective Coat
Before your last step of applying the top protective coat wipe all surfaces with a tack cloth to remove any dust or debris. If staining, you always need a top coat, probably multiple coats (at least 2). If you're painting, you don't always need one, but we like the osmo for tough surfaces like tabletops.
When apply a top coat over a wood piece always apply in the direction of grain. You can use a brush or roller for liquid top coats, but a sprayer works really well and creates a smooth surface with no brush marks.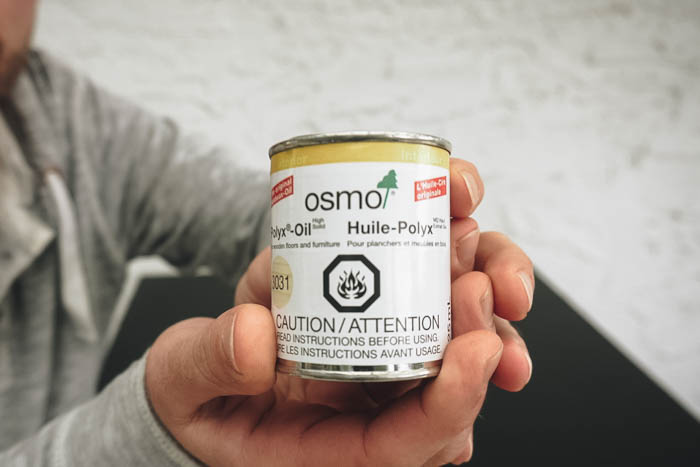 For waxes (Walrus Oil) and wax/liquid combos (osmo) you can apply and spread over the piece with a plastic or metal putty scrapper. You can then use a fine abrasive pad to spread and work into the wood. You can use another fine abrasive pad to wipe off any excess product. Again, at least 2 coats are recommended. These products also work great over painted and stained furniture pieces.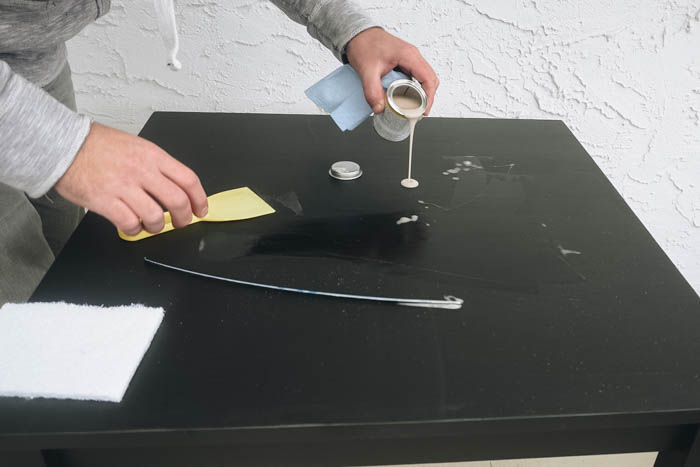 Step 8 – Finishing touches
For cabinets, dresser, side boards, etc. you can further customize your piece by adding unique finishes, including handles, knobs, legs or caning. We upcycled a DIY Cane cabinet and the results were stunning. You can see how adding new handles and a cool texture really changes the piece.
Results
We are beyond happy with how these projects turned out!
IKEA Dining Table and Chairs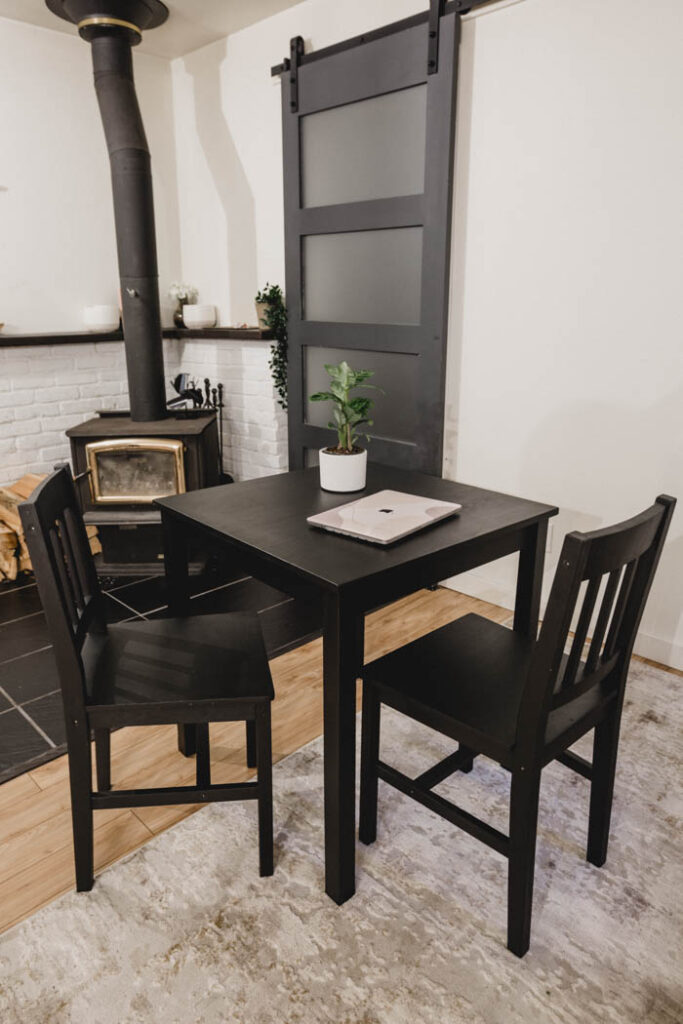 This Ikea set went from boring and worn out to a showstopper. The quick sand and paint job really refreshed this piece. We are really happy with how it turned out with just a coat of paint!
Solid Oak Dining Table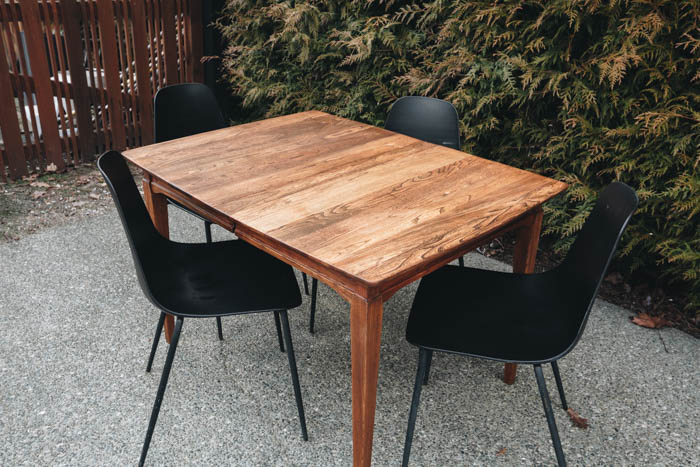 The oak table took a lot of elbow grease but the results speak for themselves! This restoration really took a worn out piece and gave it a second chance at life.
Coffee Table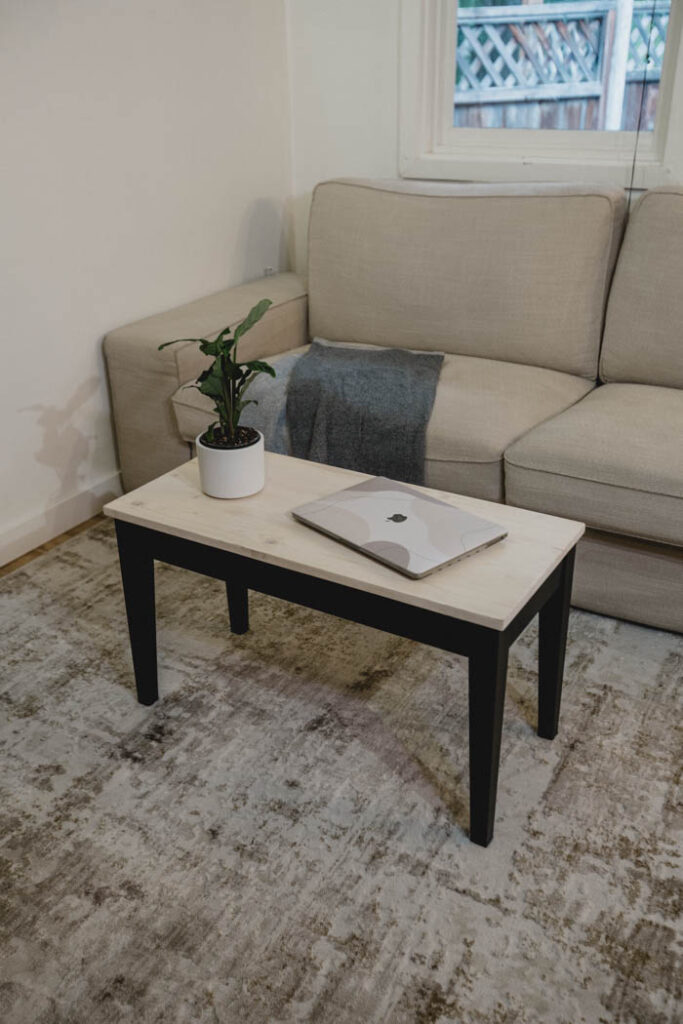 The piano bench turned into coffee table was a great upcycle and fit perfectly in its new space. It was a quick, easy, and affordable DIY. The hidden storage is a bonus cool feature too!
Video for Beginner's Guide to Refinishing Furniture
If you want to see the full video of us restoring the pieces mentioned above and see some of the DIY tips and Tricks for Painting and Restoring furniture be sure to check out this video!
Hopefully these 8 easy steps help you with your restoration of a old piece of furniture. Whether you are working on a old dresser, wood table, hutch, or coffee table this Beginner's Guide to Refinishing Furniture should be a great resource to help you with your next DIY restoration project. Wagner's sprayer and spray shelter really took the finishes to the next level, we can't wait to start our next DIY!
More tips for Painting Furniture
If you have ever considered painting laminate or IKEA furniture, you will want to watch this video to get all of the best tips!