Easy modern wooden pedestal made from dollar store supplies. Make your own modern version of the popular farmhouse style pedestal with this tutorial.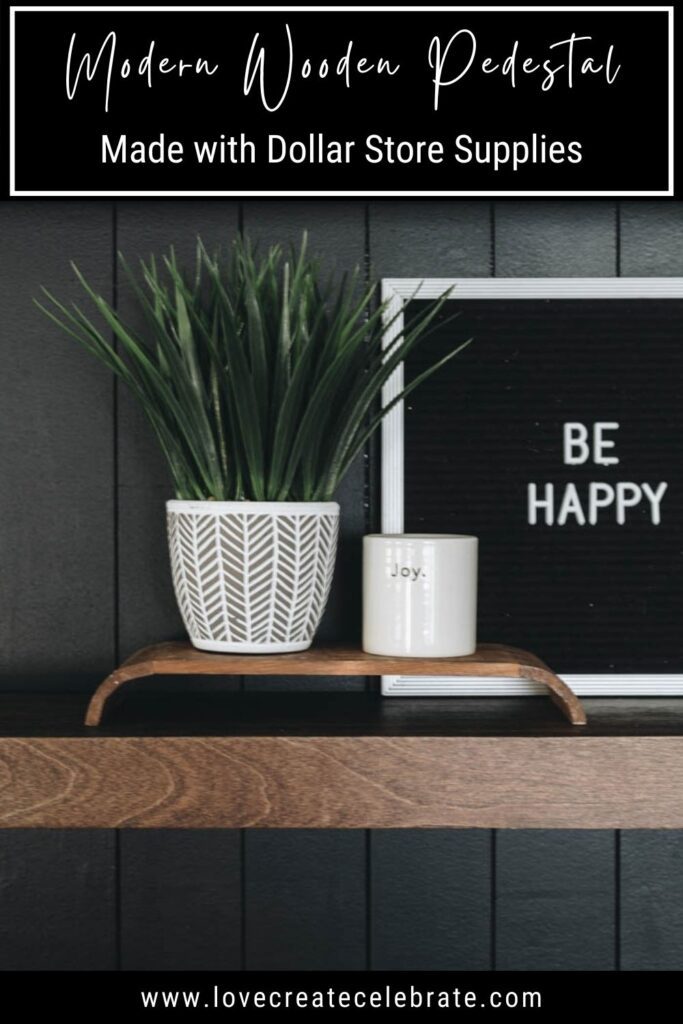 On a visit to Dollarama, I found this unique piece. I think it was probably supposed to be some kind of shelf. I loved the curves it had. It's so hard to recreate curves like that! I knew I could make something fun with it, so of course, it came home with me.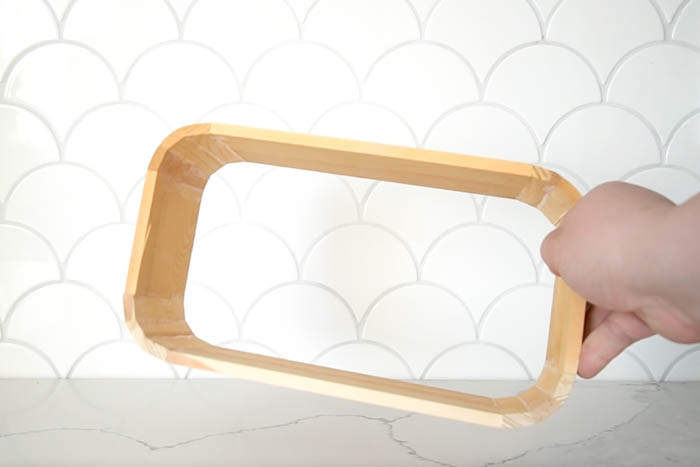 I know you have seen the farmhouse pedestals so many people have. the ones used for centerpieces on dining tables and kitchen counters. Maybe you have seen them used to elevate decor in a vignette. I have always loved the idea of a pedestal or riser, but farmhouse design is about as far from my design style as you can get.
Looking at the dollar store shelf, I came up with the idea of making a modern wooden pedestal. The curves of the shelf were perfect for what I was thinking.
*This post may contain affiliate links. When you buy a product through one of our links, we get a commission at no cost to you! Thank you for supporting our blog so that we can continue to bring you posts like these. For more information, please see our disclosure page.*
How to make a modern wooden pedestal
Supplies
Round shelf from the Dollar Store ( I got mine at Dollarama)
Table Saw
Step-by-step tutorial
Using a table saw, cut out the end pieces.
Make both cuts on each end, then flip it around to do the other end. I used our table saw because I could set it to the width I wanted to cut and get a nice even cut right on the end of the curve in the wood.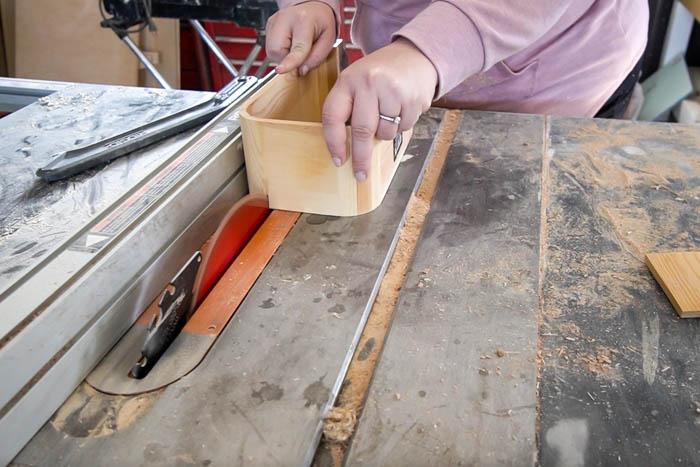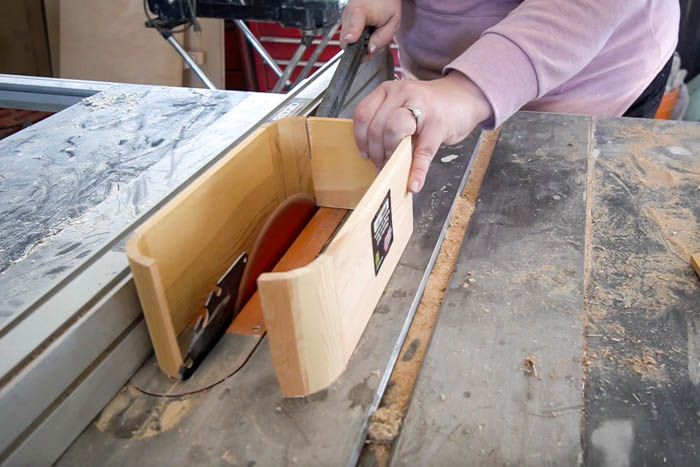 Sand the edges to make sure they are smooth. This will also help it sit level.
Stain the modern wood pedestal in the color of your choice then apply a protective coat of varnish
I applied the stain using a rag, then wiped off any excess. One is done in walnut stain and left one the natural color. I used a brush to apply the varnish.
Make sure to let the finish dry completely before using them.
The varnish will help protect them from water being spilled on them if you use them for a plant or if they are sitting on your kitchen counter near the sink.
That's it! You now have two modern wooden pedestals instead of one.
Finished Modern Wooden Pedestal
These modern wooden pedestals turned out just like I envisioned. I love them and have so much fun styling them throughout our home. Here are a couple of different ways you can use them with your home decor.
I love sitting plants on them. They make the perfect riser to elevate decor on shelves.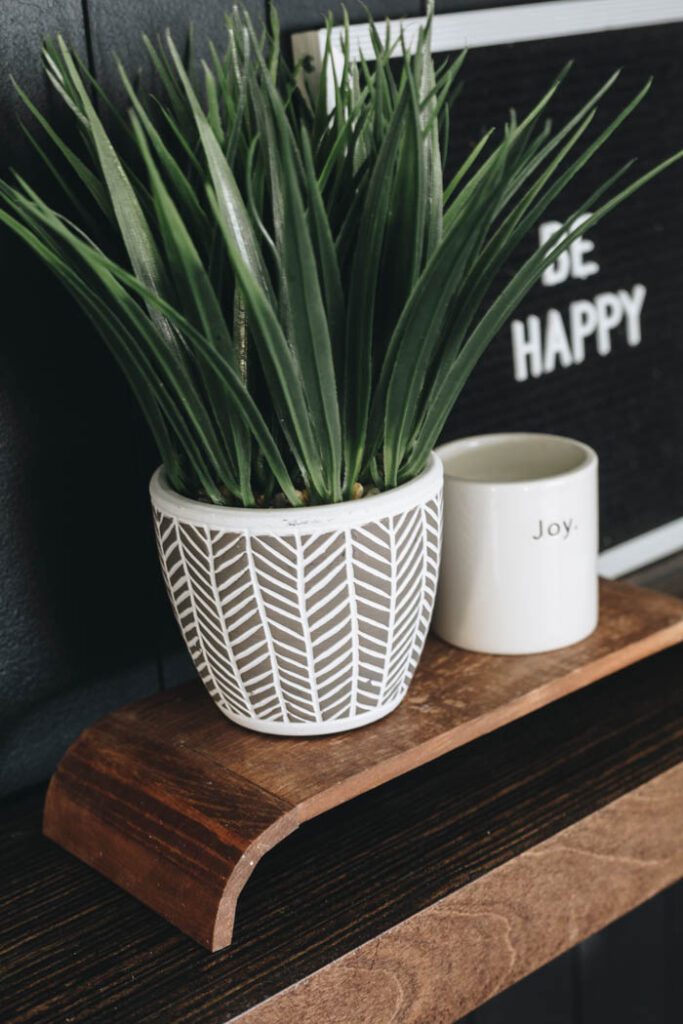 On the shelf above our Modern DIY Coffee Station I used the natural colored modern wooden pedestal to display my sugar and cream set.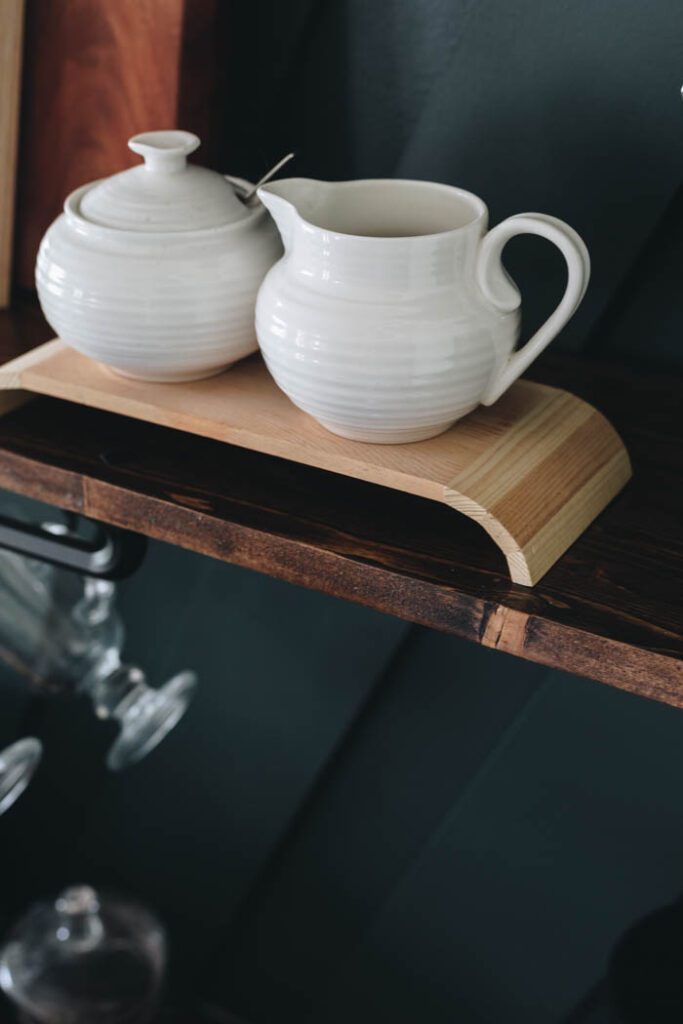 The natural color of this modern wooden pedestal is the perfect contrast to the dark wood shelves and the dark green wall behind it.
Video Tutorial for a Modern Wooden Pedestal (and 4 more dollar store DIYs!)
Whenever I share my dollar store DIYs on YouTube, I tend to share 4 or 5 projects at the same time. In June I shared 5 dollar store projects, including a decorative box, a dollar store vase, a sculpture, this pedestal bowl, and this modern wooden pedestal.
Watch the video below for more dollar store DIY inspiration!
If you're looking for more affordable DIY home decor, check out these 10 Modern DIY Home Decor ideas that are both beautiful AND budget-friendly!