Easy DIY Lego Table Build! Learn how to make a modern DIY Kids Lego table with one sheet of plywood in an afternoon, with these free build plans!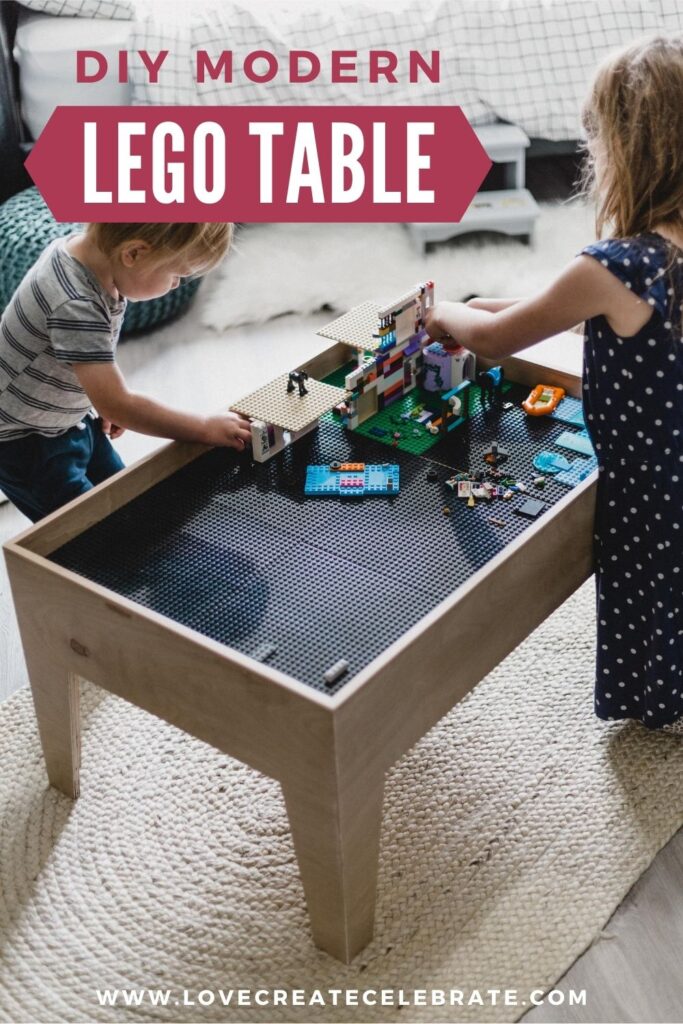 This lego table wasn't just a fun build idea – it was a necessity! Kids that love lego really LOVE lego! My kids cannot get enough, especially our oldest. For about two months straight they have started building in the morning, spread out on my kitchen table all day, only to have to pack it up or put it aside every day for dinner. It was definitely time we built them a DIY Lego Table!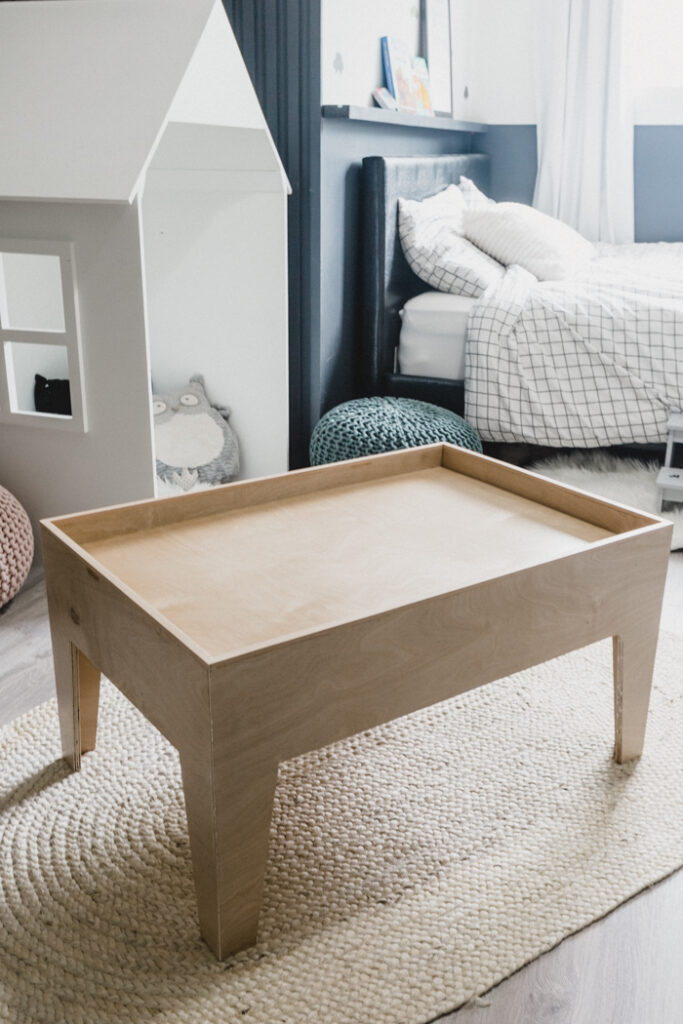 *This post was sponsored by Kreg and Build Something, and may contain affiliate links. As always, opinions are 100% my own. For more information, please see my disclosure page.*
This table was long overdue! My kids play with lego almost every day, and I kid you not, this table took only one afternoon to make! Why did we wait so long!
I looked for something sleek, modern, and easy to build and couldn't find anything, so we decided to come up with our own plans.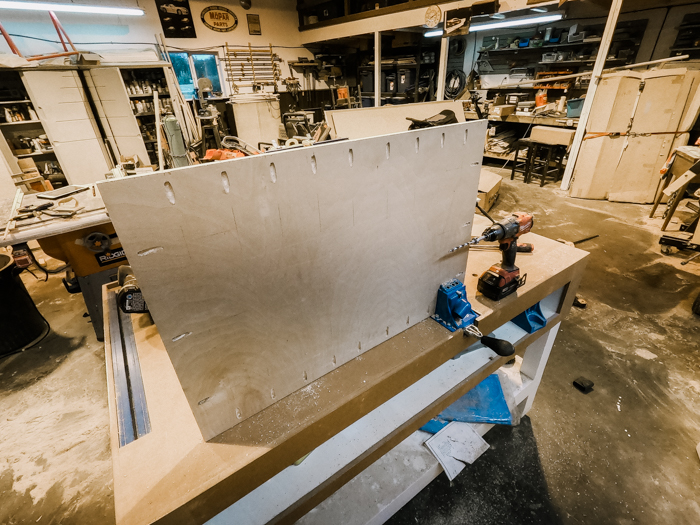 Pocket Hole Joinery
Almost every one our builds includes pocket hole joinery, including this one! If you've never heard of pocket holes, it's basically a way to have your wood pieces attach by drilling into the board through an angled hole. It allows you to hide your joinery and gives you a strong connection between the two pieces.
We have Kreg's K5 Master System and we love it. I can honestly say that we use it on almost all of our builds because it's so practical (& affordable!).
We probably over used it on this build, lol. We added a LOT of pocket holes, but that's because it's a kids table, and there is a very high chance that kids will be standing on it one day. Better strong & safe, than sorry!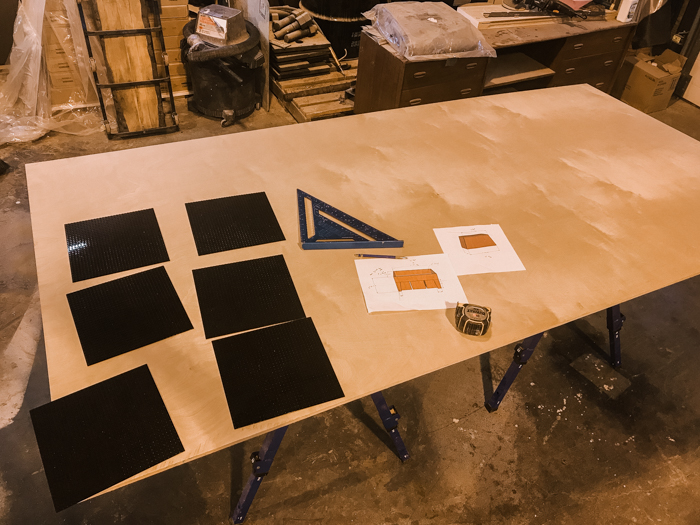 How to Build a DIY Lego Table
Beautiful, modern lego tables are hard to come by! We looked for a simple, modern design a while back and couldn't find anything that was the quick and easy build we were looking for!
We built the entire lego table with just one piece of plywood, and our free plans show you exactly how to cut the plywood and save the most scrap wood.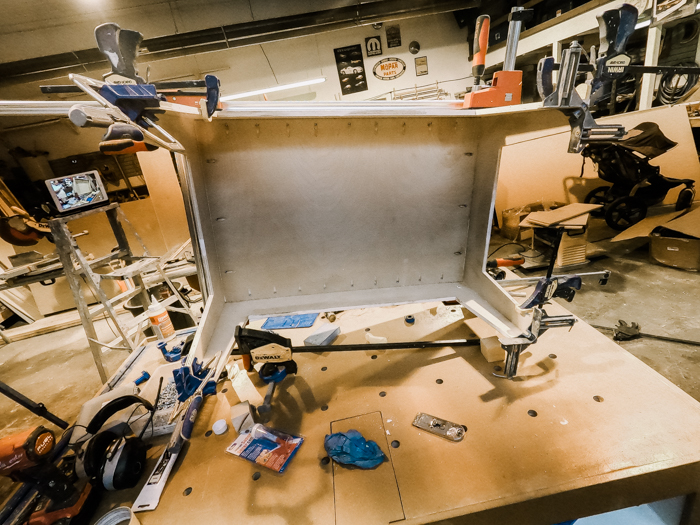 To build our table, we teamed up with Build Something to share the full build plans on their site. If you've never heard of BuildSomething.com it is a website full of great build plans, that are available for FREE.
GRAB THE FREE LEGO TABLE PLANS HERE!
Video Tutorial of How to Build Your LEGO Table
We did this whole LEGO table with just one sheet of plywood. In fact, if you're clever, you can do two tables out of one sheet!
In this video we break down the entire build process for these DIY LEGO tables, and share some tips and tricks for woodworking in general.
Finishing Your DIY Lego Table
The finish you want for your DIY kids table is totally up to you. The options are to stain and protect it, paint it, or just varnish it.
We were using a beautiful birch wood and I loved the wood grain of it, and the natural colour so we decided just to protect the wood by giving it a coat of polycrylic!
We used our favourite paint sprayer for this job, and got all of the polycrylic sprayed, and the paint sprayer cleaned up, in less then 10 minutes!
If you chose to stain or paint your table, you can still use a paint sprayer, or you can just brush/roll it on. I think this piece would look beautiful in any colour or stain choice.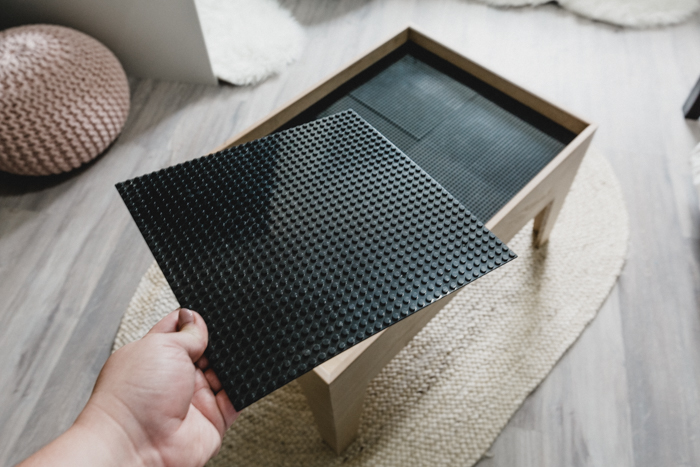 Lego Table Base Plates
The reason we chose the table top size we chose, is because we wanted it to be able to perfectly fit some of the Large Lego Base Plates (Canadian link here!)
You can buy Lego Base Plates (in Canada) in many different colours and sizes, but we wanted the large 10×10 sheets. We made the table to fit exactly 6 of them, with just enough space at the sides to poke your finger in and remove them.
We chose not to glue our base plates down so that the kids could change them in and out. If you want to glue yours down, you can scale down the dimensions of the table to fit the six base plates perfectly.
Also, when gluing, you should use lego bricks to hold the sheets in place. You do not want them to accidentally shift while gluing, or you won't be able to build across sheets!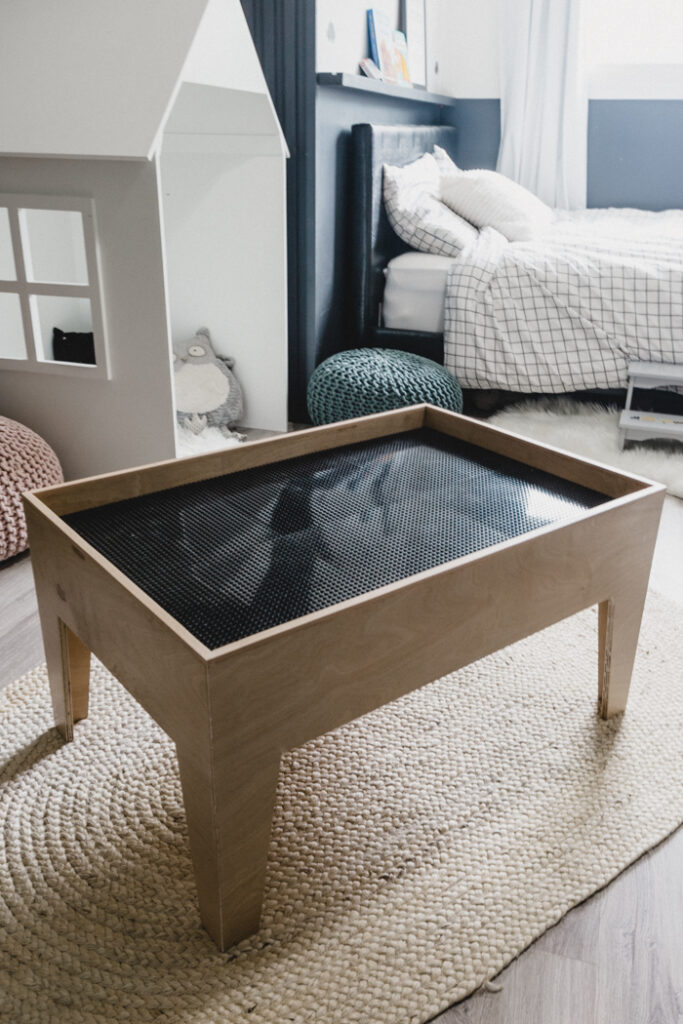 Our Finished DIY Lego Table
I'm so glad that the kids love their new table! I think they are most happy about the fact that they don't have to keep putting their lego away every day, lol.
I predict that this table gets a lot of use over the next few years!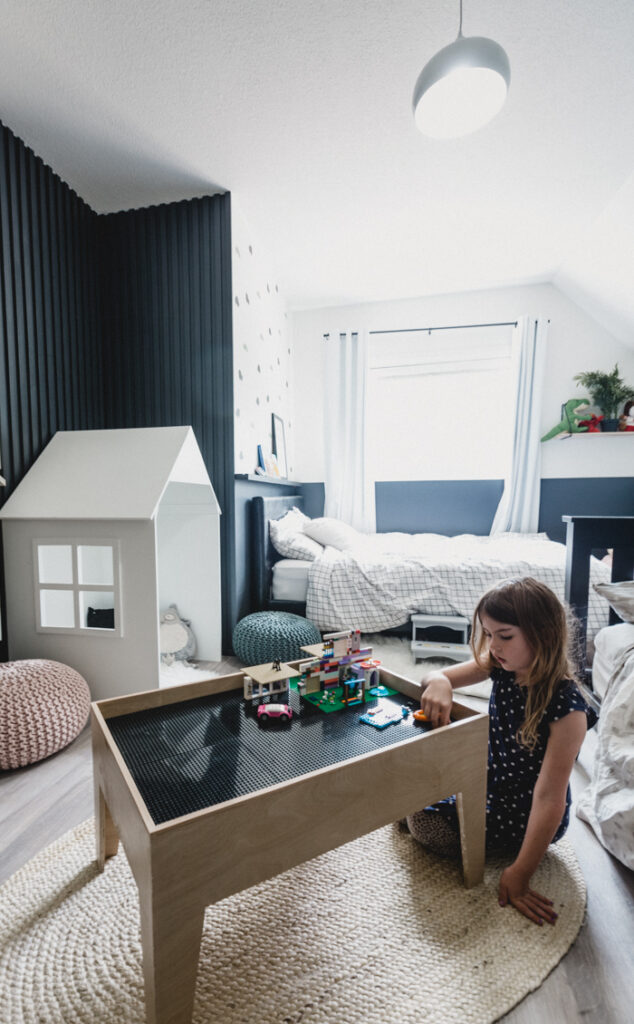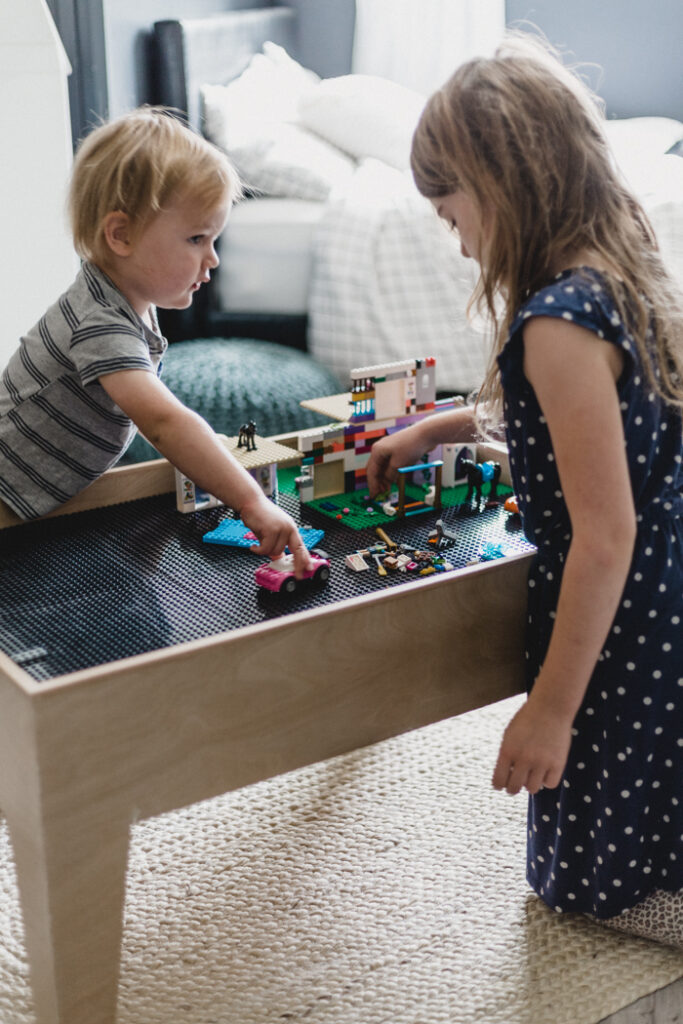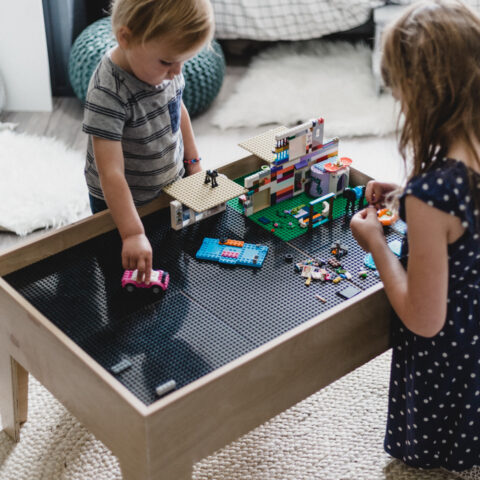 DIY Lego Table
Easy DIY Lego Table Build! Learn how to make a modern DIY Kids Lego table with one sheet of plywood in an afternoon, with these free build plans!
Materials
Wood Glue
1" Kreg Screws
Varnish (Polycrylic)
Stain (optional)
Painters Tape
Tools
Mitre Saw
Table Saw
Track Saw
Pull Saw
Kreg Work Stands
Kreg K5 Pocket Jig
Clamps
Pin Nailer
Router Table
Instructions
Cut plywood according to cut list
Add wood banding
Add the long sides to the tabletop
Add the short sides to the tabletop
Lightly sand
Finish with polycrylic (or stain or paint)
Add the base plates
Notes
See Build Something site for full build plans.
Recommended Products
As an Amazon Associate and member of other affiliate programs, I earn from qualifying purchases.
If you're looking for another fun kids project, our small Indoor Kids Playhouse had always been a big hit!