A beautiful fall coffee bar! Simple decor ideas and styling ideas for fall, plus our new OXO coffee 8 cup coffee maker!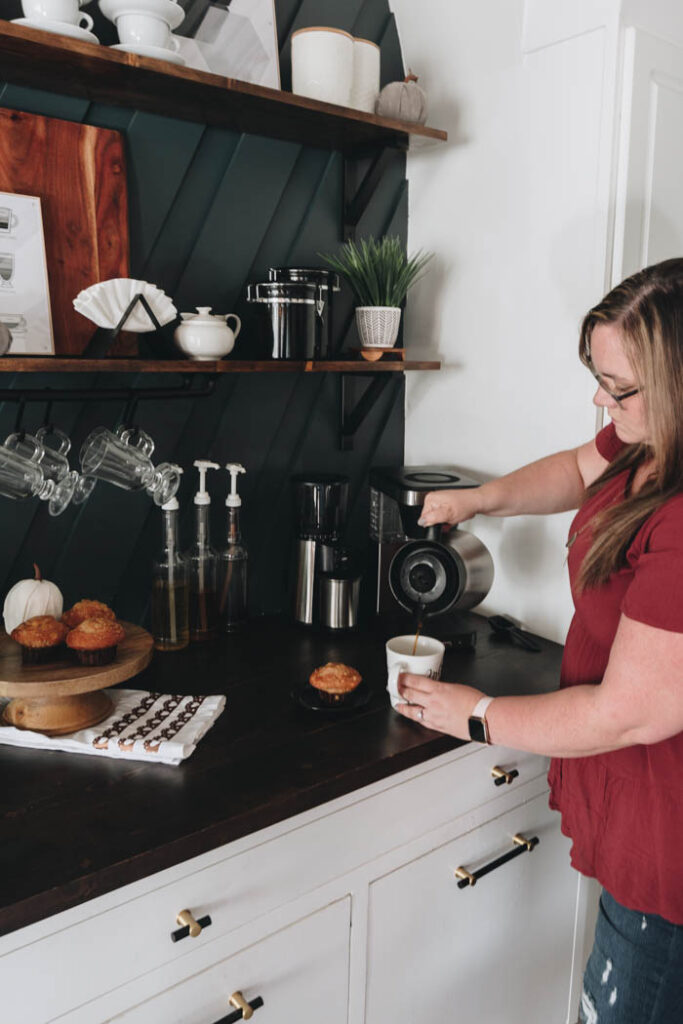 Is it feeling like fall in your neck of the woods? Where we live, fall comes and goes so quickly! I usually add fall decor early, and keep it up when there's snow on the ground because in Northern Canada the fall season is swift and I want to soak it up for as long as possible! Today I'm sharing my super simple fall coffee bar and the new brewer we set-up!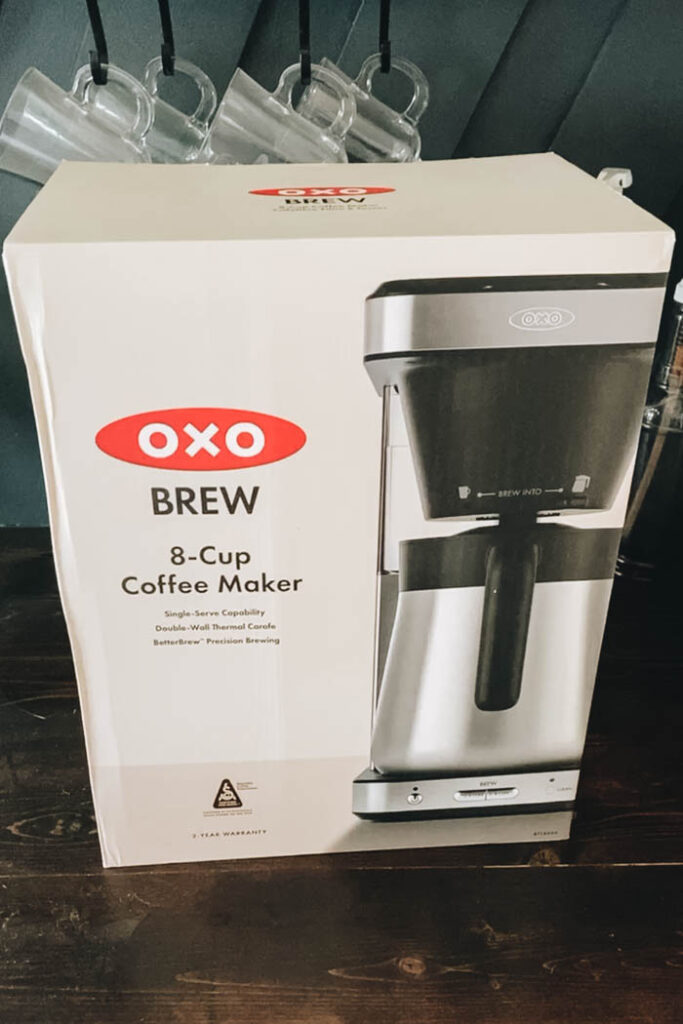 *This post was sponsored by OXO and may contain affiliate links. As always, opinions are 100% my own. For more information, please see my disclosure page.*
We got some happy mail this week! If you guys watch us on Instagram, you may know that our coffee maker went kaput a few weeks ago. I went basically a whole week without coffee ready for me in the morning, and it was a small form of torture.
Luckily for us, OXO has a new 8-Cup Coffee Maker that they wanted us to try out! I literally e-mailed them saying, "You have no idea how good your timing is!" lol.
Our New Coffee Maker for Fall
We didn't waste any time getting it all set-up! It's actually been quite a while since we've had a brewer that made a pot of coffee, and we're so glad we have one again!
We like to entertain a lot, and with our old coffee machine we could only do one cup at a time, and we were constantly spending 30 minutes making coffees for our guests… now we can do both a pot and a cup!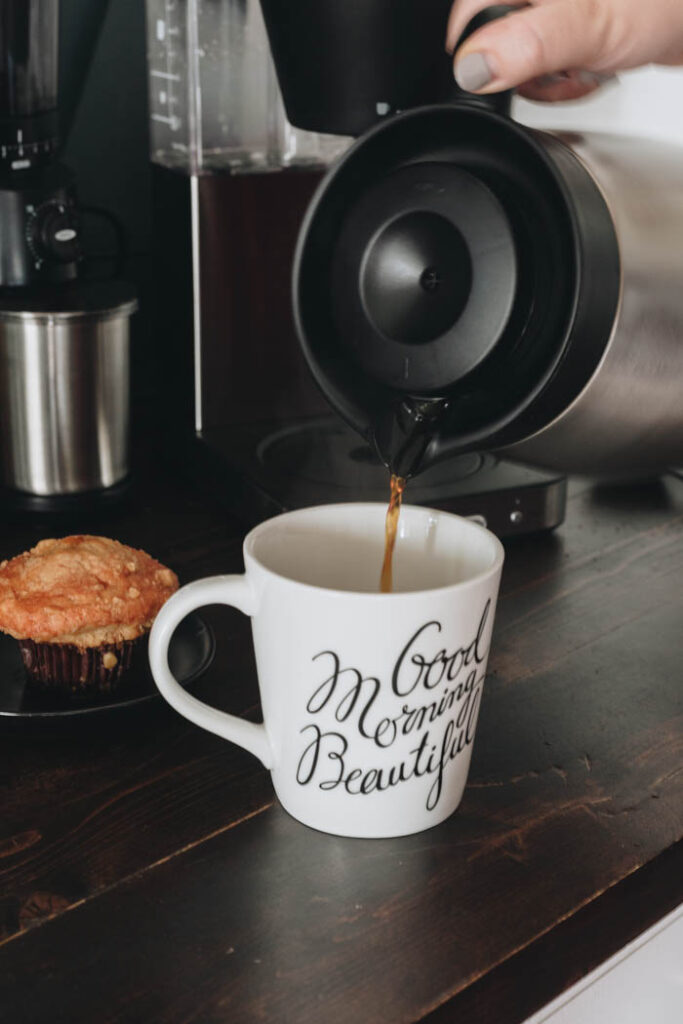 The OXO 8-Cup Coffee Maker makes both carafes of coffee and single cups, and adjusts it's brewing cycle so that you get the best coffee flavour either way. We primarily use the carafe in the mornings, and when we have guests over.
Then we use the single cup brewing for single cups or iced coffees we have through out the day.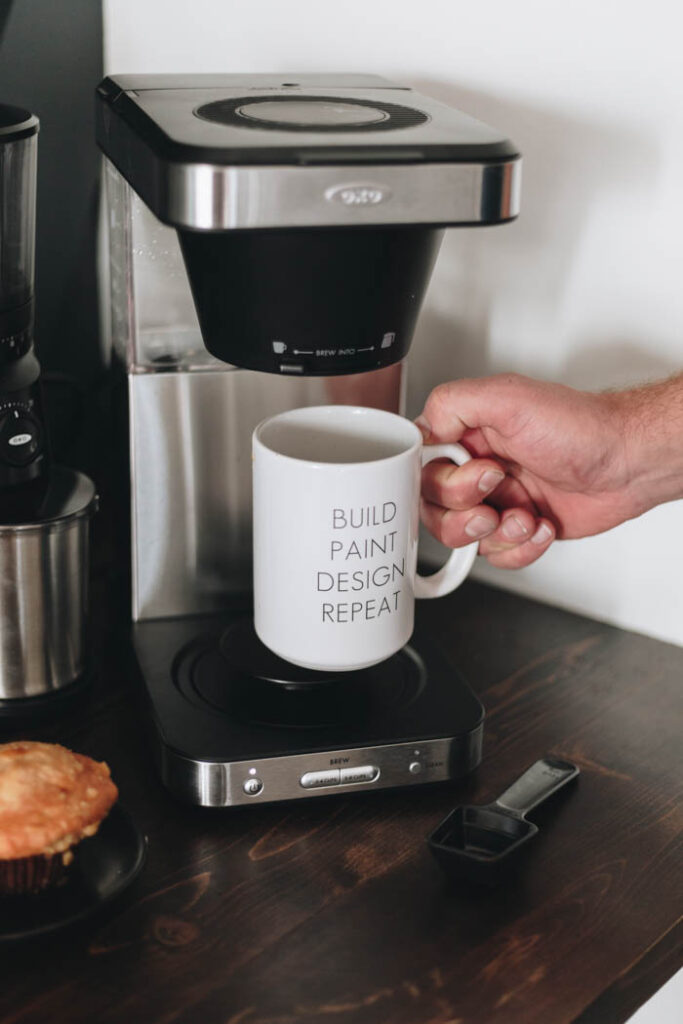 Honestly, the coffee has been delicious! The carafe was a lifesaver over thanksgiving, and the machine looks so good on our fall coffee bar! What more could we ask for?
Our Fall Coffee Bar
When it comes to fall decor, I'm a minimalist. Once we had our coffee machine set-up, I added a couple other little things to bring in some seasonal decor and warmth, but that's it!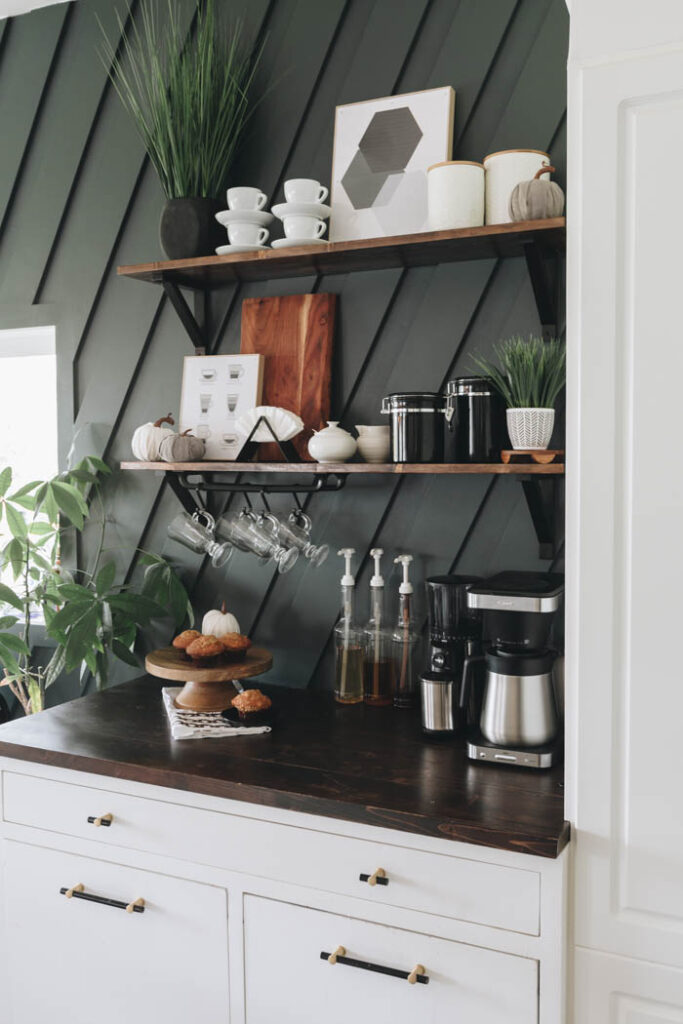 I switched out a tea towel for a fall one that I DIY'd a few years ago (still going strong!), I added some mini DIY velvet pumpkins, and added a few wooden touches to add warmth.
I'm all about affordable decor, and the little pumpkins and the little walnut plant stand were actually two of my fall dollar store DIY projects! If you're a fan of easy, budget-friendly DIYS, I know you'll love those projects!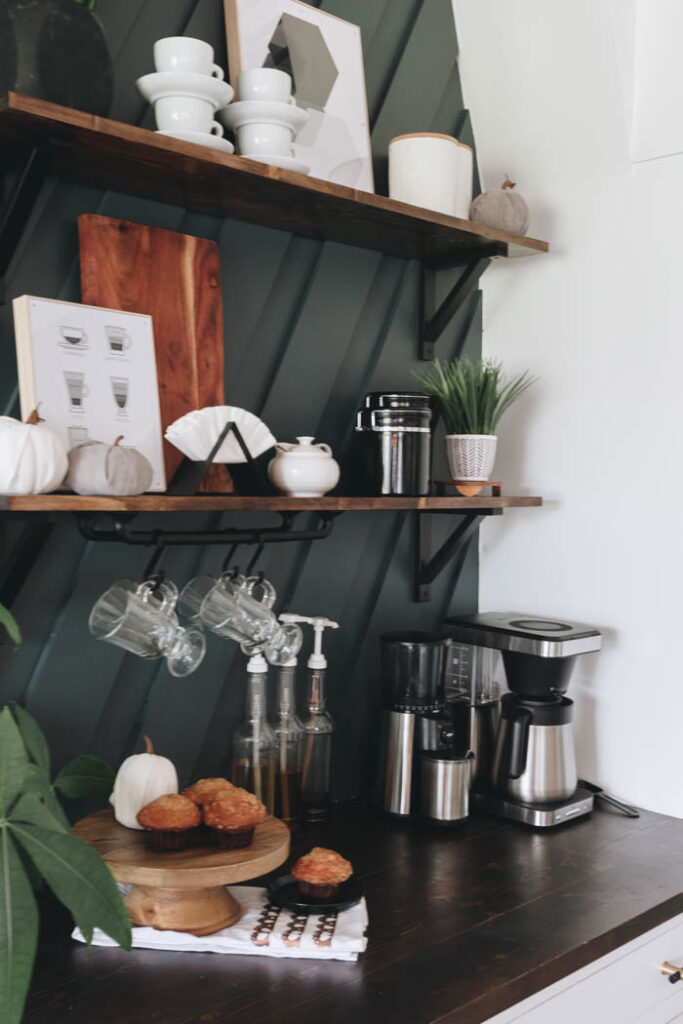 The pastries are a bonus from our local bakery that the kids LOVED! But a coffee machine always looks better with baked goods beside it! They were apple cinnamon, so you know my kids gobbled them up!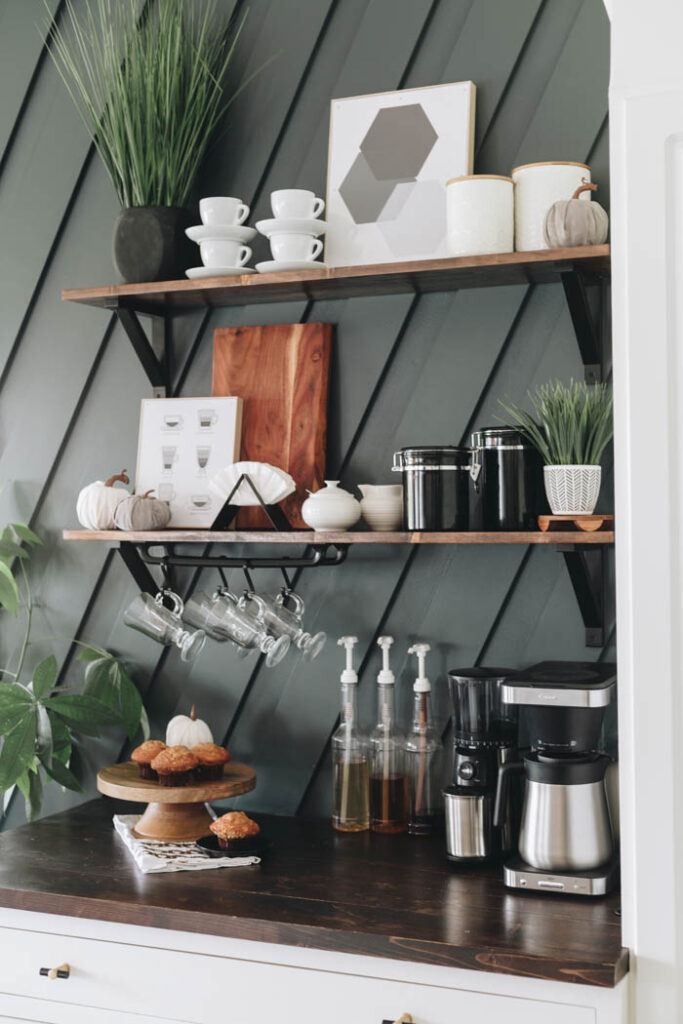 Our OXO 8-Cup Coffee Maker slides into the space perfectly! It all feels beautifully balanced, which my decor eye needs!
The little touches of fall are enough to make it feel cozy, without overdoing the fall vibes.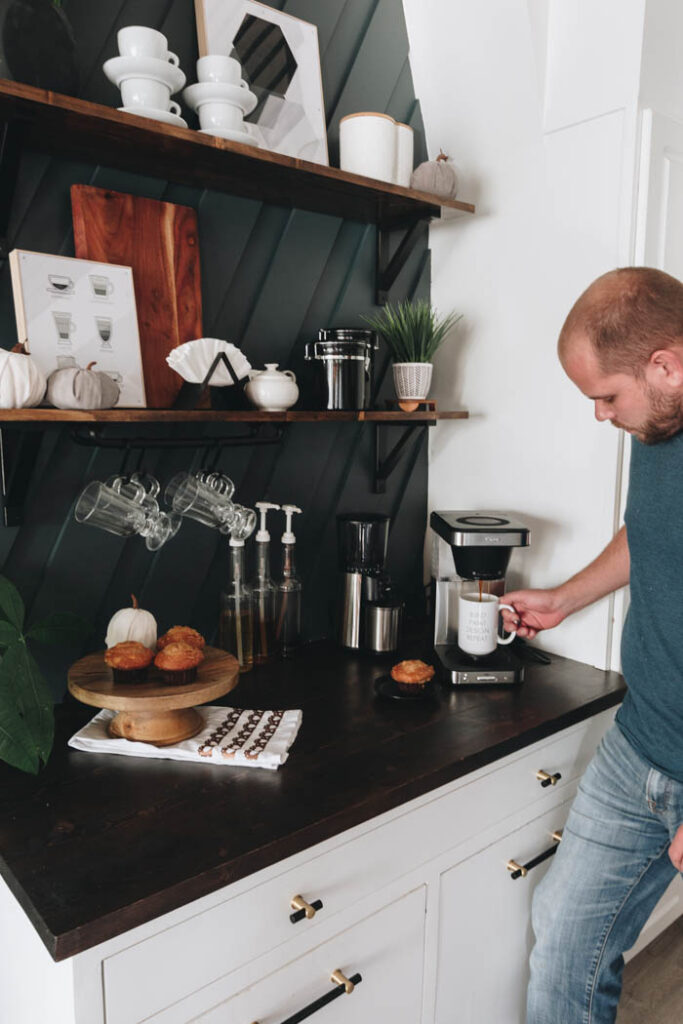 How we made our DIY Coffee Bar?
If you're interested in how we built this simple DIY coffee station, check out this post for all of the details!