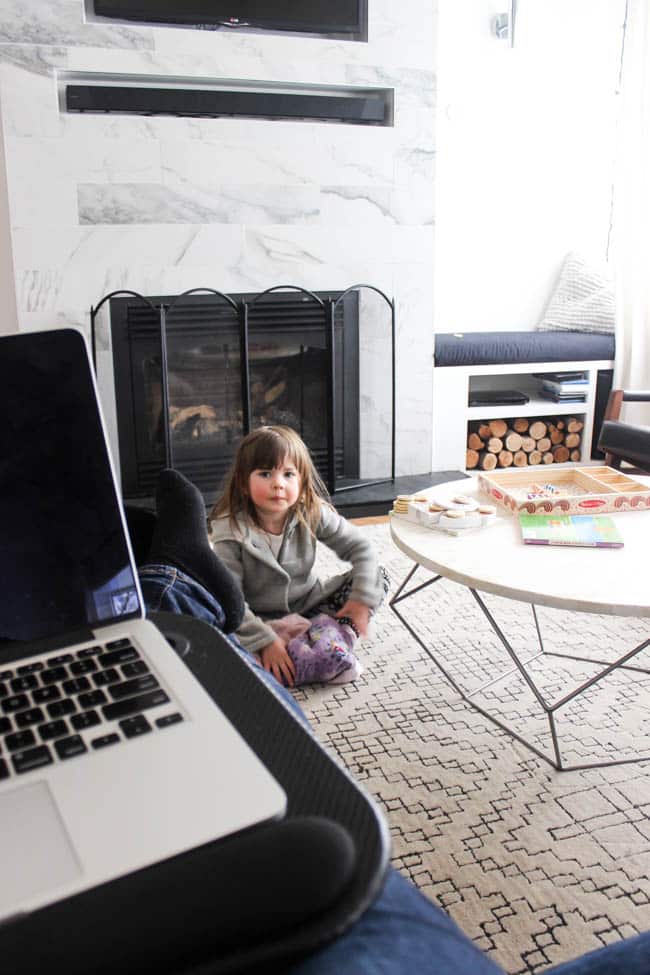 The idea of work life balance is so illusive. With a new baby due in two short months, I've been thinking about this topic a lot lately. Wondering how my current "balance" is going to be affected. I already have sleepless nights, so it can't be that bad… right?! lol. When I met with some blogging friends for a quick getaway we got chatting about the importance of work life balance, and how it's an ever-changing concept in our lives.
As you can see, "work" and "life" are pretty fluid over here. We renovate with our kids (in the safest way possible!), I craft with my kids, and our lives are generally intertwined with my work or blog life.
When I met with my bloggy friends – Colleen from Lemon Thistle, Christina from The DIY Mommy, and Kristi from Making it in the Mountains – we weren't expecting to make extra work for ourselves (a.k.a. a giant video collaboration!), but the discussion was too good not to share! So naturally we sat down and filmed the whole thing…. lol.
Here's our Discussion on the Importance of Work Life Balance:
Hope you enjoyed the video! I'd love to hear more of your thoughts, tips, tricks, or questions!
We answered a few more of your amazing questions too!
How to Authentic in the Online World
How to Find Your Decor Style
&
How to Make Money Online
Listen to any or all of these discussions in the Blogger Q&A playlist video below!
If you're trying to get organized (like me!), read these 7 Things to Do on the Weekend for a Productive Monday!
If you want to hear the nitty gritty about how I schedule my day as a stay-at-home-mom, blogger, and wife, I break down my day in this post about My Personal Work Life Balance!