The number one question I get asked as a blogger is: "How do you find the time?" I've been asked over and over how I get the energy and how I'm able to manage a work/life balance, especially as a new stay-at-home mom. Let me just start by telling you, it is NOT easy! But, of course, none of it is easy for any of us. Being a mom isn't easy. Working isn't easy. Working outside the home isn't easy. We are all constantly trying to find our own life balance. I'll unravel some of the ways that I keep organized, and maybe it will help you work towards your own life balance.
I would not consider myself a full-time blogger because I don't yet dedicate 40 hours a week to this gig. As I write this, I have a preschooler, a toddler, and a baby growing in my belly so time is getting more and more scarce! Blogging for an income is definitely not an easy gig, especially when you are just starting out. I'm constantly trying to balance putting enough work into my blog to continue to grow and sustain it, while giving my children enough attention, my marriage enough attention, and myself enough attention.
Here's a typical day in my life:
I try to wake up before my kids, but that doesn't always happen. Every morning I check that my most recent post went live and looks good. Then I share it or schedule it across my social media channels. If I don't have a new post, I may schedule facebook posts or pinterest pins for the next few days. Next, I check my blog e-mail respond to anything new, and write any necessary e-mails. This could be pitches to or from new companies, blog friends and I organizing posts, questions from readers, or back and forth e-mails with brands. Somewhere in there my kids will wake up and I'll pause to make everyone breakfast and maybe read a few books or help colour a picture.
By this time of day, it's usually approaching preschool drop-off time, so I'll make sure my kids are dressed, fed and packed for school. After drop off, my toddler naps, so I usually have an hour and a half to myself. If I'm doing blog-related things, I may be creating new projects, painting furniture, photographing projects or rooms, or doing research and sourcing new products or materials. If I'm taking a break I might read or nap (hello pregnancy!).
Then I'll pick up my daughter from preschool and usually either do some errands (e.g. groceries, clothing, Costco, etc.), or play with the kids a bit. If I'm really at crunch time for a project, I may work through this time until Daddy gets home, but the mom-guilt is real.
When Daddy gets home from work it's a whirlwind of dinner, family time (e.g. a walk or playing outside), bath, and bedtime routine. Our kids are down most nights by 8:30, but we don't stop. When we are renovating, this is often when we get most of the work done – between 8-11pm. If I'm not working on a project, I'm editing photos, writing a future post (which could involve reviewing contracts, researching keywords, creating affiliate links, uploading photos/videos, etc.), or working on the "backend" of my blog and fixing behind-the-scenes things.
So now you're thinking "How does she do all that?"
I'm very organized – I have a to-do list that I tackle most days, even with "life" goals on it, like "do girls' laundry" or "go for coffee with a friend". Planning ahead also helps me get most of my work done in batches. For example, I may DIY 4 projects in one day back-to-back, or photograph four projects at once, or edit photos for 4 projects at once. All of which saves a ton of time!
I have a very supportive husband – I could not do any of this without him. He loves renovating and building even more than I do (if you can imagine), and he's always been encouraging me to do what I love, even when my tiny new blog had only 100 page views a month.
We've always focused on helping our kids learn to play independently – This is so important for us. Knowing that my children can play and have fun without constantly needing my attention is a huge reason that I can work from home at all. When they need me, I'm there. But they are SO good at playing on their own!
I love it – Blogging is not easy, but getting creative is my zen. If I haven't gotten my hands dirty lately, I don't feel like me. I love sharing my ideas and getting an e-mail from a reader with a photo of a project they made inspired by the blog, or a text from a relative asking where my light fixture was from, or a message from a friend who loved a download I shared. Love it!
Of course every single day isn't like this. We still go out for playdates, have date nights with my husband (in or out of the house, lol), plan events on the weekends, and go out swimming with our kids. But our life is busy, and I wouldn't have it any other way!
It's up to every individual to find their own work and life balance. For me, it can be easy to put in a bit of extra time blogging because I love watching it grow, but I also feel real guilt if I spend too much time away from my kids, so finding that balance is important (and only going to get harder when baby #3 arrives and I'm breastfeeding 6 times a day! lol). My work-life lines are blurry, and I'm often working at unconventional hours, but I'm home with my kids and I love what I'm doing, so I'm ok with that.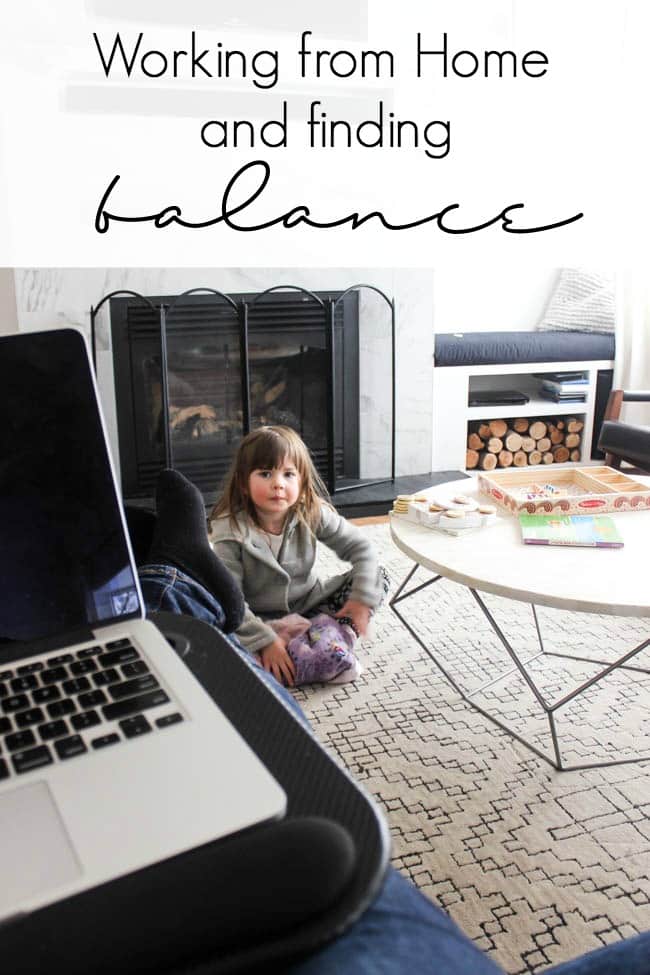 My goals always focus on maintaining my work life balance too!
Read about my Goals for 2018 here!