How to Use a Steam Cleaner! Sharing 5 great everyday household uses for your steam cleaner that will amaze you!
Cleaning is my least favourite thing. But I really love a clean home. It's a catch 22. It had been a while since we did a good deep clean in our living room, so when we got our hands on a steam cleaner, we figured we might actually be able to motivate ourselves to deep clean! We're sharing how to use a steam cleaner, plus 5 everyday uses that we've constantly been testing since we got our steamer!
*This post was sponsored by Wagner and may contain affiliate links. As always, opinions are 100% my own. For more information, please see my disclosure page.*
What is a Steam Cleaner?
If you've never used a steam cleaner, you may be wondering what it is and how it works. A steam cleaner is a a machine that takes water and heats it to a very warm temperature within a pressurized unit to create powerful steam that kills germs.
Using just water, without chemicals, it creates steam that can help eliminate dirt, grime, viruses, allergens, and more. Today we are specifically talking about our Wagner 915e steam cleaner, which is incredibly easy to use!
The Wagner 915e Steam Cleaner comes with over 18 accessories to hlep you clean any room in your home.
The accessories allow you to tackle many different tasks around the home, without any harsh chemicals, including stripping wallpaper, cleaning your grill, cleaning ovens, steam cleaning windows with the wiper attachment, and cleaning anything from toilets to curtains.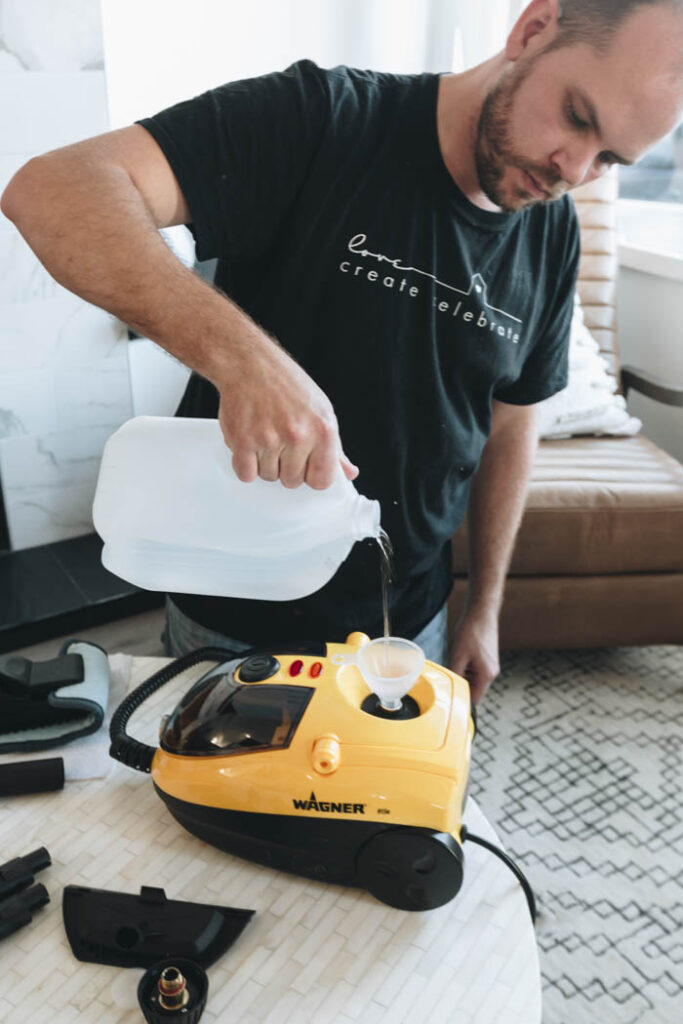 Why Should I Use Distilled Water with My Steamer?
You should use distilled water when using a steamer like this because it keeps any minerals, etc. that might be in your tap or well water, out of the steamer. With our steamer in particular, those small particles can clog over time and be incredible difficult to clean out.
By using distilled water, you are protecting your machine, and your family and pets, by avoiding extra use of chemicals in your home.
How to Use a Steam Cleaner
This little machine could not be easier to use! All you do is open the cap and fill it to the right spot with distilled water. Then close the cap and turn it on. When the light is red, it's pressurized enough and you can start cleaning!
If you are changing attachments while using the steamer, there is a safety switch you can press to make sure that the steam doesn't come out while you are holding the machine. This is so important because you do NOT want to accidentally get the very hot steam on your body.
If you need to refill the water, or turn off the machine, you also have to wait until it is full cooled down before you can open it again.
Video Tutorial of How to Use the Steam Cleaner
If you want to see a steam cleaner in action, here's how we used it to give our living room a deep clean! You can see for yourself how easy it is!
5 Great Ways to Use a Steam Cleaner At Home
Steam Cleaners have so many great uses, including removing wallpaper! But I wanted to focus on the everyday uses for a steam cleaner. I deep cleaned some rooms in my home, and used my steamer multiple ways in every single room. These are some of the most practical uses!
Upholstered Furniture and Cushions
We hadn't cleaned the fabric on our couch for a loooong time! We had a few child-related spills (I'm looking at you, yogurt stains!), and an excessive amount of dog hair, so we thought we would test our steam cleaner on it, and we were honestly amazed!
Tabletops, Countertops, and Table Surfaces
All of our living room tables have been wiped, but we wanted to make sure that they were really clean! If 2020 has taught us anything, it's the killing away germs is more important than ever.
We used this steamer to clean all of the tables in the room. It honestly took less than a minute, and they were completely spotless (which never happens with 3 kids and multiple pets! lol).
Carpets
We have a wool carpet in our living room that can be very difficult to keep clean. Store-bought chemical solutions typically do not work on wool rugs, and can wreck the finish, but water and steam is a great chemical-free alternative!
We used it to spot clean a few areas that had some built-up stains and I was SO impressed with how easily is worked on the rug, removing our stains.
Flooring
Another area that we were happy to test our steamer on was our flooring. We used it on both the tile and the laminate flooring with great results!
We used the brush attachment with the microfibre pad and I couldn't believe what came up. We had just swept the floors and vacuumed, so I didn't really expect it to lift anything, but I was both disgusted and amazed at how much it lifted off!
When it comes to tile and grout, the steam easily loosens up debris. We used it on tile where we had some paint drips that we could never scratch off. (Honestly, from a paint project about 3 years ago, lol). Well, the steamer removed them in less than a minute. It was so satisfying to watch!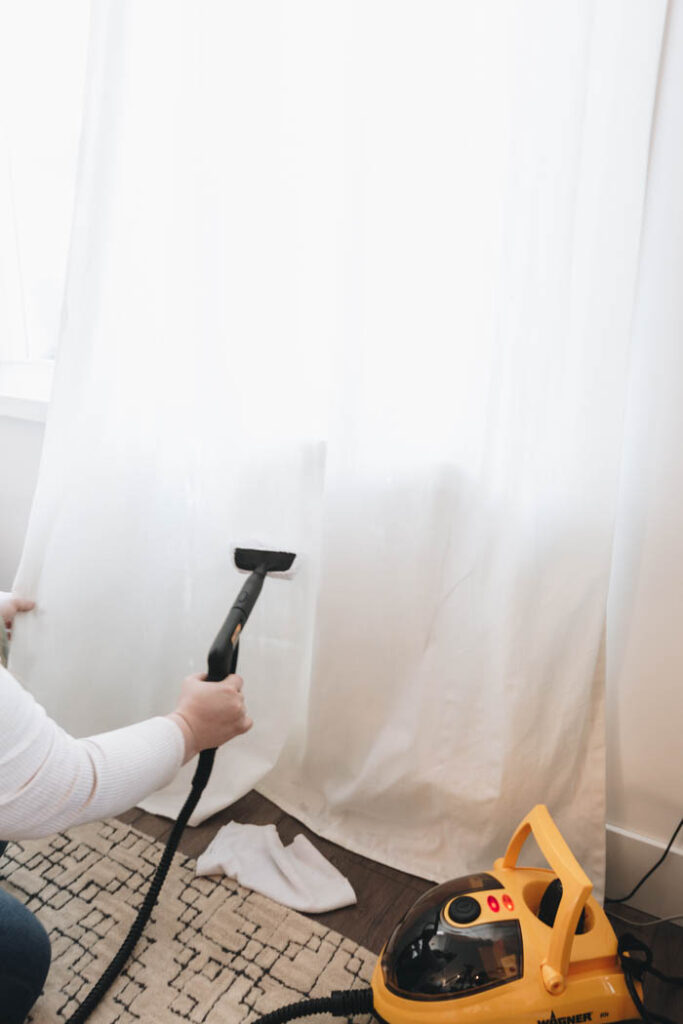 Curtains, Bedding, etc.
Steaming these loose fabrics is actually one of the biggest reasons I wanted a steamer. I love the satisfaction of steaming a curtain or a duvet cover and seeing all of the wrinkles disappear. When we tested it ourselves, it worked amazingly well.
If you're using it for guests (like an Air BNB, or family visits), you can steam the mattress to disinfect it, and steam the bedding to keep everything looking crisp and clean.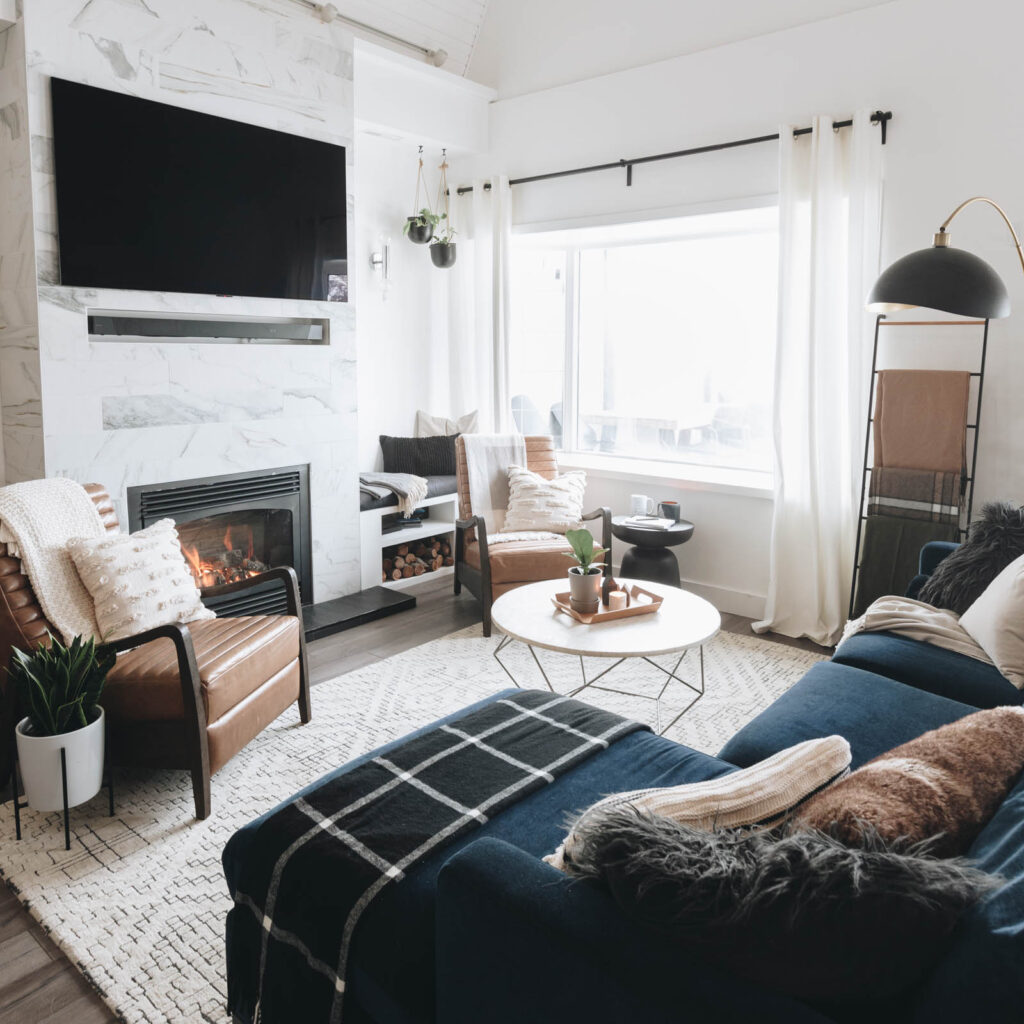 All of these simple uses for our Steam Cleaner gave us a brand new, deep cleaned living room in less than an hour (including the extra time we took to film!). Next we're gonna tackle the kitchen!
Looking for more quick cleaning ideas? Check out these ideas for Organizing Your Linen Closet!