Want to know how to choose the perfect chandelier for your room?! Find out how to choose the right size, material, style, and more!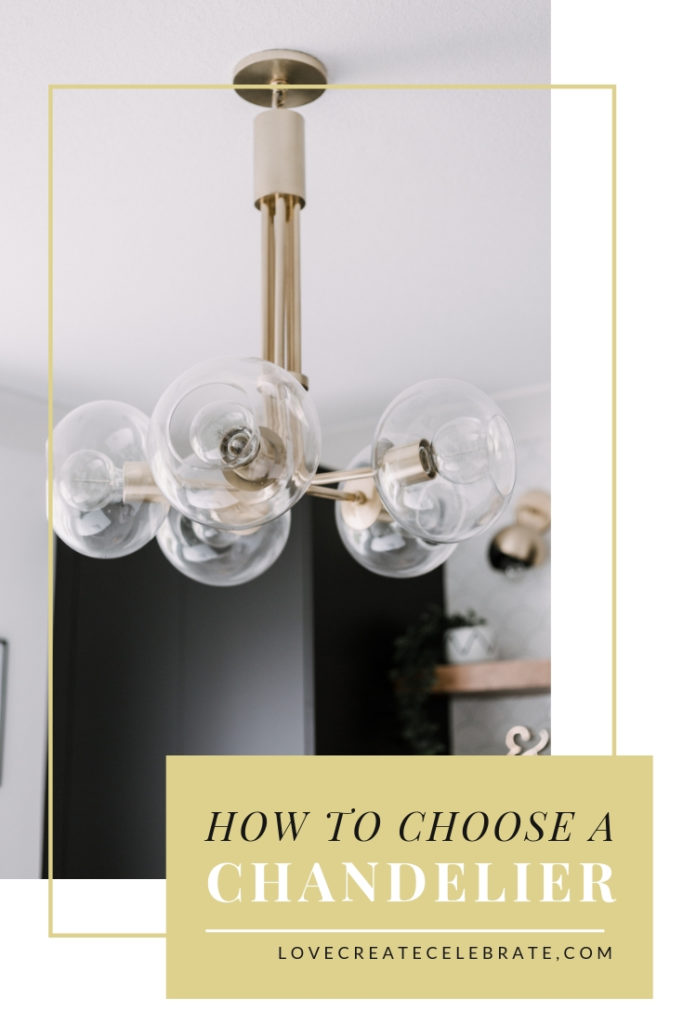 When I say chandelier, I hope you're not picturing a huge, ornate crystal piece at the top of a giant staircase. If you are… it's time for you to re-think chandeliers, lol. They come in so many beautiful shapes, sizes, and finishes these days. The modern chandelier has come so far! I chose one for my recent home office renovation (I know! An office chandelier!), and I'm so glad I did because it looks amazing! Today I'm sharing some tips for how to choose a modern chandelier, and have the perfect finish to your space!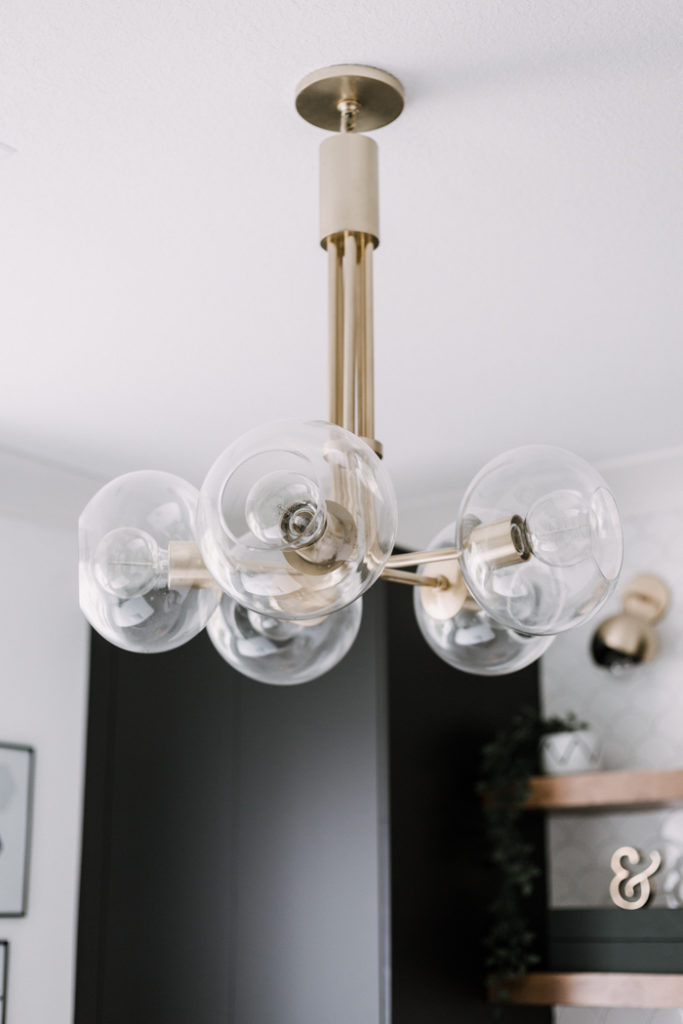 *This post was sponsored by Hudson Valley Lighting. As always, opinions are 100% our own. For more information, please see our disclosure page.*
Why Buy a Chandelier?
Here's the thing about lighting… lighting makes a space. When I see a room that needs some design help, one of my first suggestions is almost always about lighting. When we moved into our house, changing out all of the light fixtures was one of the first things we did. $40 fixtures everywhere to replace the old, outdated lights.
Whatever room you are putting it in, a chandelier can make a big first impression the style you choose can set the tone for the space and add character that compliments the rest of the room's design.
What Rooms Can You Put Chandeliers In?
Did you read above? When I mentioned a chandelier in my office? lol. You can add a chandelier to any space! As long as you get the style and scale right, you can find one to work in a dining room (of course!), but also a living room, bedroom, kitchen, and even powder room!
Choosing the location for the chandelier will depend on several factors, including the ceiling height, the size of the chandelier, how many chandeliers you are hanging (sometimes two look great together!), and what looks good visually in the space. For example, my office chandelier was moved 12″ from the center of the room, because when the built-ins were in place, the light no longer looked centered to the space.
What Size of Chandelier Do I Need?
Chandeliers are often a focal point in the room, so you want to make sure you are buying one that isn't overpowering the space visually. When you are looking at chandeliers online, they are sized my height, which is usual a range (since they are adjustable when installed), and by the total diameter.
Tips for a dining room chandelier:
Diameter should be 1/2- 2/3 the width of your table
It should hang approx. 30″-36″ from the top of your table to the bottom of the light
It should be more narrow than your dining table
There are no "rules" about how many bulbs or arms you should use, as long as you love it, and it fits the space
The room should have enough "space" around the light so that it doesn't look crowded (e.g. 4 ft. to the nearest walls)
Tips for chandeliers in any other room:
Dining rooms require special consideration, but in rooms without a table, there are a few other considerations, including safe clearance under the fixture and sight lines. You can determine what size of chandelier you need with simple formulas.
Add the length of the room (in ft) and the width of the room (in ft) and convert the total to inches to find the perfect chandelier size
For example, if you room is 10′ x 12′, you would need a fixture that is approx. 22″ in diameter (10 + 12 = 22)
For every foot of height in your space, allow 2-3 inches of chandelier height
For example, our office has 9ft ceilings, should I should go with a fixture that is 18″-27″, and my fixture fits perfectly within those dimensions!
If you're using a very small space, like a powder room or an entry, your chandelier should be less than 20″
Other Factors to Consider When Choosing a Chandelier
The last considerations are how your new chandelier is going to fit in with your space, style, and decor.
How to Find the Right Style of Chandelier
The chandelier you choose should compliment the style of your home. For example, if you consider yourself to be more minimalist in style, you might go for a simple chandelier with a few thin arms and clear bulbs. Or if you consider yourself more industrial, you might go for something with a bit more of a frame, and a mix of wood and metal.
Alternatively, if you find a fixture that you love, you can build your room around that by adding in features that compliment it. Such as choosing a brass chandelier, and adding brass decor, such as candlesticks and chair legs to the room.
What Material Should I Choose?
There are no hard and fast rules about what finishes and materials you should use. if you want to be confident that the chandelier will fit the space, lean more towards complimentary materials. Chandeliers can come in materials from wood, to crystal, and beaded to metal, and you can pick up elements from your space and look for light fixtures with those prominent materials.
But mixing metals is also a stunning design trend, and a large metal fixture in a space without any metallic accent pieces can still look gorgeous, so play around with different ideas. As long as you have the scale correct, you can have some fun with lighting too.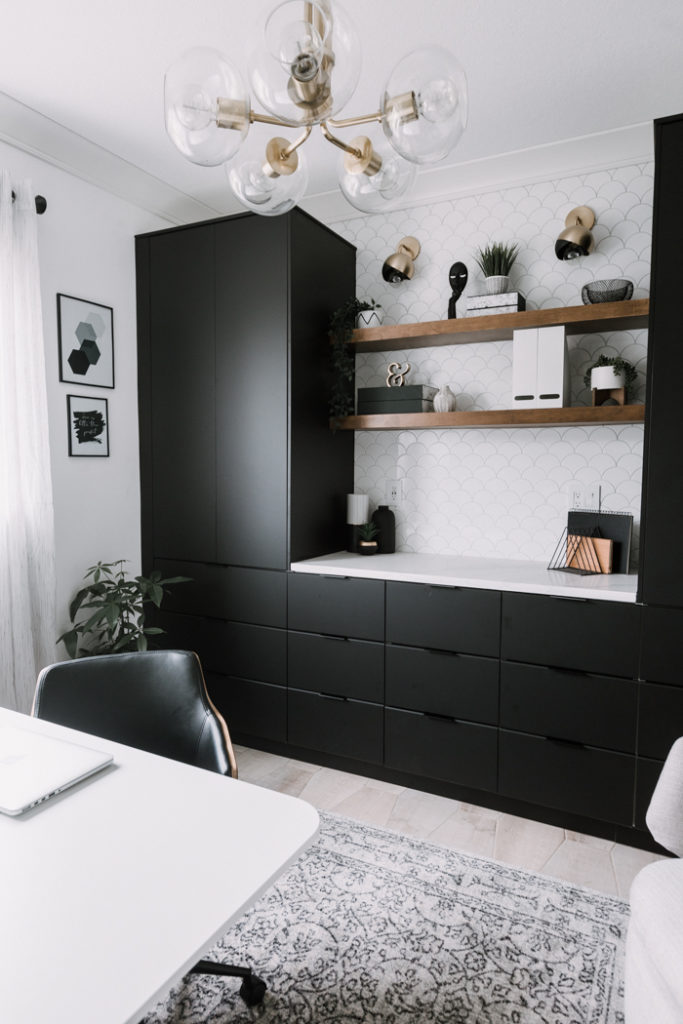 How Did We Make Our Chandelier Decision?
When we were choosing a fixture for the office, I wanted something that would make a statement, but also fit with the decor. The brass was an easy choice because I loved the finish! There weren't any other brass elements in the space (other than the brass sconces I added to match), but the light colour complimented by white, black, and wood palette in the space.
I chose a contemporary design with round features. I knew it would stand out against the boxy built-ins, but also bring together the rounded tile and other circular elements in the space. Finally, I also intentionally chose the clear domes around the bulbs because I didn't want to cut off any of the views in this small office space.
I hope that was helpful! If you have any questions, please ask!
If you're looking for more lighting tips check out these other amazing lighting ideas!
Choosing Lights for Your Space by Lemon Thistle
Five Wall Sconces for the Kitchen by Harlow and Thistle
Finding the Right Kitchen Pendants by The Learner Observer
And make sure to check out the entire finished Home Office!