Everything you need to know about choosing a colour palette for your home! Inspiration for a beautiful and modern design style!
Let me just start this post by disclosing that I'm am not an interior designer. At least, I don't have the training for it. I just love designing my own home, and giving my friends design suggestions. I spent the last five years slowly finding my style while I renovated my current home. I experimented with different colour palettes, wallpapers, and styles. Now that we are moving again [See the home here!!], I want to start right, by knowing my home colour palette before I start designing. Every time I tackle a new room, I'll know the colour scheme I want to work from. Let me tell you how I found it, and what I plan to do!
*This post was sponsored by Para Paints. Thanks for supporting my blog so I can continue to bring you posts like these. For more, see my disclosure page.*
I really believe that the colours in your home need to reflect you. The barn house we are moving into has so much potential, but when I walk in and see the dusty rose, green, and yellow walls, I know that it's a reflection of the previous owner, not a reflection of me. I need to choose my own colour palette.
How Do I Choose My Home Colour Palette?
Where to Find Inspiration
If you're looking to find your colour palette, I have two suggestions. First, look at your wardrobe! Usually, the colours we like to wear are the same colours we like in our homes. I LOVE a fall wardrobe, jeans, black t-shirts, purple or blue sweater. I love those rich and moody colours, which is why I knew I'd love them in my home. Two, examine your Pinterest boards [or start some!]. Pinterest is FULL of amazing decor ideas for any taste and style. I've been devouring images on Pinterest for months finding inspiration for my home. This living room board, for example, helped me realize how much I loved those rich and moody colours paired with whites and warm woods.
My Colour Palette Choices
So here are my beautiful paint colour choices from Para Paints: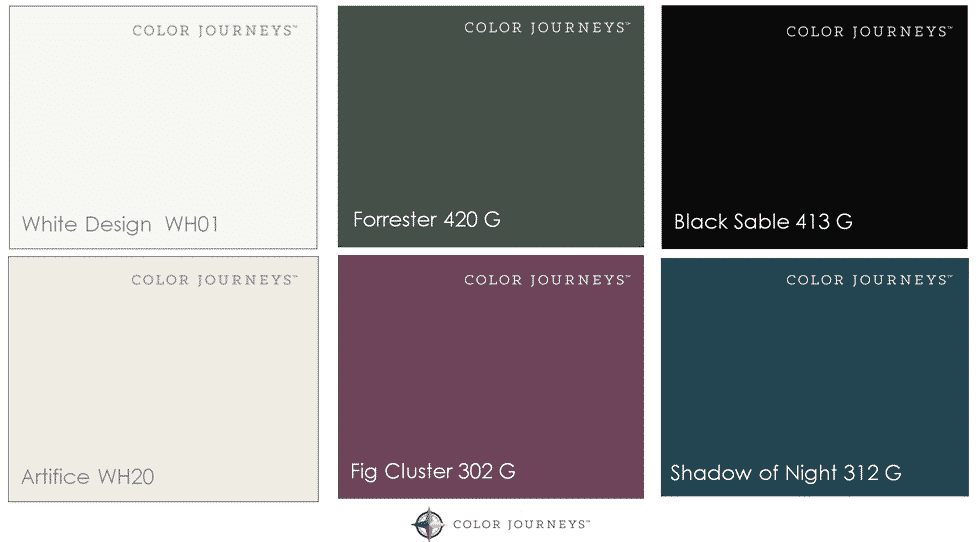 Choose your Base Colours
Start by choosing your base colours, including a white that you love. Although I love those rich and moody colours, I needed some warm whites to balance them. I started my palette by choosing this black sable and a white design from Para Paints. Black and white is a chic and timeless duo, it will never go out of style. Our first change in the new home is to paint the entire home white, from top to bottom. That's our starting base colour. Then, I chose the slightly creamier white, Artifice, to accent a few other spaces, and bring in even more warmth against the cooler colours of my palette. I already find myself incorporating blacks into every room of my home through vases, pillows, and wallpaper. I'm excited to finally do a wall or two in that deep gorgeous black and maybe some kitchen cabinets one day!
Accent Colours and Paints for Different Rooms
When choosing colours, it's smart to start with your most important rooms. The green paint is definitely going to end up on a wall, but the blue and purple are meant to be accent colours (or maybe a wall too… lol). I'll start with the most lived-in rooms, like the living room, dining room, and loft. I'll probably pull a colour from this colour scheme to anchor the space. This could be a painted wall, but it may be a large couch, or a painted side board as well. Then, I'll draw those colours into other areas, like the hallway, bathroom, and office using accents of those colours.
Smaller Spaces
Finally, those small, spaces can be just as important as the large rooms – like the end of a hallway, the wall behind a banquette, or a powder room. I want to make some of the small spaces count. Our new home has so many interesting small spaces, like the nook in the entryway, the bend in the staircase, and the back wall in the loft. These small spaces are a great place to add some colour and character. If my accent colours end up on a wall, that's where they will be! To completely draw you into the space.
What do you think of our paint choices?! Are these your colours? I think when we pair them with warm wood tones, it's going to look amazing!
More Design Inspiration
Don't forget to subscribe to our YouTube channel for more great design inspiration!
See how this colour palette was put into action in this gorgeous Modern Entryway Reveal!
Check out our New Barn Home before any renovations!