The ultimate DIY garage workbench plans for woodworkers! These free plans include built-in kreg jig location, drawers, outfeed table, clamp tracks, and more!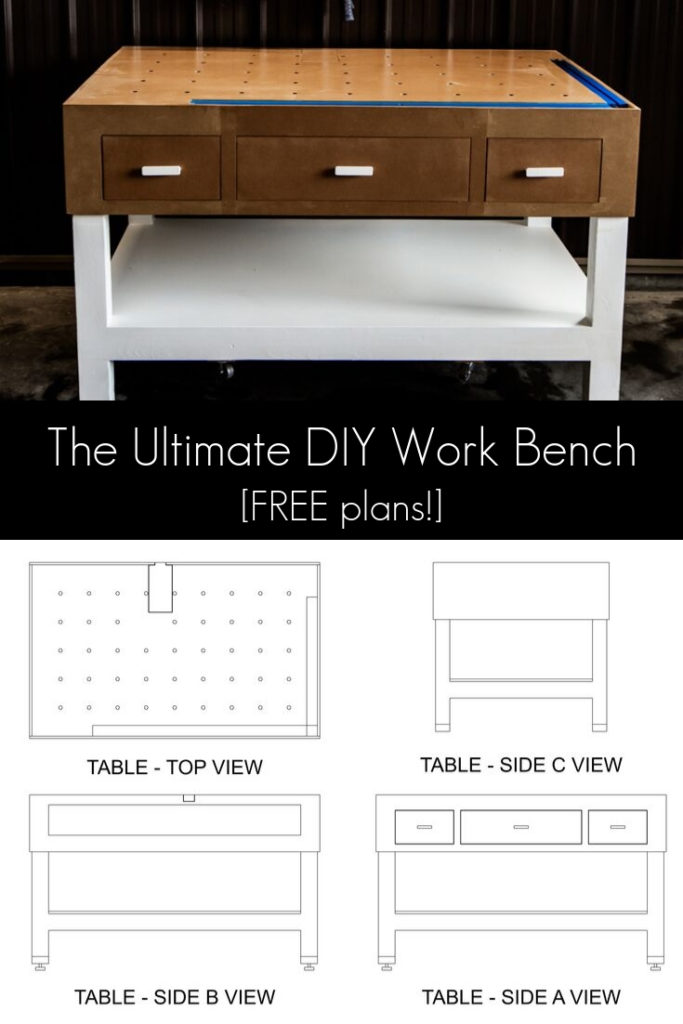 Friends, if you have ever wanted to build a workbench… you need to check this one out. These are the ultimate garage workbench plans. And I don't use the work "ultimate" lightly! This entire workbench was designed by Russel, customized to include every feature that you could possible want from a shop workbench. I'll share all of the individual features of the workbench, and I know that you will want to build one! Or, as in my case, you'll just be more impressed with Russel than ever before!
*This post was sponsored by Kreg and Build Something, and may contain affiliate links. As always, opinions are 100% my own. For more information, please see my disclosure page.*
Building his own custom workbench was always a dream of Russel's. Before we were even blogging or sharing our projects with the world, he was telling me about the plans he had for his "one day" workbench.
When we moved into this house (which used to belong to his parents), we were fortunate to get the shop that his father had built as well. We a big shop, we finally had the space to build his own custom workbench. And now, he finally had the time too!
Why is this the Ultimate Garage Workbench?
This isn't your ordinary workbench! Russel took time to customize this piece so that it included everything he wanted, from drawers and extra storage, to adjustable height that allowed him to put it beside his table saw. I'll show you some of the amazing features, and why these garage workbench plans deserve the title "ultimate".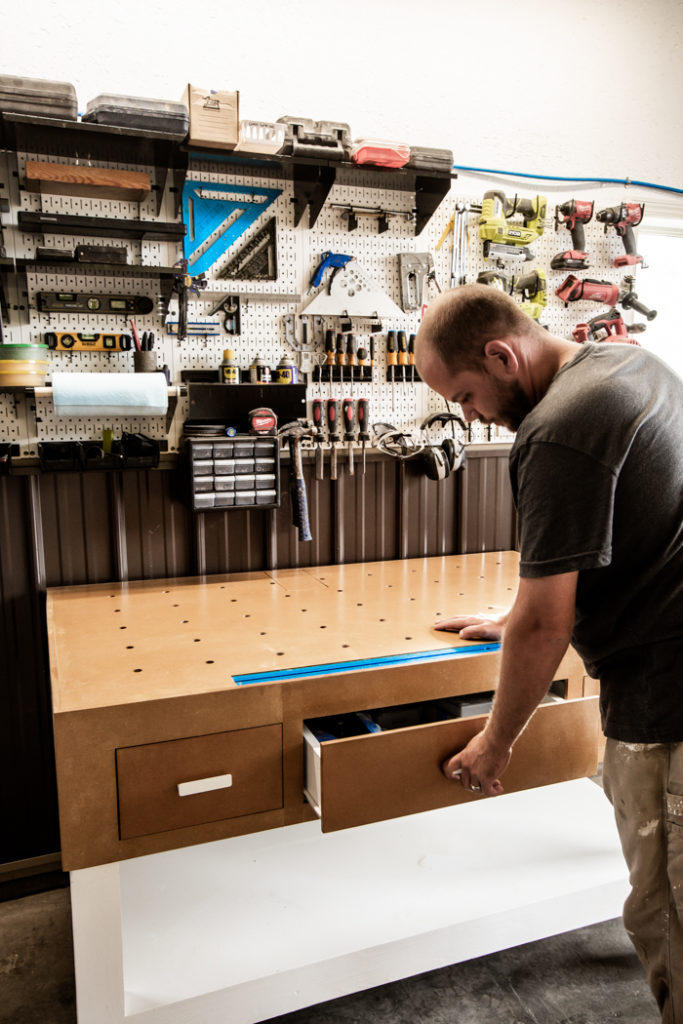 Workbench Storage
The biggest problem in the shop is finding everything that you need. We are constantly misplacing items when they don't have a home, and custom storage was one of the "must haves" on Russel's workbench list.
He built three drawers into the workbench so that he could store all of his clamps, work dogs, jigs, etc. (many of which you will see are used frequently with this table!), and easily find them when he needs them.
The workbench also has a shelf built into the backside, behind the drawers so that there isn't any wasted space!
Custom Clamp Tracks
One of the most annoying things about fine woodworking, is finding places to hold and clamp your wood. You need to be able to clamp your work tight, but usually that means clamping to something.
To save us a lot of pain, Russel built custom Kreg clamp traks straight into the workbench!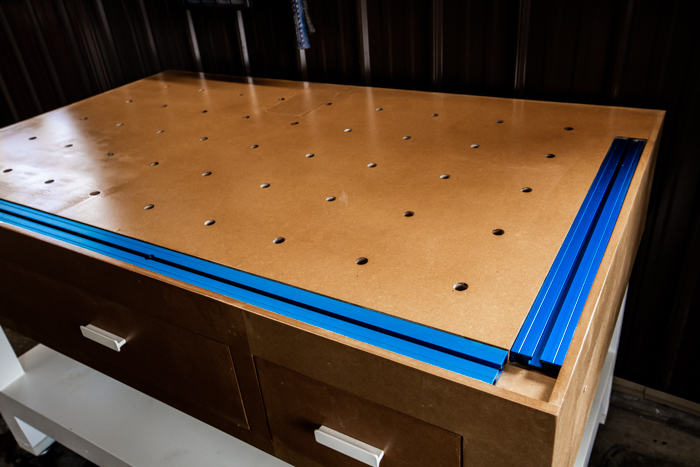 With the Kreg Clamp Traks, you can just slide Kreg Clamps on and hold anything down the to the table and work on it.
Kreg Jig Holder
If you've ever gotten your hands on a Kreg Jig, then you know exactly how versatile it is. We use our Kreg Jig all the time. ALL the time. So Russel built a custom space for the Kreg jig right into the workbench.
He cut a custom shape out of the tabletop, and drilled a hole through the bottom so that it was easy to pop out the custom piece. When it's popped out, the Kreg Jig fits perfectly inside!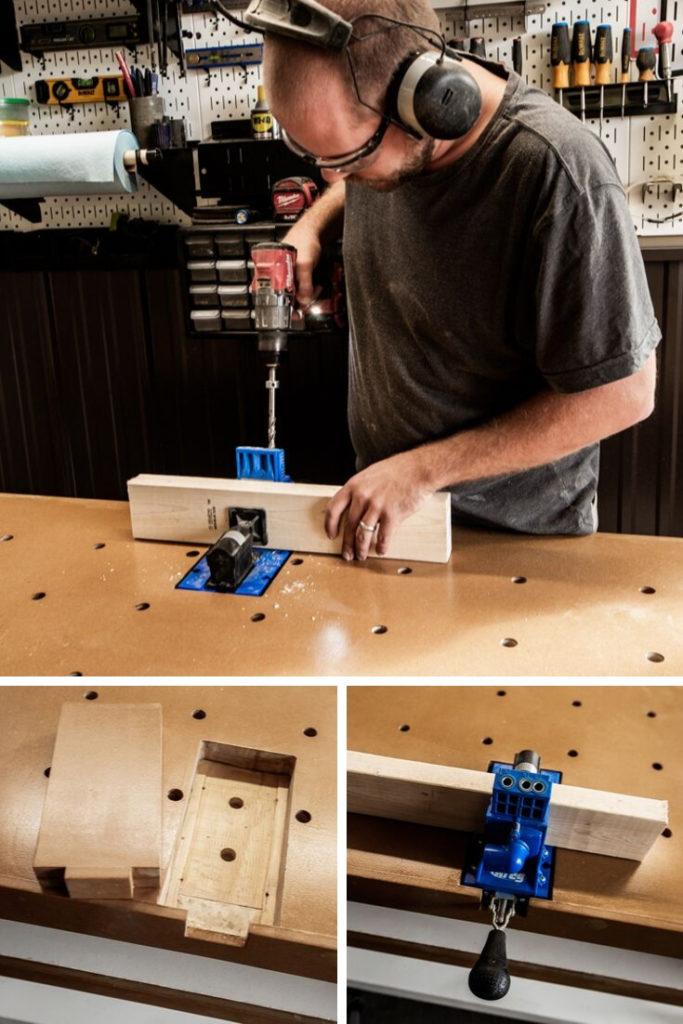 Custom Tabletop
Another specialty feature of this workbench are the evenly spaced 3/4″ holes on the surface of the tabletop. It's still a flat tabletop and easy to work on, but anytime that you need to hold your project in place, you'll be able to thanks to this custom design.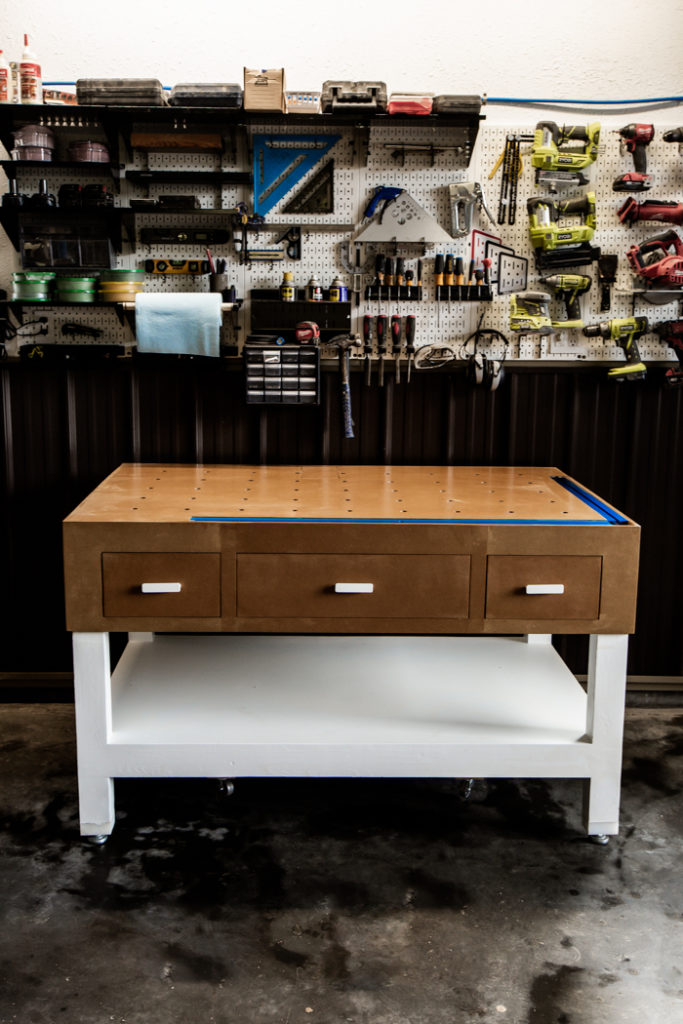 These garage workbench plans show you exactly how to build the table top so that you can use your bench dogs and your in-line clamps. Once you have your work clamped with these guys, you can do all the fine woodworking you want!
Adjustable Height & Custom Outfeed Table
Finally, these amazing garage workbench plans include details on how to customize your bench so that you have an outfeed table as well. Russel built our bench so that it is the exact height of our table saw. And with the adjustable legs, even if height requirements change we can adjust the table's height accordingly!
This should make any future project significantly easy! And means that I don't always have to stand on the other end of the table saw catching wood boards, lol.
How to Build a Garage Workbench
You can download the plans below, but if you want to see how this bench was built, or get some tips on how to use the plans, here's a video of the entire process.
Don't forget to subscribe to our channel for more great content!
Download the FREE Garage Workbench Plans
If you liked these customizations, now is your chance to built your own workbench! The full tutorial is available on Build Something! If you haven't heard of Build Something, it's a website built by Kreg Tools to give you access to a ton of amazing DIY woodworking project plans.
Access the Workbench Plans HERE!