I'm going to say something that you don't hear very often: I love tiling! Ok, maybe on day 5 of tiling an entire bathroom of walls and floors I wasn't loving it as much, but after our bathroom was done I love love loved the results, and remembered why I love tiling so much! If you've never tiled anything before, this is the perfect project to start with because it doesn't require any grout or thin set, and it only requires a few small cuts. This DIY modern soap dish is SO easy to make!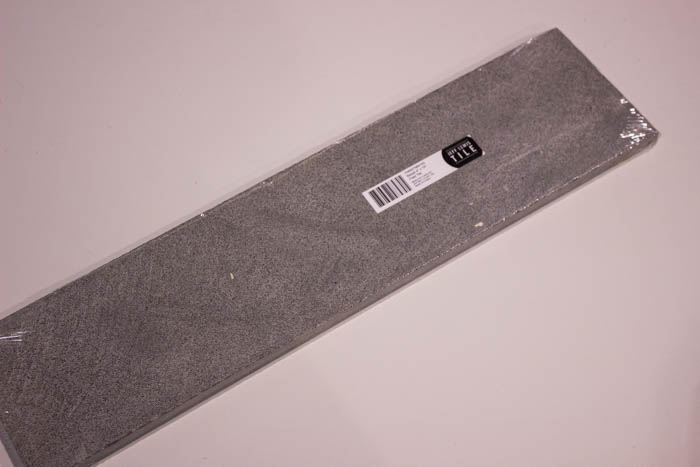 *This post was sponsored by Jeffrey Court. This post may contain affiliate links. As always, opinions are 100% my own. For more information, please see my disclosure page.*
We LOVE basalt. It is a beautiful looking tile. We've already used it to build our entryway bench and our console table. It's just so pretty. So when we had a leftover basalt tile, we knew we would find a use for it, lol. Basalt is the perfect tile (or any stone tile) for this project because the tile is the same on all sides (there is no exposed back side).
Here's everything you need:
How to Make Your Modern Soap Dish: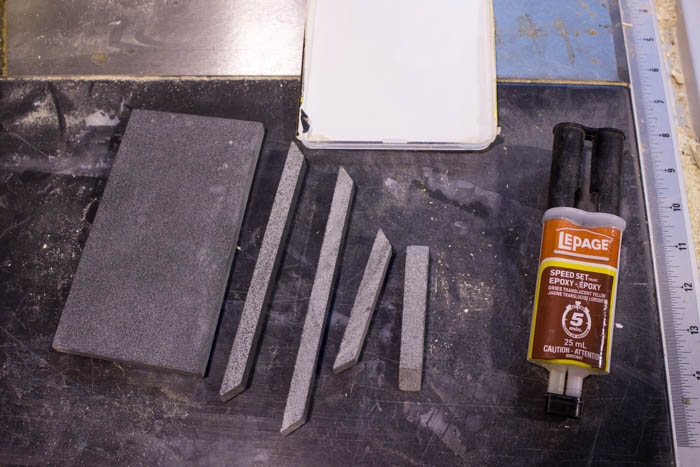 Start by cutting your Basalt on the wet saw into the following sizes:
One rectangle – ours is 3 1/4″ x 6 1/8″
Two long edge pieces – long edge is 6 1/8″
Two short edge pieces – the long edge is 3 1/4″
All four of the edge pieces will require you to put your saw at a 45 degree angle and cut the angles. Dry fit the pieces to make sure they fit on top of your base rectangle.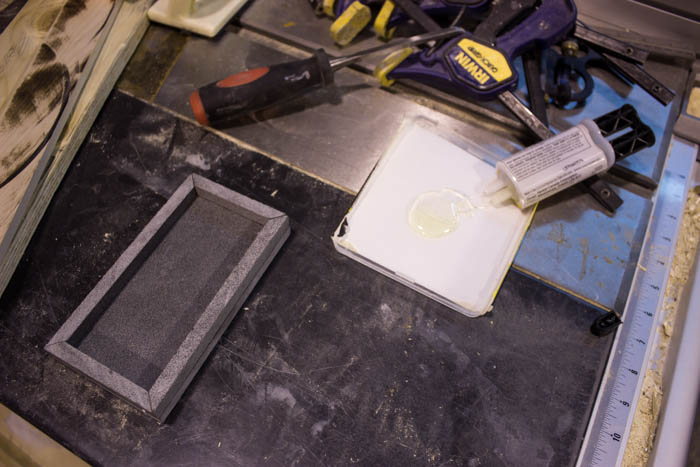 Next, you want to mix together a two-part epoxy to attach the edges. There will be some spillover of glue that you'll want to wipe up with a damp cloth as soon as the piece is together.
Clamp the soap dish and let the epoxy set – it will only take a few minutes.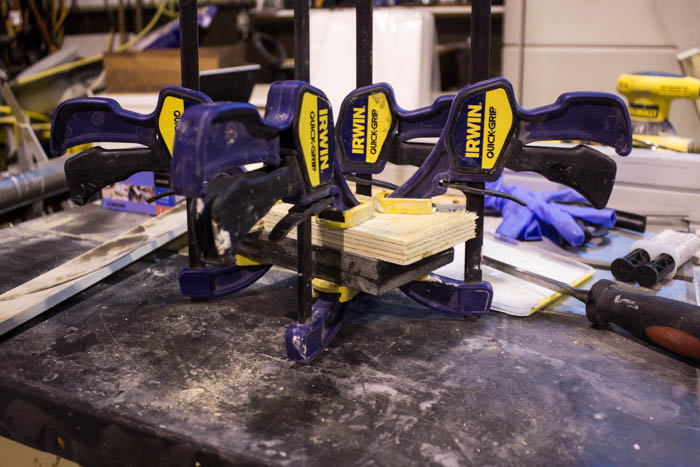 When the epoxy is set, you can use various tile sanding tools to sand down any sharp edges. We sanded all of the edges a little bit.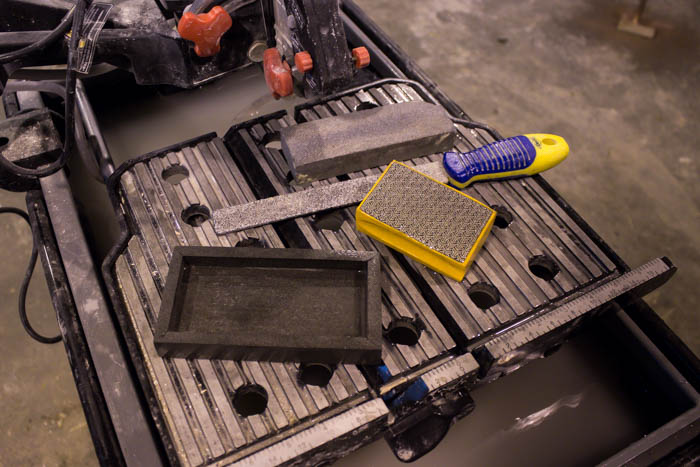 The final step is to seal the tile. We used an enhancing sealer to darken our tile beautifully!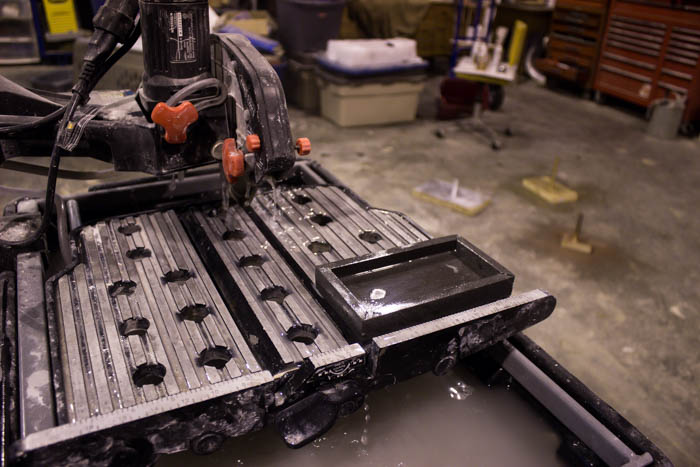 When it was dry, it was finished. One afternoon later, you have a beautiful new soap dish!
This soap dish was the perfect addition to the modern bathroom that we just finished :)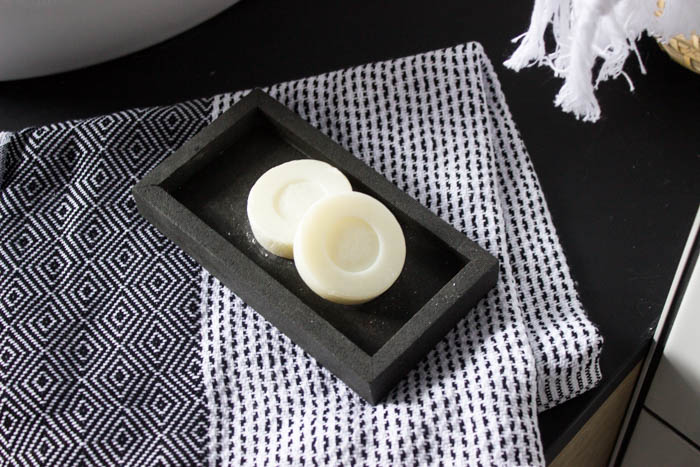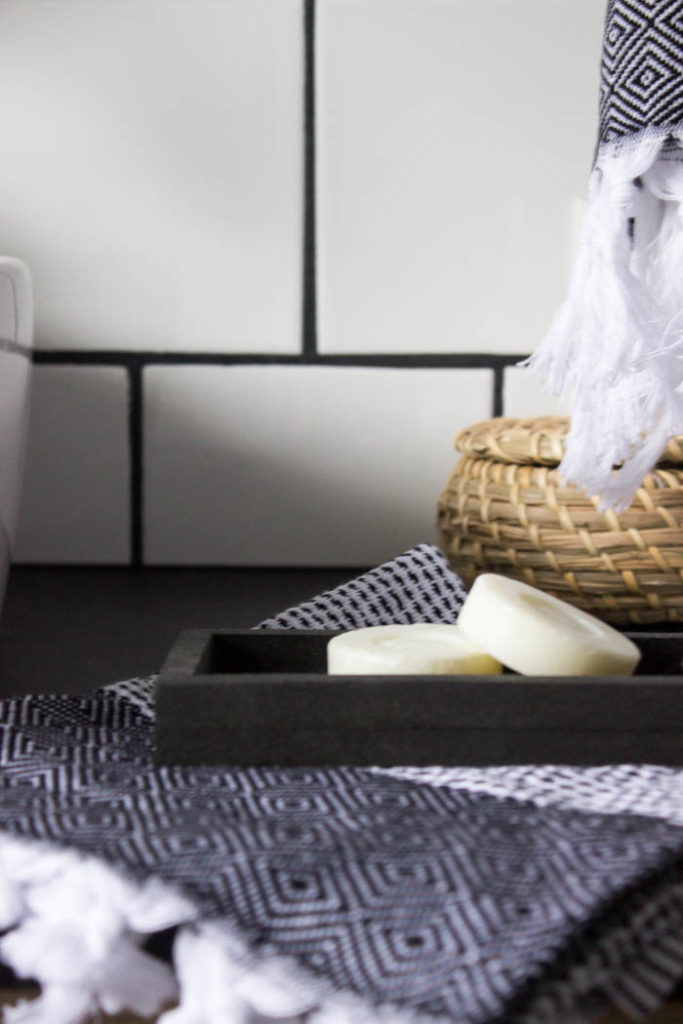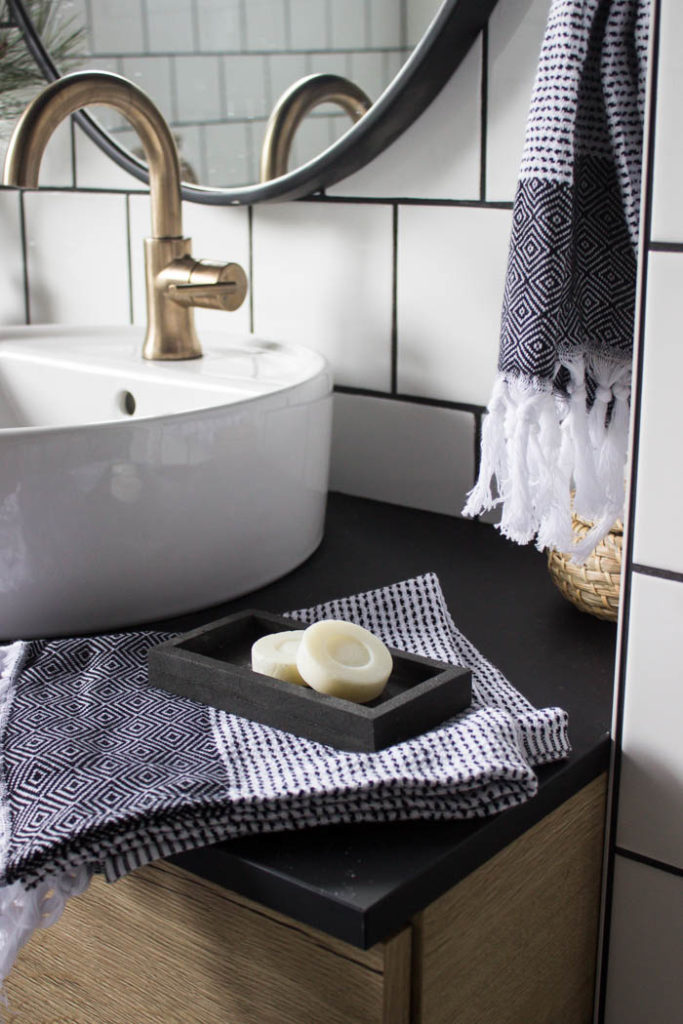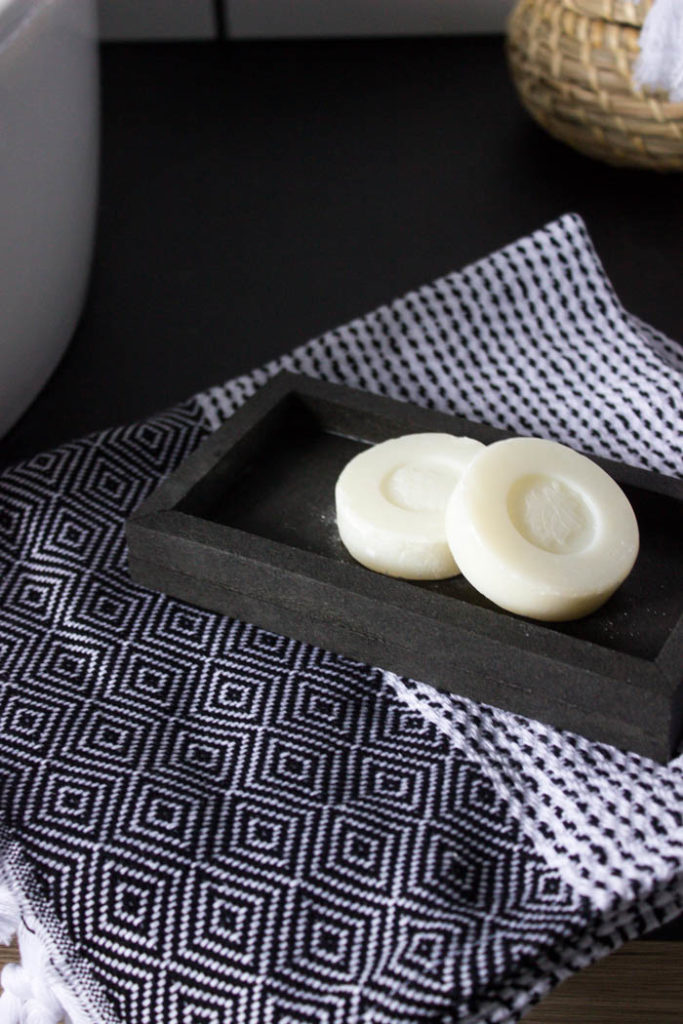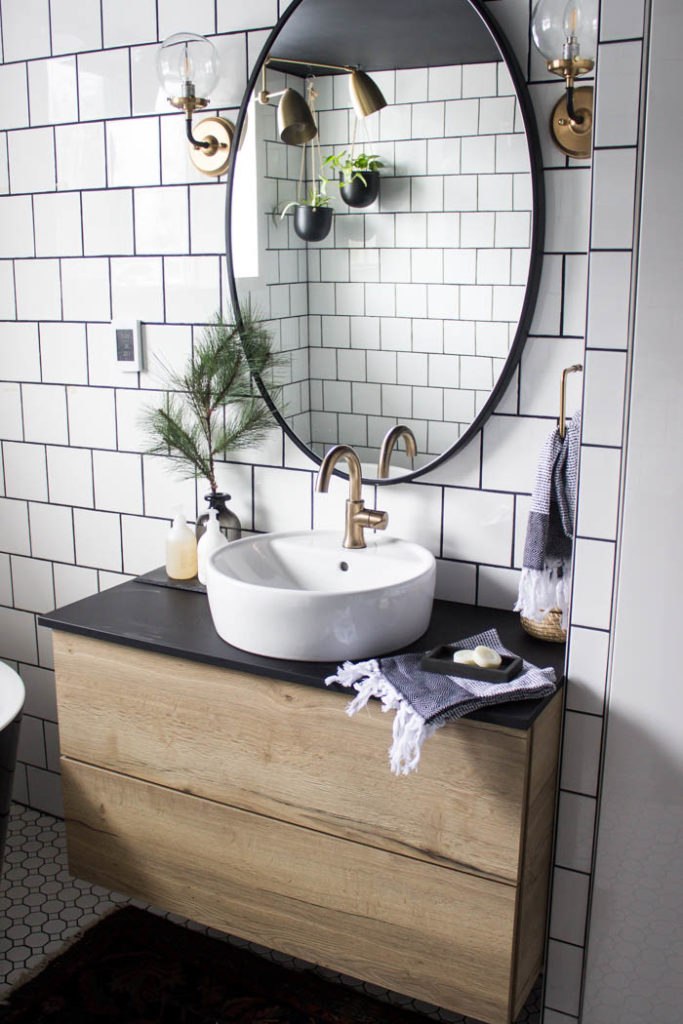 I hope we've encouraged you to try a tile project, or make some use of those leftover tiles!
If you'd like to see another great bathroom idea, try this Bath Table!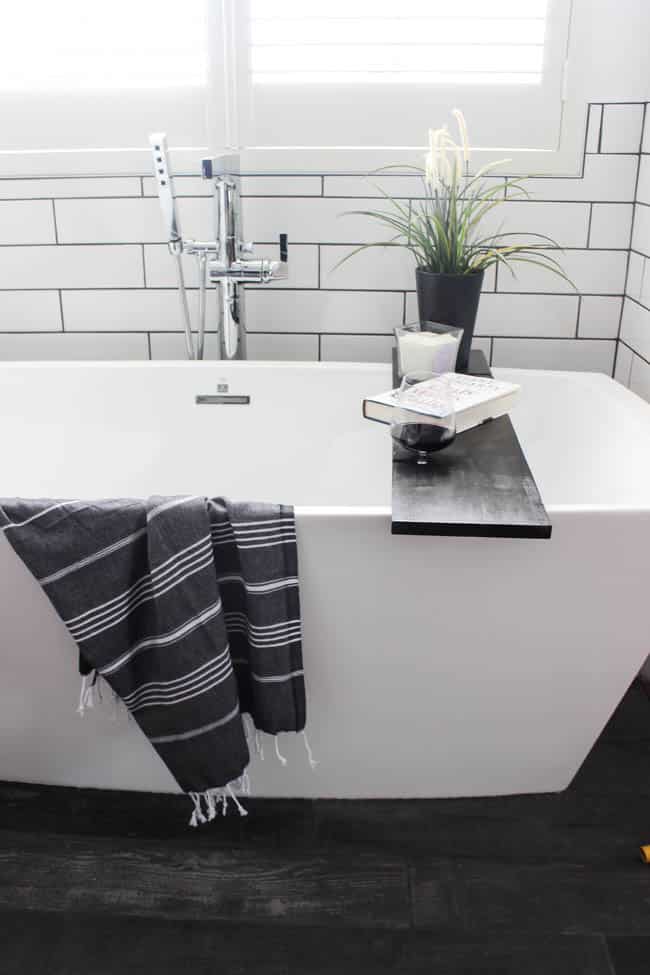 If you'd love to see another soap dish, this concrete guy is a great idea!