Learn everything you need to know about the Glowforge before you buy! And get the Glowforge referral code to save you up to $500!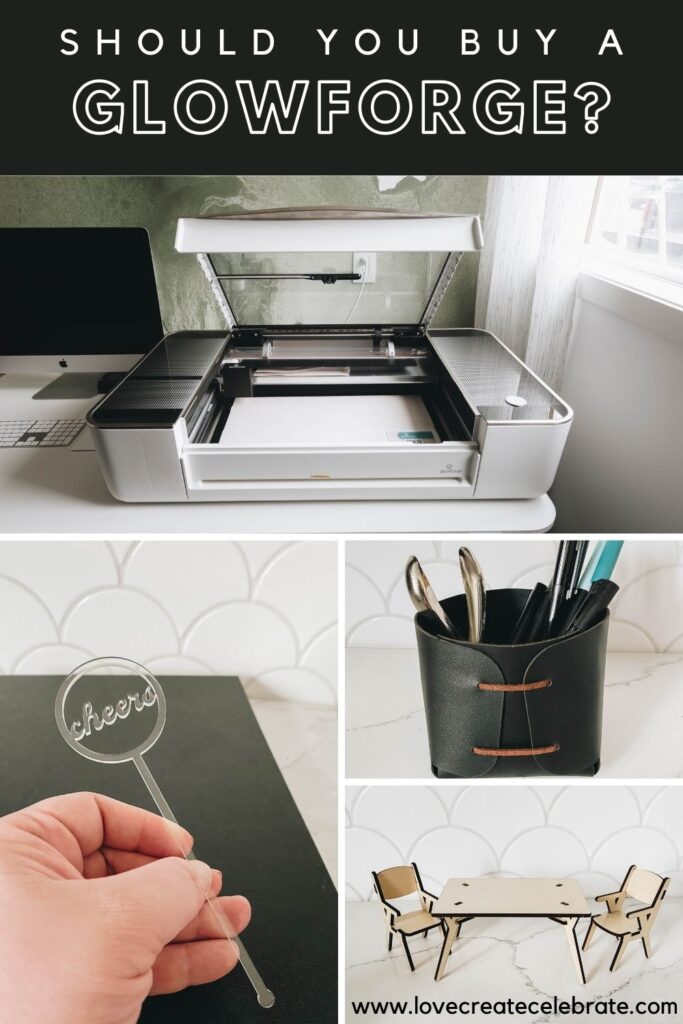 We got a new tool! Our new Glowforge recently arrived, and we've already been putting it to the test! We set the entire machine up in about 30 minutes, and were cutting acrylic, leather, and wood that afternoon! We've tried a few different types of cutting machines over the years, and I'm already loving this one. We'll share everything you need to know about your Glowforge here.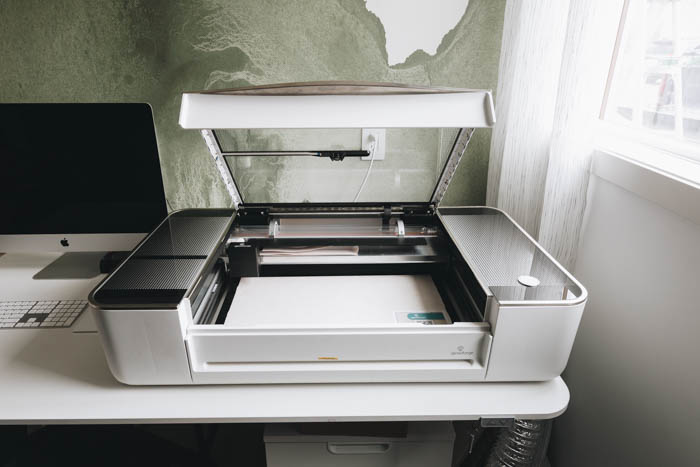 What is a Glowforge Laser Printer?
A Glowforge is a laser cutting machine. You can put materials into the machine, like leather or wood, and it carves out your product using laser energy. It has a powerful CO2 laser cutter that uses a focused beam of light, as fine as human hair, to cut and engrave a ton of difference materials with amazing accuracy and precision.
Even though they call it a laser printer, it is not a paper print, nor is it a "3D printer" which is another common question.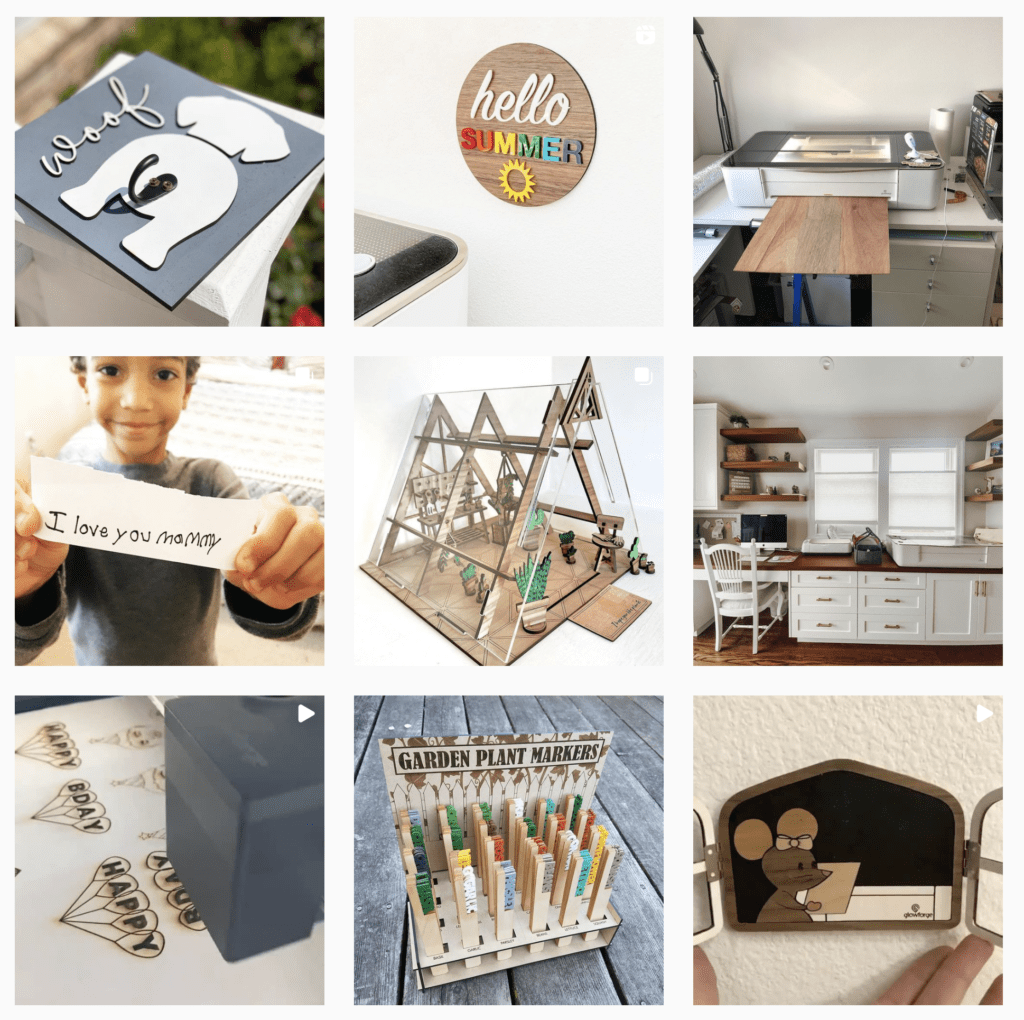 What can the Glowforge do? What types of projects can it make?
The Glowforge is primarily used for cutting and engraving products. As long as you are using a laser compatible material (see a full list below) and staying within the size limits of the machine, you can make it! The possibilities are endless.
I'm constantly inspired by projects I see others posting online. Some popular uses for the Glowforge are making wood signs (to cut or engrave), large scale wooden names, personalized wood products (like cutting boards, ornaments, etc.), acrylic jewellery, small dollhouse jewellery, engraved leather products (like wallets, passports, etc.). There really are endless options if you want to get creative!
If you're looking for more inspiration, the Glowforge Instagram page is full of inspiring projects!
Is there a Discount Code?
YES! We want to help you get creating right away, and we have a referral link to share with you!
If you choose to get a Glowforge, you can use our referral link to get a huge discount off your order! The discounts for the machines are: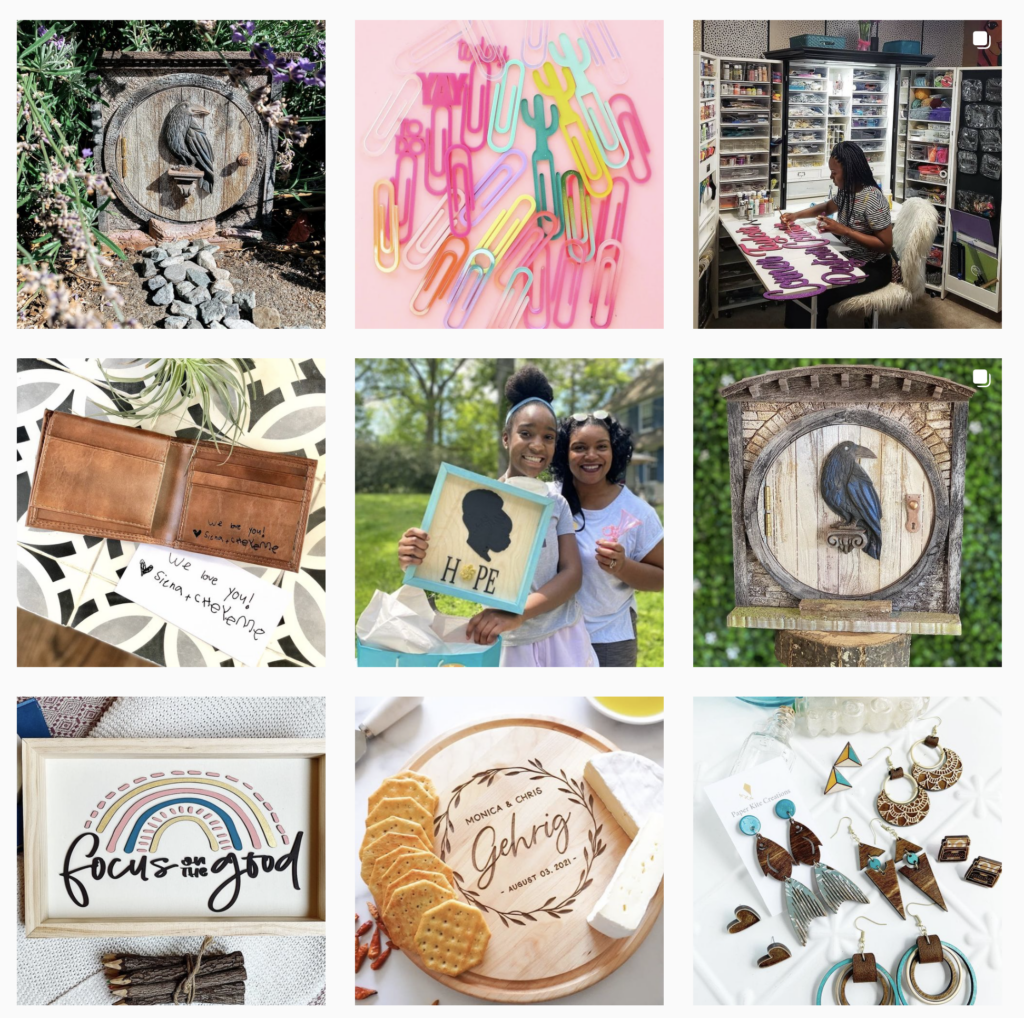 What can it cut? What can it engrave?
This was my biggest question when I bought the machine. I wanted to know all of the things that it could cut, but honestly, I think people are discovering new materials every day, so this is definitely not an exhaustive list, but it's a pretty good start!
IT CAN CUT:
Wood
Leather
Acrylic (Plexiglass)
Fabric
Paper
Rubber
Corian
Delrin (acetal)
Mylar
Foods (!!!)
and MORE!
IT CAN ENGRAVE:
Wood
Leather
Acrylic (Plexiglass)
Glass
Coated Metal
Marble
Anodized Aluminum
Titanium
Some phone, tablet, and laptop cases
Fabric
Paper
Rubber
Corian
Delrin (acetal)
Mylar
Foods
Woven Nylon (iPhone watch bands!)
and MORE!
Note: the machine does not work well with soft metals such as silver, gold, brass, and copper.
Can I see the Glowforge in Action?
Yes! We made a brand new YouTube video all about our unboxing! It shows how quick and easy it was to set-up our machine, and a few quick and easy projects that we made the same afternoon.
Watch the video to see some real time cutting of wood, leather, and acrylic.
Don't forget to subscribe to our YouTube channel so that you don't miss out on the Glowforge projects we have coming up!
What's the difference between a Glowforge vs. Cricut?
If you've followed our page then you already know that I've been a long time Cricut user. Both of these machines have the ability to cut and engrave (although I never personally engraved with my Cricut), but the machines have very different strengths. I will likely do a full post on comparing the two machines soon, but here's a quick overview
The Cricut Maker is the newest Cricut machine that cuts and engraves so, I'm just compare this machine for now (you can read more about the Cricut Maker here). The Cricut Maker uses specialized blades to cut different materials, including paper, vinyl, leather, fabrics, and soft woods. It's knife blade is what allows it to cut the thickest materials (up to 2.4mm or 3/32″), but it takes multiple passes to cut anything thicker, and can take hours to cut a single item.
The Glowforge uses a finely focused laser to cut and engrave materials. It cuts thicker materials up to a 1/4″ thick with one pass, and can cut up to 1/2″ thick, but may require a couple of passes. For engraving, you can remove your tray and engrave items as thick as 2″, and can engrave as deep as 0.5″.
When it comes to paper, vinyl, and other thin materials, any of the Cricut machines can cut these quickly and easy. When it comes to cutting or engraving thicker materials, but recommendation would always be the Glowforge. It can cut a larger surface area, it can cut deeper, it cuts with more precision, it can engrave with much more detail and precision, and it is much faster!
I loved the idea of cutting wood on my Cricut, but soon learned that it wasn't a profitable option because of how time intensive it was. Cutting a name place setting, for example, would take upwards of 2 hours on the Cricut for just one name, and would be very fragile after because you can only use very soft woods (like Balsa). On the Glowforge, you can cut an entire family of names in 2 minutes, using hard woods with better accuracy. Glowforge is hands down the winner here.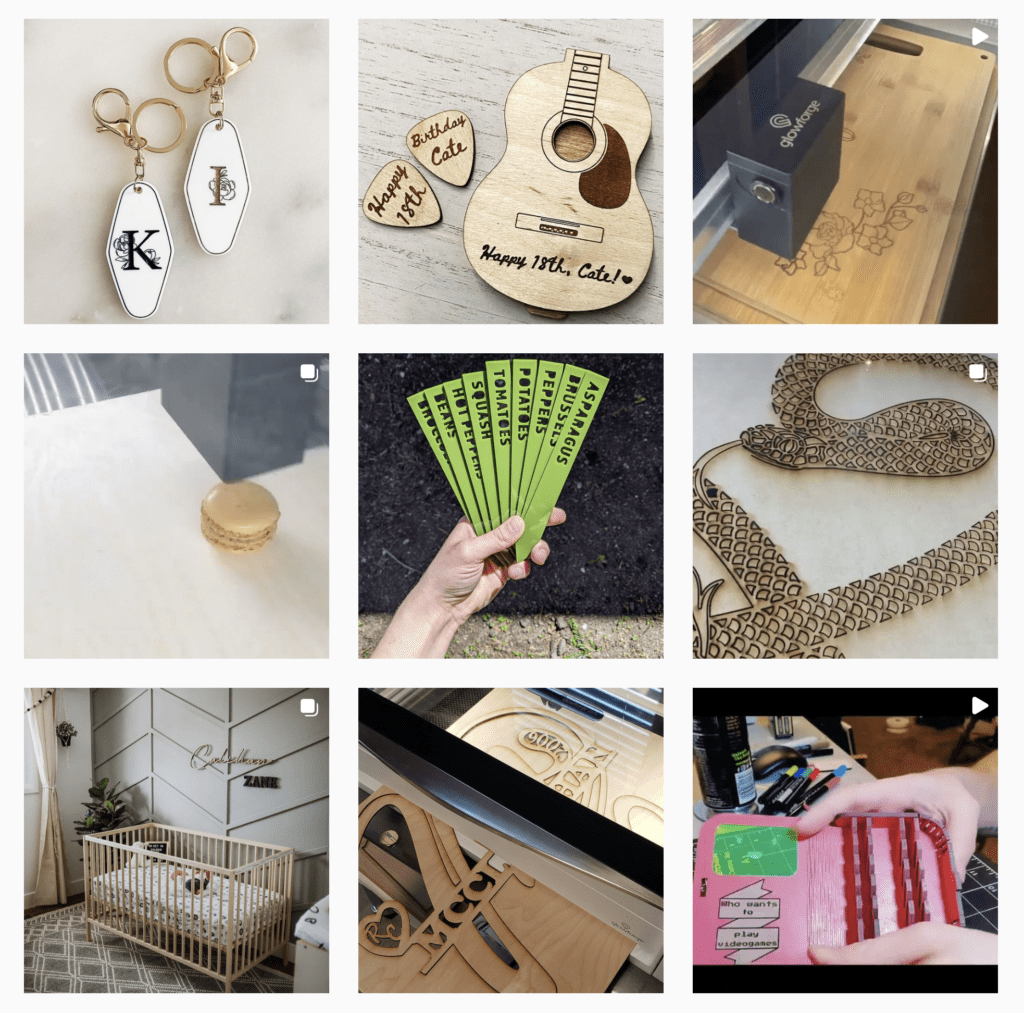 Can I make money with my Glowforge?
Yes! Although there are some people who would invest in a Glowforge just because it's amazing, I think most of us would want to earn back that income in some way. Because the Glowforge cuts so quickly, and so accurately, I think there is a ton of opportunity to make money quickly and easily!
Here are a few of the options to make money with your Glowforge:
Selling items online. You can sell products you create in an Etsy shop, or on your own hosted Shopify or WooCommerce page. You can also sell in local facebook groups, or on marketplace.
Selling items in person. You can also sell at your local farmer's market or craft fair in person.
If you enjoy designing ideas, you can sell SVG files for other makers to use on their Glowforge
Sell craft kits or host classes for crafters or DIYers using materials and products you cut out.
Share Glowforge with others via the referral program and earn an affiliate commission on sales.
As I said above, I think there is huge potential for people to make money with the Glowforge. There are so many projects that a Glowforge owner can make that the average DIYer can't do at home, and would be willing to buy.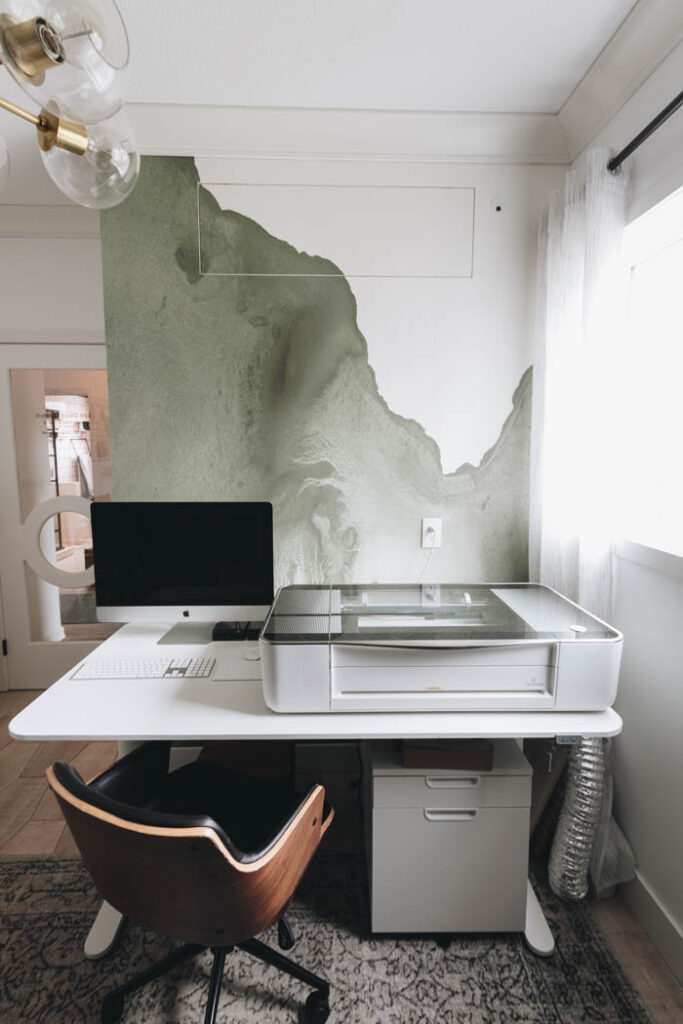 Which Glowforge Should I Buy?
If you're not sure which machine to invest in, here's some basic information of the three different machines:
Glowforge Basic is the introductory model, perfect for moderate home use. It has a class 1 laser and a maximum printable area is approximately 11″ x 19.5″.
Glowforge Plus is the next step up. The Glowforge Plus also has a Class 1 laser, but has a top engraving speed is 2x as fast as the Basic. The maximum printable area is approximately 11″ x 19.5″.
Glowforge Pro is the top model. The Glowforge Pro has a Class 4 laser and utilizes an upgraded 45 watt laser for the fastest possible cutting and engraving. The Glowforge Pro top engraving speed is 3x as fast as the Basic and cutting is 1.2x as fast. The main advantage of the pro is the passthrough slot that allows you to create enormous over-sized projects with Glowforge Pro.
I think if you're using the Glowforge as a hobby tool and/or you don't think you would want to create large items, then the Plus is a great option. If you are buying one as a business venture, or think you would want to create large items, then I think the speed, more precise laser, and the option of creating large items with the passthrough it worth it!
How Much Does a Glowforge Cost?
The Glowforge Basic is $2,995, Glowforge Plus is $3,995, and Glowforge Pro is $5,995. Monthly payment plan options (36-months) are available for both the Glowforge Plus and Glowforge Pro models.
Don't forget, you can save $250 off Glowforge Plus or $500 off Glowforge Pro when you purchase via our Glowforge link!
Anyone that I know who has purchased a Glowforge as a business tool, has earned their income back within the first six months (if not sooner!). Whether you want to share tutorials and DIYs and be a part of their referral program and earn back the income, or whether you want to create products for your current business, or grow a new business, there is SO MUCH potential to use this tool to create beautiful, unique products and earn income.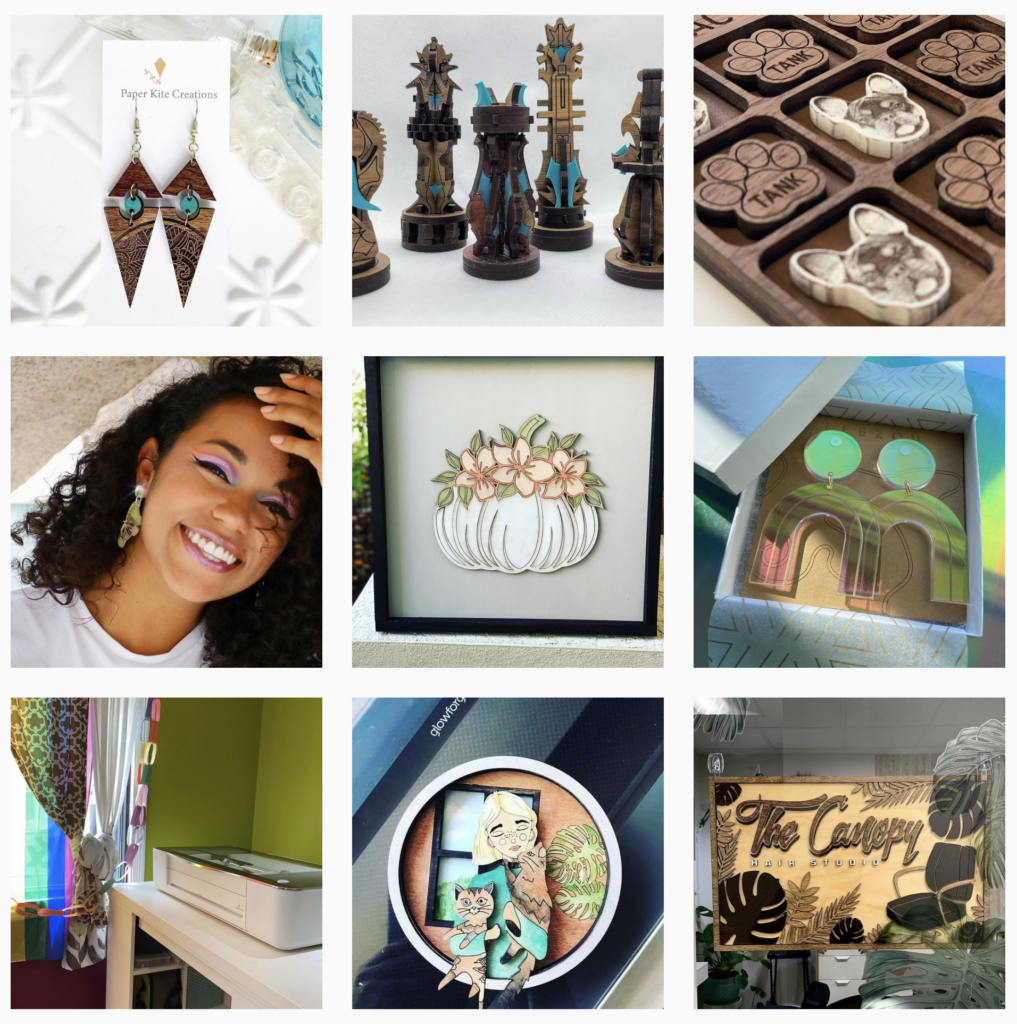 Is the Glowforge Worth the Price?
YES! 100% absolutely!
As soon as I saw what the Glowforge was capable of, I knew I wanted to try one! We've only had ours for a couple of months, but I've already been DIYing Home Decor for all of my new room renovations, and using the passthrough to make some larger, unique products out of wood and acrylic, and already been earning back the cost of the machine.
If you have any other questions about the Glowforge, please ask below!
Don't forget that you can use our Glowforge referral link to save