Eight great ways to decorate for free! Learn how to shop your home decor and refresh any space without spending any money!
Here's the thing about decorating and changing spaces in your home… it all costs money. There's only so many decor pieces I can make or furniture pieces I can build on a budget. If you're anything like me, then you probably get that itch to redecorate rooms every few months too, but there's never any room in the budget for new purchases. I've learned a few tricks to help me decorate for free over the years simply by shopping my home and using what I already have.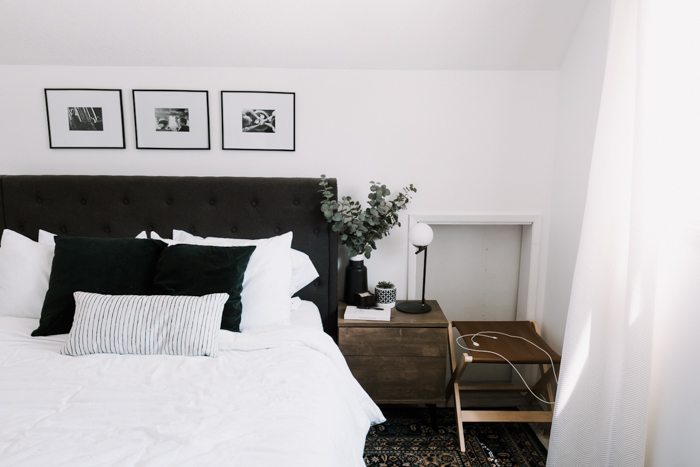 This is my room prior to redecorating any of it. There's nothing wrong with it, but it's a moody space, and I was itching for some fresh Spring decor. Maybe a little bit of colour, something to hide all of those cords, and something to make the space feel fresh and new again.
So I shopped my home. I spent zero dollars. I redecorated for free.
8 Great Ways to Decorate for Free
SHOP THE LIVING ROOM
The living room, family room, den… whatever you call your rooms, are full of great textiles and pieces that you can swap from one room to another.
Throw pillows, blankets, even curtains can be moved to different rooms and completely change the feel of the space. Most of us have certain styles and colours that we are drawn to, and those colours will likely look great in multiple rooms in your home.
SWAP FURNITURE OR RUGS
Switching rugs from one room to another is a great way to change up the patterns, textures, and colours in a room all at one time.
When moving furniture between rooms, try to think about other uses for the pieces you have on hand. If you want to change your night stand for example, you don't need to have a spare night stand lying around! You just need a side table or a tall stool that you can substitute for a nightstand.
Ottomans can be used as coffee tables, tables can be used as desks, blanket ladders can turn into towel ladders in the bathroom. Think outside the box and don't be afraid to move furniture around.
Also, don't forget about those furniture pieces stashed away in sheds, garages, and basements for a rainy day. This is your rainy day – go pull them out!
PAINT, PAINT, PAINT
I'm guessing that most of us have some leftover paint sitting somewhere in our homes right now. Leftover wall paint or craft paints or both. Why not crack open one of those cans?
Paint is so versatile and has the potential to completely transform any space. Paint a wall, add a creative accent wall, or paint a piece of furniture.
Don't want to drastically change anything? Why not start with something smaller? I painted the planter legs above. Just added some black paint and it completely changed the look of the planter. Perfect addition to the bedroom with just 10 minutes of work.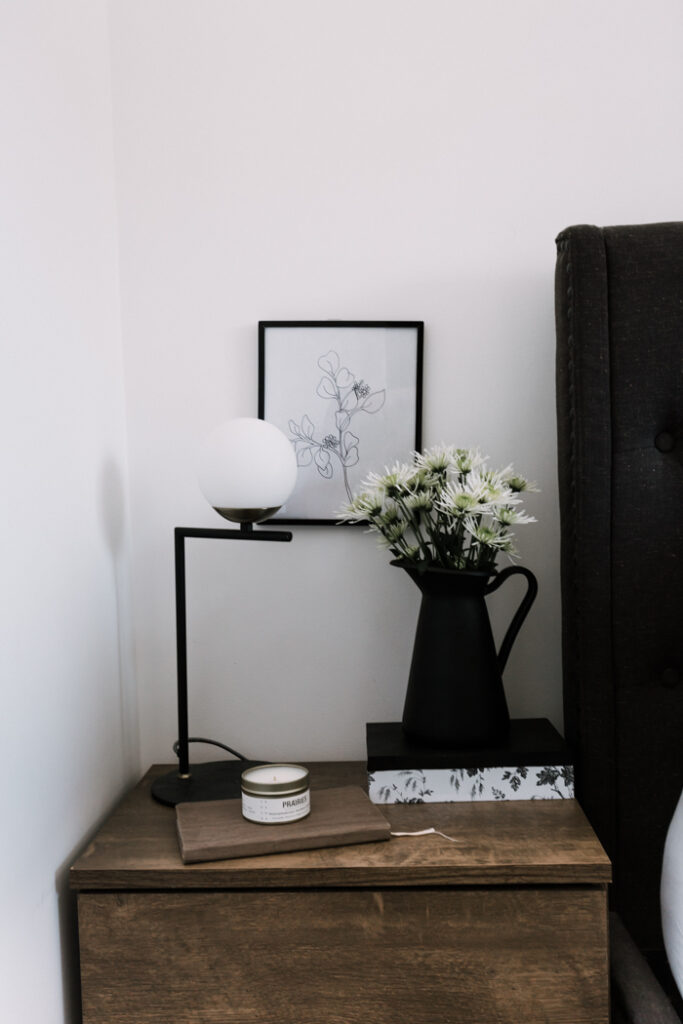 DIY WITH WHAT YOU HAVE
Most of our rooms have something that drive us crazy, don't they? If you search Pinterest or YouTube, you can almost always find an easy way to DIY solutions with the items you have at home already.
Whether you need to dig through your craft supplies or your crap wood pile, we can DIY our way out of most Home Decor corners. Make an old vase into something new, build a quick plant stand, or, in my case, make a quick box to hide your cords.
My problem area in this room was all of the cords for my phone and watch sitting out. I quickly DIY'd a dollar store box into a charging station, which was the perfect solution. Watch the video below to see the whole transformation.
CHANGE THE ARTWORK
Do you have blank walls that are just walls asking for a solution. Or maybe you have some frames up that you aren't loving? Either way, changing the artwork is a quick and easy way to refresh a space.
If you're working with what you have, you can reuse frames by painting them a new colour, or switching out the photos. DIY your own artwork quickly, or find a free printable online like I did with this floral print for the bedroom!
If you're looking to create something new, there are plenty of tutorials for beautiful large-scale artwork too that you can do with just a couple of paint supplies if you have them on-hand already.
SHOP YOUR KITCHEN
Kitchens are a treasure trove of amazing decor finds. Refreshing spaces is all about changing little things to make the space feel like new.
Search your kitchen for pretty bowls, serving trays, tea cups and cake stands that you can use to decorate your shelves. Look for unused containers that can help bring height, and vases that you can add as decor, or slip some real or faux flowers into.
When I feel like I don't have enough pieces to decorate with, the kitchen is always my first stop.
BRING IN NEW SCENTS
Nothing refreshes a space like bringing in some new scents. This can be as simple as opening windows to let the Spring air inside.
If you're looking for some more practical suggestions, bring if you diffuser and burn some oils, or bring in some seasonal candles. In this room, I brought in my floral scented candles and it immediately felt like a new room. We also added some fresh flowers, which brings me to my last tip…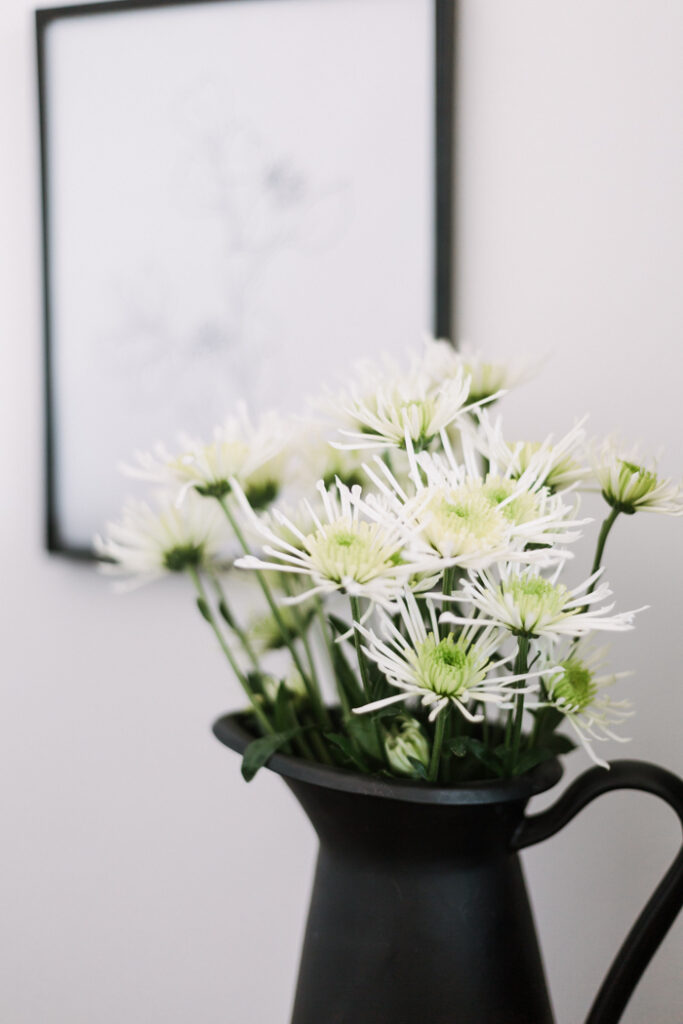 BRING THE OUTDOORS IN
There are so many free elements that you can find in your own backyard to decorate with. Rocks or pinecones do a great job of filling bowls and clear vases.
Sticks, stems with leaves, and florals from your garden, or wild flowers from the field are all perfect for bringing nature in. If you're feeling really adventurous, you can also make those sticks or florals into a natural seasonal wreath for the room.
How to Redecorate a Room for Free Video
Are you curious about how I put all of these ideas into action? I'm sharing all of my tips for redecorating, and showing exactly how I transformed my bedroom in this video.
Watch the bedroom transform here:
Don't forget to subscribe to our channel while you're there!
I hope you found some of those tips helpful. If you know where to look, it can be easy to shop your home and decorate for free!
If you like affordable ideas, you might like some of these 50 Scrap Wood Project Ideas!