Make a DIY easy s'mores charcuterie board. These dessert boards are quick and easy to make and are a huge hit with friends, family, and kids!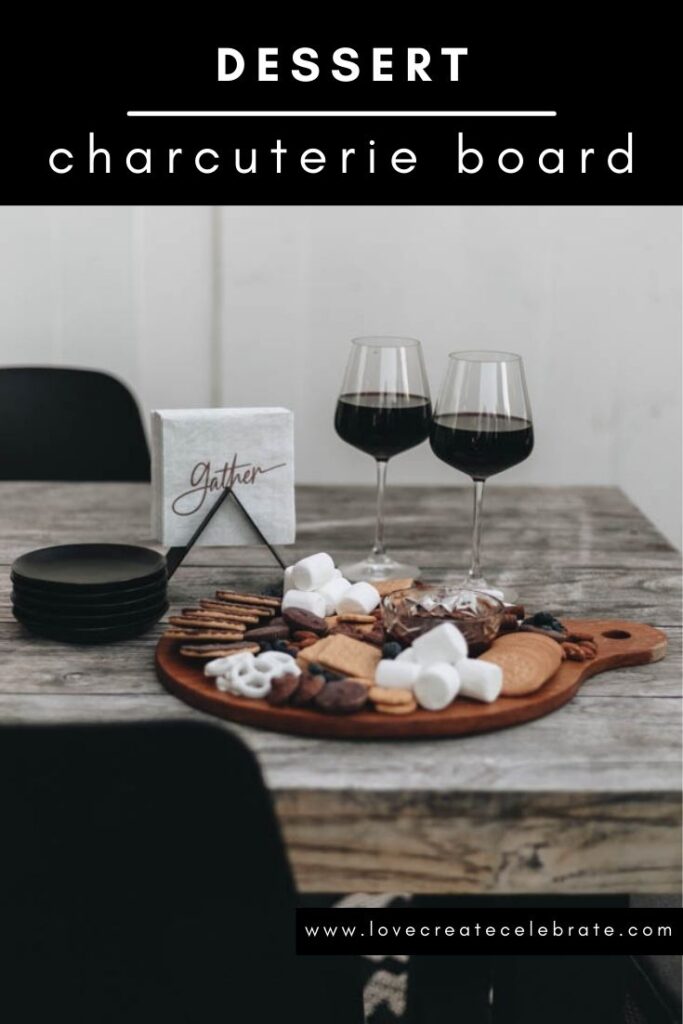 If you're looking for a pretty party trick that will impress both adults and children, then these DIY S'mores Charcuterie Boards are perfect. There are so many options for filling up your trays, and guests of all ages will love digging into one of these cute dessert trays.
Today I'm joining some friends to share our fall spaces, and I thought I would share our dessert charcuterie boards along with it! If you're visiting from Ms. Craftberry Bush, then welcome!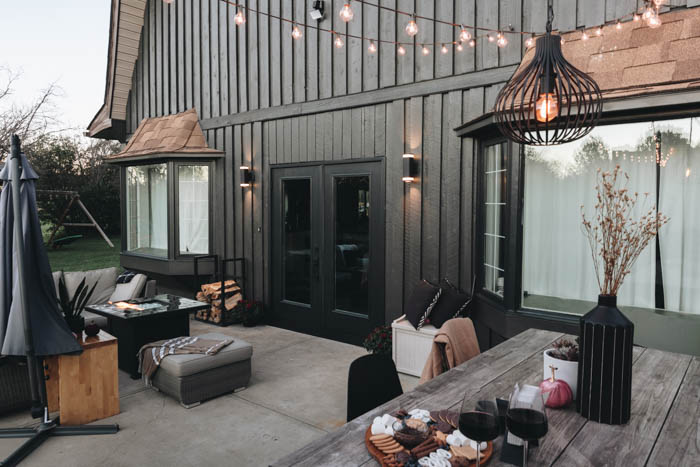 If you've been following along with our projects this summer, then you know that we completely transformed the exterior of our home this year! We painted the house & the exterior windows, and then the last step in our exterior patio was transformation was replacing the back exterior doors. Once that was done it was time to celebrate!
I really just wanted to take in the whole backyard transformation, enjoy our fall patio decor, and enjoy an evening outside with the family. We put on some music, started the fire table, and built up a little charcuterie board for everyone.
What is a dessert charcuterie board?
A traditional charcuterie board is also known as a cheese board. It's essentially a pretty display of a variety of meats, cheeses, crackers, and other elements that go well with those meats and cheeses (such as olives, nuts, spreads, jams, fruits, or veggies).
It's a finger food snack meant to be shared amongst family or friends, and usually displayed in an "instagram worthy" way.
A dessert charcuterie board is essentially the same thing, but instead of combining savory foods, you're combining sweets! Since we were spending the evening outside, we combined s'mores essentials.
Foods to Add to a S'more's Charcuterie Board
The options for what to add to your s'mores charcuterie boards are literally endless. Marshmallows are a MUST, but here's a few other things you could throw onto yours:
Cookies
Graham Crackers
Animal Crackers
Cinnamon or chocolate stir sticks
Pocky chocolate sticks
Oreos
Wafers
Chocolate Treats
Milk or dark chocolate squares
Chocolate covered treats (e.g. almonds or coffee beans)
Reese's peanut butter cups (also amazing on smores!)
Chocolate (or yogurt) covered pretzels
Dips or Spreads
Fruit Dips
Chocolate sauces
Icing
Others
Fruits (Berries like strawberries and blueberries are a favourite)
Apples
Nuts (salted or roasted)
Pretzels
Popcorn
Peppermints
Sprinkles
Gummies
My kids absolutely loved this! We roasted the marshmallows on our fire table, and made some creative s'mores. Also, if you're making one of these boards for kids, the icing or chocolate sauce is a must. My kids dips anything they could and had the most fun with it.
Another bonus of doing one of these boards outside is that the kids can run around and burn off all the sugar after they eat while you enjoy the fire!
Our Fall Patio Decor
Here's what the rest of the patio space looked like with a few fall decorations sprinkled around. We turned on the fire table to roast marshmallows and set-up food on our patio table.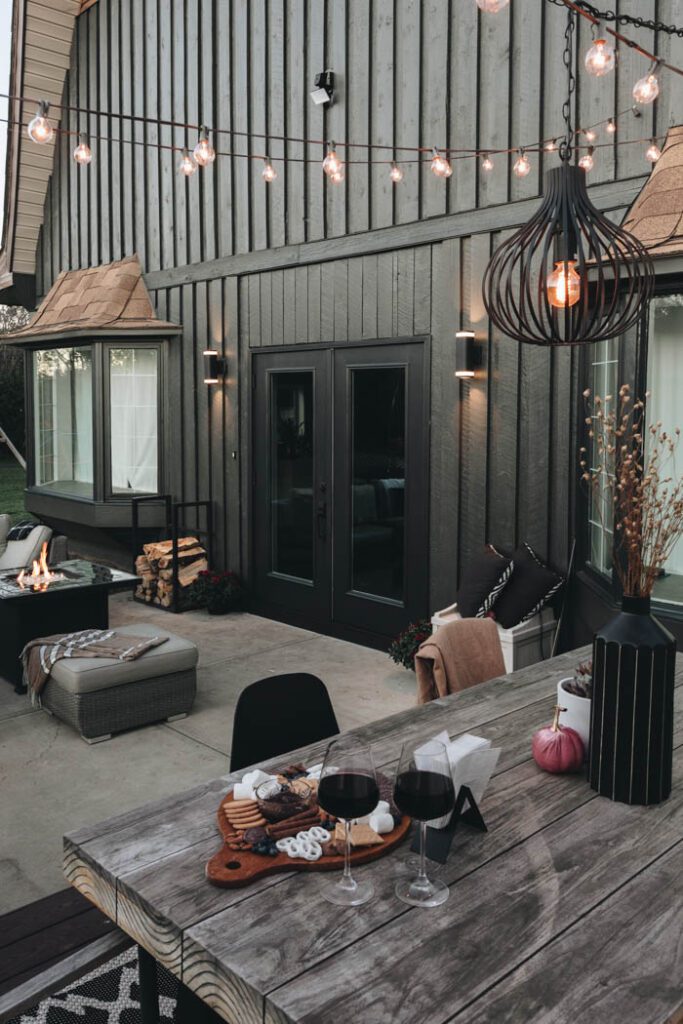 I love the way that the string lights look in the fall! The glow from the outdoor chandelier and the string lights is so cozy and inviting. If you're looking to add your own, they were so easy to hang up!
The privacy wall we built is the perfect backdrop. It keeps the space private, intimate, and protects from the wind (which is important when you have napkins and marshmallows out! lol).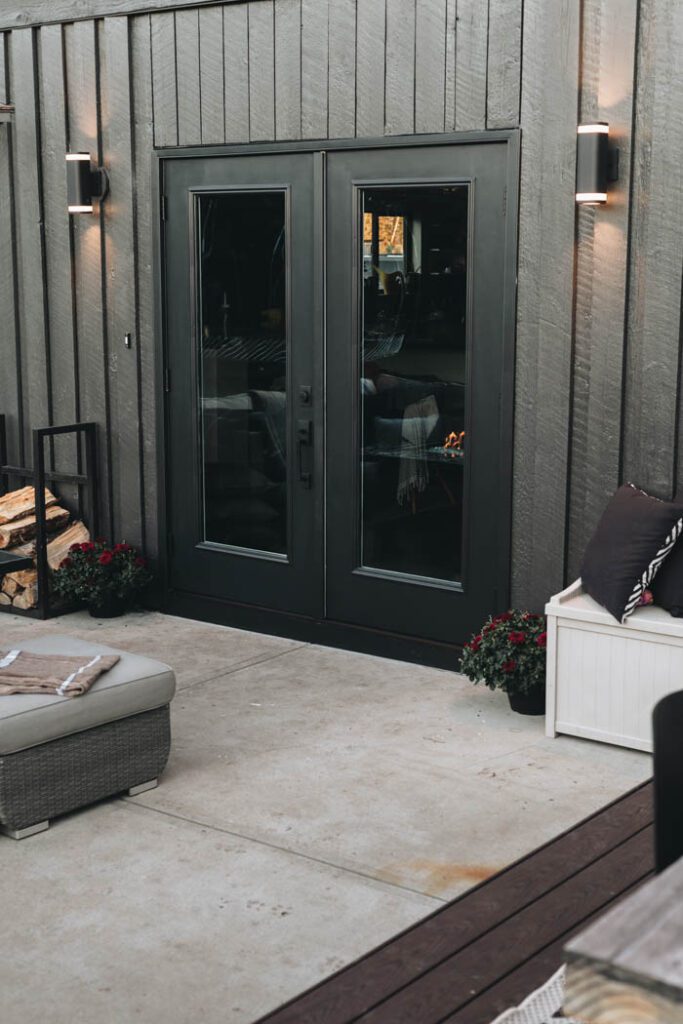 We finished installing our new back door and I couldn't be happier with the final look. I added a traditional fall mums on either side of the door because they're always so pretty for fall!
A few other fall touches included my wood rack that I pulled out, and the velvet pumpkins I added to the tables. They're mostly out there for the kids to play with – they were a dollar tree find, so I'm definitely not too worried about them getting wrecked!
The final additions were some extra cozy throw pillows and blankets for the outdoor sofa. We sat out here for hours while the sun went down. Kids eating treats and running around while we enjoyed the fire table.
If you want to see use enjoying our s'mores charcuterie board as a family, you can watch it all at the end of this video.

Today I'm joining some of my talented blogging friends for the Fall Seasonal Simplicity Series: Outdoor Spaces hop. Be sure to check out all of the beautiful inspiration by visiting their posts. All the links are just below the images.
If you're following along with all of the tours, hop over to Taryn Whiteaker Designs next!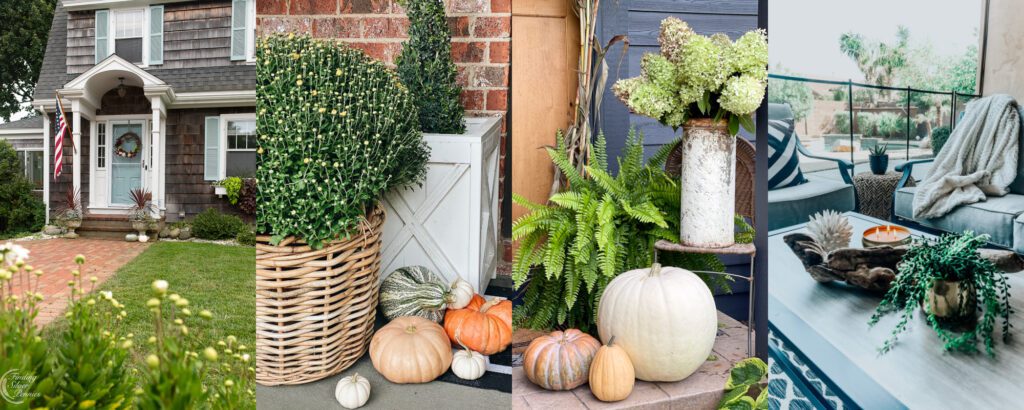 If you're looking for more autumn inspiration, don't forget to check out our full FALL HOME TOUR!