Hosting a fall or thanksgiving get-together? Create the perfect appetizer spread, including a fall charcuterie board and drink menu with these great tips!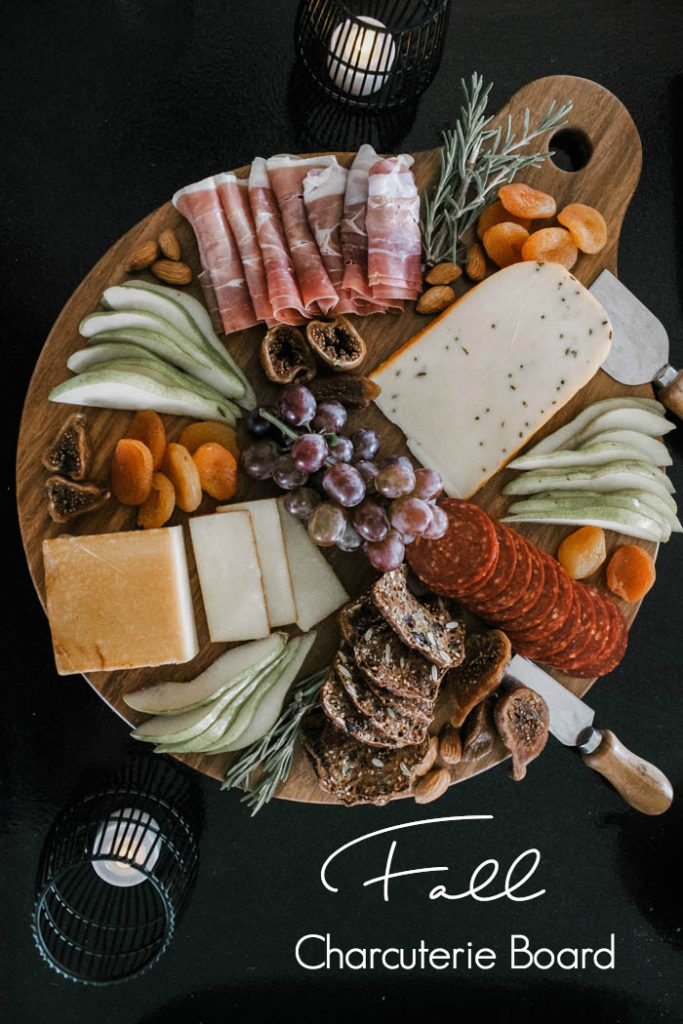 As a child (and especially as a teenager!), I loved Thanksgiving. I loved the hustle and bustle of food getting prepared all day and different family members arriving all of the time. Long weekends of constant visiting, eating, and playing games made this extrovert's heart flutter. Somehow, when I look back, I don't remember who was slaving away in the kitchen and missing out on the game of cards; or who was washing dishes while the rest of us napped after dinner. But it all got taken care of! As an adult, I've realized that when I host, these responsibilities lie on me… lol. But since I don't want to miss the games and the chit chat, I try to make my fall entertaining as easy as possible, which usually means, preparing one of our always popular fall charcuterie boards.
*This post was sponsored by Kitchen Stuff Plus. As always, opinions are 100% my own. For more information, please see my disclosure page.*
Charcuterie Board Definition
If you have never had the pleasure of enjoying a charcuterie board, then you are in for a treat!
Charcuterie (pronounced "shahr-ku-tuh-ree") is the art of preparing meats and other meat products for eating. However, most people use the term charcuterie to refer to the pairing of meats with an assortment of other seasonal goodies, such as cheese, fruit, sauces, and crackers, etc.
I typically serve our fall charcuterie boards in the afternoon before a big meal, or in the evening to snack on during game time. They are the easiest way to keep your guests satisfied while they wait for a big Thanksgiving meal. They are also great to snack on the day after Thanksgiving when their bellies are still a little bit too full for another whole meal!
Since we're all looking to make our holidays a bit easier, I thought I'd share some of my easy Thanksgiving charcuterie board tips with you.
Five Tips for Easy Fall Entertaining (with a Charcuterie Board!):
1. Keep your fall charcuterie board simple
Charcuterie boards are a go-to for many that entertain regularly. They are stylized meat and cheese trays filled with seasonal favourites and piled with carbs to help enjoy the treats. They are simple because you just need to grab a few staples and arrange them on a board! You don't even have to cut the cheese ahead of time—just provide a knife! Here are a few items I always try to include:
One big beautiful tray – like my wooden cutting board! Or this one!
A variety of cheeses. Usually a soft cheese (like camembert or brie), a hard cheese (like smoked cheddar), and a semi-soft cheese (like gouda or havarti)
A cured hard meat (like chorizo) and a thinly sliced muscle cut of meat (like prosciutto), all pre-cut
Sweet and savoury additions (such as jams, jellies, chutneys, pickled veggies, fresh or dried fruits, olives, nuts, etc.) – red pepper jelly is a personal favourite of mine!
Lots of bland carbs (e.g. bread sticks or crackers) so they don't interfere with the other flavours
Add some seasonal favourites. This is fall after all! Add some figs, apples, or blackberries to your board.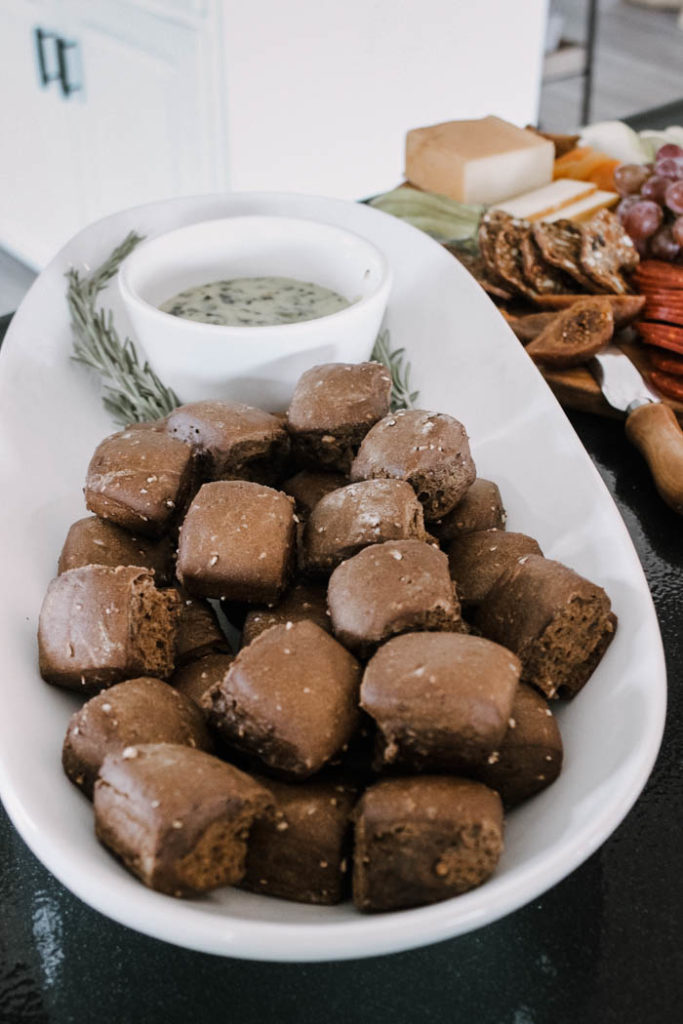 2. Serve something warm in the fall
Pinterest is FULL of simple dips, soups, and warm cheeses that you can use to add some warmth to a cool, fall day! I used this beautiful serving dish to display some spinach dip, and a square cake platter to serve up some warmed brie! If you want a delicious fall recipe, try this this Cranberry Pecan Baked Brie that I made. It was divine!
If you are serving warm options, this is definitely the hardest part of your entire fall charcuterie spread. Everything else can be prepared ahead of time, making your job the day of your event much easier. But the warm options need to be timed so that they are warm for guests to enjoy. Plan ahead and you'll be fine!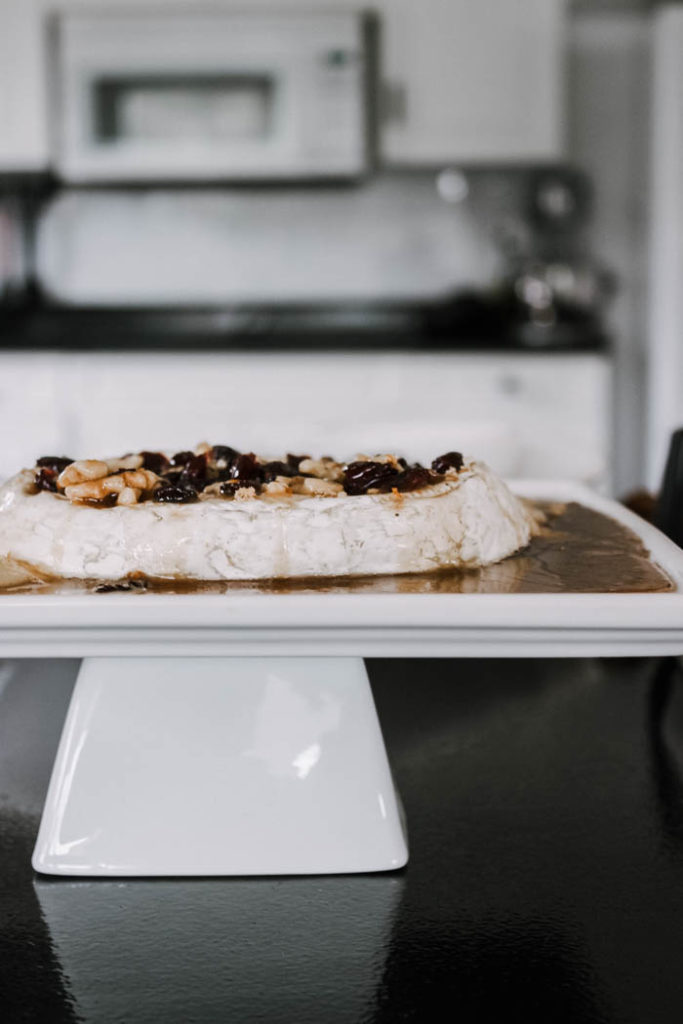 3. Use pre-packaged foods
This is Thanksgiving. Give yourself a break! This spread looked and tasted delicious, but I cut corners by using pre-made spinach dips, and pre-packaged cheeses (like the laughing cow triangles below). Anything can still look styled and beautiful when you arrange it beautifully on your serving dishes—like I did with this beautiful White Entertainment Pack of serving platters!
I don't know why I used to think that I had to prepare everything myself! You're family or guests probably already have some fan favourites that you're going to want to prepare, so why not save the stress on the more mundane options, like cheese!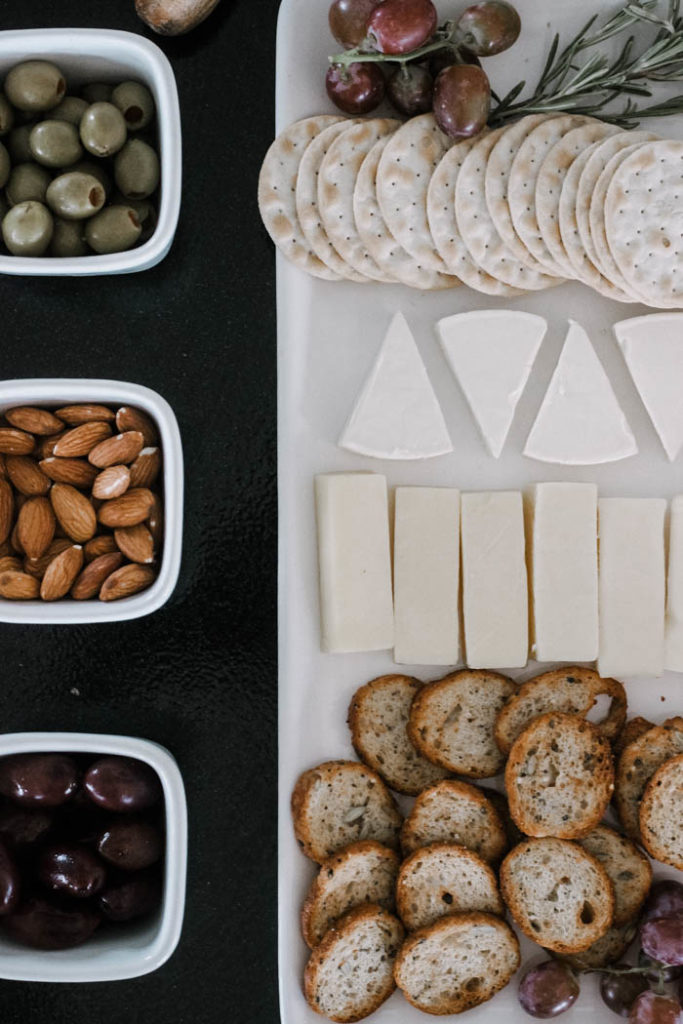 4. Have some fun and choose fall coloured foods for your charcuterie board
Browns, oranges, purples, and greens! Everything I bought was in these colours because they scream autumn. I love the cohesiveness of the board. You'd be surprised how easy it is to find cheeses and meats that match your colour scheme when you want to! Lol.
Some other fun fall-themed items I added were apricots, figs, almonds, pear slices, olives (purple and green!) and grapes.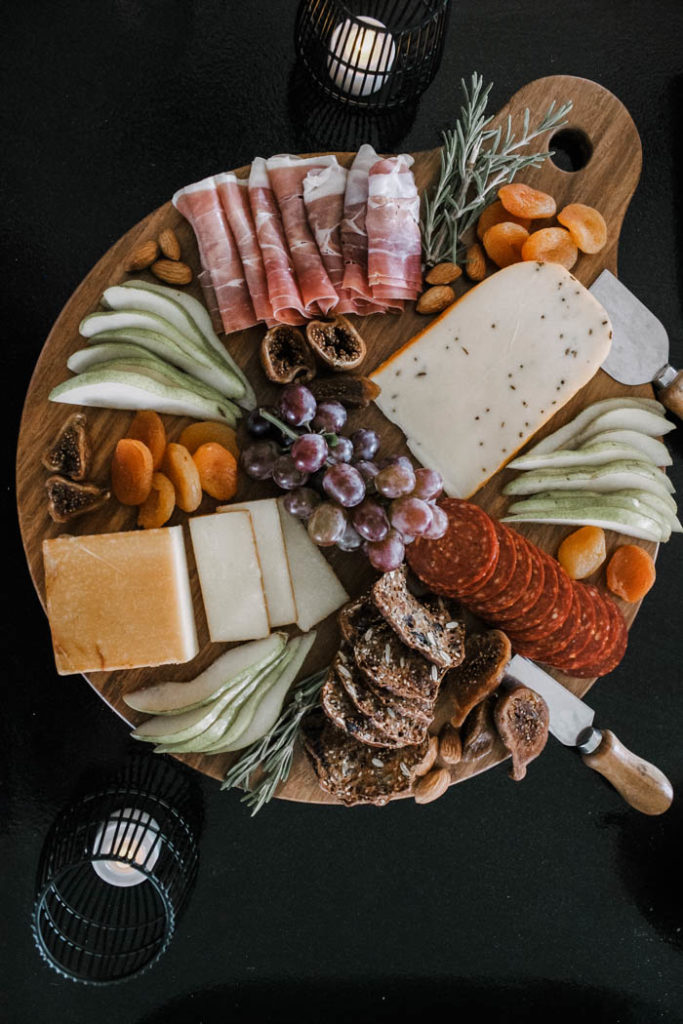 You want to choose crackers that are more bland already so that they take on the flavours you're giving out, but the boring beige of the crackers also helps your charcuterie board look amazing, but letting the fall coloured foods shine.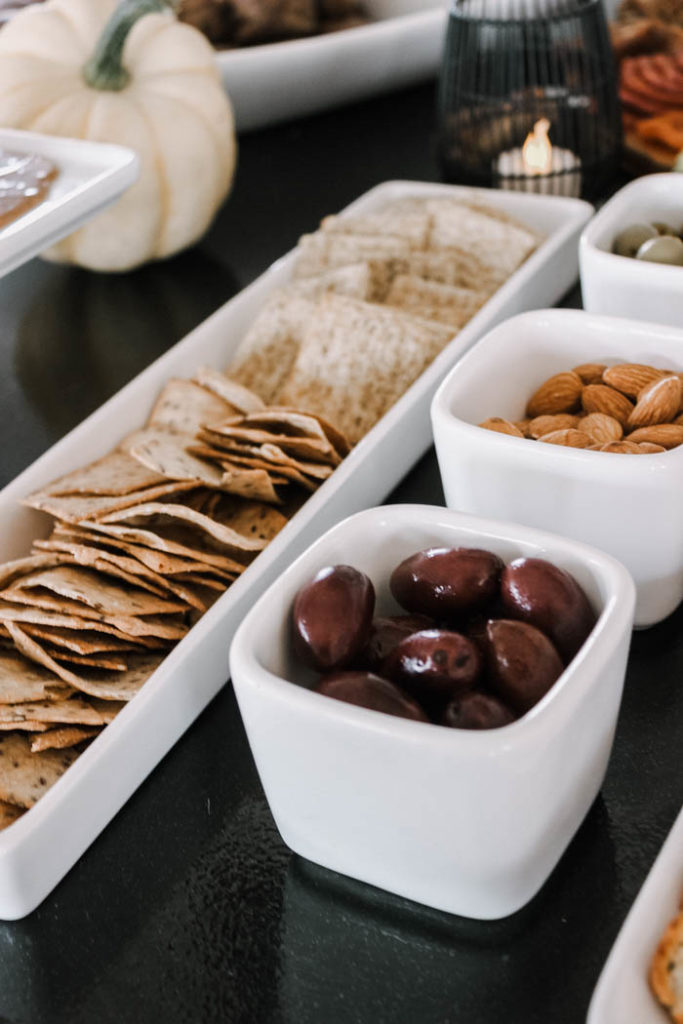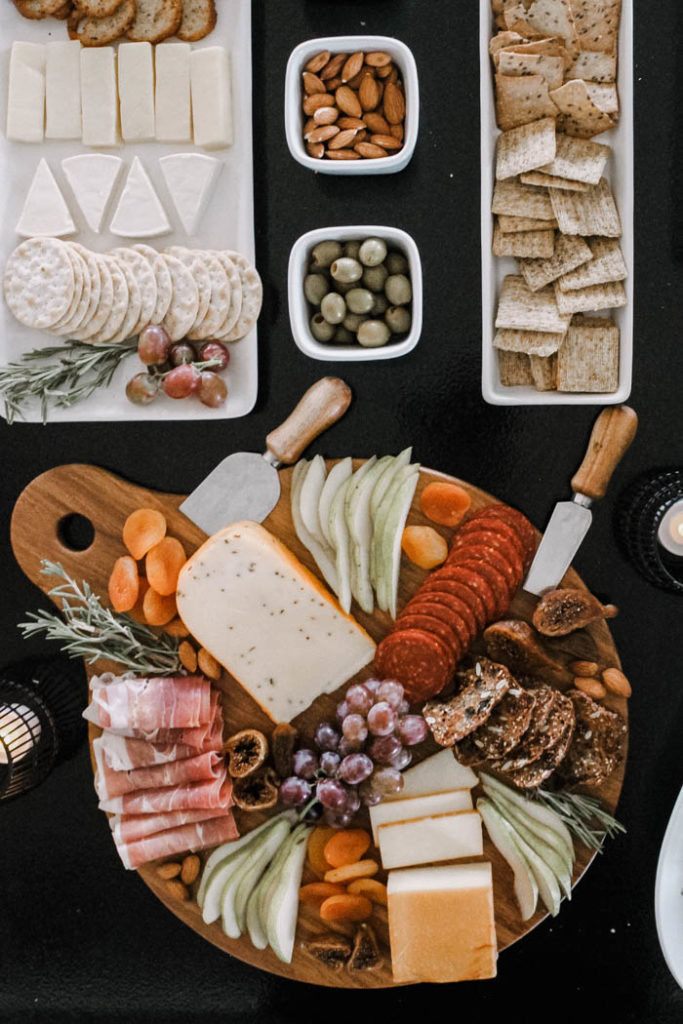 5. Keep your drink menu short
We have a tendency to think we need to serve everyone's favourite (or maybe that's just me?! lo). This year, I simplified! I used a large tray to define the drink station, put out a few select drinks, including fall red wines, whisky in our beautiful decanter, and water in a pretty clean bottle. Use your fall favourites and don't stress over too many options.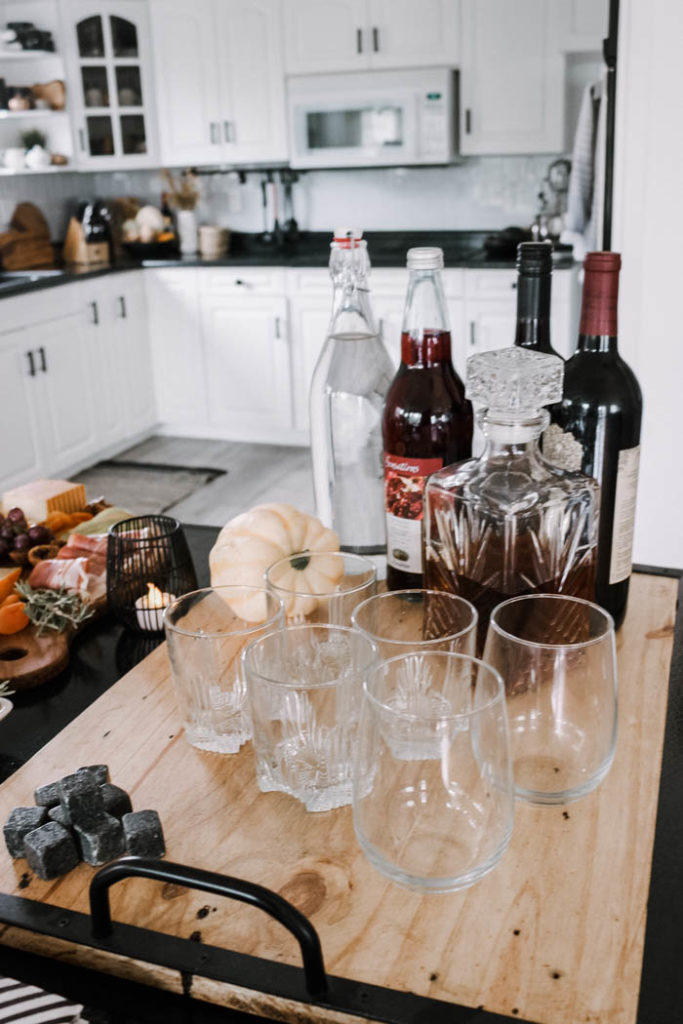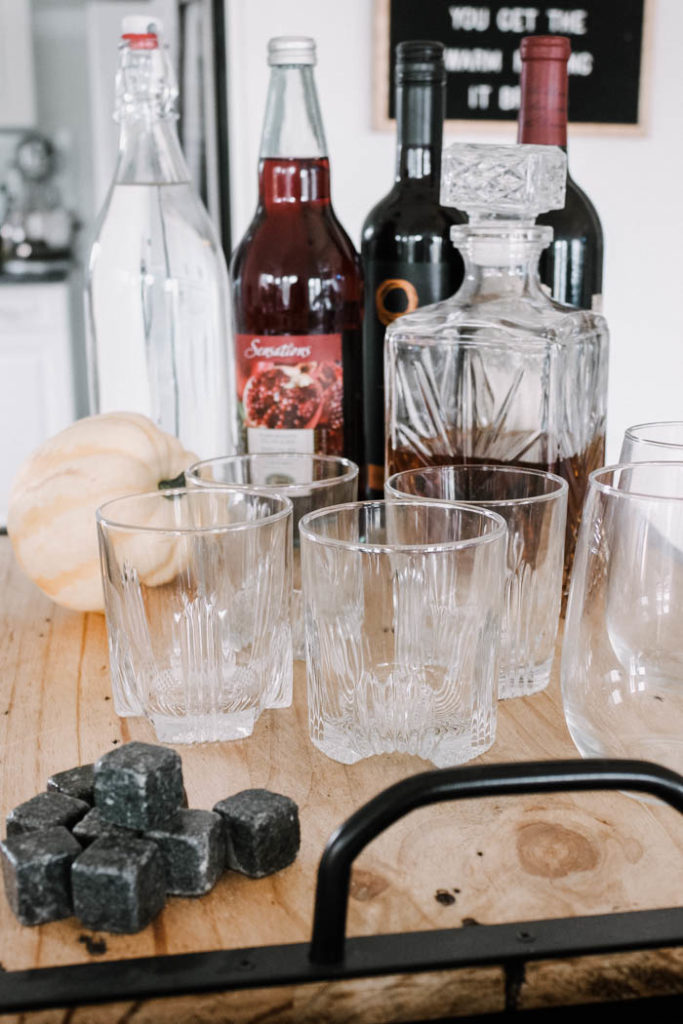 Hope you liked the tips! Tag me with all of your Fall Charcuterie Boards!
For more beautiful Thanksgiving Entertaining Ideas, visit my friends below!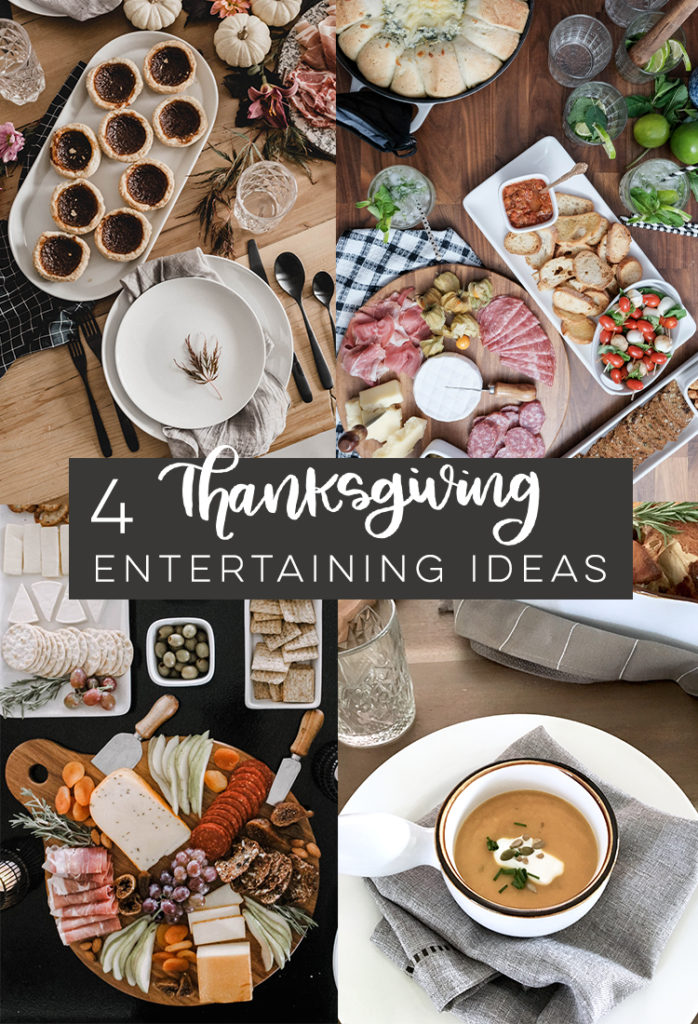 Modern Thanksgiving Tablescape – Lemon Thistle
Modern Thanksgiving Tablescape – Harlow & Thistle
The Learner Observer
HERE'S SOME MORE FALL INSPIRATION: