Great tips for organizing the kitchen! Declutter your kitchen and get it organized for good with these tips for the pantry, cutlery drawers, spices & more!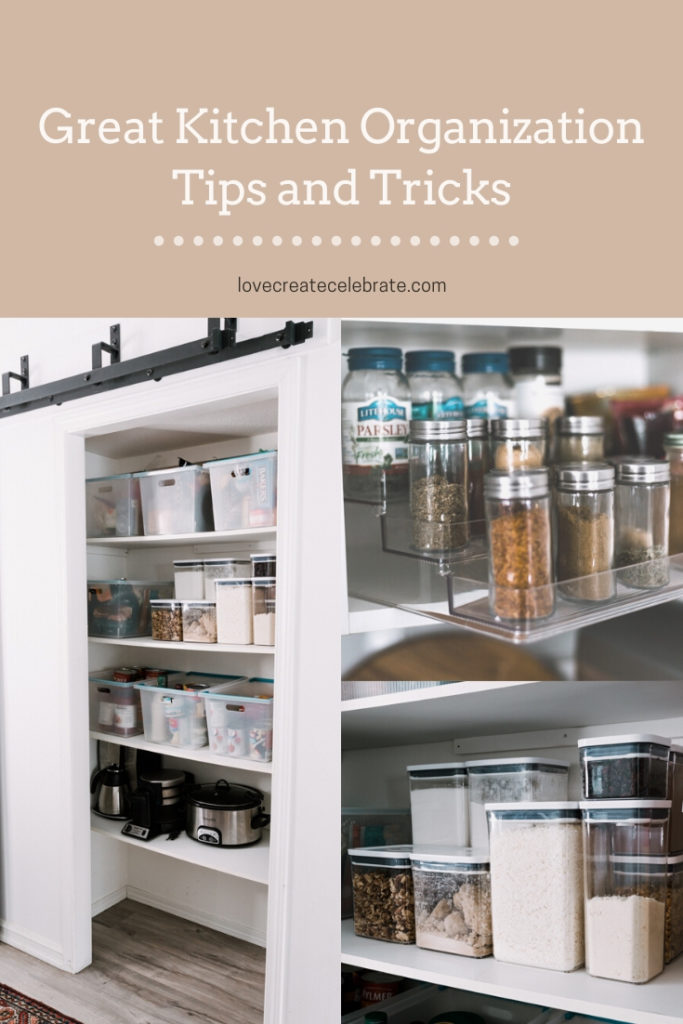 Organization doesn't come naturally to me. I love when a space feels organized and everything has a home (don't we all?!), but I really have to put effort forward to get to that point. Last year around this time, I put thought and effort into organizing our bathroom drawers, and I'm happy to say that they have stayed organized to this day! Our kitchen was getting a little bit unruly… so I figured it might be time to concentrate some of that organization energy onto a new project and share my tips for organizing the kitchen!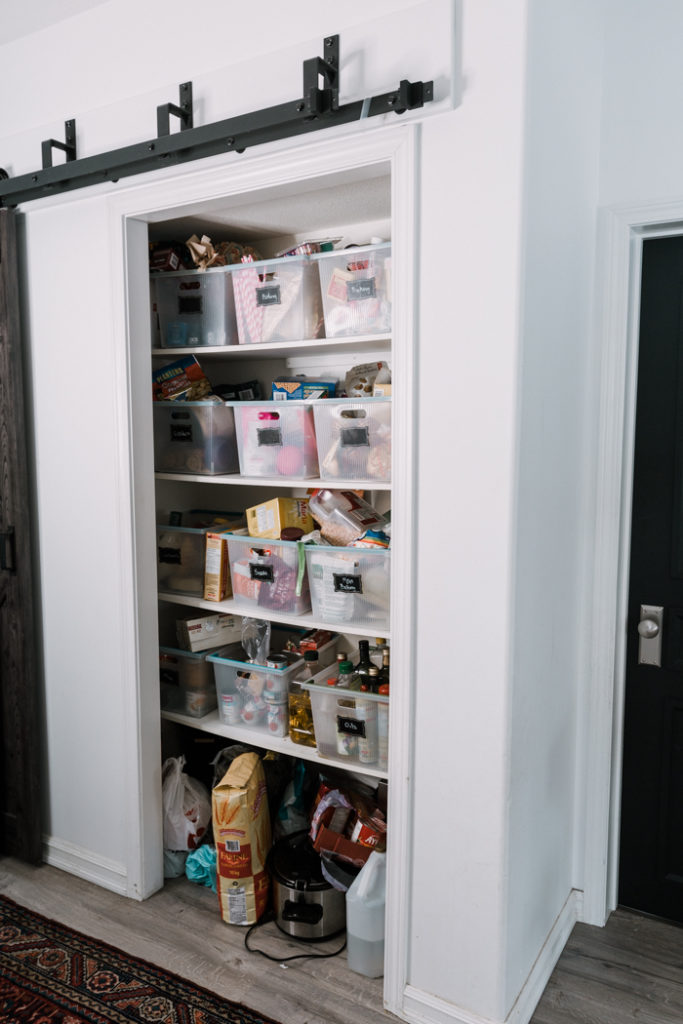 *This post was sponsored by Kitchen Stuff Plus and may contain affiliate links. As always, opinions are 100% my own. For more, see disclosure page.*
First, let me introduce you to the spaces that need the most help. Above is the "before" photo of my pantry. You can see that at some point, I put some effort into making bins for the pantry… but that organization didn't last too.
The bins aren't organized properly, they are spilling over, and the floor has become a "catch-all" for anything that didn't have a home on the shelves.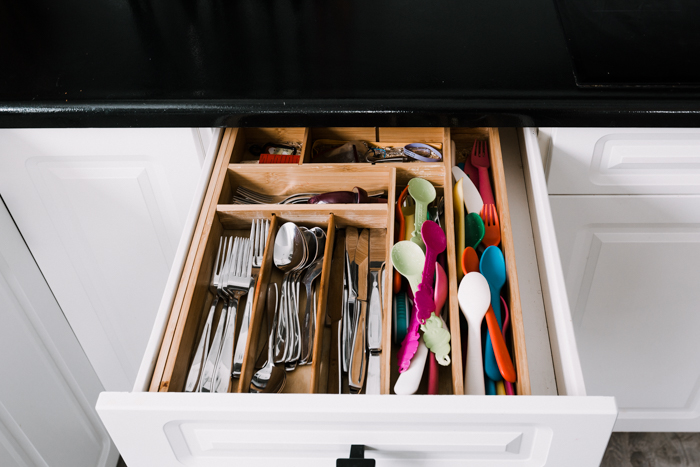 Our drawers are another area in need of some help. Both our cutlery drawer, and our utensil drawer won't close at times. The trays we had were working for a bit, but they never fit the drawers properly, and the cutlery we have slides underneath the built-in barriers.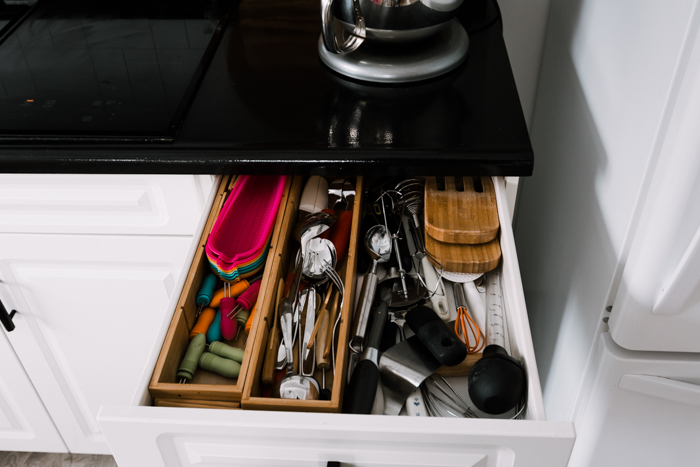 The utensil drawer is overstuffed, and I knew there were items in here that we weren't even using!
Finally, we have a kitchen cabinet beside the stove that is just an absolute mess. This cabinet is a messy mix of teas, coffee supplies (that we don't use!), and travel mugs.
This cupboard is beside the stove and our spices were on the other side of the kitchen. It just makes sense to bring all of the spices over here to wear we are doing the cooking, so my plan was to swap the travel mugs for the spice jars and make this cabinet a little more functional!
Clean and Organize the Kitchen with Me
If you want to follow along with I clean and organize the kitchen, I shared the whole process on my YouTube channel.
You can see how we cleaned and reorganized these spaces from top to bottom and hear some of these great tips for organizing the kitchen as I go!
If you love any of the organization items you see, Kitchen Stuff Plus is having a huge organization sale right now that will have you stocking up on storage supplies!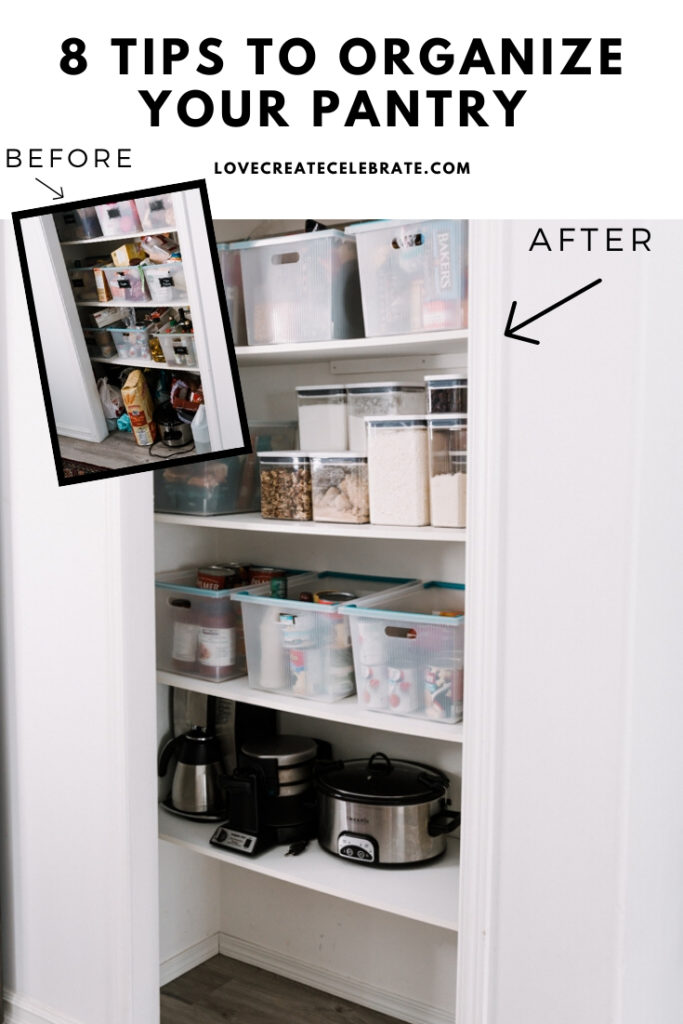 8 Tips for Organizing Your Pantry
The pantry is a trouble area for everyone, isn't it? It's easy for this space to start overflowing as we buy groceries. I completely transformed our pantry in just a couple of hours and these tips are exactly how I did it!
Remove Everything and Clean – The first step is to remove everything in your pantry so that you have a fresh start for organizing. While everything is removed, it's a great time to wipe down all of your surfaces, walls, and bins with a multi-purpose cleaner.
Sort Everything – The next step is to sort all of your foods and goods. Donate the foods you haven't touched to the food bank, and throw away expired foods. This is the first step to decluttering the pantry.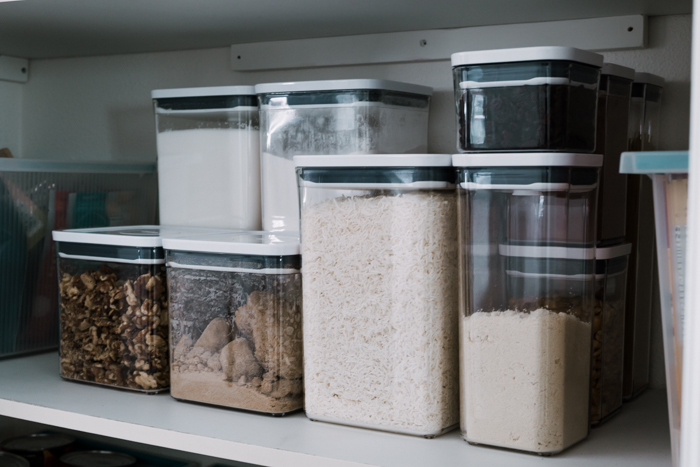 Eliminate Open Bags – Reduce the clutter of those partially used, open bags, by emptying all of them into clear, sealable containers. Putting everything in stackable containers greatly reduces clutter, and saves space. Clear containers allow you to quickly see what's inside, with or without labels.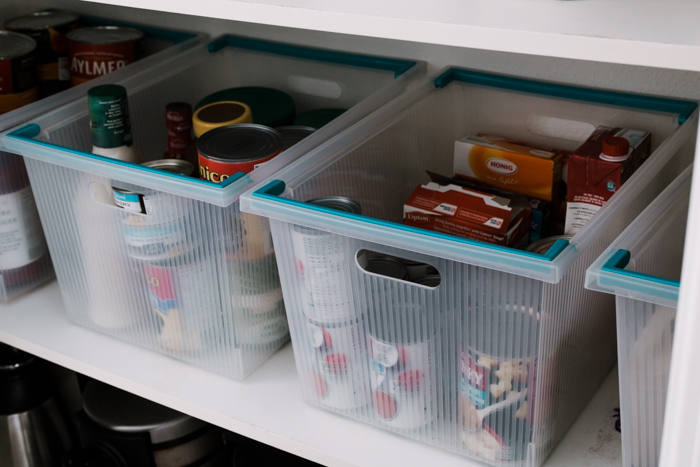 Group Similar Items – Any of my items that weren't bagged and switched to clear containers, were then grouped and placed in bins, to make them easy to sort and organize. Find bins that fit your pantry shelves best. Items can be grouped in any way that makes sense for your pantry. Some of our bins included: crackers, dry foods, sauces, fruits and veggies (e.g. canned and applesauces), soups, baking supplies, snacks, etc.
Keep Everyday Items Within Reach – Once your bins are organized, be strategic about where you put them in the pantry. We have one that is full of different cooking oils and we use items from that bin every day, so it is on the most easily accessible shelf. We also have a bin with snacks for our children that we wanted at their level for them to easily reach and grab snacks. Bins that aren't used as much, such as serving supplies (paper plates, napkins, etc.), can be placed on higher shelves.
Place Appliances on the Shelf – Nobody likes having those large appliances take up real estate on our counters, and many of them are too big for kitchen cabinets. Carve out some space on a shelf in your pantry for them instead.
Keep Items Off the Floor – The floor can provide valuable space if you need it, but nothing makes a small space look more cluttered than taking up every inch of real estate. That tiny bit of bare floor will leave the space feeling more open, more clean, and more organized (take it from someone who's pantry didn't have a floor two days ago! lol).
Label Everything – The easiest way to make sure family and guests know where to put things and where to find them, is with labels. I prefer the modern minimal labels and didn't have any on hand, but I'll be adding some to our pantry in the near future!
5 Tips to Organize your Cutlery Drawer
Remove Everything and Clean – Just as in the pantry, the first step is always to remove everything and clean all of the surfaces with a multi-purpose cleaner. Give your drawers a fresh start!
Measure First to Maximize Space – Before you go buying the prettiest cutlery trays, take a few minutes with your tape measure to get the width, depth, and height of your shelves. Using those measurements you can buy containers that will maximize the use of your space! No more awkward gaps at the sides or backs of your drawers.
Expandable Trays and Compartments – When choosing which trays to buy, pay attention to the sizes, and compartments. Expandable trays are a great way to maximize space and use every last inch. Having enough compartments is key to keeping your drawers organized over time. With our new trays, we were able to separate even our large and small spoons.
Keep, Purge, or Donate – Before you put all of your utensils back in the drawers, take a minute to go through them all and see what you really need! We had so many utensils that we were finding it hard to close our drawers without something getting stuck! Purge items you haven't used in the last year or that are duplicates. Donate items that are still in good shape. Keep only the items that you need.
Place Items Strategically – If you are sorting utensils, put items that are used on a regular basis at the front, like cheese slicers and whisks. Put items that are seasonal at the back, like we did with our corn-on-the-cob holders (we only really use them in the summer, but we LOVE them in the summer!).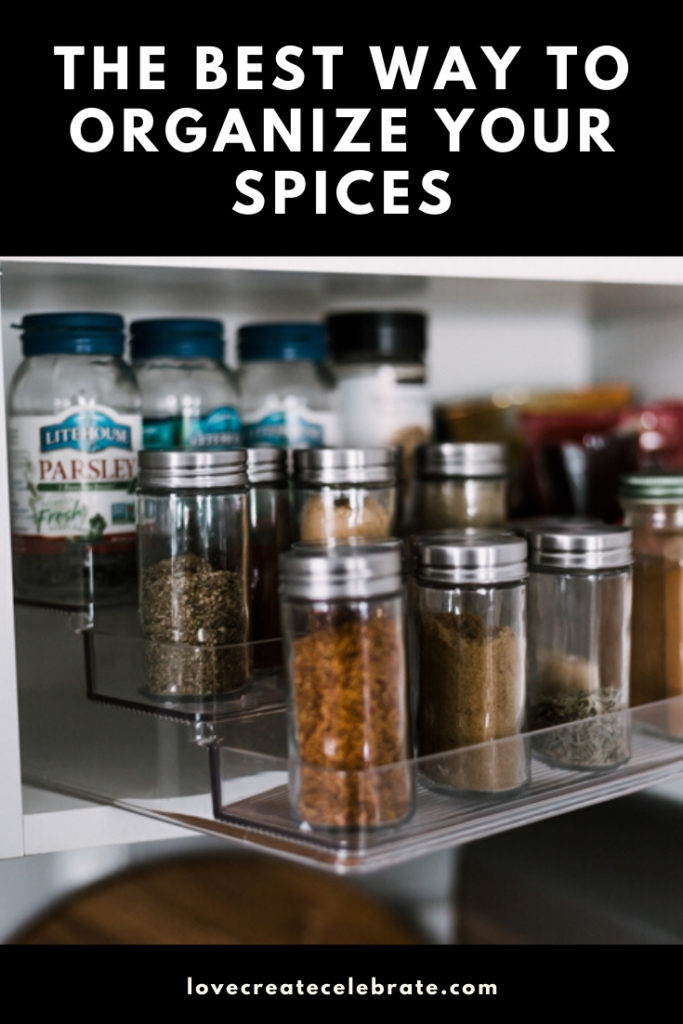 3 Tips for Organizing Your Spices
Use the Right Containers – There are all kinds of beautiful spice racks and storage solutions out there. Measure your space, see how much real estate you are willing to give up on your counter or in your cupboards, and find containers to maximize that space.
Two Ways to Store Spices – While you're maximizing your space, make sure you plan space for those spice jars and those little packs. I've always had extra clutter around my spices because I didn't have a solution for the leftover spice bags, or sauce mixes. This time I planned ahead and used a stadium spice rack for all of the jars, and a pantry organizer for the packages. Both are easily accessible!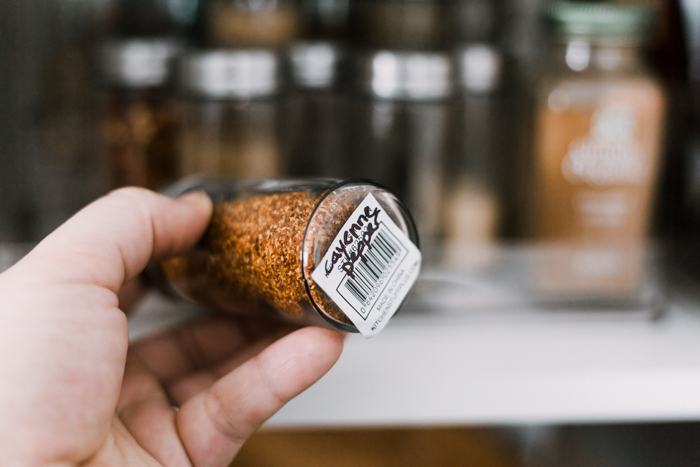 Label Everything – Last, but not least, again! label all of those space jars. Even if you don't have pretty labels yet, use the stickers on the bottom or some masking tape. No one wants to mix up spices when they're making dinner!
I hope you enjoyed our tips for organizing the kitchen! Organizing these spaces can be so satisfying! Don't forget to check out the Organization Sale for some great deals on these storage solutions!
If you're looking for more great organization tips, you'll love these 7 steps to organizing you're linen closet!