Learn how to make an easy DIY wood clock! Love the sleek design and affordable price tag for this clock made with dollar store supplies!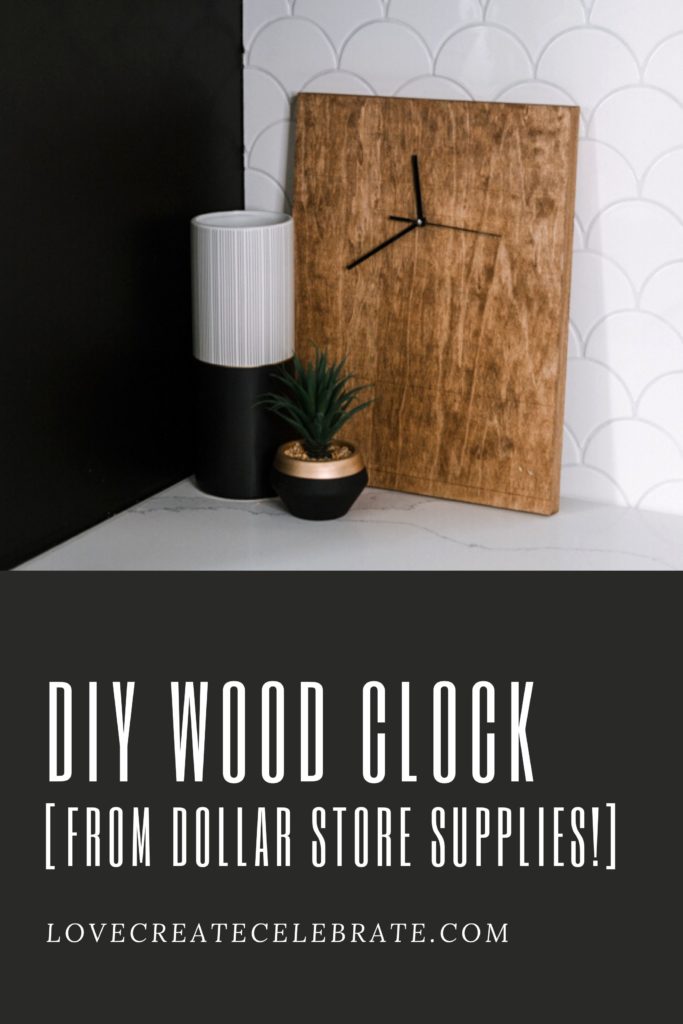 When I was a kid, I lived in dollar stores! I loved them. I wanted to spend every looney I earned there. As a adult, I walk through aisles, and see loads of potential. Tons of pieces that, with a little love, or a little tweak, could look beautiful and modern! I shared a video today of six amazing dollar store ideas to help organize my office, including this DIY Wood Clock. I'm sharing the tutorial for the clock today, but skip to the bottom if you want to see all six projects from the video!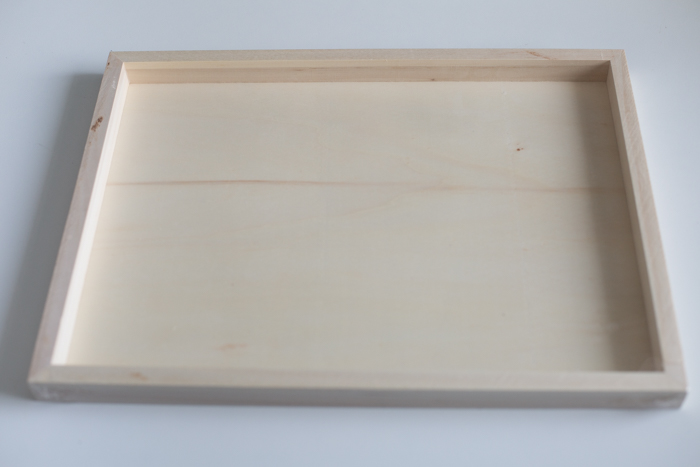 *This post may contain affiliate links. When you buy a product through one of our links, we get a commission at no cost to you! Thank you for supporting our blog so that we can continue to bring you posts like these. For more information, please see our disclosure page.*
This project all started with this wooden frame. I've used it in other projects, like my summer dollar store DIYs, but anything made of wood is always so versatile! I had to try my hand at using it again!
I've wanted a new clock since the day I finished my office renovation. If I'm working in there and the computer is off, I have no clue what time it is. I have to bring my phone in so that I know the time, but then I'm always suuuuper distracted, checking Instagram every five minutes.
I've been looking in stores for a minimalist clock that I liked, but haven't found any options (at least none in my price range!). So when I saw the clock at the dollar store, I decided to try my hand at revamping it.
Materials Needed for DIY Wood Clock
I love that this project only requires a few materials – two of them from the dollar store, and three of them that most of us already own!
Dollar Store Clock
Wood frame
Drill
Ruler or Measuring Tape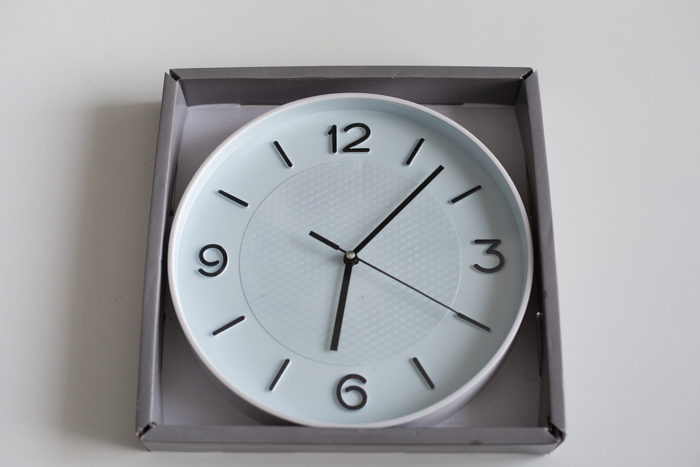 How to Make a DIY Wood Clock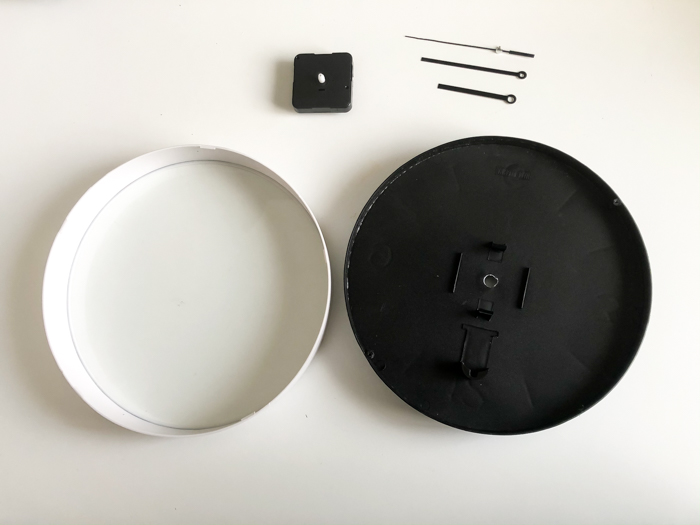 These clocks are really easy to take apart. You can see in the video below exactly how I did it, but all you need is a flat head screwdriver to pry at the edges a bit.
When it comes to removing the hands, you need to be very gentle so that you don't bend them. Gripping them at the center of the clock and applying equal pressure on both sides is the best way to keep them in tact.
When you have the hands off, keep them somewhere safe so that they don't get bumped or knocked. They are pretty fragile!
Next, use a ruler or measuring tape to mark where you want your clock hardware to sit.
The wooden frame that I bought from the dollar store was12″ x 18″, and I wanted my hardware to sit near the top. I made the mark for my hole approx. 4″ down, right in the center.
When I was ready, I drilled a new hole for the hardware. Make sure to drill a pilot hole with a smaller drill bit first, as this quality of wood likely will splinter when you drill into it.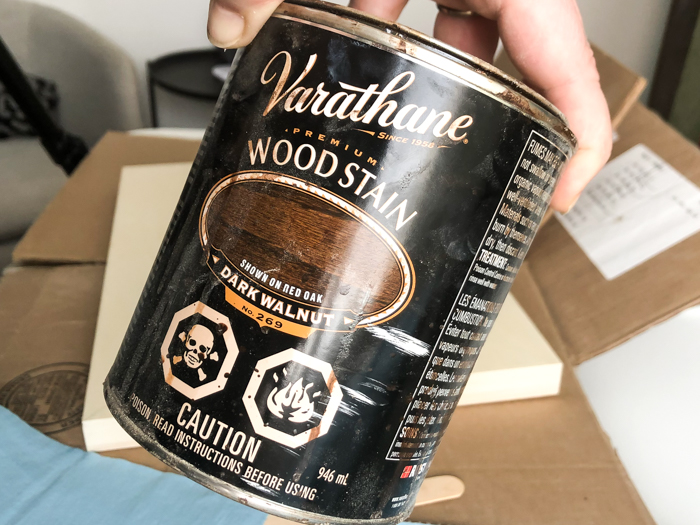 I chose to stain my clock a dark walnut colour, but you could stain it any colour, paint you clock, or leave it as is, in that beautiful natural colour!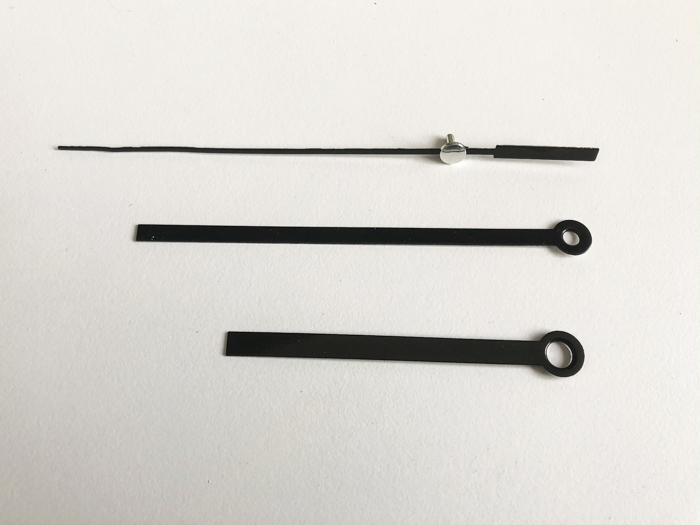 When you're ready, carefully put the clock hardware onto your new clock. I had to glue the back piece on first, and then when the glue was set, I carefully added the clock hands, using equal pressure once again.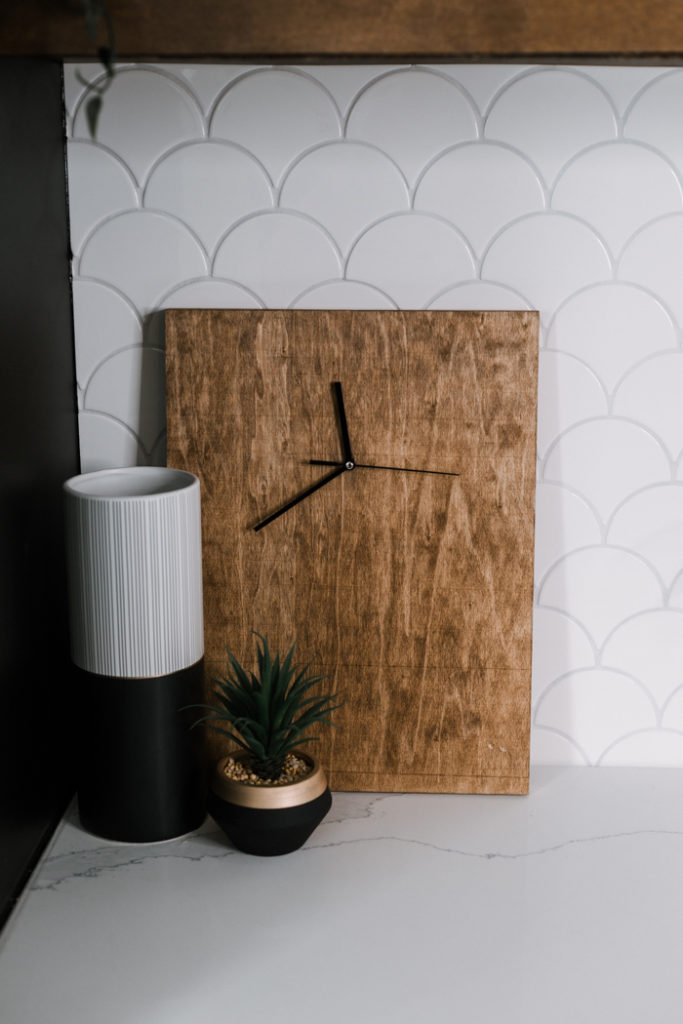 I love how this clock turned out! Of all of my dollar store organization ideas this time around, this was easily my husband's favourite one. Honestly, I'm surprised he hasn't snitched it and moved it somewhere yet!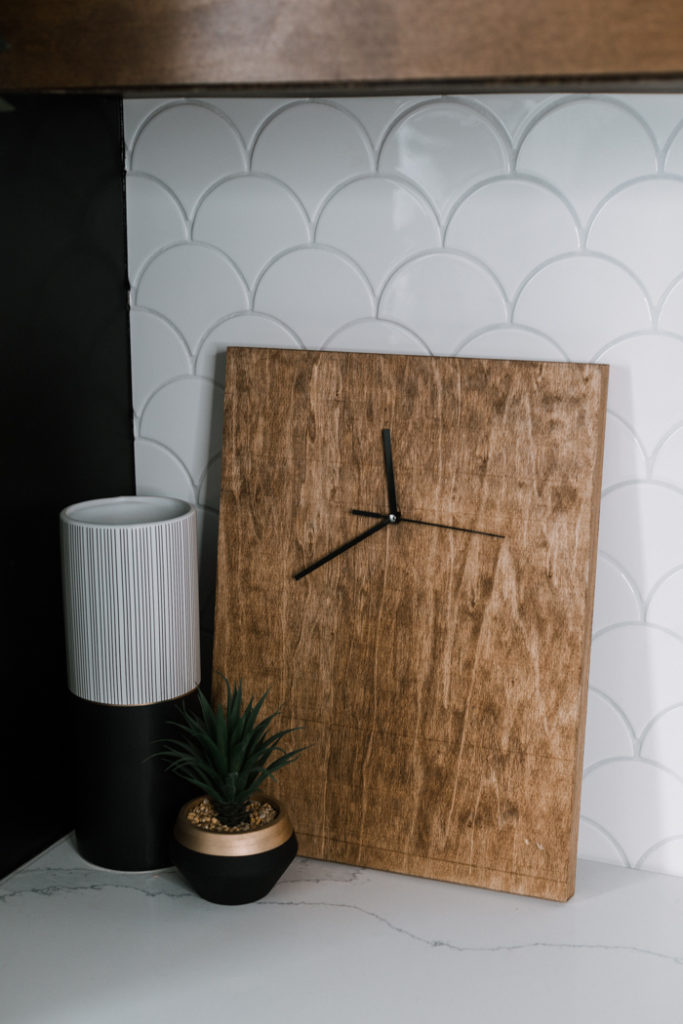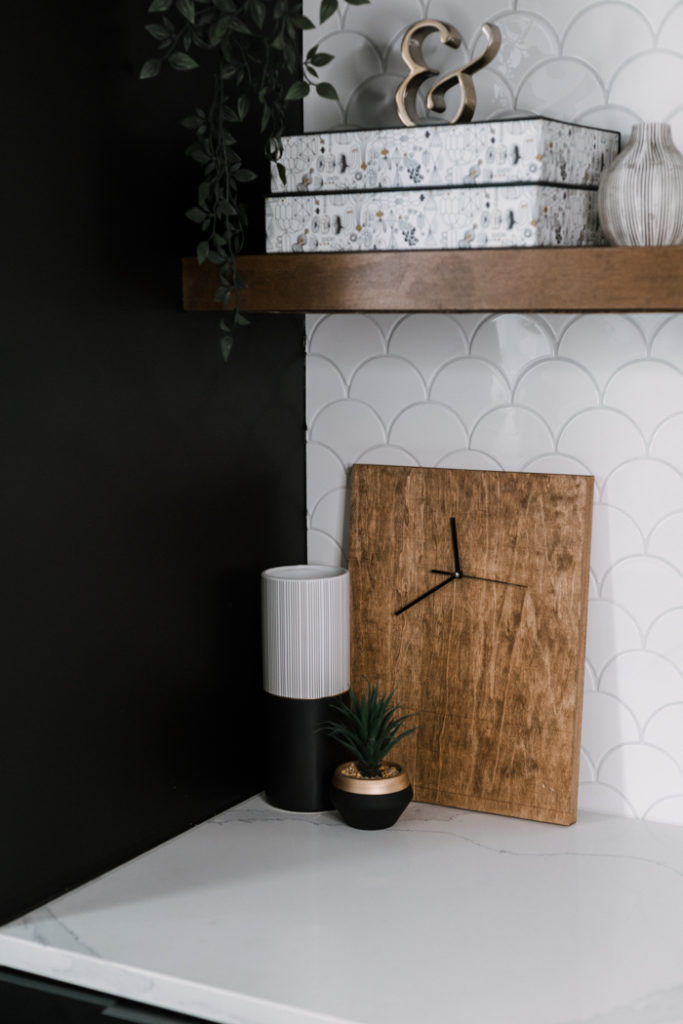 Six Dollar Store Office Organization Ideas
If you want to see a video on how we made this DIY clock, plus five more great office organization ideas, watch this video below!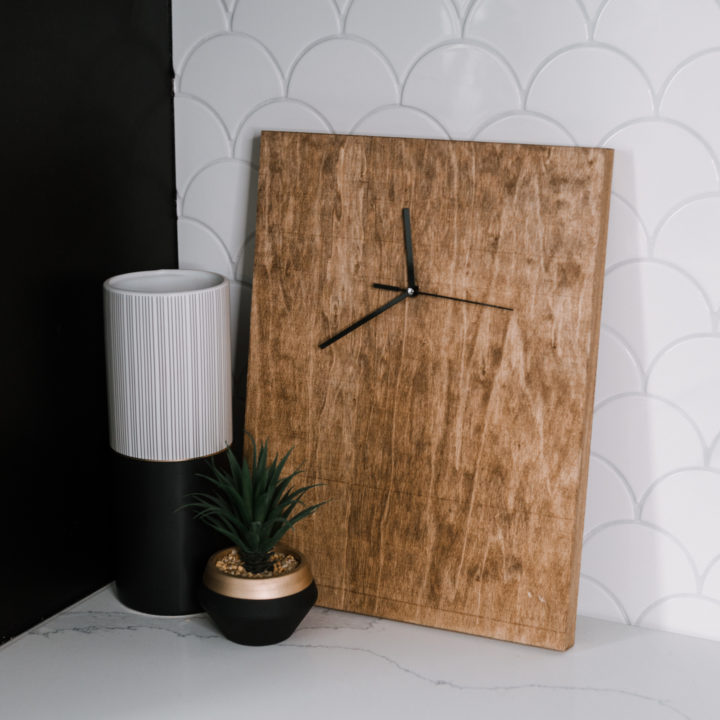 DIY Wood Clock
Learn how to make an easy DIY wood clock! Love the sleek design and affordable price tag for this clock made with dollar store supplies! 
Materials
Wood Frame
Dollar Store Clock
Wood Stain (optional)
Tools
Drill
Measuring Tape or Ruler
Instructions
Take apart dollar store clock.
Measure where you want your new clock to be centered on wooden frame (see video for demonstration on how I did this)
Drill hole for clock hardware. Drill a pilot hole first as dollar store wood is likely to splinter.
Stain wood if desired.
Put clock hardware onto new clock.
Recommended Products
As an Amazon Associate and member of other affiliate programs, I earn from qualifying purchases.
If you want to see another great DIY (with the wood houses from the video!), check out this DIY planter project!