Easy DIY Concrete Planters! Learn how to make your own easy concrete planters with these DIY cement molds that you can make at home.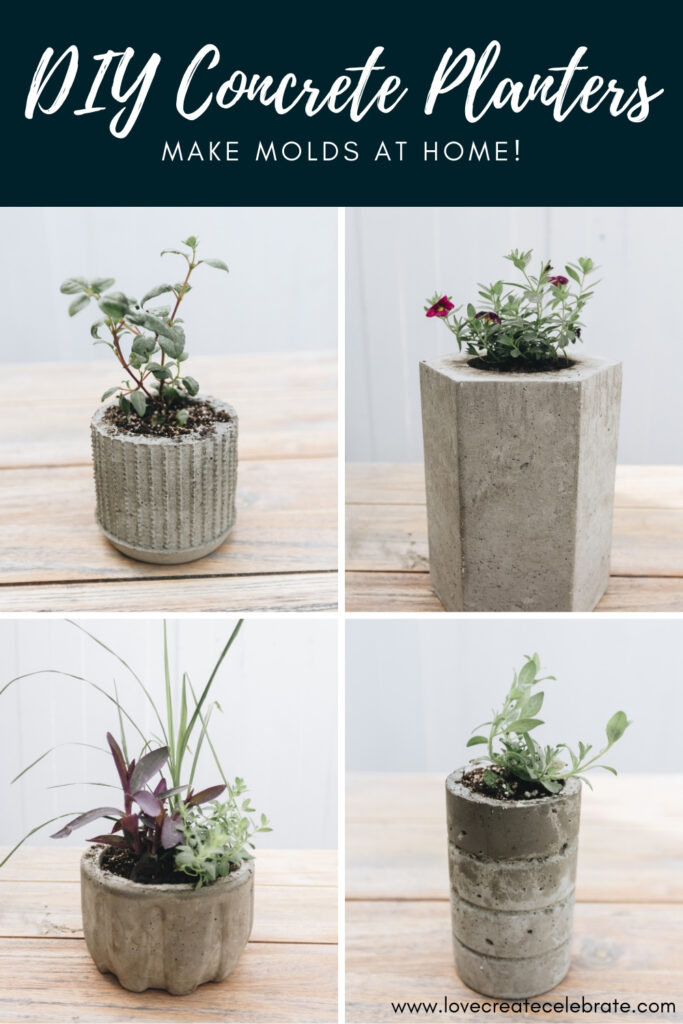 It's summertime, and I'm finally getting planters and outdoor spaces set-up! I've been wanting to attempt some DIY concrete planters for a long time now. In my opinion, a touch of concrete outdoors will never got out of style.
Concrete can fit any design style from modern to farmhouse to rustic just by changing the molds you use, or the placement outdoors. Our DIY concrete planters came from three different mold ideas and I'm going to share how we did all three.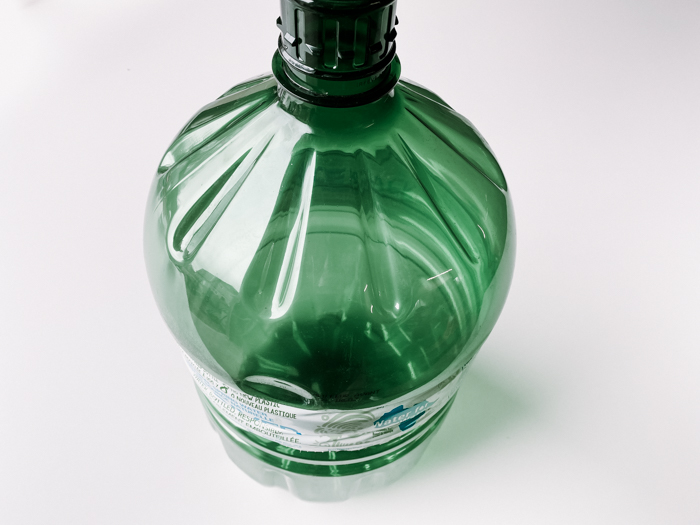 *This post was sponsored by Wagner and may contain affiliate links. Thank you for supporting our blog so that we can continue to bring you posts like these. For more information, please see our disclosure page.*
Here are a few examples of some of the plastic containers we had lying around at home that were perfect for planter molds.
The Iced coffee container was actually the one that sparked my entire idea for concrete planters. I loved the simple design on it, and wondered if I could transfer those simple stripes as a design in a concrete planter.
How to Make Concrete Planters Video Tutorial
Once again, we recorded the entire process for all of my visual learners out there. In this video we walk through all three of our DIY concrete planters including how we made the molds, how we removed the molds, and some of the mistakes we made along the way.
Don't forget to subscribe to our channel for more great DIY videos!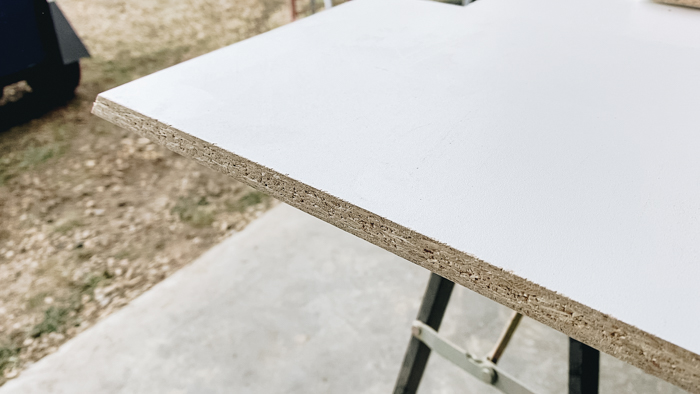 How to Make Concrete Planter Molds
We have done a ton of concrete projects over the years, from small decor ideas to DIY concrete slabs, so we're practiced a lot with different concrete techniques and are happy to share some of the things we've learned as we go through these concrete planter ideas!
There are three different molds we used for our planters:
Plastic containers with interesting designs
Plastic containers with a design we added
Melamine molds
I'm going to go through how we made them all, one at a time and share some of the mistakes we made too!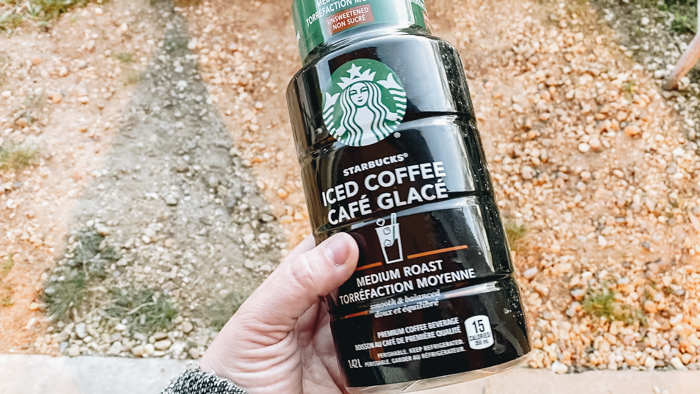 How to Make the Plastic Molds
These molds are the easiest of the bunch. Simple find a plastic container with a design on the outside that you want to use.
We used a starbucks containers to make one tall and narrow planter, and then used a large water bottle to make a shorter, wider planter.
Once you have chosen your outer container, choose any plastic container that fits inside it for the inside layer. This container will make the actual hole that your plants sit in.
Make sure there is at least 3/4″ between the two sizes when they are stacked in so that you give you concrete a nice thick edge. We found that if we went any more narrow than this, that the concrete was more fragile and more likely to crack.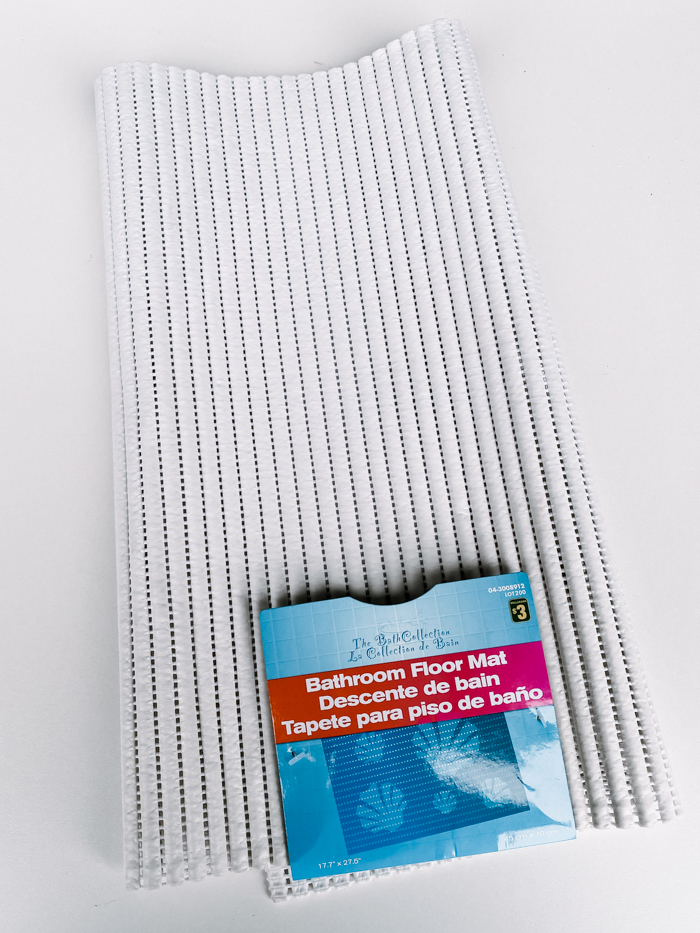 How to Add Your Own Design to a Plastic Mold
The second planter mold we made was done by adding our own texture. I used the dollar store bath mat above for this. It had a foamy texture, so we were pretty confident that it would peel away from the concrete after it was set, and we were right!
To set-up this planter mold, we cut the bath mat to size, and then placed it on the inside edge of a container that had a straight cylinder. Then we attached a plastic bottle as the inside container by putting a screw through the bottom of the bottle and the bottom of the outer layer.
By drilling screws through the layers, it will hold the inner plastic in place, and also create a drainage hole for water when you remove the screw afterwards.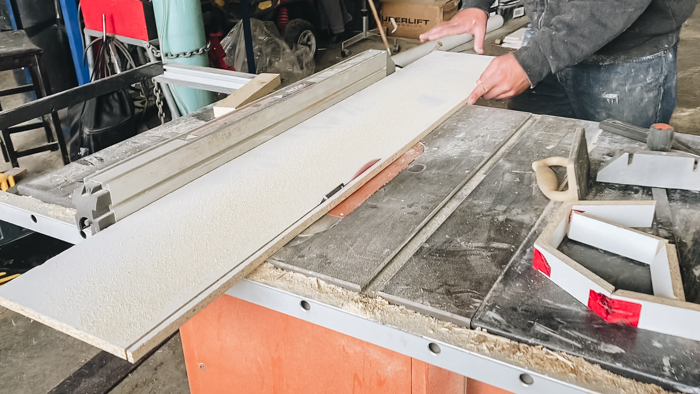 How to Make a Melamine Concrete Mold
We used melemine for our manufactured planter mold because it has a shiny, laminate surface that we thought would help keep the concrete from sticking to it.
You can make these molds into any shape you want, but we tried a hexagon and square one, so that's what I'll share here.
Start by cutting a strip of melamine on the tablesaw, that is the height you want. In our case, we cut an 11″ strip.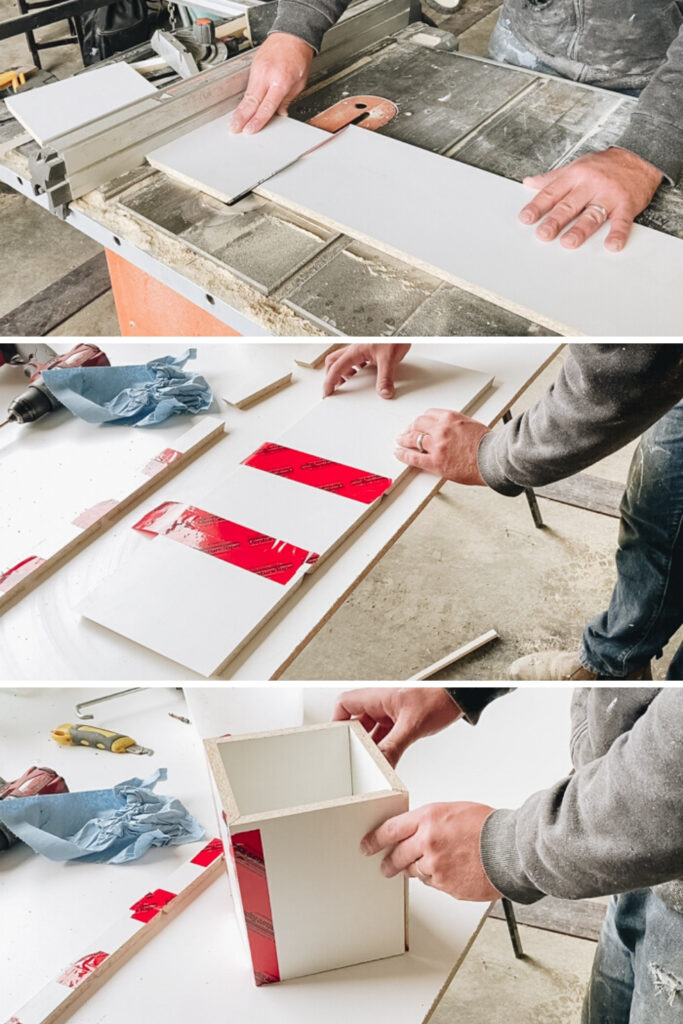 Then, use the tablesaw to cut out all of the widths you need. For our hexagon version we used six 6″ sides with 22.5 degree cuts both going inward (the angle needed for the shape). For the square version we cut four six inch panels with 45 degree angles.
Once we had all of the pieces cut, we used tuck tape to attached them together, and to attach the entire mold to a spare piece of melamine on the bottom.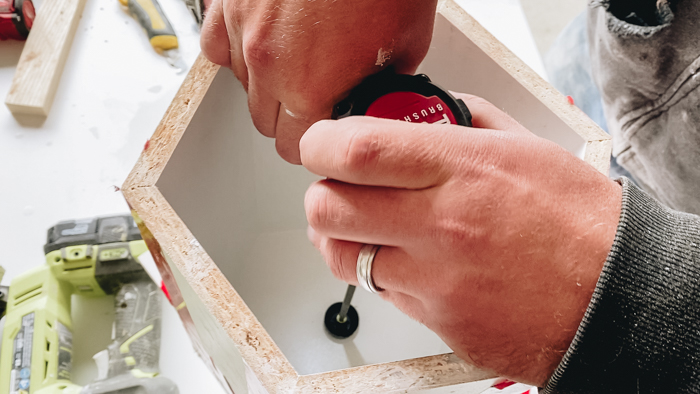 How to Make DIY Concrete Planters
Once you have the molds made, the steps for creating the planters are the same.
Mix your concrete with water according to your package directions. Getting the right consistency is very important because extra chunks, etc. will cause air pockets that will cause the concrete to crack or bread.
See the video linked above for the a visual of the consistency of our concrete when we poured it.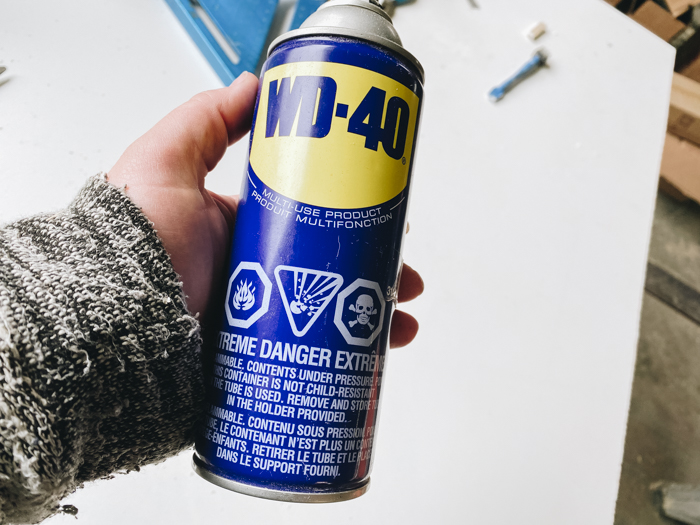 Spray all of your containers with WD-40 before you add concrete into them. It will prevent the concrete from adhering to the plastic.
Start pouring your concrete into your mold, until it is full. Use a sander to lightly vibrate the sides of your concrete mold to release any trapped air bubbles.
How do you remove concrete planter molds?
Level out the top of the planter and then move the concrete mold to a safe, warm place and allow it to cure according to the package directions.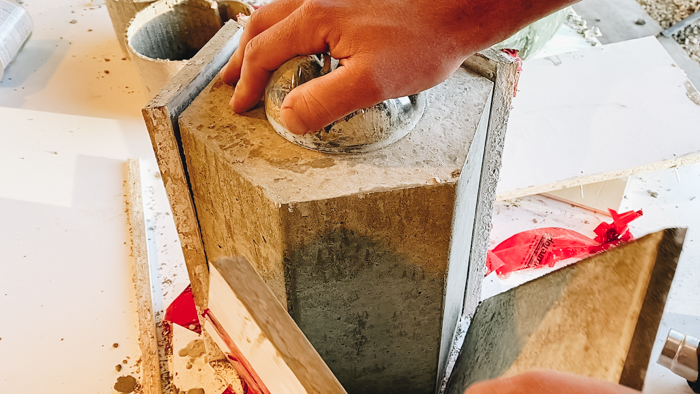 When the concrete has set, you can begin removing the molds. The melamine molds should be fairly easy to remove thanks to the WD-40. Ours actually popped open before we removed it, making our job even easier!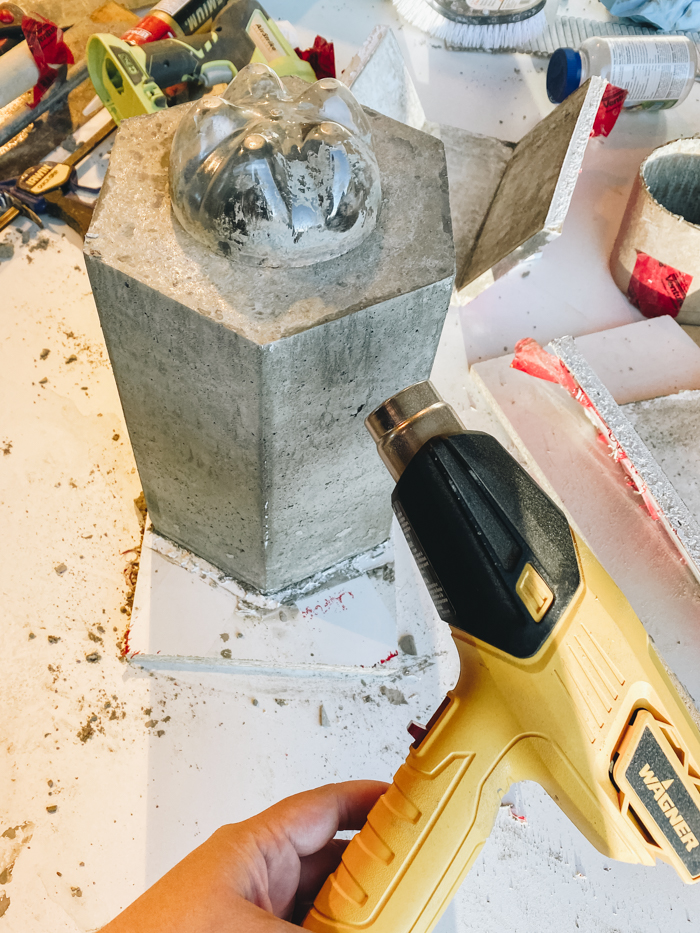 Now comes the really magical part! The easiest way to remove all of those plastic containers? With a heat gun of course! We used the Wagner Furno 300, and it worked so well on all of our thin plastics!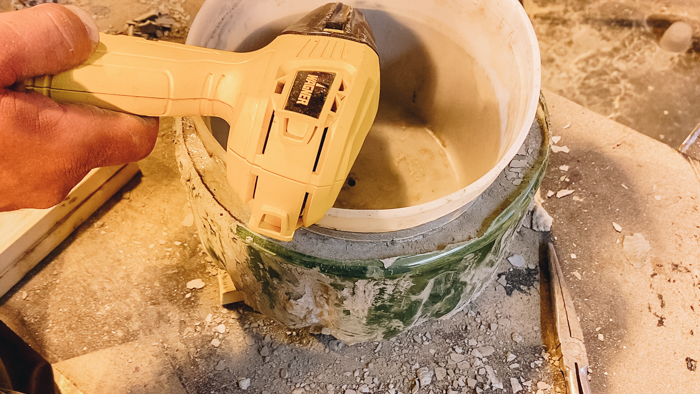 Simply point your heat gun at the plastic, allow it to warm up, and then gently move it out of place. Some of the deeper plastic may require you to actually put the heat gun right down into the molds.
Also make sure to work in a well ventilated area any time that you are melting plastics.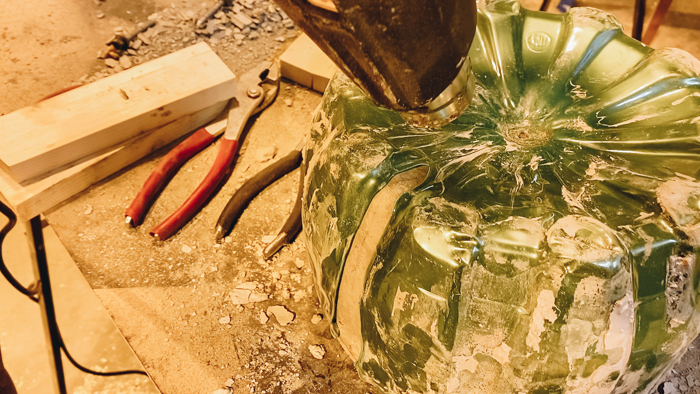 When removing some of the plastic with irregular shapes, we found the best way to use the heat gun was to score the plastic first, and then apply heat to the scored section. The heat naturally moved to the weakest point and opened up the plastic without any effort at all!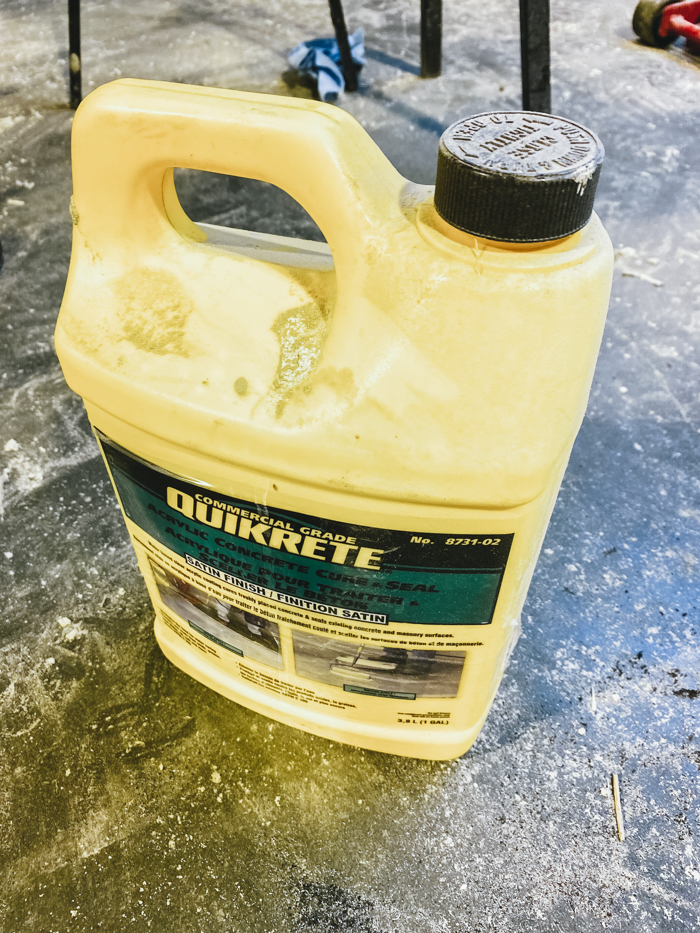 How do you seal concrete planters?
Finally, if you want to seal your concrete creations before putting them outdoors, you can use a concrete sealer like this one! We used this sealer when we made our DIY Concrete Soap Dishes (which would clearly see a lot of moisture!) and it worked great!
Our Finished Concrete Planters
The concrete planters turned out beautifully! These designs are so fun and creative. We've already had people assuming we bought them, and then asking how we could have made them!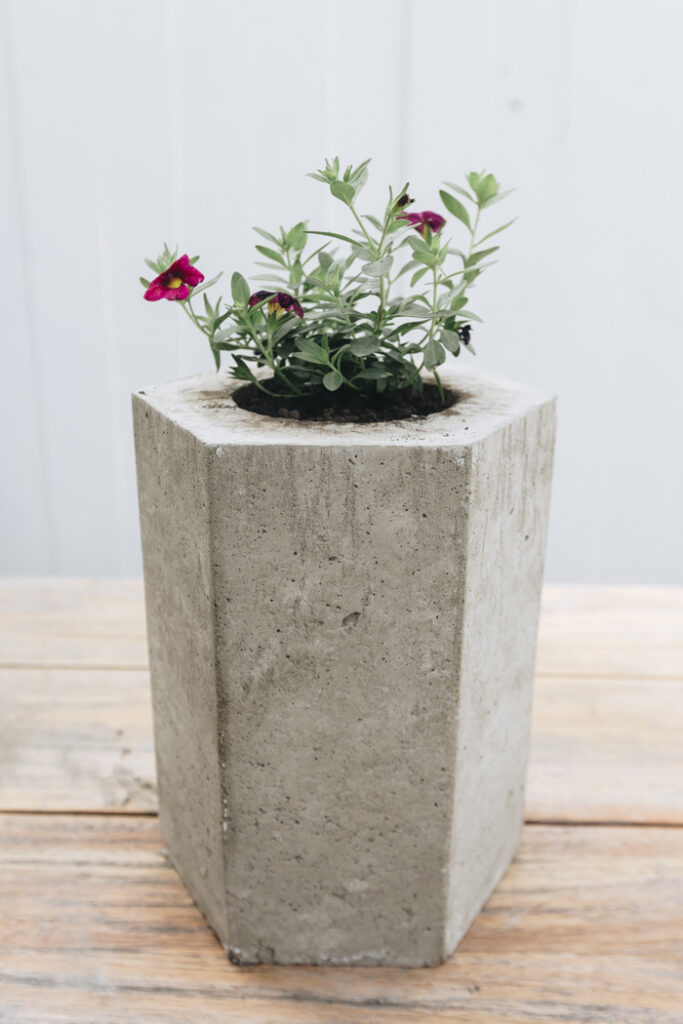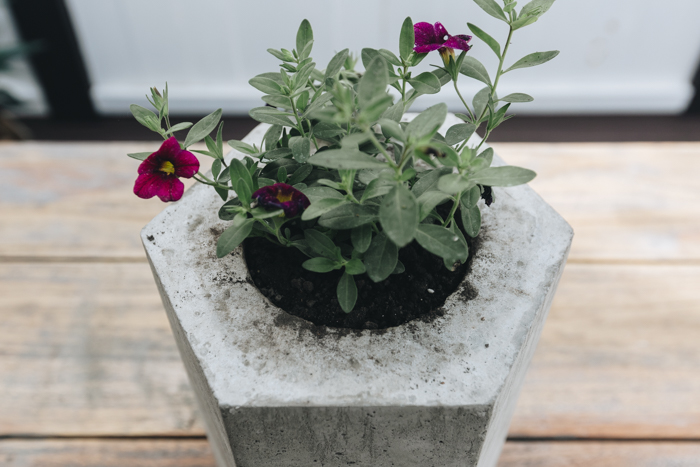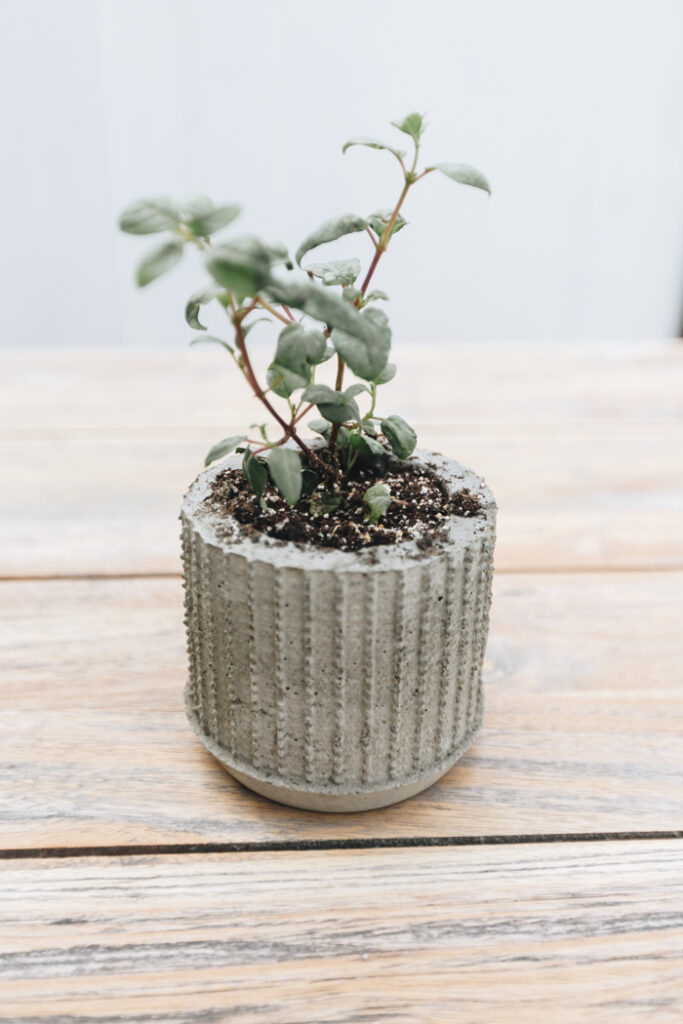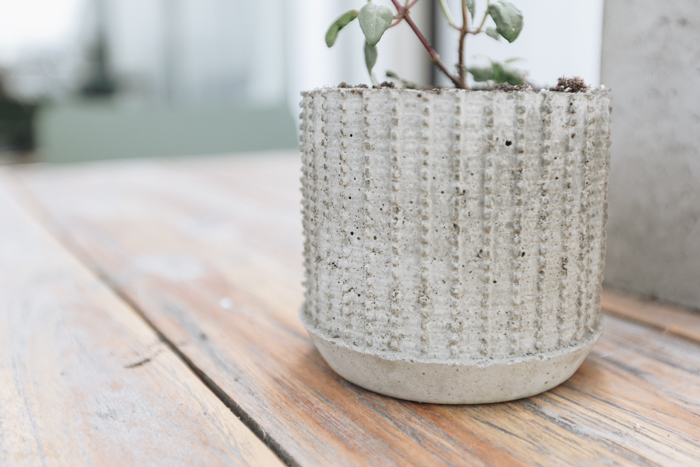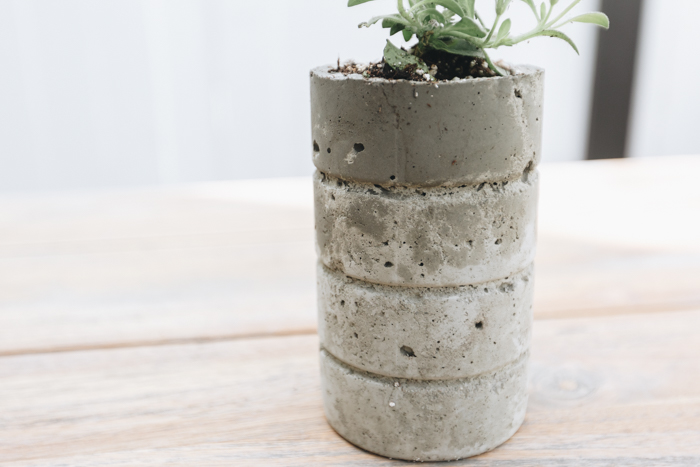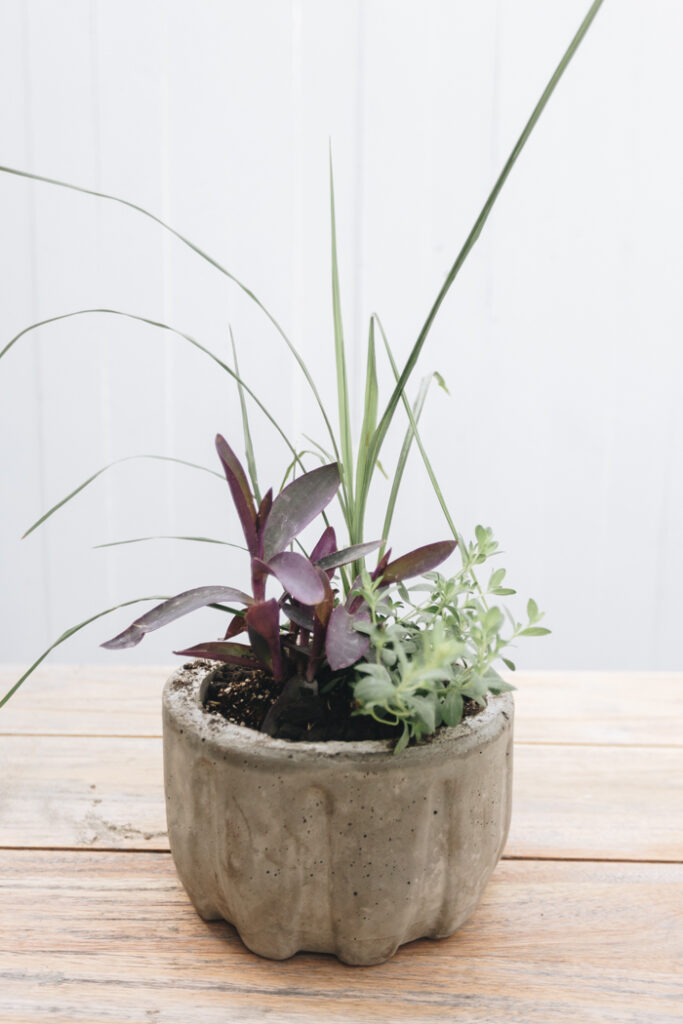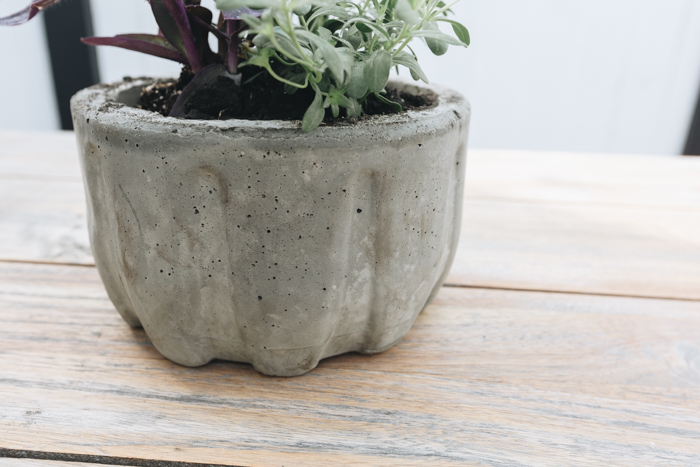 DIY Concrete Planters
Yield:
As many as you want
Total Time:
5 days
1 hour
Easy DIY Concrete Planters! Learn how to make your own easy concrete planters with these DIY cement molds that you can make at home.
Materials
Concrete Mix
Water
Melamine
Plastic Containers
Tuck Tape
Concrete Sealant
WD-40
Tools
Heat Gun
Drill
Table saw (for melamine)
Sander (optional)
Instructions
Find a plastic container to use for your outer container or create a mold using melamine by following the instructions below.
Find a smaller plastic container to put inside and act as the bowl for your concrete planter.
Using your drill attach a screw through the bottom of your planter outer mold, and through the bottom of your inner mold. This will hold in the inner plastic in place, and also create a drainage hole for water when you remove the screw afterwards.
Mix concrete according to the bag directions.
Spray concrete molds with WD-40.
Add concrete between inner and outer concrete mold.
Use sander to gently vibrate against the planter and release any air bubbles.
Let planters sit as per concrete mix instructions.
When ready release concrete planters from molds by using your Wagner Furno 300 Heat Gun to melt the plastic containers and remove the screw from the bottom of the planter
Seal your planters with concrete sealant, if desired.
Fill with beautiful plants and enjoy!
Recommended Products
As an Amazon Associate and member of other affiliate programs, I earn from qualifying purchases.
Next up, we need to try our hand at some concrete countertops! Is there anything new you want to try with concrete?
If you like outdoor planters, you might like this large DIY outdoor planter!