How to get your house ready to sell quickly and for top dollar! This ultimate checklist will get your home ready for the market.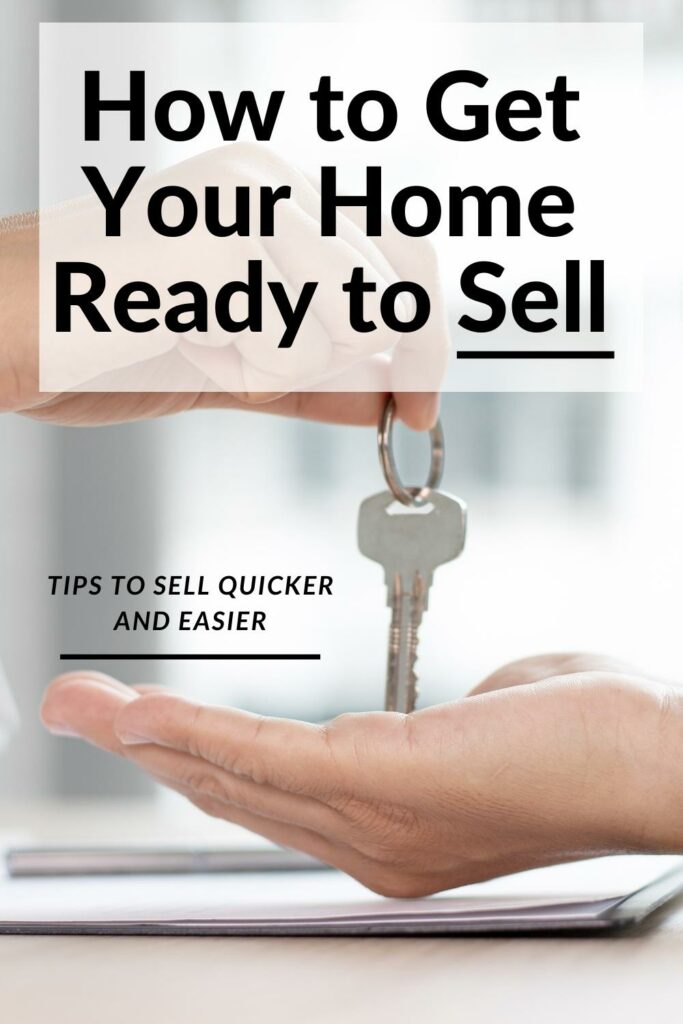 Selling your home can be an intimidating and stressful process, believe us we are in the middle of it! To help this process we came up with a "How to Get Your House Ready to Sell" checklist to help get your home ready for potential buyers.
*This post was sponsored by Schlage and may contain affiliate links. As always, opinions are 100% our own. For more information, please see our disclosure page.*
As we were finishing off the final projects in our home and deciding to sell, we decided to replace some outdated and damaged hallway doors and handles on our main floor.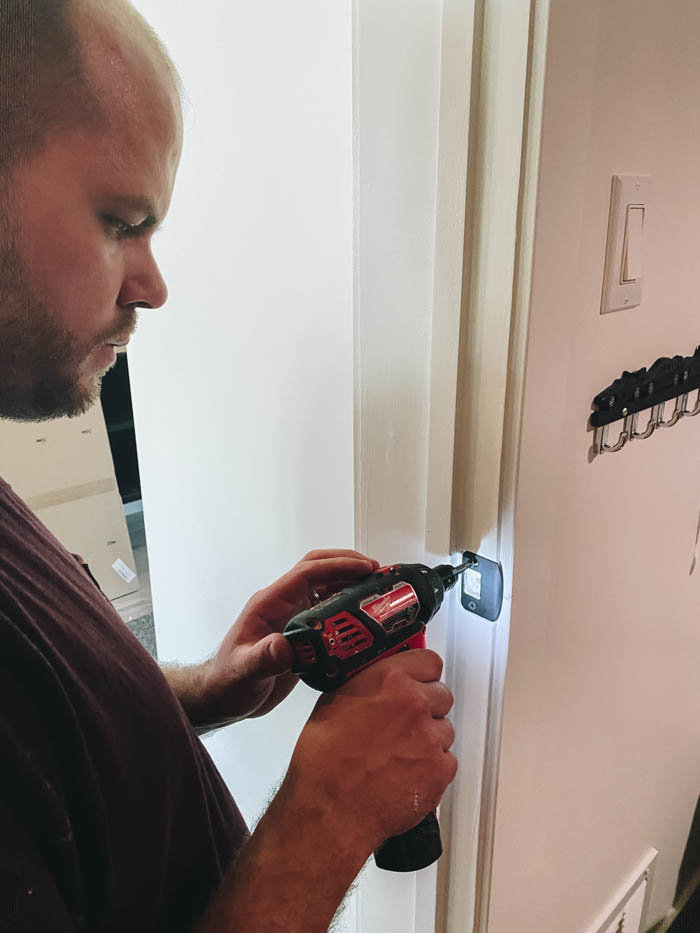 We teamed up with Schlage to match the hardware that we had used in the upstairs hallway of our home. We used Schlage's custom Latitude lever with Kinsler trim handle set and 3.5″ round hinges in matte black to finish off our new main floor slab doors.
The update made a huge difference in our hallway, and we knew would make a big impact when we went to list the home. As we were tackling this first project, we started thinking about all of the things that typically should be done by homeowners when to get the best return and fastest results on their house sale.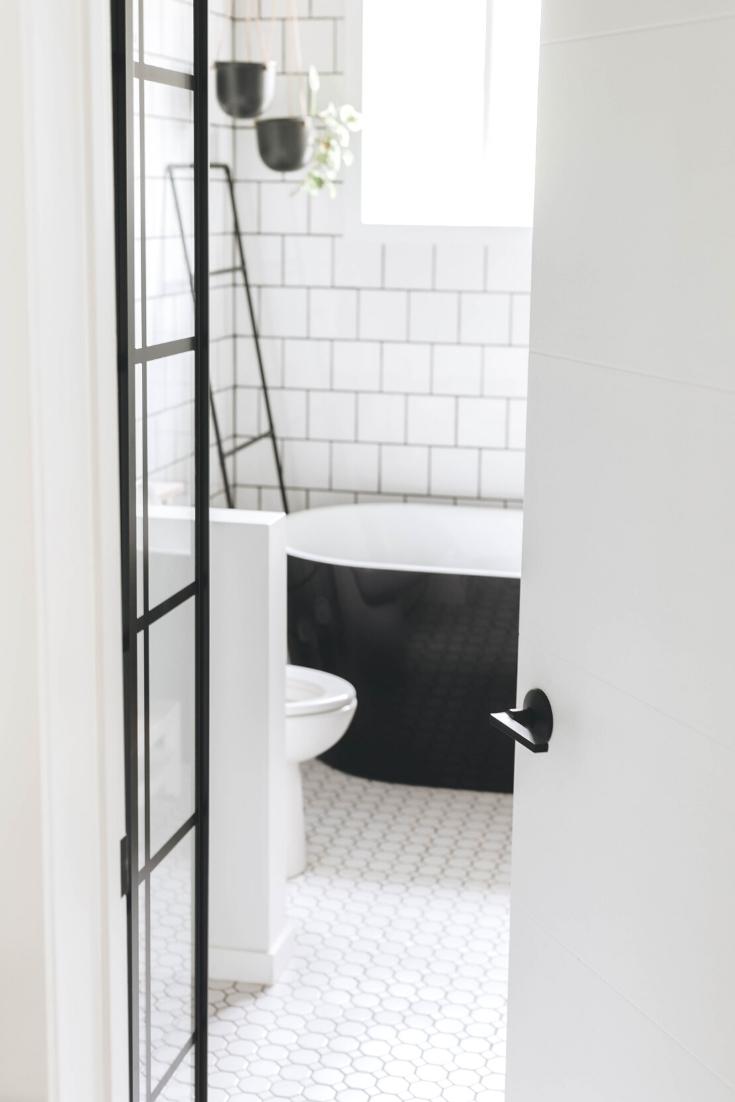 We listed all of these projects, enlisted the help of some realtors for extra input, and we actually put all of these projects in action to get our own home prepped to sell. A full checklist of suggestions for "how to get your house ready to sell" is included at the end of this post for anyone interested in downloading a copy.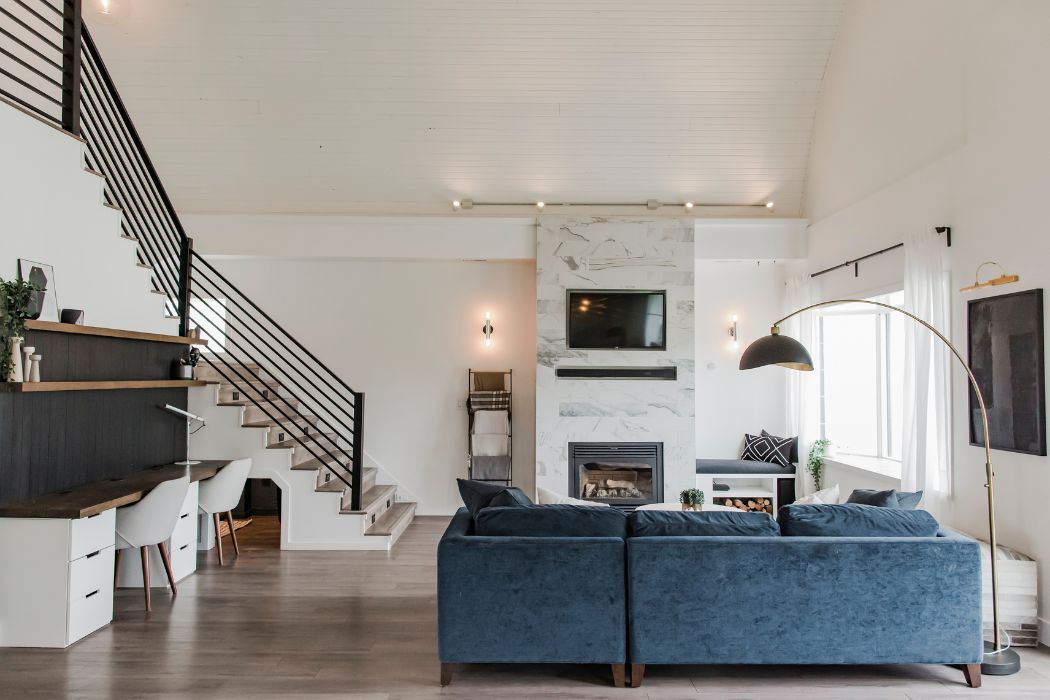 INTERIOR PROJECTS
DEEP CLEAN
You will want to go through the entire house and do a deep clean. We are talking getting into all those corners and spots that your normal house clean wouldn't address. You will want to dust any open shelving, blinds, art pieces (frames, sculptures, vases, etc). You will want to clean all your vent covers, air returns, or base board heaters to make them look clean and fresh.
Wipe down and wash all your switch plates and doorknobs to remove any dirt or finger prints. The last thing you want the people looking at your home to see is greasy or dirty finger prints all over as they go through the house.
WALLS
You want people to be able to visualize the home as their's as they walk through the space. So we removed most of personal photos on our walls and filled any nail/screw holes as required. We have a great post here where we share a quick and easy way to cover all those little holes.
We also went through the house and whipped down all our walls. Especially in high traffic areas or areas where kids and pets frequently pass through.
BASEBOARDS
Giving your baseboards a quick refresh will always help your home present better. We went through the entire house and checked for any areas that required to be re-caulked or touched up with paint. We did a full blog post here on updating the trim but you could also reference it to see the best way to caulk and paint trim
PAINTING
One of the first things you hear when people ask how to get your house ready to sell is repainting rooms. For good reason because fresh paint can make a big difference on how a room shows.
Our entry is a high traffic area, so we decided to give it a quick coat of paint. You want to take a look at your entire home and consider giving a fresh coat of paint to any walls, ceilings, that may look dirty/faded or yellowed.
Depending of you cabinets finishes, you may also want to consider touching up any blemishes or marks. As well touch up any marks/dings on your interior doors or closet doors.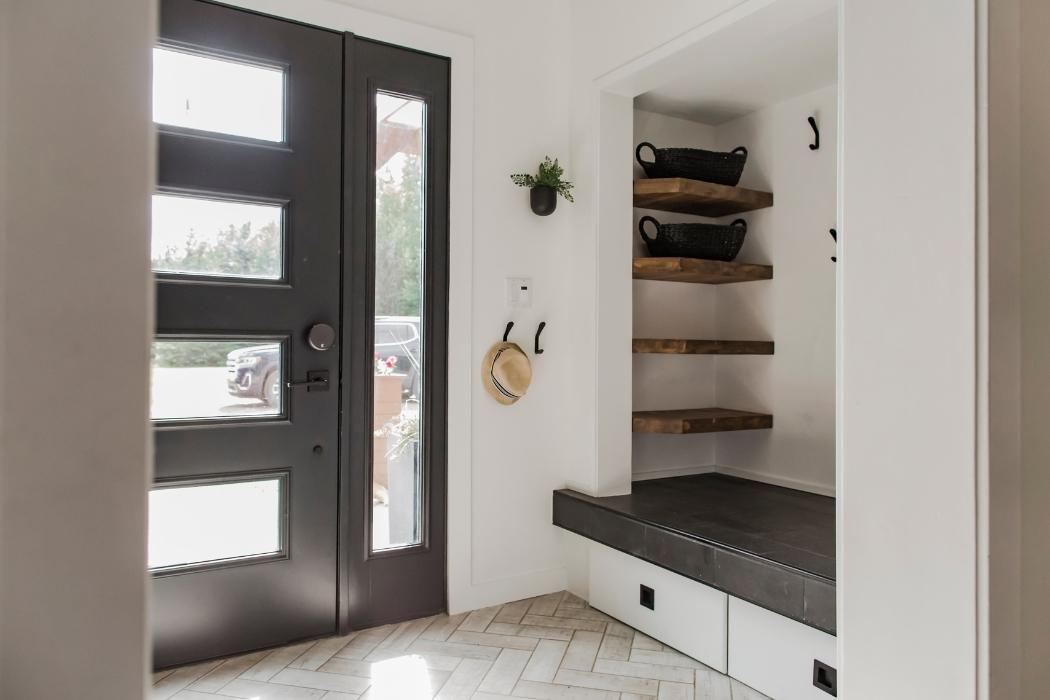 CLOSETS (Entry, Bedroom, Linen, etc.)
When it comes to closets you want to make the space appear as big as possible. Try to declutter until 50% of the space is empty with nothing on floors. You can purge, pack away, or donate the extra items. You want everyone coming into your home to envision ample space for all of their things.
COUNTERTOPS
The more open your countertops are the bigger the space will feel. Declutter all the items like toasters, knife blocks, cooking utensils, etc. Remove any personal items and knick knacks, again you want the potential buyer to be albe to visualize the space as their own. Check along your counter top, sink, back splash and re-caulk any silicone where needed
DRESSERS, VANITIES & CABINETS
For any of your Dressers, vanities, and cabinets you main goal is to declutter. Remove as much as possible on the interior and exterior of these pieces. You want to leave as little as possible visible as it will make rooms appear larger and more open.
FRIDGE, FREEZER, & PANTRY
Make sure your fridge, freezer, and pantry are organized, decluttered, and wash all their surfaces. Toss any expired food – speaking hypothetically of course 😬 .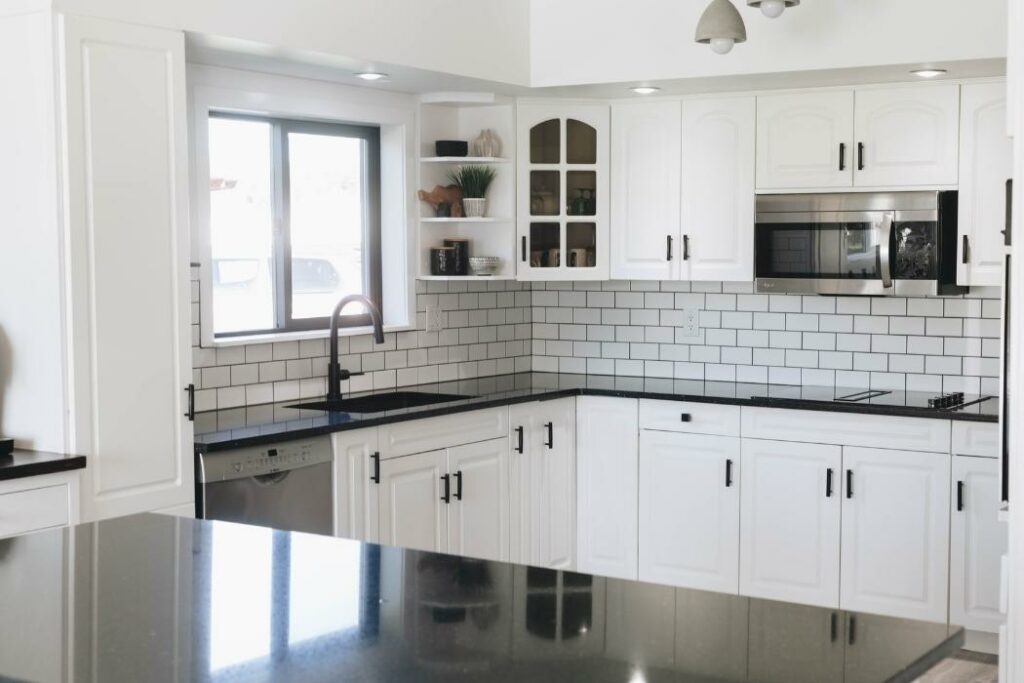 KITCHEN
Clean visible appliances (e.g. oven, microwave, etc.). If you have stainless steel appliances you want to make sure any finger prints are removed, we use this great cleaner to get out appliances looking like new. Or if you have a glass cook top you will want to ensure it is clean and polished, this cleaning kit works great and gives it a nice shiny look!
Wipe down all your cabinets and drawers (inside and out) to ensure all finger prints, any food spills, or crumbs are all removed.
LINENS
Launder and freshen up curtains, bed linens, etc. If you have bedding that has seen better days (i.e. worn or has holes), consider investing in some new linens. IKEA has very affordable options for a quick update.
Put fresh linens out in kitchens & bathrooms as well, and try to avoid stained or ragged ones. Remove any excess towels or cloths from bathrooms so that they don't take away from the overall look and cleanliness of the space.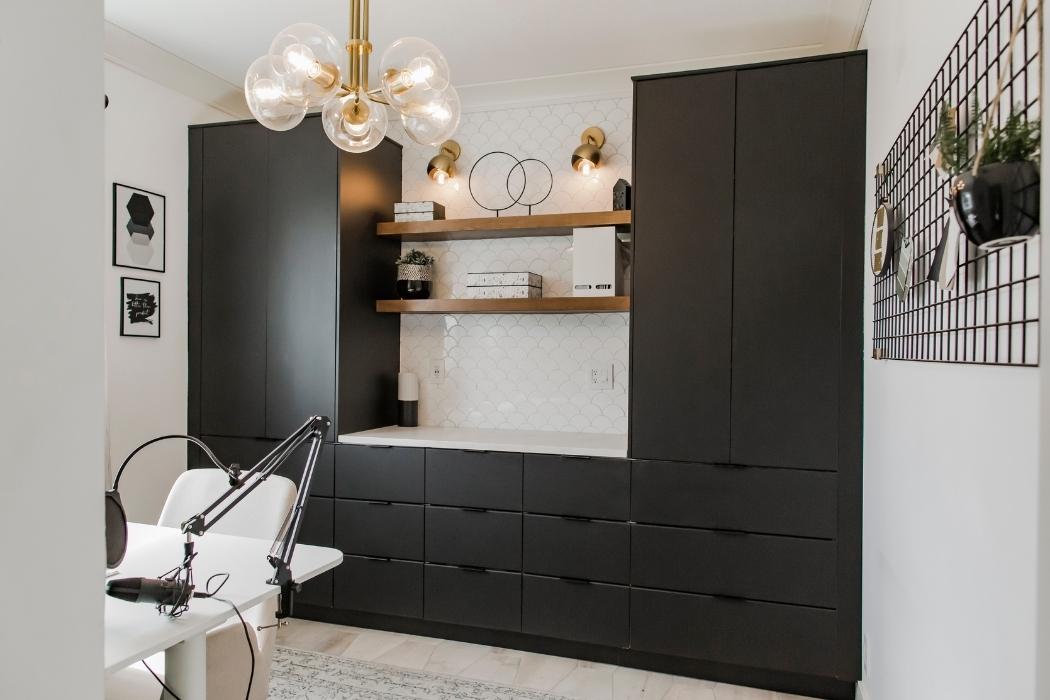 STORAGE AREAS
Any of your storage areas you will want to try and declutter until 50% empty (showing off the potential storage). Remove extra storage bins, baskets, hampers, etc through out your home.
LIGHTING
Dust or clean all light fixtures & replace bulbs if needed. Generally all lights are on when homes are shown and the light can expose the dusty surfaces.
FIX MINOR REPAIRS/UPDATES
You don't want to people to come into your home and see anything right off the bat that needs repairs. Make sure that any leaky faucets, squeaky doors, doors/windows that don't open or close are repaired and are functioning properly before showing your home.
You may also want to consider updating hardware to ensure a cohesive look through out your home. Previously we had updated our hollow core doors in the upstair area of our home. But we never matched the doors or hardware on our main floor.
We teamed up with Schlage to finish off our main floor hallway area to match the aesthetic we had completed in the upstairs area of our home. We used Schlage's custom Latitude lever with Kinsler trim handle set and 3.5″ round hinges in matt black to finish off our new main floor slab doors. We did a full blog post here on updating the trim in this space as well. We have also done a post on how to install a slab door here if you need to install any new doors.
We are so happy with how this update turned out. It was a relatively quick and easy DIY and really gave a fresh and cohesive look to one of the first spaces you see when you walk into our home.
FILTERS
This is quick and easy, but we like to ensure all our filters are replaced and new. It may not come up in initial showings but once you get serious buyers and home inspections it is good to have all these filters clean and fresh. Filters you will want to replace are for your furnace, water systems, air filtration systems, etc.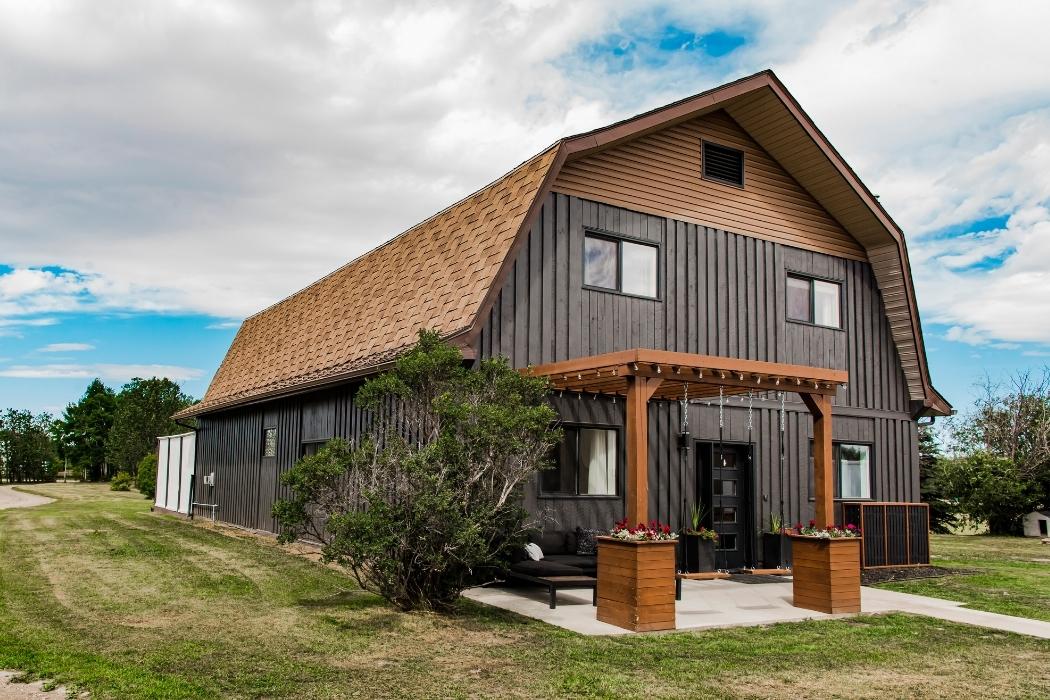 EXTERIOR PROJECTS
CURB APPEAL
If you're wondering how to get your house ready to sell, the first impression is one of the most important! Do what you can to add curb appeal! This can include adding fresh flowers, cleaning or painting the front door, cleaning the mailbox, replacing welcome mat, etc.
WINDOWS
We want all of our guests to have a great view into the house and out of it. Clean windows, screens, & window ledges inside and out as needed to make sure everything is clear. Re-caulk exterior windows as required to ensure everything is weather tight.
CLEAN SURFACES
You can clean or pressure wash patios, decks, walkways, and garage doors. Making sure all pathways and clear and allow for easy access around and to your home.
LANDSCAPING
Mow lawns, weed eating around structures, you want everything to look well maintained. Weed and freshly mulch gardens, consider adding fresh flowers or planters to the entrance of your home.
Declutter outdoor toys, equipment, planters or patio furniture. You want all the spaces to appear large.
HOUSE MAINTENANCE
Complete any minor repairs and maintenance issues (broken windows, torn screens, empty gutters your gutters, fix weather stripping, change lightbulbs, etc). If you have a Septic tank or well, ensure its routine maintenance is up-to-date.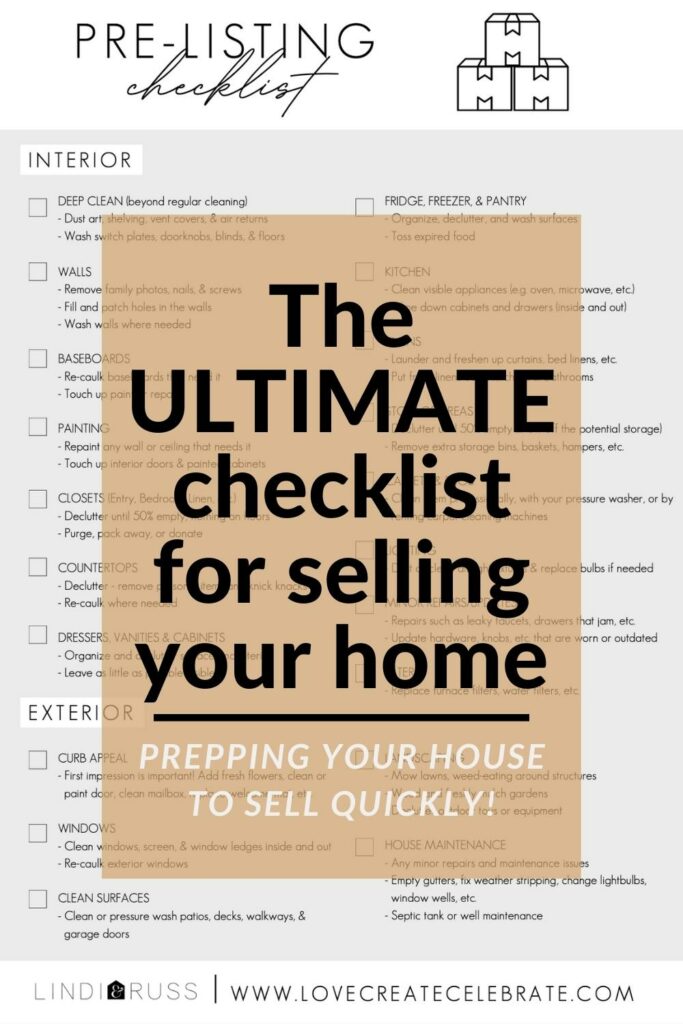 Selling Your Home Checklist
We completed this whole list on our home within two weeks. It's a commitment of time, but it's worth it to get the amazing feedback, and help sell your home as quickly as possible!
Enter your name below a downloadable "How to Get Your House Ready to Sell" checklist to help make the process even faster and easier. It's available for free to all of our newsletter subscribers:
Hopefully the above helps you with getting your home ready to list. If you complete each task step-by-step the whole process it isn't as intimidating. If you have any items or suggestion we may have missed be sure to put them in the comments below!