Love these beautiful modern Christmas decorating ideas! Beautiful, classic decor for the kitchen, dining room, and coffee bar.
Are you one of the decorate-every-room-in-the-house types? A bit in every bathroom, a little something on every surface? I'm not quite in every room, but I'm pretty darn close!
I love touches of Christmas everywhere, as long as it's not excessive. I'm going to show you some of my favourite Modern decorating ideas for the dining room, kitchen, and coffee bar. Ways to make the spaces festive, without overdoing the decorations!
*This post was sponsored by Kitchen Stuff Plus and may contain affiliate links. As always, opinions are 100% my own. For more, see disclosure page.*
Modern Christmas Decorating Ideas for the Dining Room
The decorations in the dining room are really minimal! I shared our main Christmas tree in the living room already, but we added a second Christmas tree in the dining room because a) I had one! and b) I love the glow that it adds behind the table while we eat.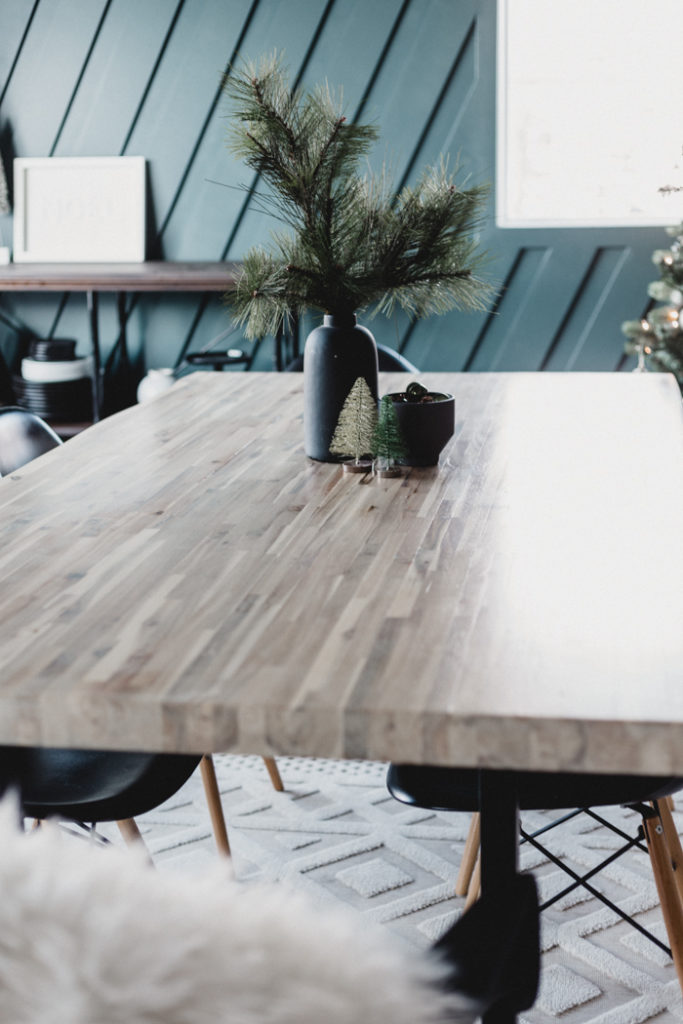 The centerpiece is simple, and non-breakable, lol. We have a toddler in the throws of trouble-making right now. Anything he can get, he will get!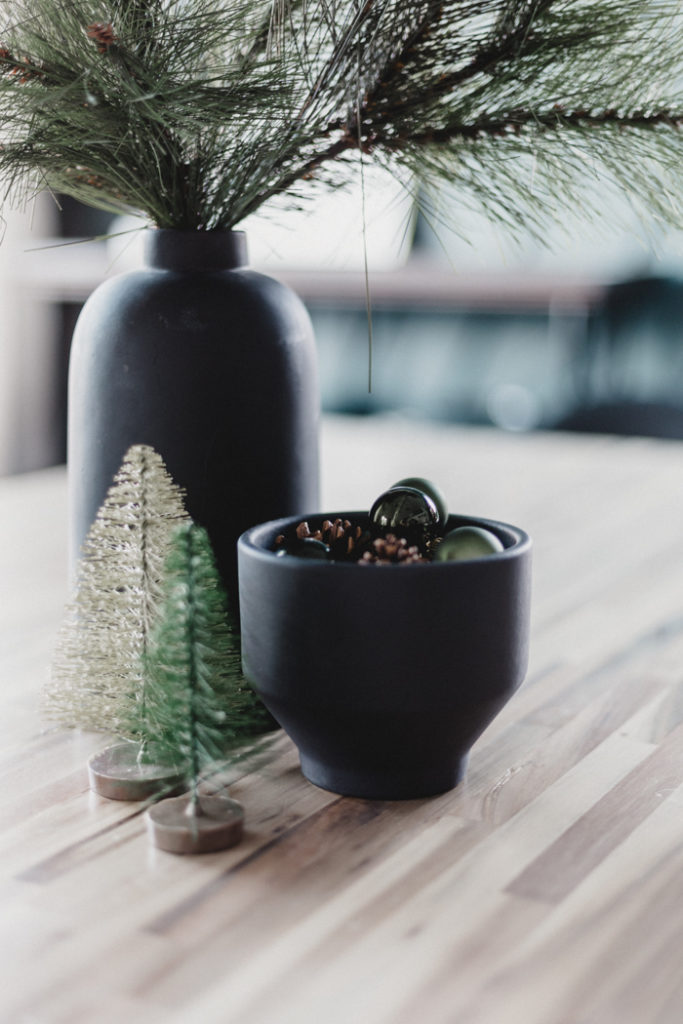 I love the little pot of ornaments and pinecones – it's a really simple way to brighten up the table!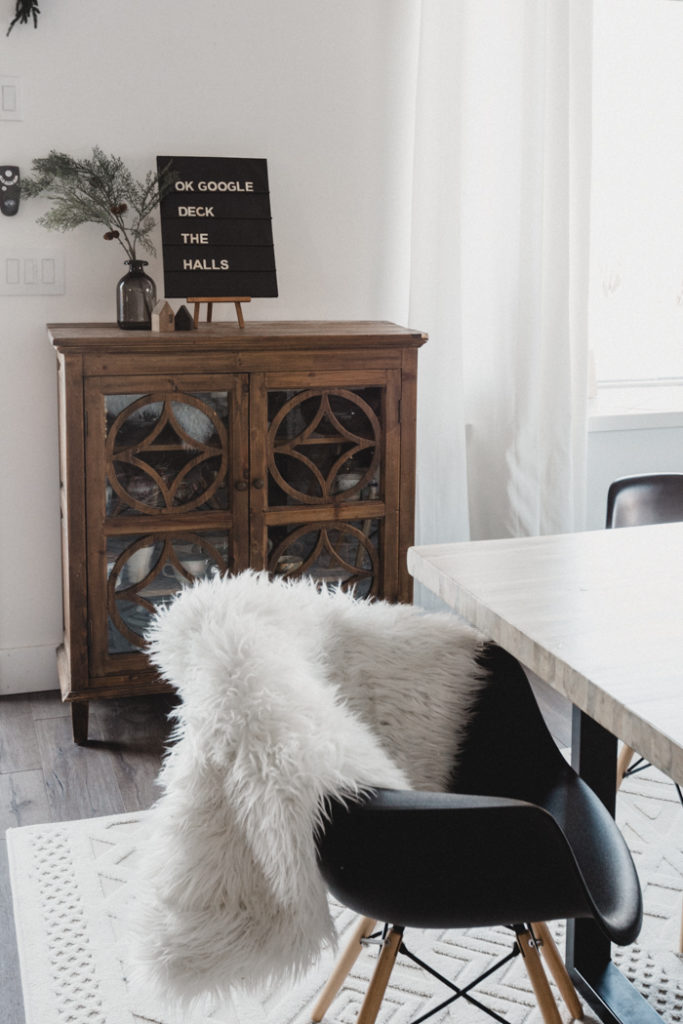 My DIY letterboard is on top of the buffet, with a couple little pieces of decor.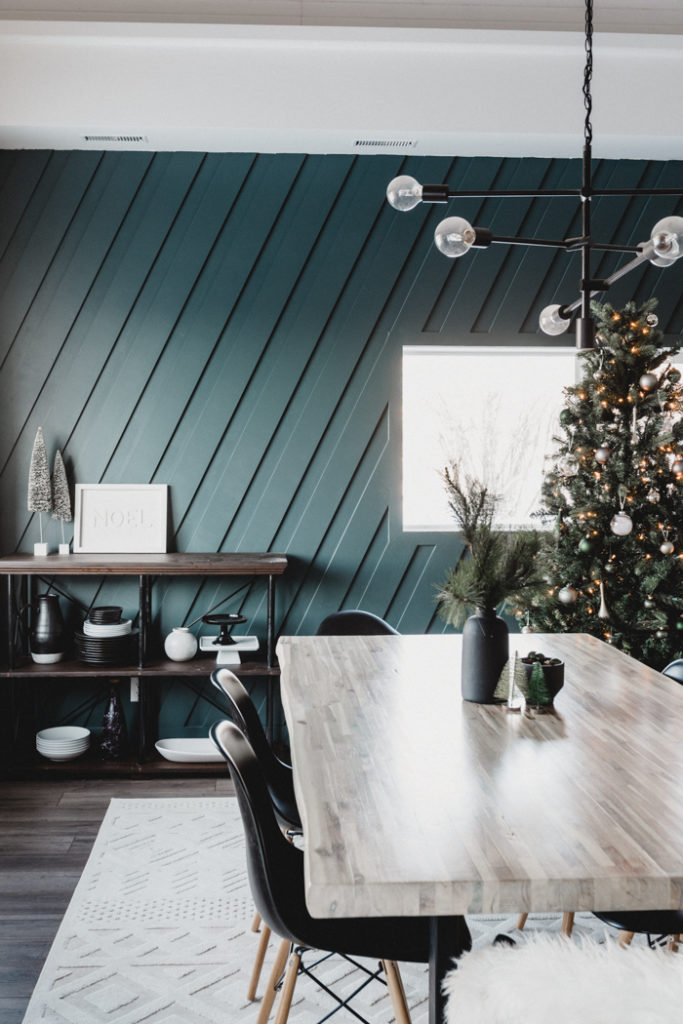 And a simple white sign that I made using dollar store supplies is on the other side.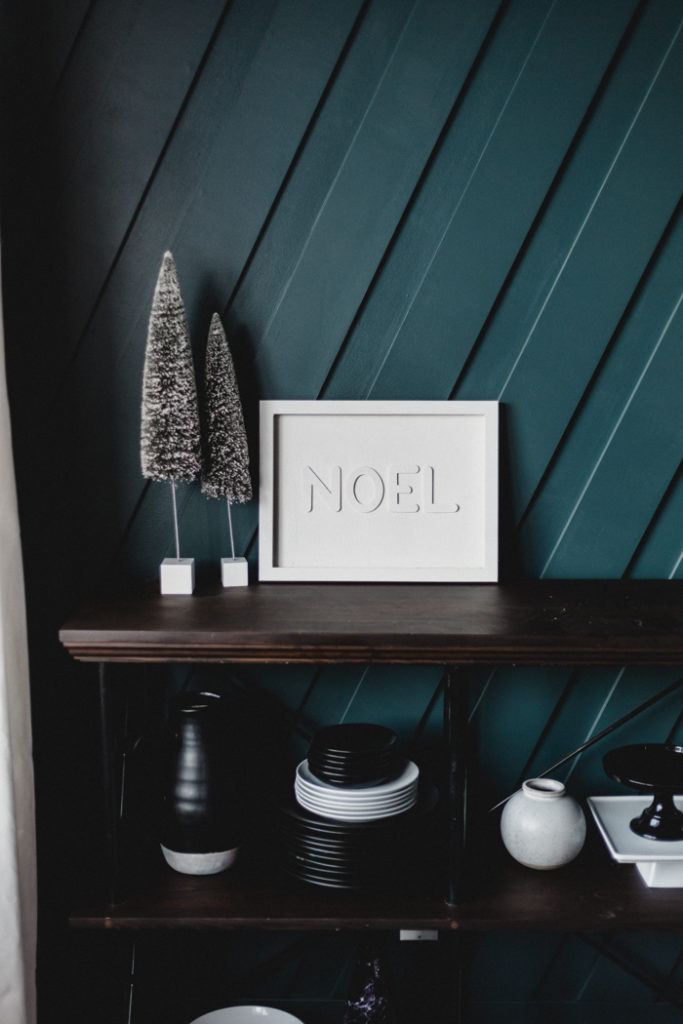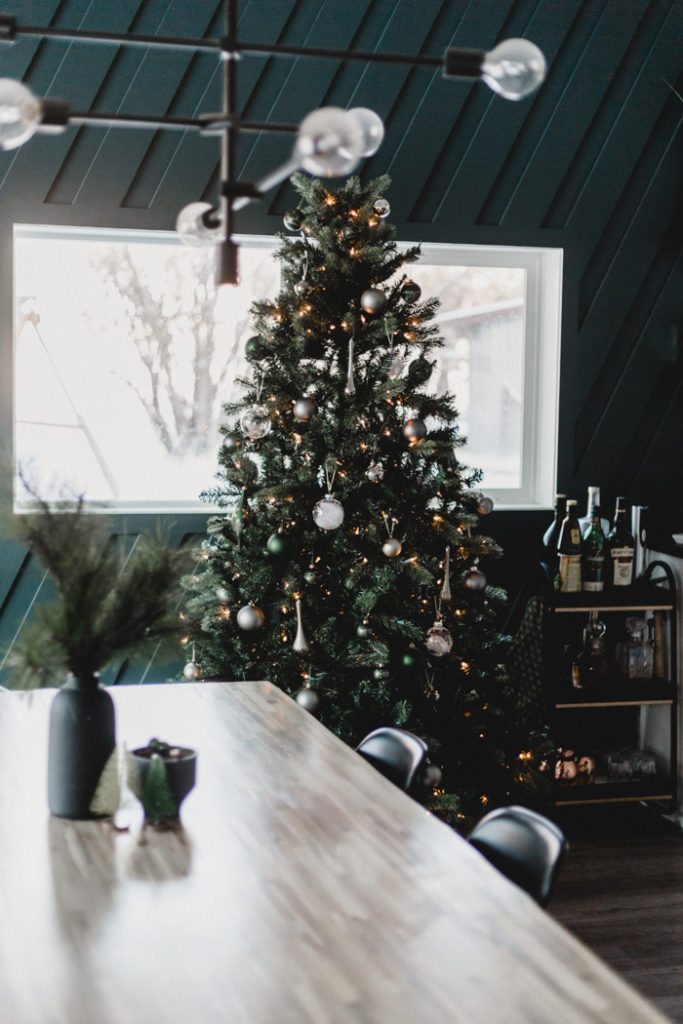 The dining room naturally flows into the coffee bar and kitchen, so I'll show you what we did in those spaces too!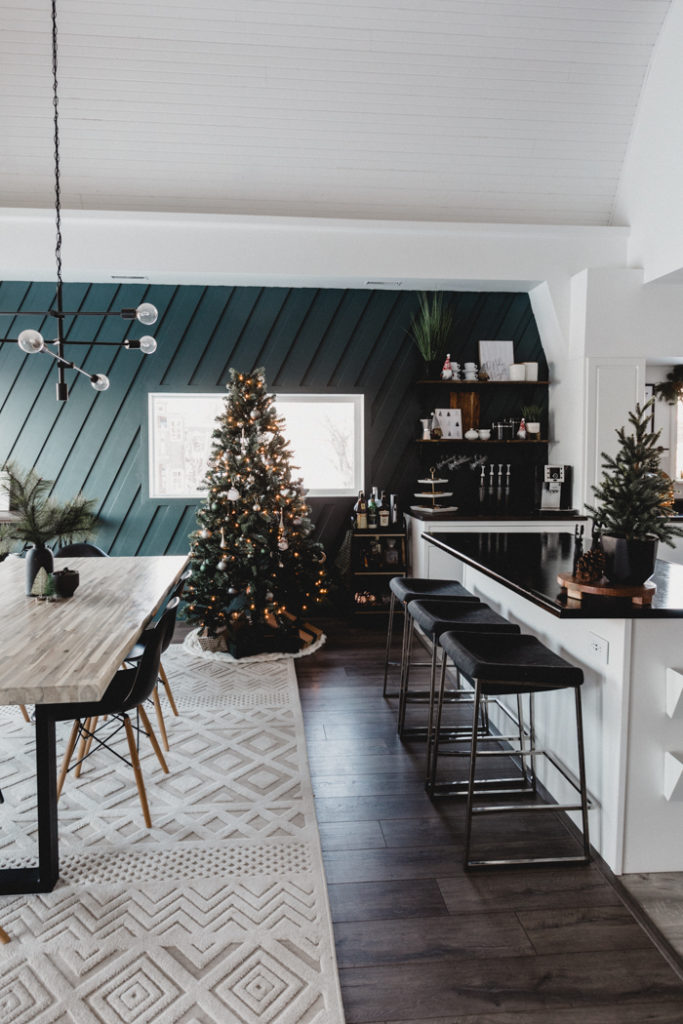 Styling Our Christmas Coffee Bar
We added in this simple coffee bar earlier this year. I love the extra shelves that I get to style. We are real coffee lovers here, so a good coffee bar has been an amazing addition to the kitchen!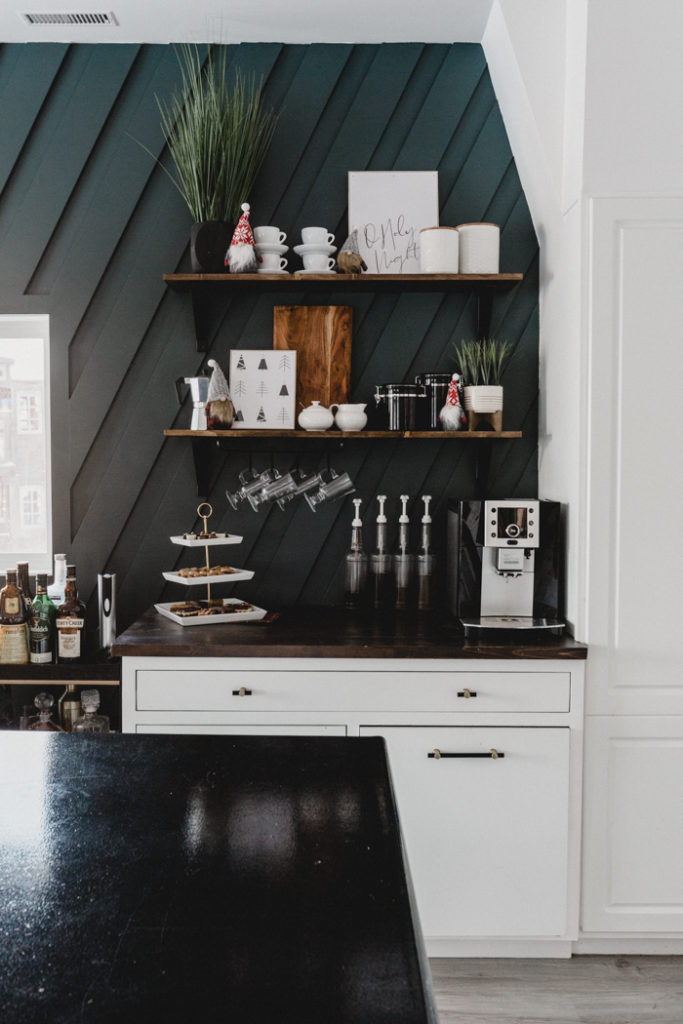 At the side of the coffee bar, is where our DIY bar cart rests. I added a few simple sprigs of greenery to the edges, and a holiday tea towel to the side to keep it looking festive!
I also added a brand new cordless wine bottle opener, which I cannot wait to put to good use at our Christmas party!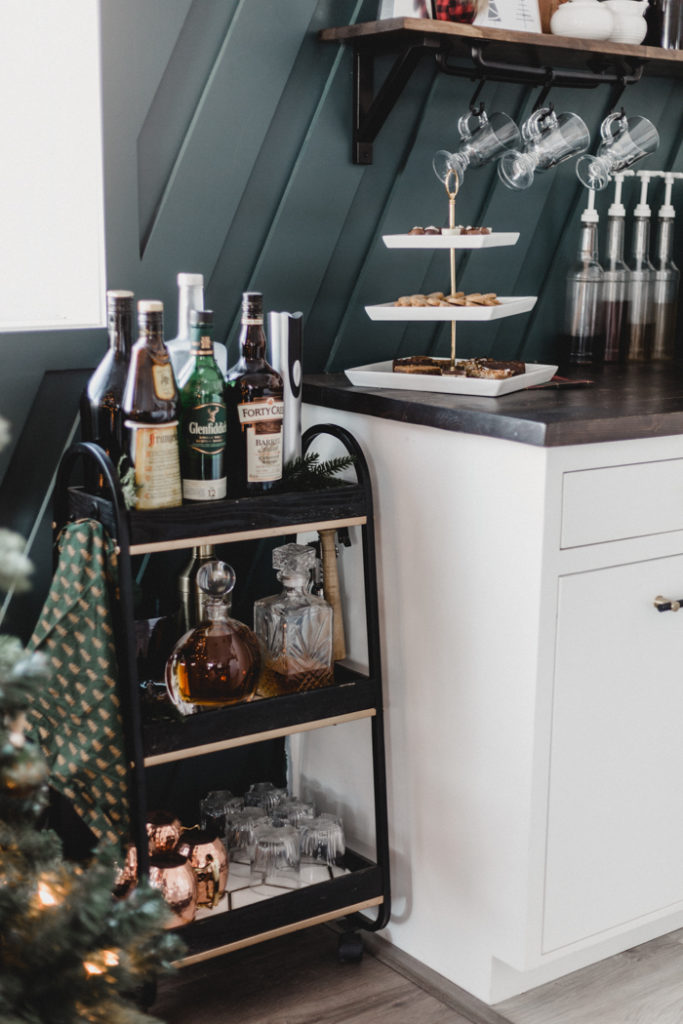 The middles shelves have some glasses, and a couple of stylish decanters. Nothing makes me feel more grown-up then using a decanter! lol.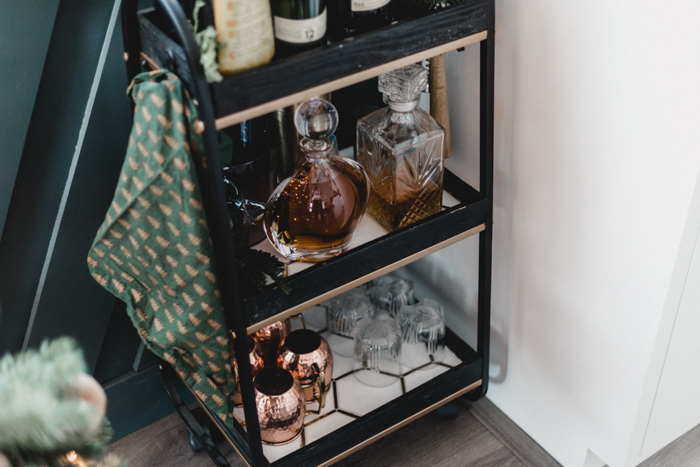 Stepping over to the coffee bar, I put a few holiday treats on display with our beautiful 3-tier tray, and placed a few paper napkins for our friends underneath.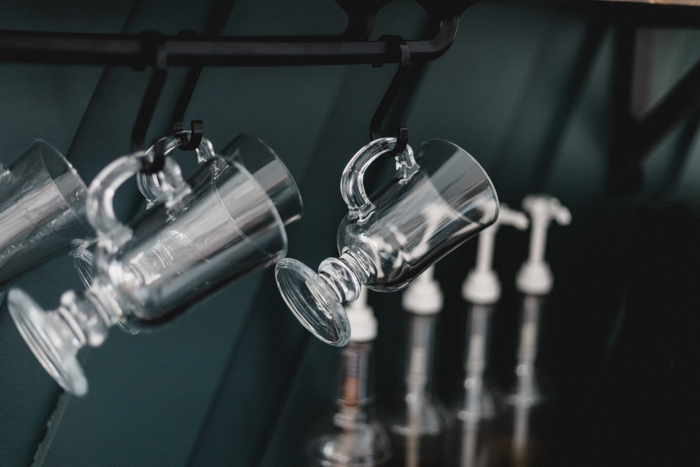 I switch out the hanging mugs because these tall glass Irish ones feel much more festive!
I also found the most adorable gnomes to place on the shelves and give a hint of that traditional Christmas red!
The art was switched out for the season too! I grabbed these printable versions, printed them, and put them in my frames for a fresh, seasonal touch!
Modern Christmas Decorating Ideas for the Kitchen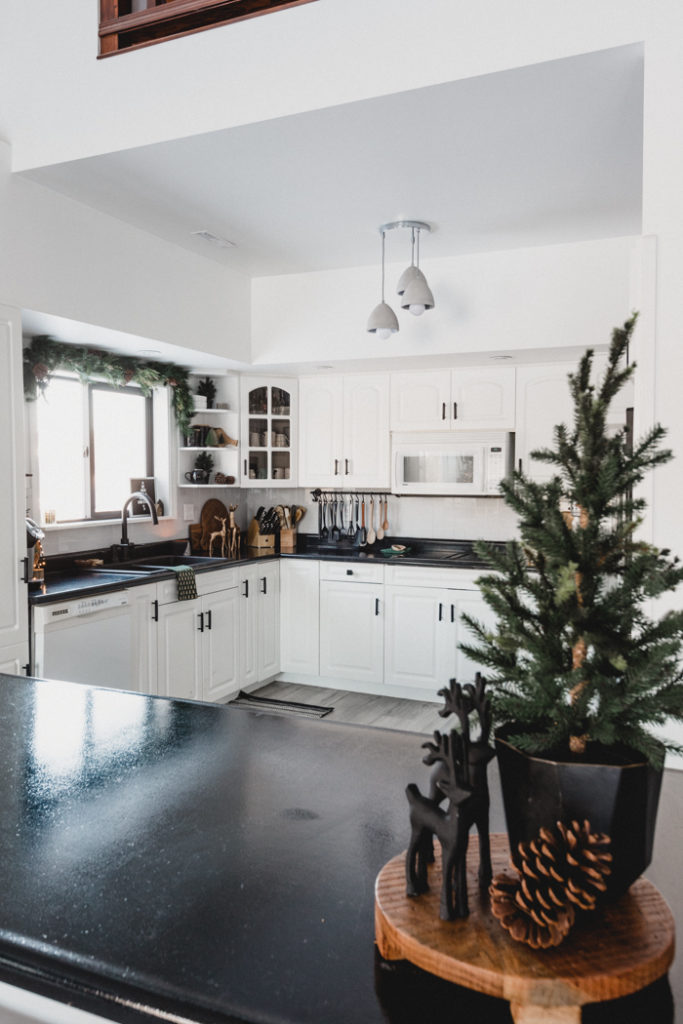 The kitchen is one of the most used rooms in our home! I say it every year, but the kitchen needs to stay functional, so I don't hide our every day items, and I keep the decor simple enough that we can work around it with ease. There are lots of great modern Christmas decorating ideas in here!
If you're looking for a quick pop of decor on your island, this simple wooden tray with greenery, reindeer, and a pinecone made the perfect vignette!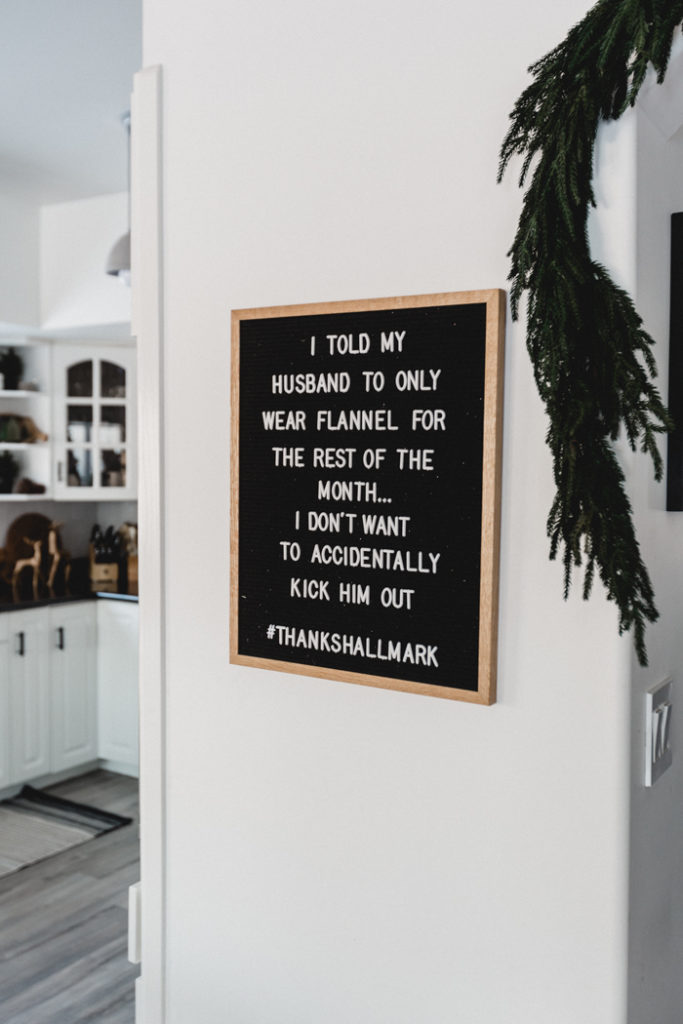 I switch up my letterboards all the time, lol. This one is a ode to the Hallmark holiday movies that have made me realize that men in suits just can't be trusted! LOL.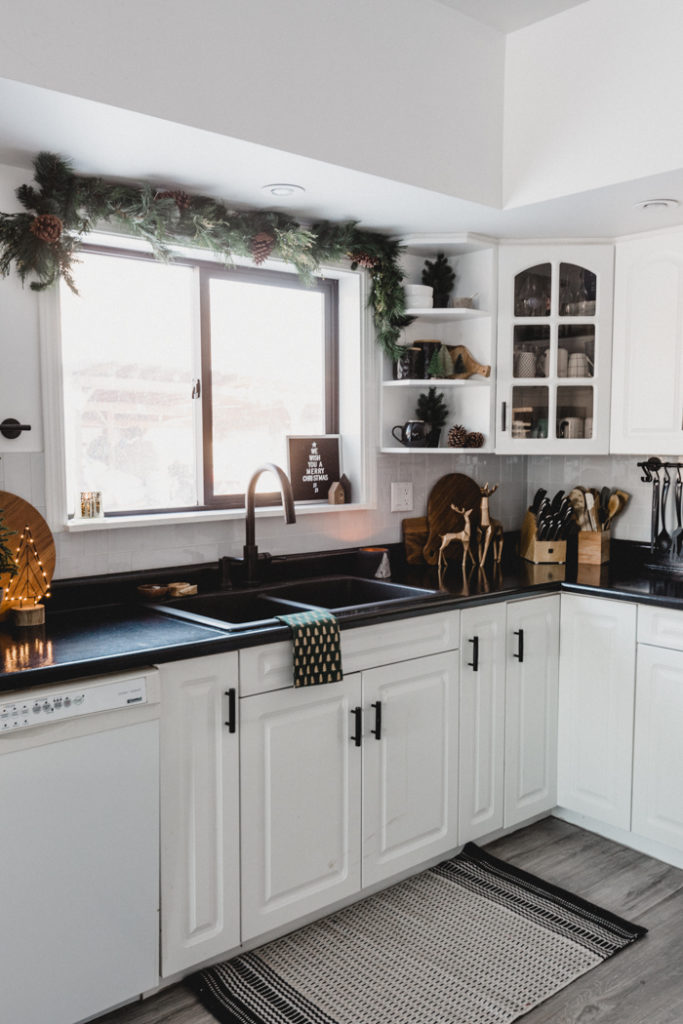 This is the first year that I wrapped the kitchen window with a garland and I love the way it turned out! The greenery really pops against the white trim and definitely adds a new festive touch to the kitchen.
On this side I swapped out my usual oven mitts for some holiday ones. Now that we have a coffee station, you'd think that we would remove the older coffee machine, but I still like to do my quick decaf cups in there! So it stays on the counter.
The little bit of decor on the side is framed by the cutting boards, which always make a great backdrop in the kitchen. We added some simple light up LED trees, which look really amazing at night when the kitchen is all dimmed!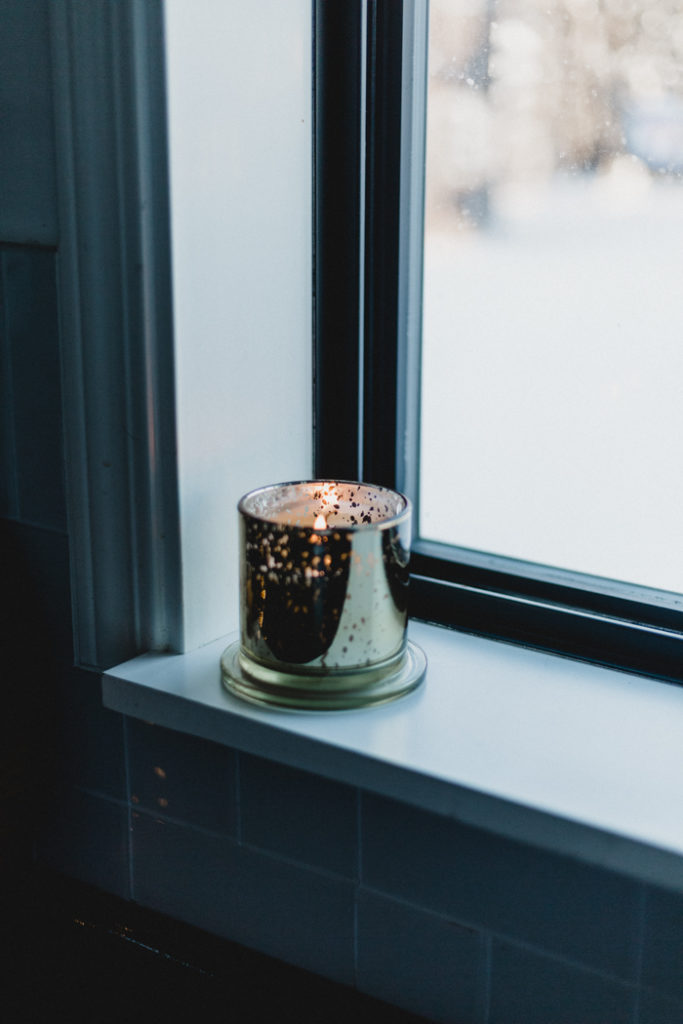 I put a single gold candle in the window sill (that smells amazing!).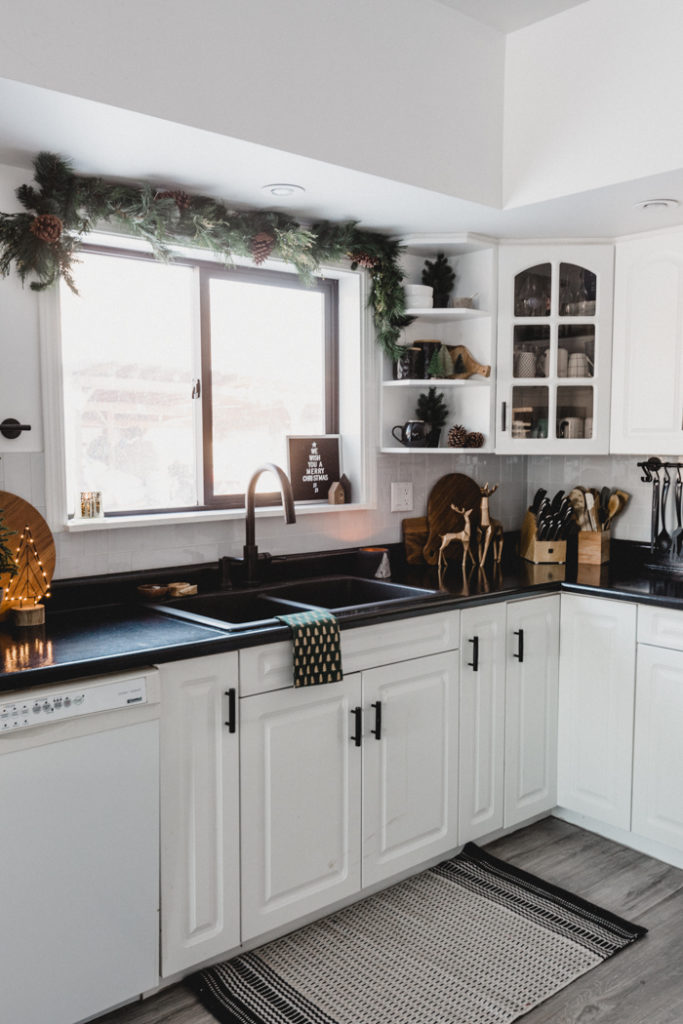 We only have one small set of open shelves in our kitchen, so you know I'm going to take advantage of that and show off some of my modern Christmas decorating ideas!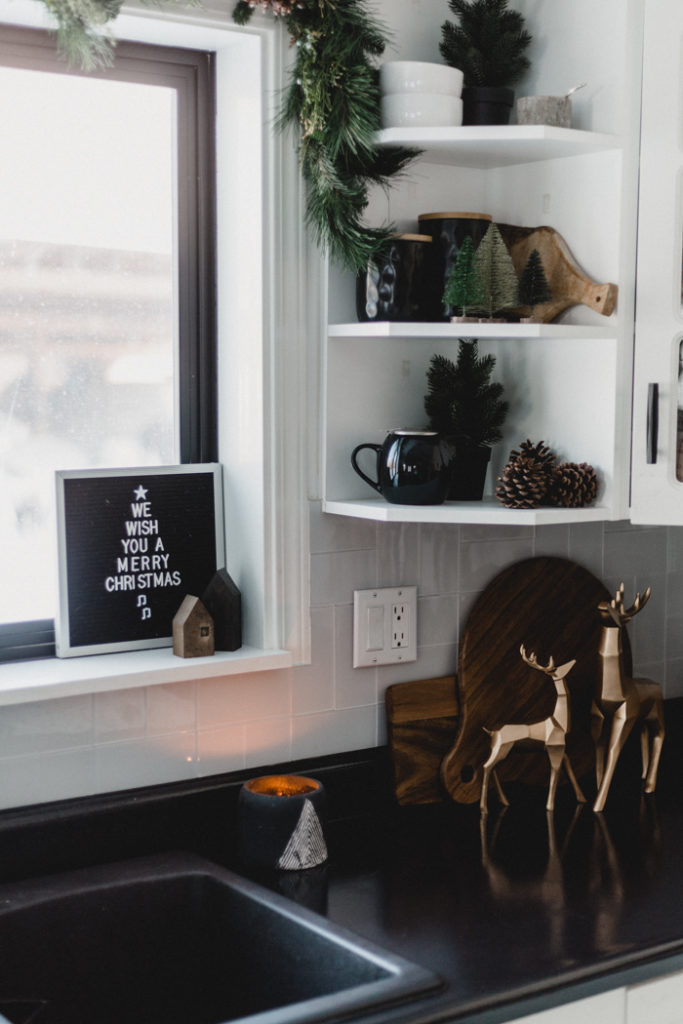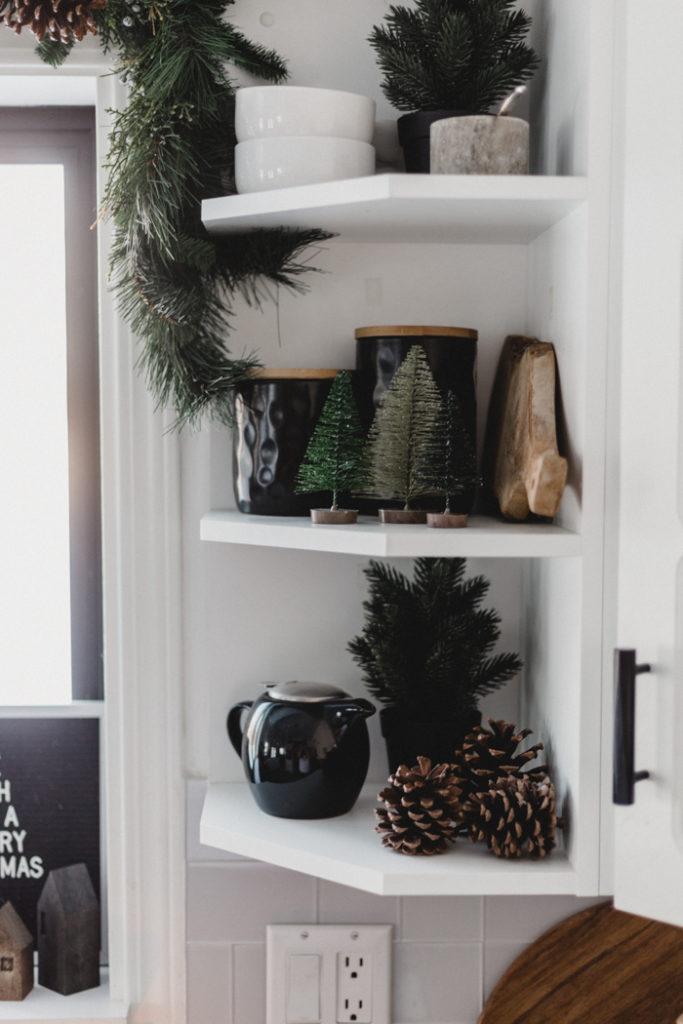 I also added another fun, festive letterboard. I was very proud of making this Christmas tree work perfectly! lol.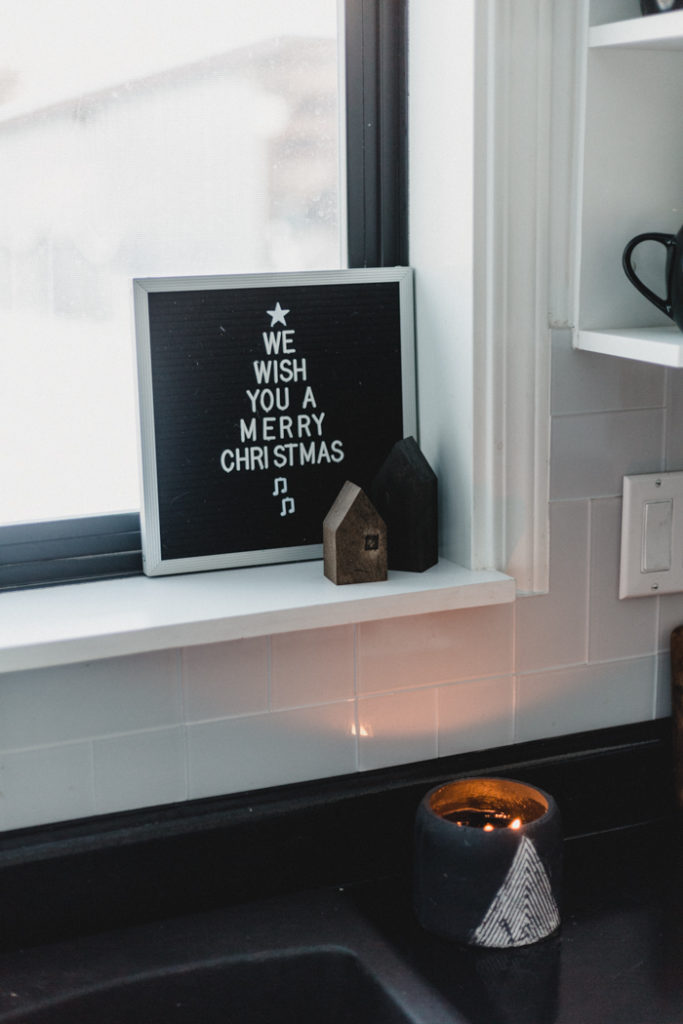 The countertop just needed a couple of decorations to keep the theme of the space and these gold geometric reindeer were perfect!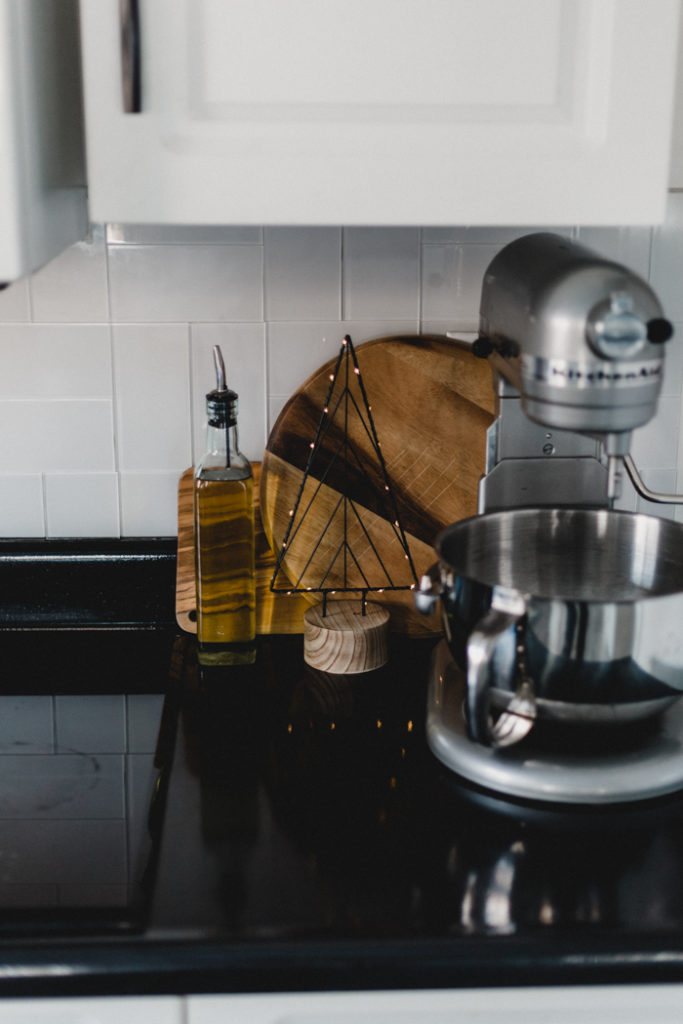 The final corner of the kitchen had another LED tree. It's amazing the difference that a simple tree can make in the overall feel of the space.
That's all for our home tour! I hope you were inspired by some of the beautiful modern Christmas decorating ideas!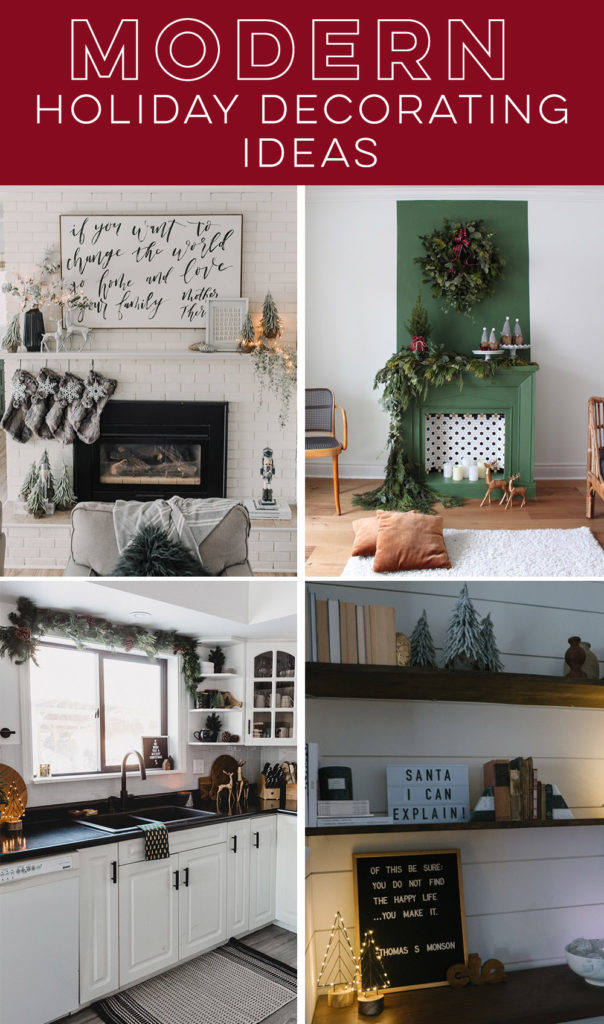 This post was part of our Modern Handmade Home series, which means that my friends are sharing some of their beautiful, modern decor! I'd love for you to check out what they did too!
Christmas mantel decor by Lemon Thistle
Christmas mantel decorating ideas by Harlow and Thistle
Christmas shelf styling by The Learner Observer
Thank you so much! I hope you enjoyed the tour! Don't forget to check out our holiday entry for more beautiful inspiration!