Love this cozy Christmas entry! Beautiful decor to inspire a foyer, entryway, or mudroom. Simple, modern design elements to decorate for the holidays!
Home tour season is here! I say it every year, but sharing our home tours, and seeing all of the different homes decorated for the holiday season is one of my favourite weeks as a blogger! I'm starting off our home tours with my cozy Christmas entry! It's the first room you see when you come into the home, so it's only fitting that my first home tour shows off this space.
I'm joining a walking Winter Wonderland Tour today! If you are visiting today from Meagan at Botanica and Bloom, then welcome! I'll share some of my home with you today, and then send you onto the next home tour at the end of the post!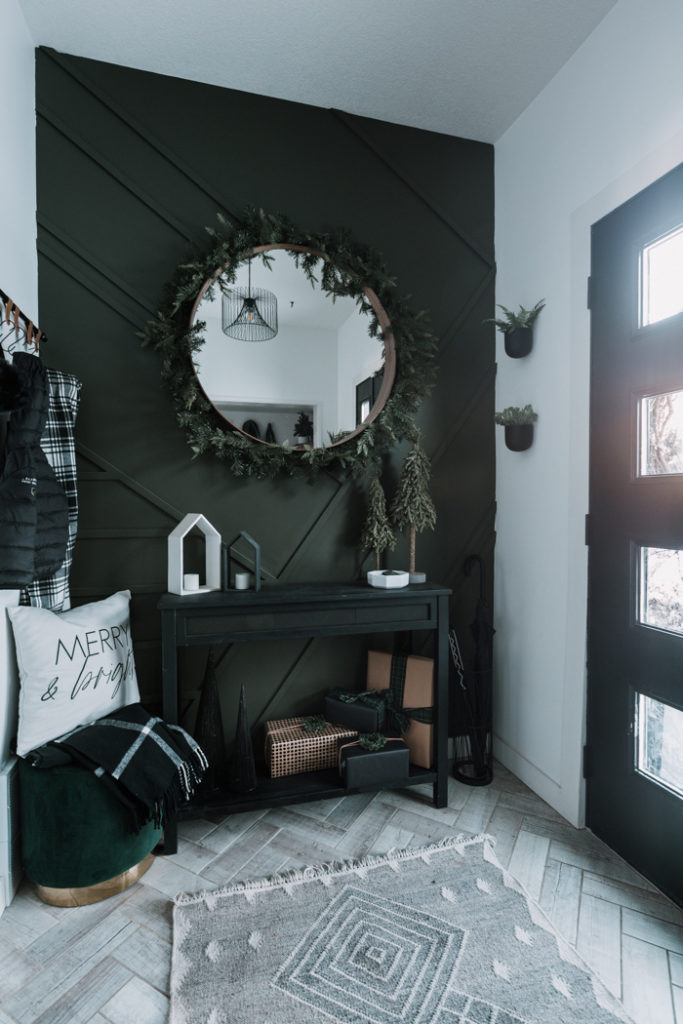 *This post may contain affiliate links. When you buy a product through one of our links, we get a commission at no cost to you! Thank you for supporting our blog so that we can continue to bring you posts like these. For more information, please see our disclosure page.*
Our Modern Christmas Entryway
The moulding feature wall that acts as a background for this entry is a focal point all on it's own! I try not to layer too much decor into this room because I always want to wall to speak for itself, but I still add enough for it to feel festive in here.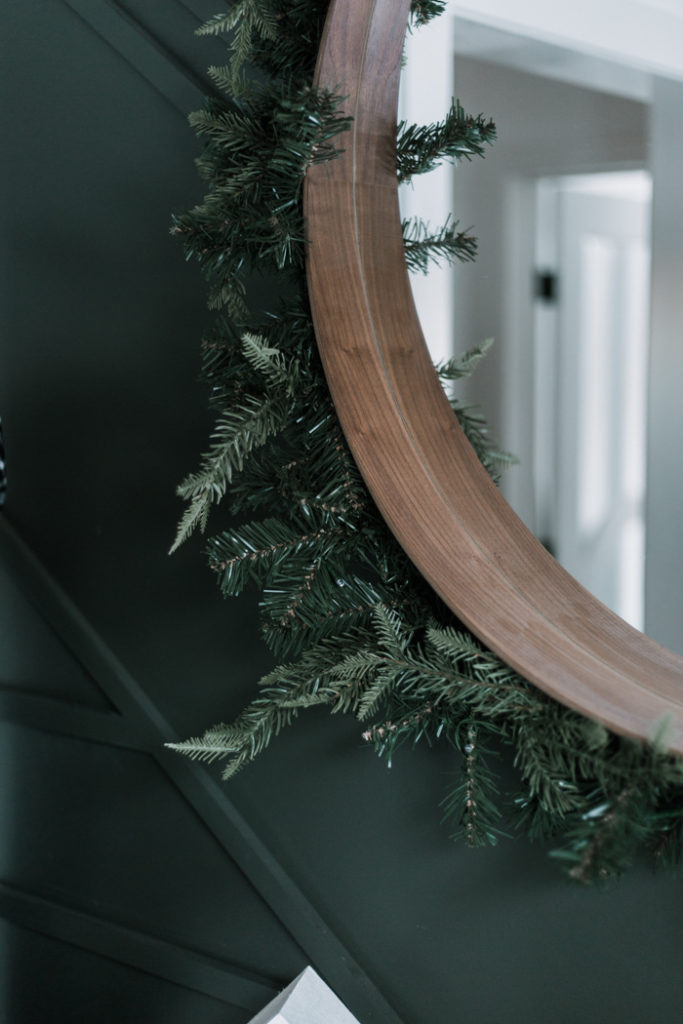 One of my favourite touches is adding a simple garland around the mirror. I loved this garland because of the variety of greenery in it.
I bought a 9ft garland, thinking I would fold it and layer it on the side of the mirror, but when I realized that it was the exact length of my mirror, I decided just to hang it all the way around.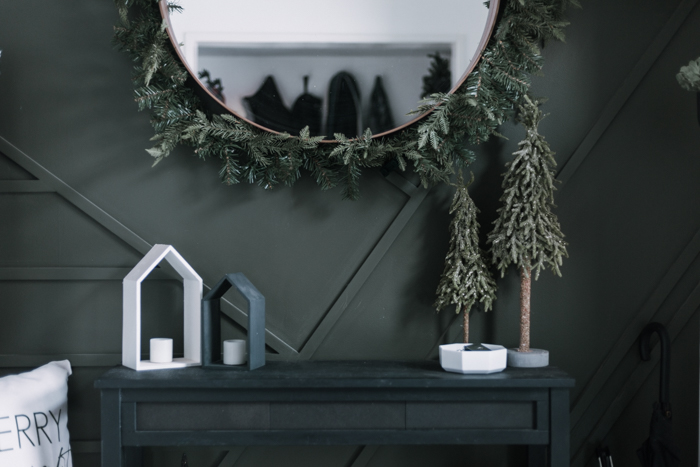 We have a nice narrow black console in the entry that I added a couple of simple decor pieces too. The little wooden houses were actually from the local dollar store. I painted them black and white and put faux candles inside that I can light up in the evenings.
The trees look beautiful in the Christmas entry too! I had to keep our little key dish on the console, because we need it every day or we would definitely lose our keys. But it's profile is sleek and I think it fits in nicely with the decor anyway.
There's a small space underneath the console and a small round stool beside it that I like to style when I can as well.
The stool was decorated with a simple black and white throw, and a modern Christmas pillow. This stool is occasionally used for me to sit my son down somewhere while I put his shoes on, but generally, it's just decorative, so a pretty pillow works well.
I also added a couple of cute wrapped gifts under the console. I made the cute little wreaths sitting on top with dollar store supplies as a super easy holiday DIY!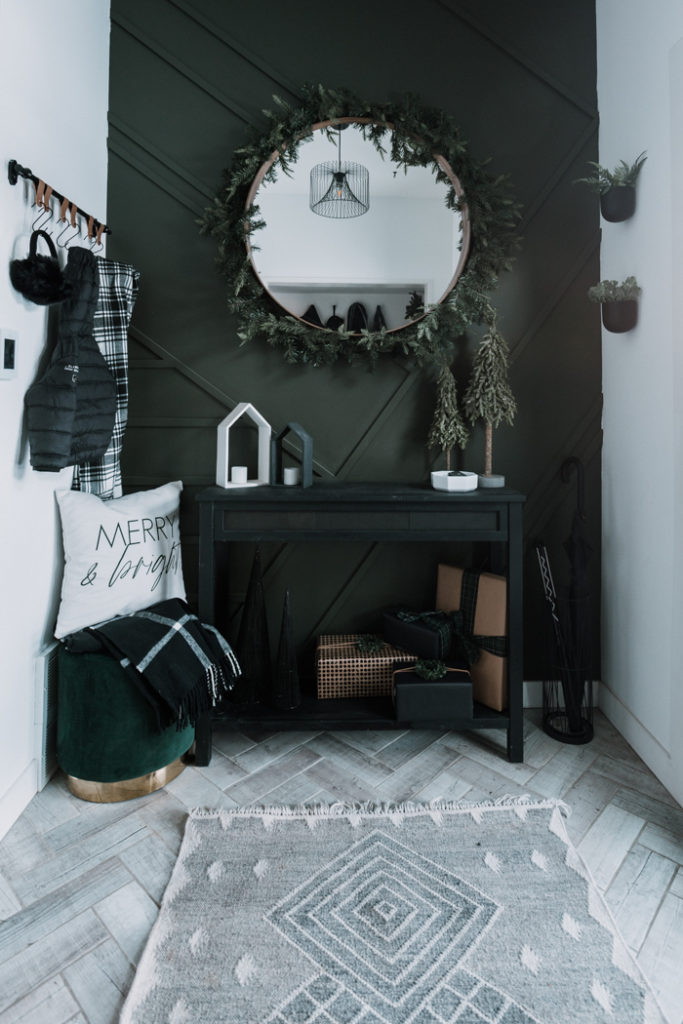 When you move to the other side of the doorway in our decorated Christmas entry, you see the "mudroom" portion of our entryway. This is where all of our boots sit, our coats get hung, and our mittens are stored, so it needs to stay pretty practical.
I added a little tree and a dark moose silhouette to the top shelf, but other than that, there weren't a lot of changes made to this space.
This season is the heaviest on our mudroom – more jackets, boots, scarves and toques than any other season – and this is generally how busy it looks (plus a few more pairs of boots!).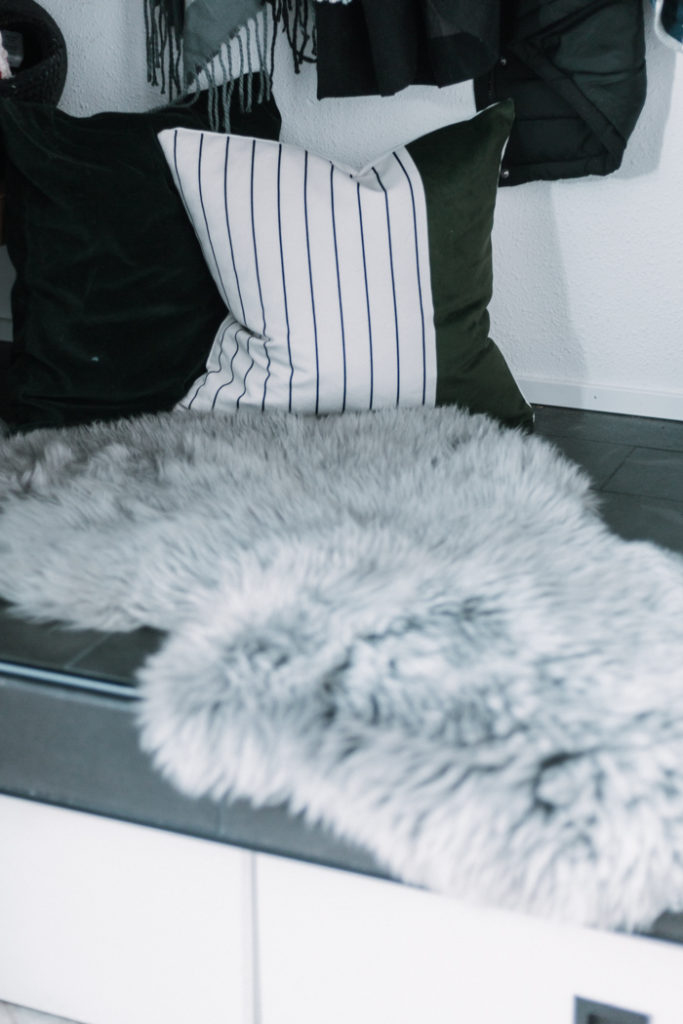 On the bench I added a simple grey sheepskin, and some deep green pillows to add a small festive touch and some warm, cozy textures.
I decided to throw the lights on for a couple of the photos too. I love the way the light fixture shines on the walls and ceiling!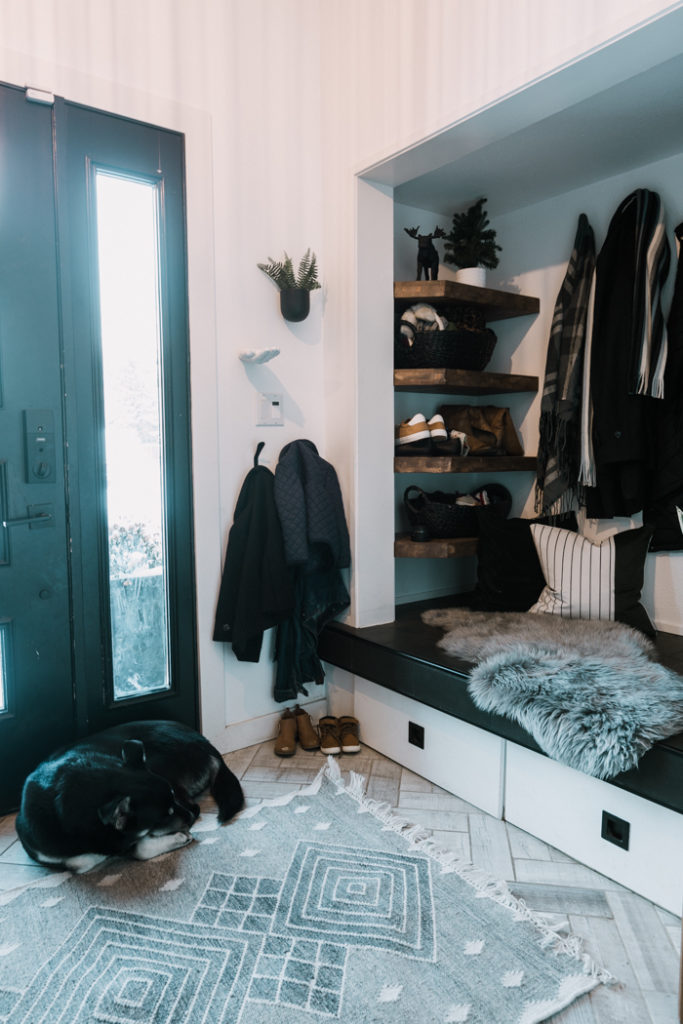 If I was in the room, there was no way that I was going to get the dog to leave my side, lol. But I think she made for a nice addition to the space anyway!
Walking in a Winter Wonderland Holiday Home Tours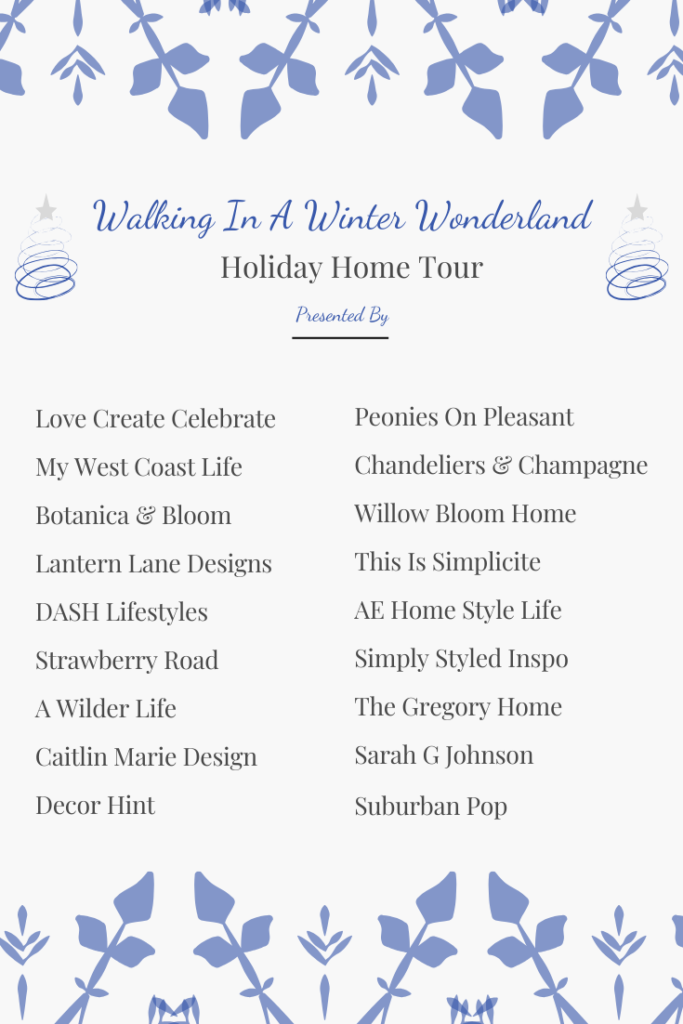 Thank you so much for checking out our holiday entry! If you're looking for more inspiration, check out Sarah at My West Coast Life for her beautiful holiday home tour!
Love Create Celebrate| My West Coast Life | Botanica and Bloom |
And there will be more great inspiration later in the week too!
Wednesday:
Lantern Lane Designs| Dash Lifestyles | Strawberry Road |
Living A Wilder Life | Caitlin Marie Design |
Thursday:
Peonies On Pleasant | Chandeliers and Champagne| Willow Bloom Home|
This Is Simplicite | AE Home Style Life |
Friday:
Simply Styled Inspo | The Gregory Home | Sarah Johnson Blog |
I hope you enjoy the home tours as much as I do!
If you're looking for more holiday inspiration, check out last year's Christmas tree in our Holiday Living Room Tour!