We're in the home stretch my friends! It's week 5 of the 6 week One Room Challenge. We are moving into the last week of our modern bathroom renovation. If you read my post last week, you probably know that I was feeling pretty confident about getting everything done. Well… this week life happened. We didn't get nearly as far as we hoped, and now we're scrambling again to get it all done! We may have a few nights up past midnight! I'll share our progress below, but first, I wanted to share some quick tips for finding affordable modern bathroom fixtures, like the ones we chose for our space.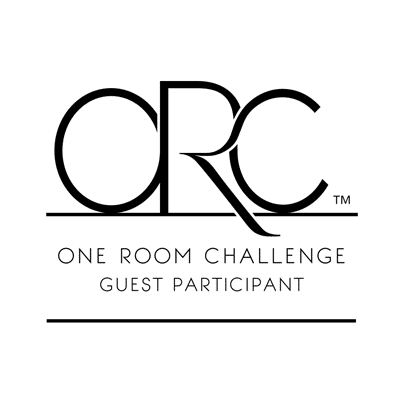 *This post was sponsored by The Home Depot. As always, opinions are 100% my own. For more information, please see my disclosure page.*
If you missed anything and you want to catch up, here are the previous weeks:
week 1 // week 2 // week 3 // week 4 // week 5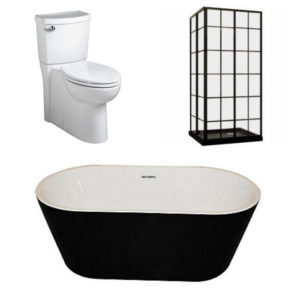 Tips for Choosing Affordable Modern Bathroom Fixtures:
When it comes to designing a space, it can be pretty stressful and very expensive. It's tough to strike a balance between finding affordable pieces, and getting the high-end look you're after. If you're looking to find some budget-friendly bathroom fixtures, here are a few tips to help you get that modern look:
1. Clean Lines – Look for pieces with clean straight lines, that might provide a strong contrast between different elements in the space. Such as this gorgeous Obsidian freestanding tub from Universal Tubs. It's black finish will pop against the white tile walls and flooring surrounding it in our bathroom design.
2. Less is More Design – Choose pieces that don't have a lot of angles, colours, or striking design elements. Sometimes simple pieces make a bigger and better statement. The toilet we choose for our space, sleek new American Standard Cadet toilet, is not that different from a standard toilet, except that is has smooth lines and a concealed trap (all the plumbing is hidden behind the sleek body). Small changes like that don't make a huge impact on your budget, but can make a big difference to the overall design.
3. Play with Geometric Patterns – Patterns always make a bold statement, and in bathrooms, geometric patterns are often a focal point in the tile, but that can transfer to finishes on the fronts of vanities, mirrors, and light fixtures too. Our beautiful corner shower from DreamLine if the perfect example of this, bringing in lots of visual interest to the space.
4. Shop in Stores and Online – One of the best pieces of advice I have for finding affordable modern pieces at your box stores, is to check online! They can only have so many pieces on the shelf in stores and if you check out the stores online, there are often a ton of options that are exclusively sold online.
I hope those quick tips help you find what you're looking for. They helped me find the beautiful pieces I chose for our bathroom, and I'm thrilled with the choices we made!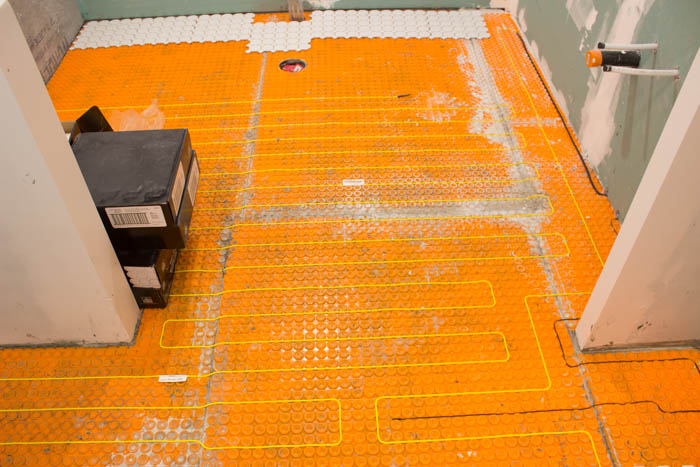 As far as the renovation goes, we got a few of our projects done. One big item was to get all of the matting and wiring in place for the heated floors. Now the floors were ready for tiling.
The next thing we got done was painting the ceiling. We were painting late into the night, but it was worth it – I've always wanted a dark ceiling!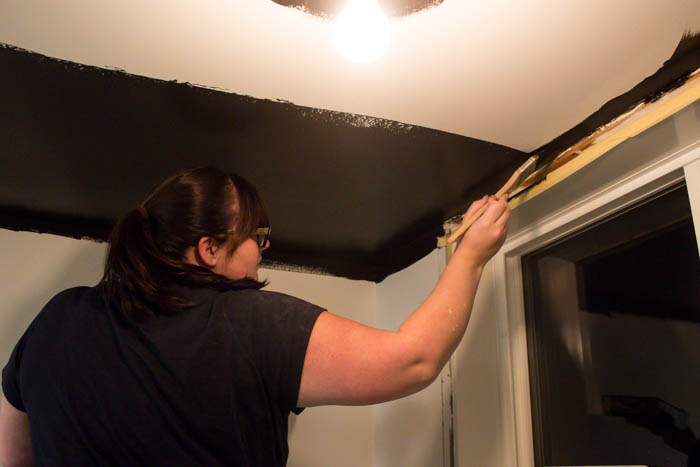 We used a paint we already had, which had a semi-gloss finish to it. I love love love the colour, but I'm not entirely sure that I love the semi-gloss. Actually, I'm entirely sure I don't like it. UGH! Would it be crazy to repaint with a flat finish it in my final week? I think it might be worth it…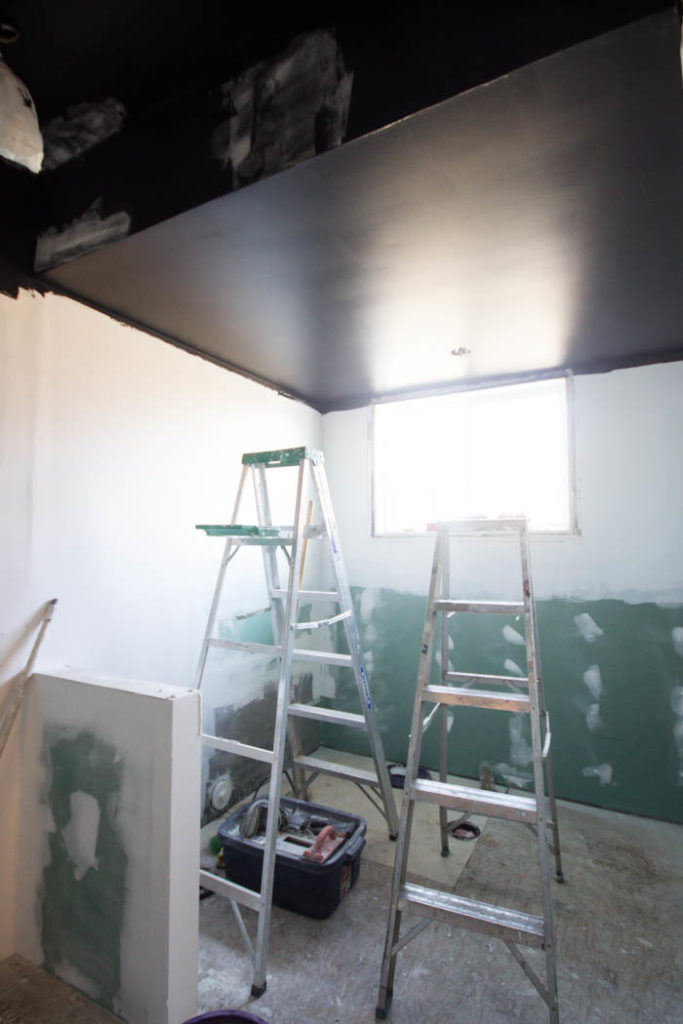 And finally we got the floor tile down! It took a long time to get the tile installed, and we still have to grout the floor, but it's looking amazing already!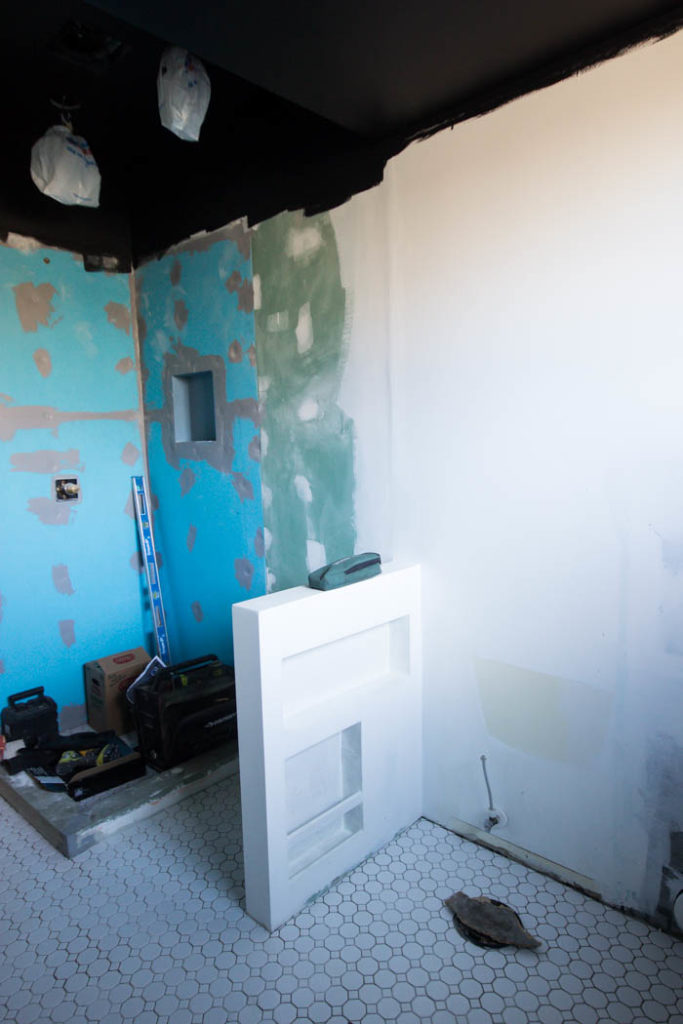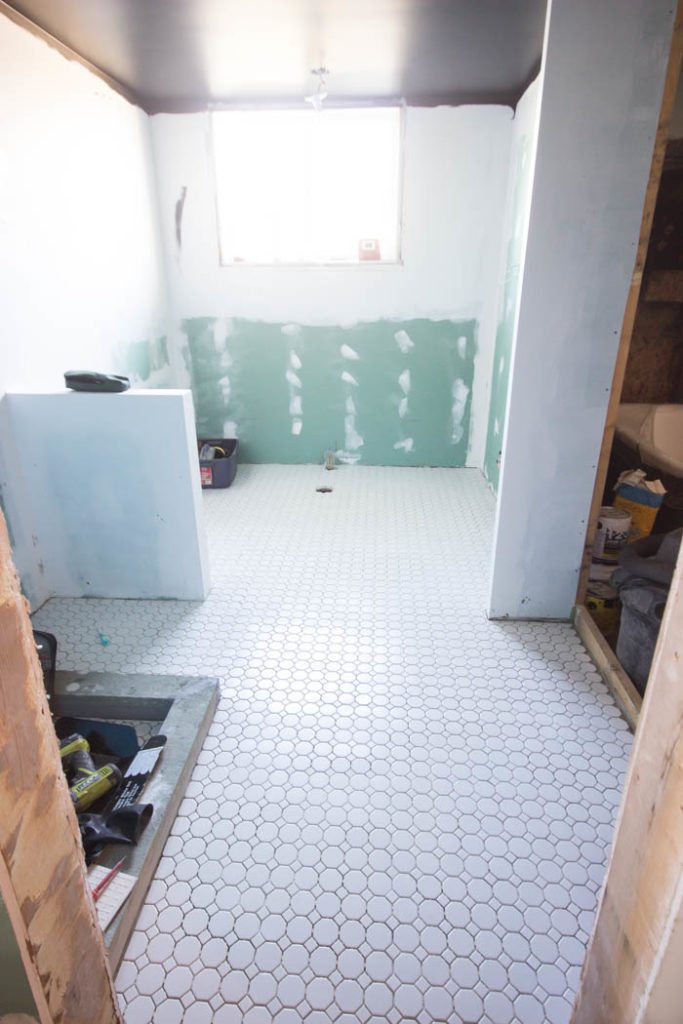 As always, my obsessive list-making skills come out! Here's our modern bathroom to-do list:
Demo the space
Choose fixtures and faucets
Move plumbing
Move electrical
Re-frame new wall
Decide on finishes for vanity and storage wardrobes
Install curb-less drain
Install heated flooring
Tile floor
Tile walls
Buy rug
Buy accessories
Install fixtures and faucets
Install door
Build shelving
Build plant stand
As you can see… we actually still have a ton of work to do. I'm honestly worried that we won't be able to finish it all, but we're gonna burn the midnight oil all week and see if we can get it done in time!
Find more great One Room Challenge design plans on the One Room Challenge site!