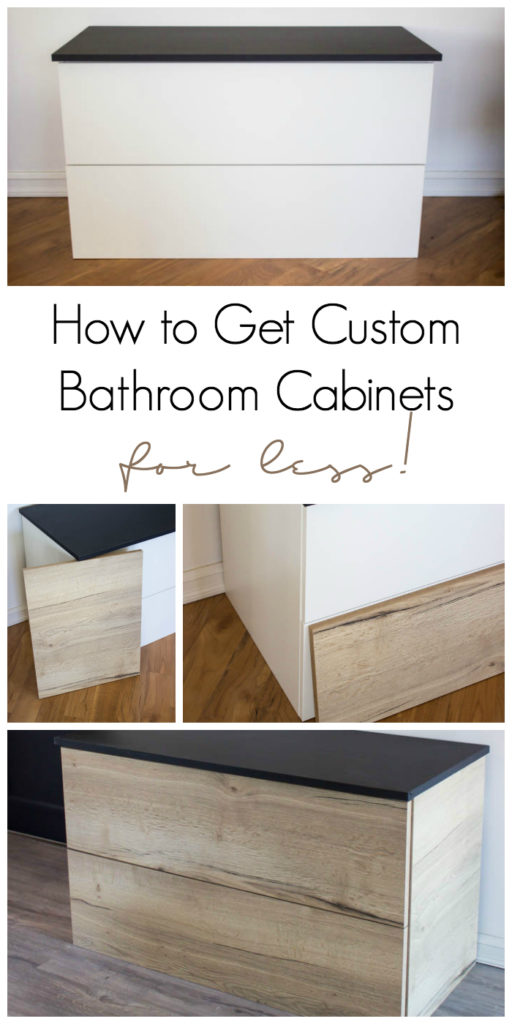 Welcome back to week numero 4! It's week 4 of the 6 week One Room Challenge. We are officially past the half-way point of our bathroom renovation! Last week I was veeeery unsure about whether we were going to finish on time or not. We still have a lot to do (as you will see), but I'm feeling a bit more confident that we will actually get it all done! But before I show you our progress, I need to share my newest obsession with everyone: custom bathroom cabinets for less! Let me tell you more…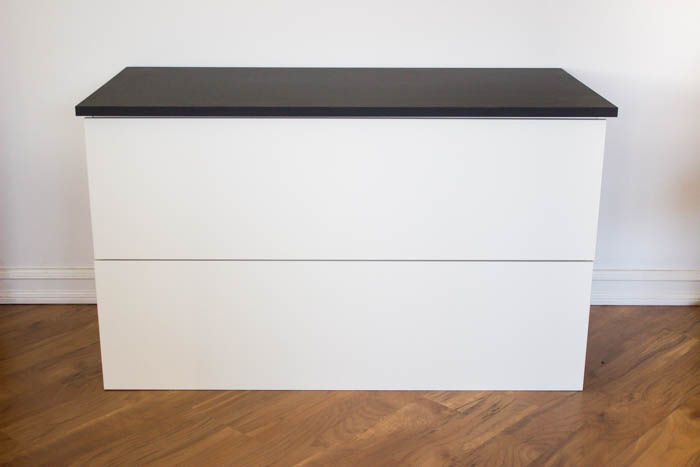 *This post was sponsored by Kitch. As always, opinions are 100% my own. For more information, please see my disclosure page.*
If you missed anything and you want to catch up, here are the previous weeks:
week 1 // week 2 // week 3 // week 4 // week 5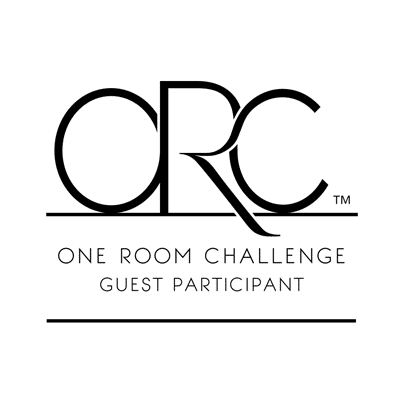 I promise to share some renovation updates soon, but first… we've all heard of IKEA right?? That store where I buy half of my home decor… lol. IKEA has a long history of creating really great cabinets and vanities that are easy to plan out and build. Perfect for the DIYer! My only complaint has always been that they don't come in a huge variety of colours, designs and textures. There are a select few to choose from, and they are all very recognizable. If you walked into a home, you would know that their cabinets were from IKEA. Well… not anymore! Kitch has created 100s of beautiful designs and finishes that you can add to your existing IKEA cabinetry. You're getting beautiful, custom-looking kitchen or bathroom cabinets, at a fraction of the cost that custom work would be.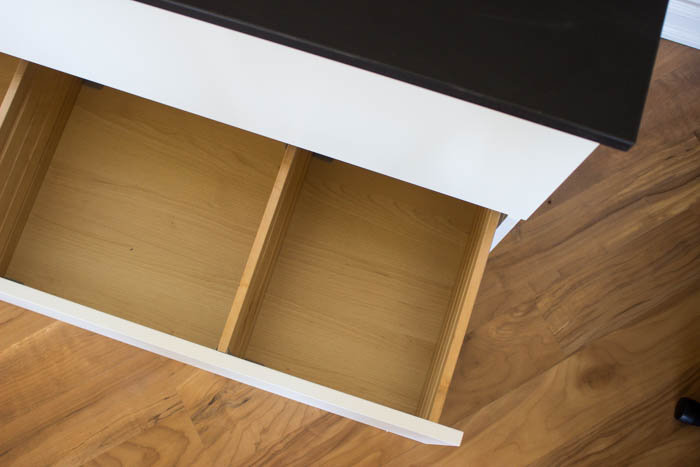 When we started this renovation we already has our eye on the Godmorgon vanity from IKEA because we knew we had to make some budget-friendly choices, and as far as vanities go, this one has sleek clean lines, but is still affordable.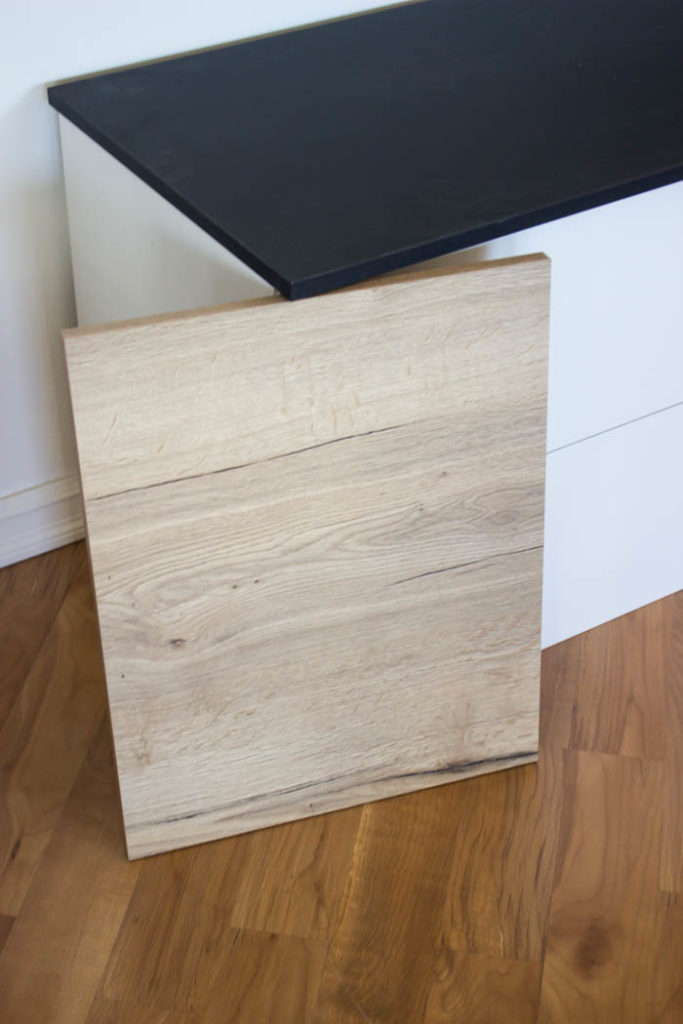 As soon as I heard about Kitch I knew I wanted to partner with them so I went to view their showroom in Edmonton, AB., and I was blown away by the beautiful door options and finishes. You may remember seeing a little wooden square in my original design board… well that was this beautiful natural halifax oak. It's a textured woodgrain slab and it's stunning.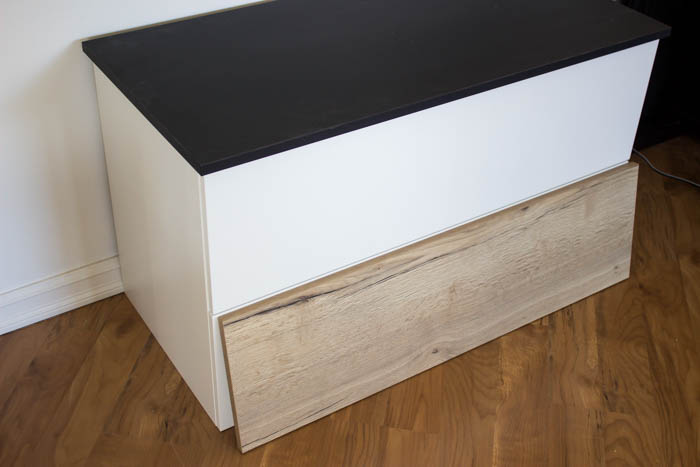 You buy the cabinets just as you usually would from IKEA, and the the pieces you need replace the sides and door fronts of the existing cabinet pieces. Our bathroom isn't done yet, but I couldn't resist putting this piece together to see how it would all look. I LOVE the finished product!
A little bit of wood can add a lot of warmth to a space, and I know that this vanity is going to do just that. What do you think of our final colour choice?
Ok, I guess I should jump back into the challenge and show you a few of our renovation updates. As far as renos go, this week was a pretty boring one.
We laid down the drain for our new shower. This drain and shower pan could've been curbless, but when we brought in our shower doors, it seemed like they didn't have enough height, so we will still have to add a shower curb to get enough height for the shower doors.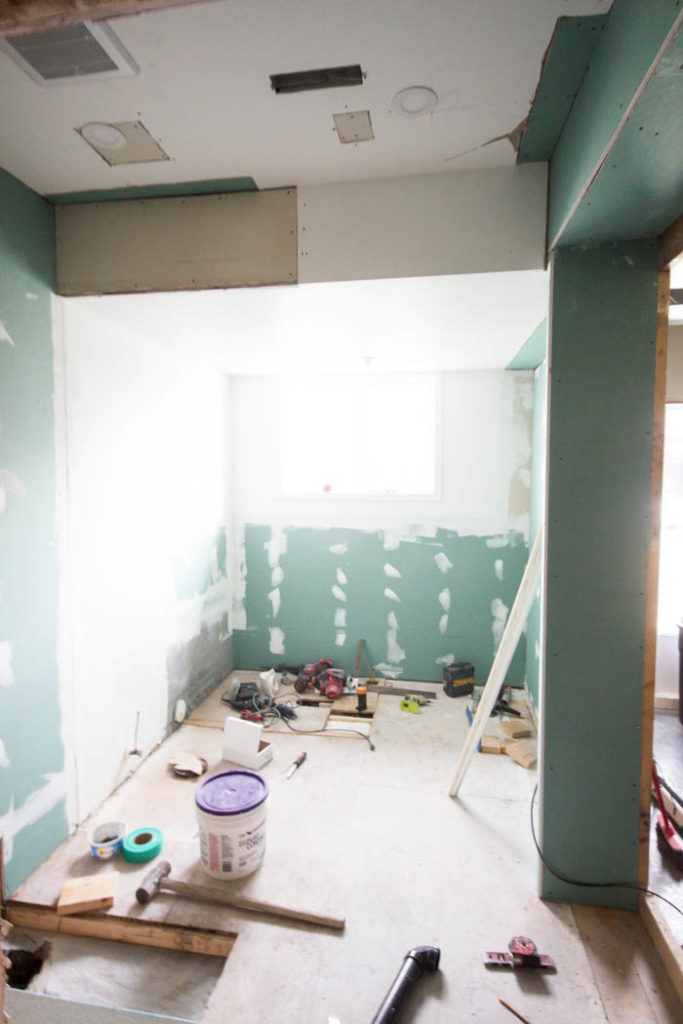 We finished putting drywall up in the entire space as well. Which meant there was a lot of mudding and taping in our future.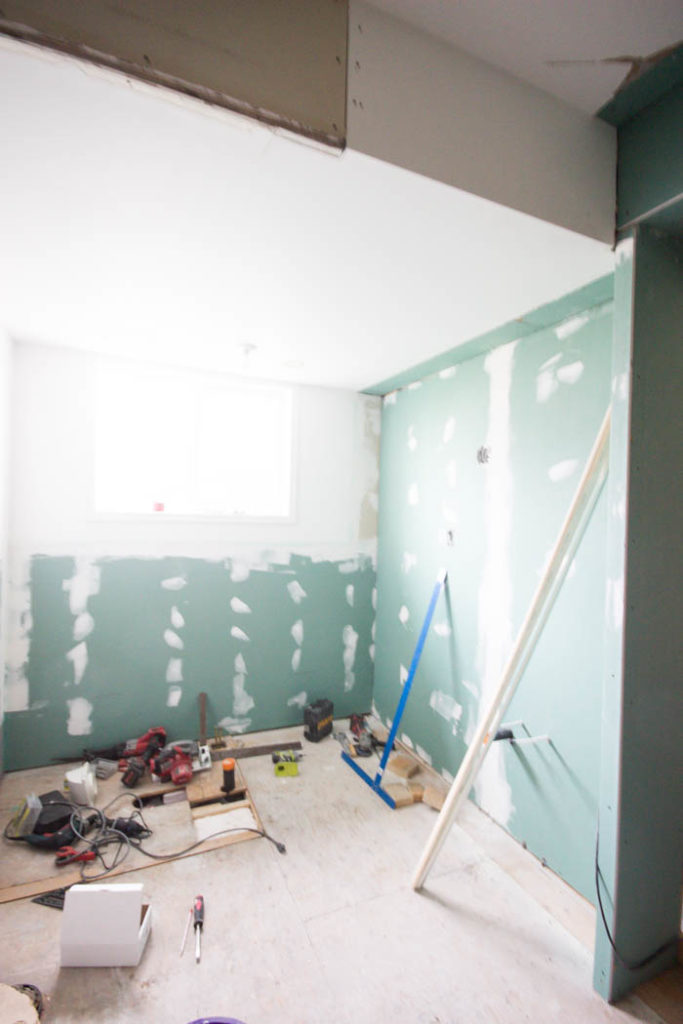 But before that, we also built out a simple pony wall. This little wall has a few secrets that are going to be both pretty and functional.
The rest of the week was all mudding and taping and sanding and mudding and taping and sanding. And covering my house in a thin layer of drywall dust…
The next step is to paint, and then we get to move onto installing some tile, which I'm VERY excited about! Tiling feels like the last big hurdle, so it will feel so good to get started on that!
As always, my obsessive list-making skills come out! Here's our modern bathroom to-do list:
Demo the space
Choose fixtures and faucets
Move plumbing
Move electrical
Re-frame new wall
Decide on finishes for vanity and storage wardrobes
Install curb-less drain
Install heated flooring
Tile floor
Tile walls
Buy rug
Buy accessories
Install fixtures and faucets
Build shelving
Build plant stand
HALF-WAY THROUGH OUR LIST AT WEEK FOUR IS ACTUALLY PRETTY GOOD FOR US! WISH US LUCK!
Find more great One Room Challenge design plans on the One Room Challenge site!