A beautiful Modern Christmas Tree! Ten quick and easy steps to decorating your own modern Christmas tree this year!
My favourite time of year is almost here! There is nothing I love more when the holiday season rolls around than decorating the Christmas tree. Just like everything else in our home, I love our Christmas tree to look beautiful too. Today I'm sharing 10 simple steps for the perfect, modern tree and you're going to love these tips!
We have a second tree that my kids decorate, which houses all of their handmade and gifted decor, and then we have this beautiful, tall tree, which is usually decorated to match the rest of the Christmas decor we use.
*This post may contain affiliate links. When you buy a product through one of our links, we get a commission at no cost to you! Thank you for supporting our blog so that we can continue to bring you posts like these. For more information, please see our disclosure page.*
Ten Quick and Easy Steps for Modern Christmas Tree Decorating
Today, I'm sharing how we decorated our modern Christmas tree. Pull out all of your ornament and Christmas tree boxes, and we'll show you some easy tips for how to decorate a tree like ours!
Over the years, I've learned a few tricks that can take our tree from run-of-the-mill to stunning! I've broken them down into 10 steps to make it easy.
Step 1: Set Up the Tree and Tree Collar
The first thing to do is pull out a tree collar if you have one. We got a tree collar for the first time this year, and it feels like a massive game changer for creating a modern Christmas tree. I love the look of it and I love how it looks under the tree. There's a ton of really beautiful ones out there, and I highly recommended getting one!
Tree Collar Ideas
Our tree collar | White Tree Collar | Woven Tree Collar
We have always used a large faux evergreen tree. I love setting it up early and having it up for the full month of December. Since we have high ceilings, we actually have a 9ft pine tree with different types of faux pine branches to add variety.
Step 2: Add Garlands
Once you get your tree in a place, my first recommendation is to add garlands to fill in the empty spaces in the middle of the tree. I will recommend fluffing the tree later on, but I have always found that when you fluff the tree, it's just not quite enough to fill the gaps in these artificial trees. Especially if you have your tree in front of the window where the light can highlight the empty spaces.
Weave your garlands around the tree to fill in those middle spots. The areas where the two tree pieces join is usually most in need of some extra greenery. We have a couple of pre-lit garlands that we bought that plug in to the same plug as the tree, so if you have these as well they can make a really nice addition to your tree. We used three extra evergreen garlands on our 9ft tree.
Step 3: Add Extra Lights
The next thing I do is add some extra lights. There are lots of options for additional lighting, such as experimenting with lights that fade in and out, or putting in some larger bulbs.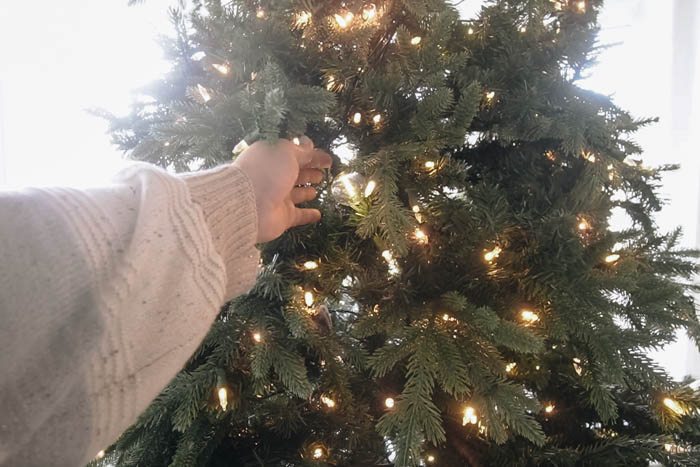 We personally like adding larger bulbs. With more lights shining in different patterns and parts of the tree gives a really pretty effect, especially in the backgrounds of photos if you're wanting that Bokeh effect. And the more lights you have to shine behind your sparkly bulbs, the better. LED lights are also nice because they add a little bit of a different glow to the tree (& save energy!)
Step 4: Fluff the Branches
The next thing you wanna do is fluff all those branches. Whether you bought a new tree or it's been sitting in storage for a year, it's definitely a little too flat. Fluff every one of those branches! Don't just separate the big branches, separate every little branch on every big branch.
It's a little bit tedious, and it's probably the most time consuming part of this process, but I think it makes the biggest difference in how full and lush your tree looks.
Step 5: Choose a Theme
The next thing to do is choose your ornaments and decorations based on a color palette or theme. I've done a few different decor themed trees in the past. Some with reds and greens. Some with rose gold and navy blues.
For my modern Christmas tree decor this year, I used whites, beiges, greens, and blacks. I also stuck to more natural elements like paper and wood, and used many homemade ornaments, like my modern DIY Candy Canes. I was trying to create a beautiful modern, scandinavian feel to our Christmas decor this year.
Step 6: Add the Tree Topper
Now it's time to add your tree topper and tree skirt, if you didn't have a collar. Do not wait until the end to add that tree star, especially if you have a tall tree like we do, because you are inevitably going to knock some ornaments over.
Wait until after you've fluffed everything because the fluffing process always causes the tree to shift around. But once it's all fluffed and ready, the star goes on top and then you're ready to move on to the ornaments. If you're like me and you have some ornaments spinners, this is the time to add those on too.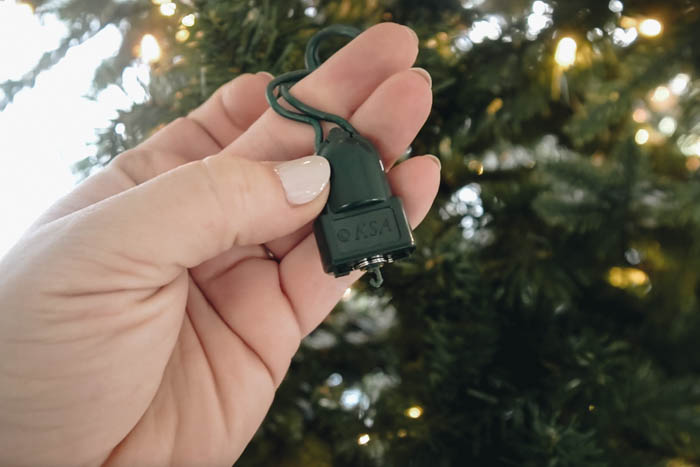 If you've never heard of ornament spinners, they make your ornaments physically spin 360 degrees around until you turn them off. Even having just 3 or 4 adds so much fun and dimension to the tree!
We have ornaments spinners that don't attach to the LED lights on our tree, but they do attach to the lights we added, which is another plus if you put a lit garland inside. Strategically place your ornament spinners it so that the ornaments have lots of room to spin around.
Step 7: Add Your Picks
The next thing I do is put my greenery picks into the tree. Use a variety of different faux evergreen branches. When I did a Christmas tree in the past with a red colour theme, I used branches with beautiful little red berries on them that poked out all over the tree.
Other years I've put some snowy or frosted branches in to add a little bit of a wintery flare. This year, I just put some other pine branches with a different looking faux leaf and some pine cones. The picks give it just that little bit of extra texture that take it from a regular tree to a designer modern Christmas tree.
My absolute favourite stems are these evergreen stems because they are so realistic!
Step 8: Add Ribbon or Garland
Next, put garland or ribbon onto the tree. If you're going for a minimalist or Scandinavian vibe for your modern Christmas tree decor, you might not want to put any garland on, which is totally fine and also looks amazing. I have put ribbon on before, but I find it leans much more traditional to put the ribbon in. Especially the way that they are fluffed and looped onto the trees.
So the last few years I've opted just for a simple beaded garland and I really love the look of that. The trick to putting one of these beaded garlands on is just to make sure that it flows nicely between the branches.
It might take some time pulling the garland up and down here and there to make sure it looks right. Try moving aside some other branches that you've already fluffed to make it so that the garland is only resting on the branches you want it to rest on, and not resting on any branches in between.
Garland Ideas
White Beaded Garland | Wood Beaded Garland | White Pom Pom Garland
Step 9: Add Ornaments
When it comes to putting ornaments on the tree, I have quite a few that I've collected over the years. To start, I usually have a base set of bulbs. You can buy some cheaper ones that usually come in bulk and that match your color scheme. There's also lots of really affordable DIY ornaments that you can make – like my modern candy cane ornaments, or some others from our Scandinavian Christmas DIY video.
There are also lots of specialty ornaments, and I'm sure you've saved up lots of those over the years! I try to buy ornaments in a variety of sizes, in a variety of colors, in a variety of textures, and in a variety of shapes. All of those things mixed together throughout your tree, make for a really beautifully pulled together tree.
Modern Ornament Ideas
Paper Ornaments | Black Ornaments | Clay Ornaments
Step 10: Add Fake (or Real) Presents
The last thing to do once all of your beautiful ornaments are in place is to put all of your pre-wrapped faux presents under the tree. Last year, I did a whole video on how I do my eco-friendly gift wrapping.
You'll see I used some of those same elements again this year and wrapped a bunch of presents that fit my overall tree theme and put them all alongside the tree. I really feel like a modern Christmas tree is done once it has the gifts underneath. It just finishes it off.
Also, if you're clever like we are, you can open up some of those "faux" gifts and put real ones inside on Christmas Eve (or earlier if you're ready!).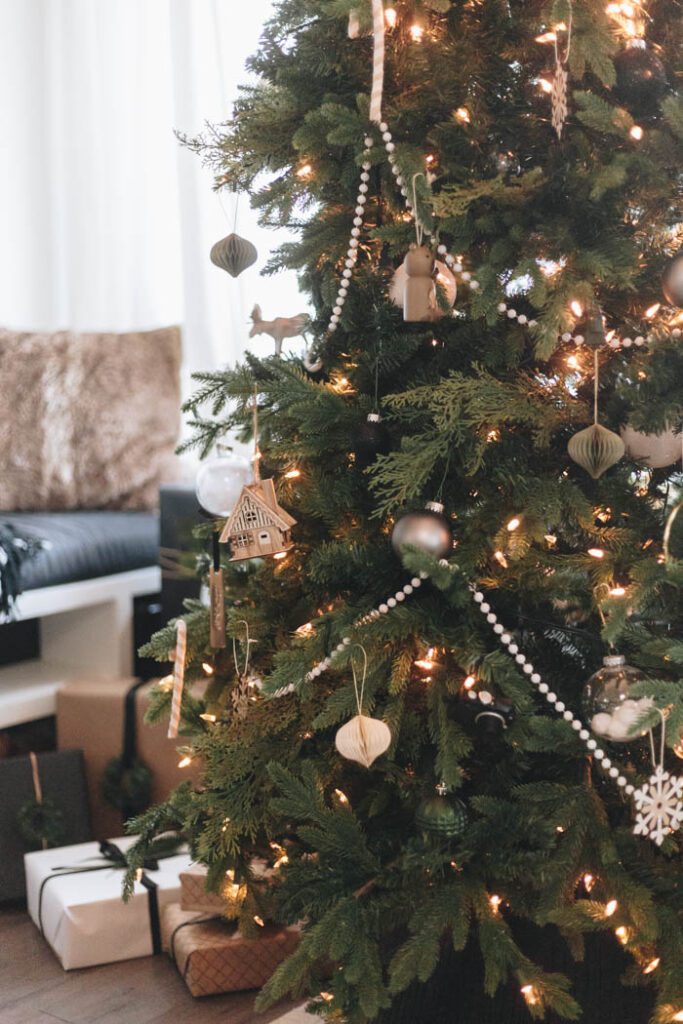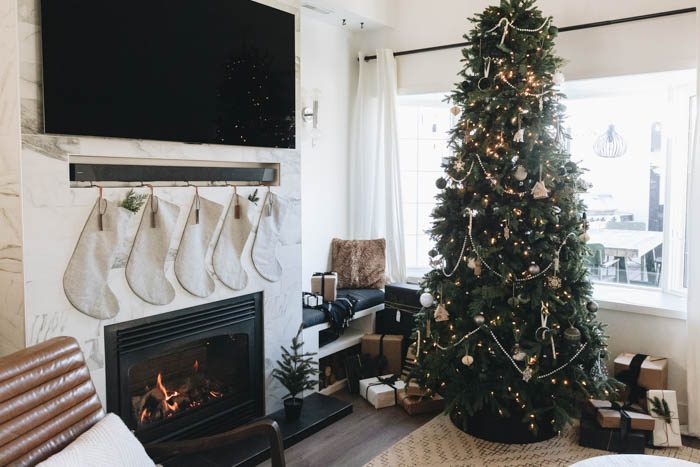 10 Steps for Decorating a Modern Christmas Tree Video
Watch us decorate our modern Christmas tree in the video below! We outline all of the tips above, and show off the finished tree and ornament spinners!
Don't forget to subscribe to our YouTube channel for more great holiday season decor!
For more great easy holiday season decor ideas, check out our home tour full of Scandinavian Christmas decor!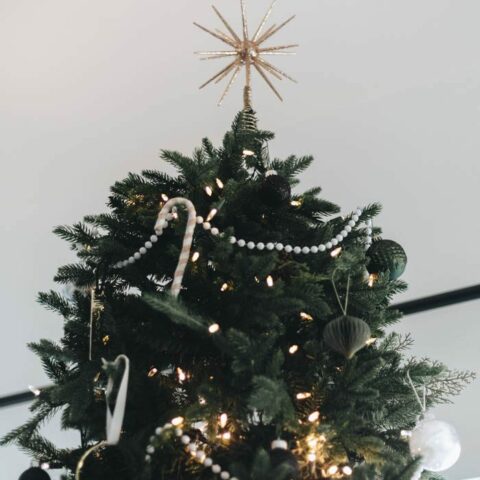 Modern Christmas Tree
A beautiful Modern Christmas Tree! Ten quick and easy steps to decorating your own modern Christmas tree this year!
Materials
Christmas tree
Tree collar
Evergreen Garlands
Christmas lights
Tree topper
Faux evergreen branches
Ribbon or garland
Ornaments
Fake presents
Instructions
Set up the tree and tree collar
Add garlands
Add extra lights
Fluff the branches
Choose a color theme
Add the tree topper, and tree skirt if you don't have a collar
Add your picks - a variety of evergreen branches (faux leaves and pine cones)
Add ribbon or garland
Add ornaments
Add fake (or real!) presents