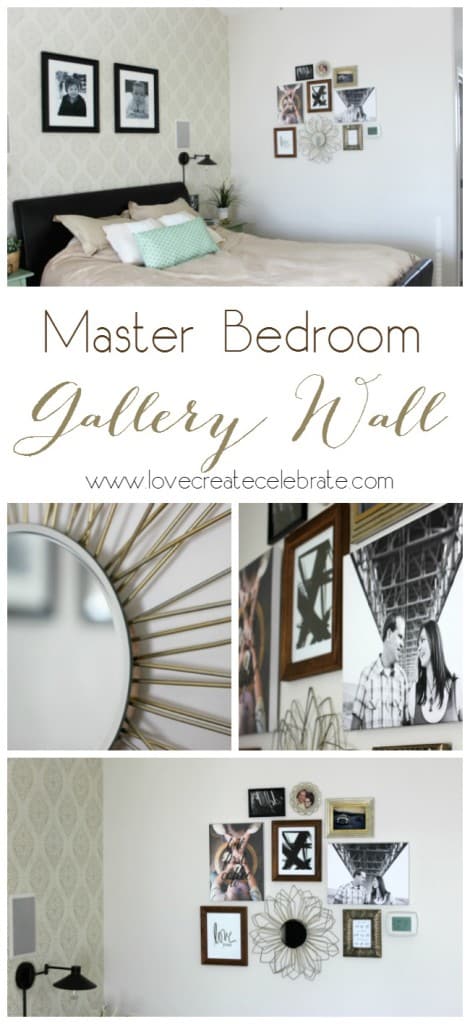 Well friends, this post has been a loooong time in the making! I'm so happy to say that we have FINALLY finished the Master Bedroom Makeover that we started planning two years ago! Yay!! Our full bedroom will be revealed next week (stay tuned!), but today's post is all about our brand new Master Bedroom Gallery Wall.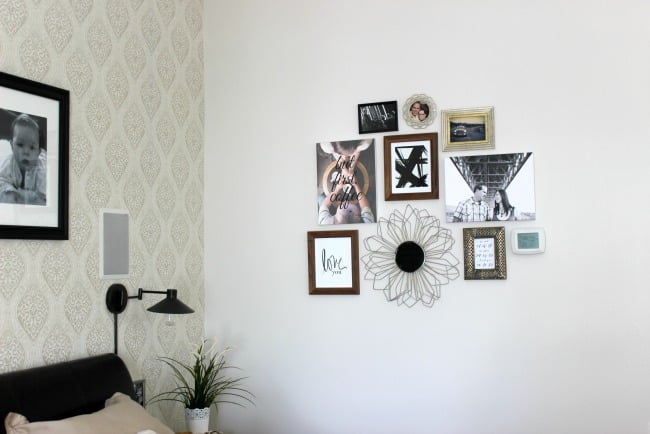 *This post was sponsored by CanvasPop. As always, opinions are 100% my own. This post may contain affiliate links. Thank you for supporting Love Create Celebrate. For more information, please read my disclosure policy*
When I shared our plans for this room over a year ago, I wasn't planning on a gallery wall in the bedroom, but as I collected pictures and frames that I loved, and continued to see gorgeous gallery walls on Pinterest, I knew I had to do something special with that big empty wall.
The entire gallery wall was shaped around two objects: A thermostat that I couldn't move (had you noticed it yet?!) and the gorgeous Sunburst Mirror above. Can you believe that the mirror is a DIY? Yep! I made that beaut out of coat hangers, and I LOVE the metallic sheen it adds to the wall.
These matching wooden frames were sitting and collecting dust in my mother-in-law's bins. I'm so happy that she let us have them. I love the addition of natural elements into the space, like wood. They are filled with two gorgeous prints from Avery Street Design. Seriously, run over there and print them for your gallery wall!
And then came the canvases…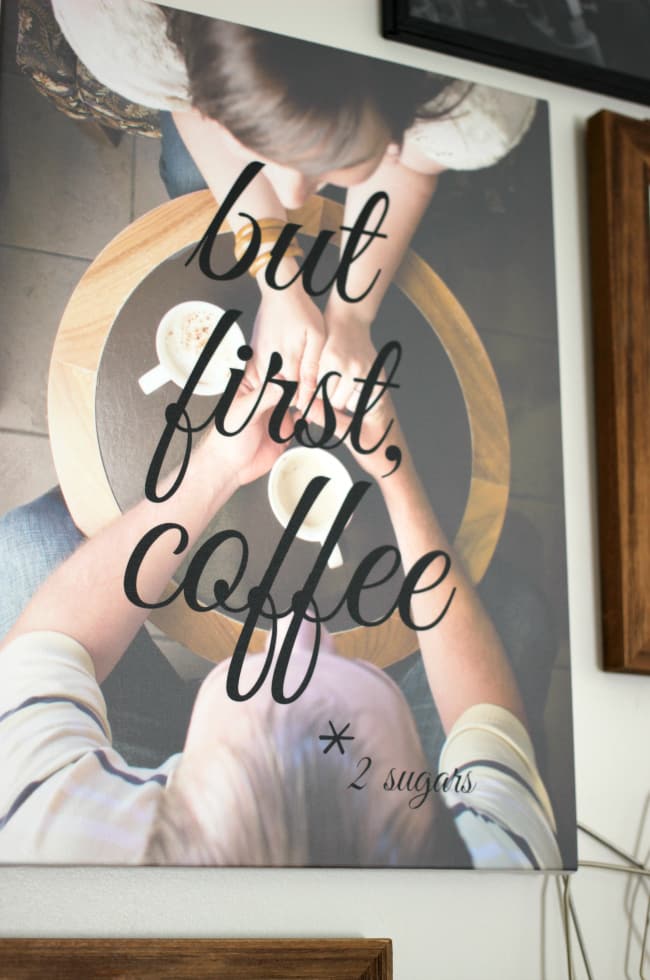 We ordered two beautiful canvases from CanvasPop using some of our Engagement shots (thank you Beauchamp Photography!). Our life revolves around coffee. We met in a coffee shop. Drank coffee on all of our dates. Took engagement pics in a coffee shop. Seriously love coffee. CanvasPop has a really great tool to simple and easily add text to your photos, so I took one of the coffee shop photos I loved, faded the colour and added custom text. Honestly took five minutes!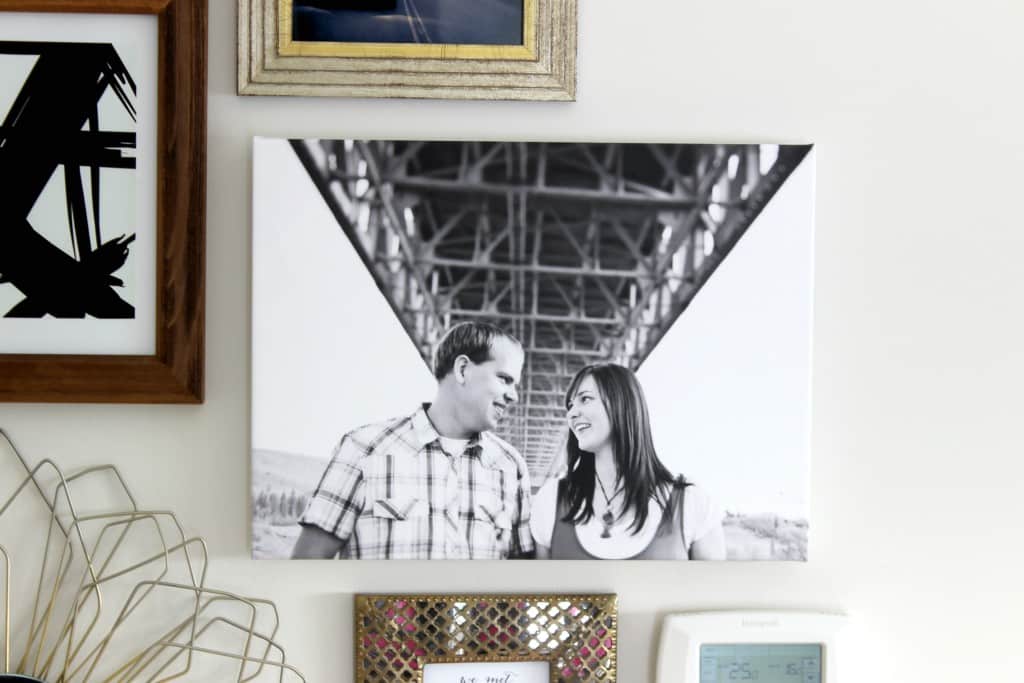 For my second print, I wanted a clean black and white portrait. Just had to upload the photo and I was done! CanvasPop sent us everything we needed to hang the canvases. The canvas wrap was done beautifully and the photos came out perfectly. I couldn't be happier!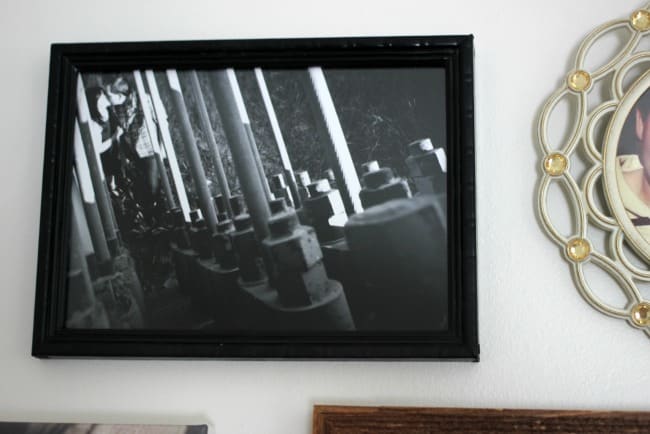 This black frame was an old frame that we spray painted black.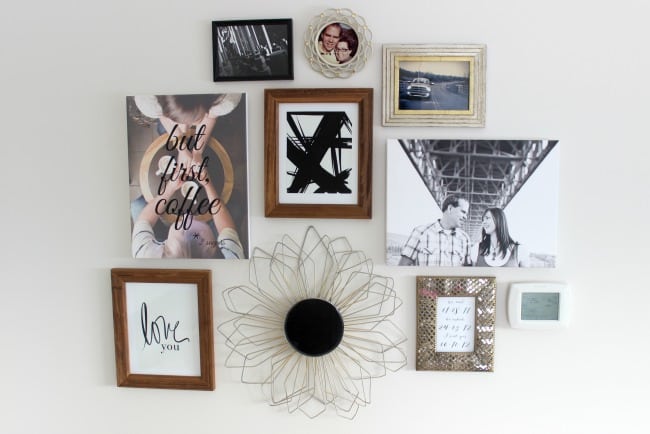 The three metallic frames were all purchased at Pier 1 Imports (on the clearance rack!). They have gorgeous metallic frames there that you will love!
Since I wanted to add a little bit more text to my gallery wall. I also made a quick insert on my computer, printed it off on cardstock, and slid it inside my 4×6″ frame.
What do you think of our Master Bedroom Gallery Wall?!
Great news for you too! CanvasPop wants YOU to be able to take home your own 16″x24″ canvas! Enter here:
CanvasPop also wants to give you 35% off of the price of any prints. Just enter the code LOVECREATECELEBRATE35. The code is valid until May 15th, and it cannot be combined with any other discounts or promotions.