Easy DIY Evergreen Stars! Make these simple dollar store evergreen stars in minutes to be ready for the holiday season!
I love having extra greenery around my home during any season, but especially at Christmas time. I usually use a mix of real and faux, and I add it all over the home. So when I wanted to fill a wall with some festive decor, I decided to make some evergreen stars!
This project is one of six holiday decorations we made, and it's a quick and inexpensive DIY that we did along with other dollar store projects to get ready for the holiday season!
*This post may contain affiliate links. When you buy a product through one of our links, we get a commission at no cost to you! Thank you for supporting our blog so that we can continue to bring you posts like these. For more information, please see our disclosure page.*
How to Make DIY Evergreen Stars
Materials Needed
Dollar Store wired evergreen garland ties
Dollar Store craft popsicle sticks
Step-by-step Tutorial for DIY Evergreen Stars
This project involves creating evergreen stars using supplies from your local dollar store. I found these wired evergreen garland ties at the dollar store, and I knew it that I could use them to try and make some of those really beautiful Scandinavian-type stars that you often see in holiday decor.
These are a steal! There is so much you can do with them, but the star was my favourite idea. I unpacked them all and started attaching them just by twisting all of the ends together to form a long, straight line.
Originally, I thought that I could make this tree just by twisting the pieces together and forming a star. But when I did that, it turned out that the star was actually very flimsy and couldn't really be held up on the wall or keep its shape as a star, so I went to plan B.
Plan B involved some of these craft popsicle sticks from the dollar store to form a base for the stars.
Start by gluing the craft popsicle sticks together in the star shape that you want.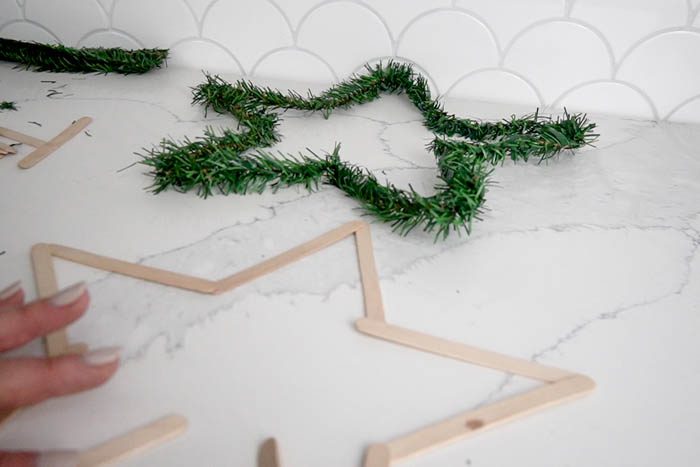 Take your time and make sure you get a good star shape. If your shape is "off" at this point, the star likely won't look like a star on the wall after it's done.
Once you have the star formed out of popsicle sticks and glued together, glue the evergreen pieces on top of those Popsicle sticks stars, bending the garland as needed. Just follow the shape around to form your star, twisting the garlands together as needed.
I made two of these stars so I could hang them near each other on the wall. And I love how they turned out.
They were super simple to make, super affordable, and they definitely add some character onto the wall and give that nice Nordic or Scandinavian vibe.
More Dollar Store Holiday Season Projects
These evergreen stars were one of 6 projects I did to get ready for the holiday season using dollar store supplies. Check out the video below to see how I made the other 5 quick and easy projects!
Don't forget to subscribe to our YouTube channel for more great holiday season DIYs!
For more great easy holiday season DIY ideas, check out these beautiful mini wooden Christmas Trees!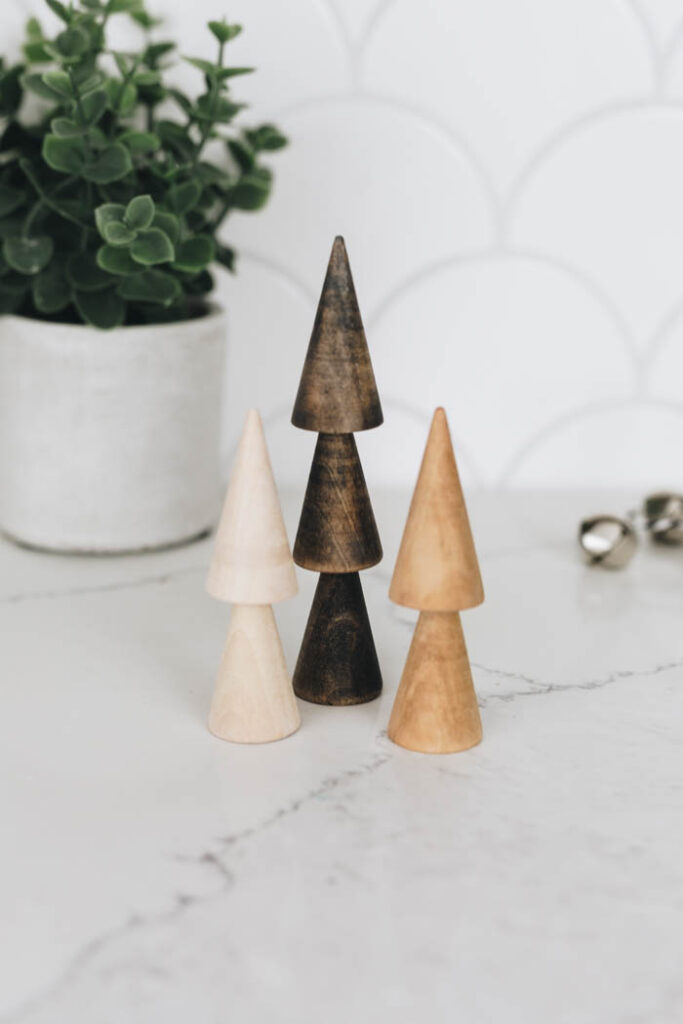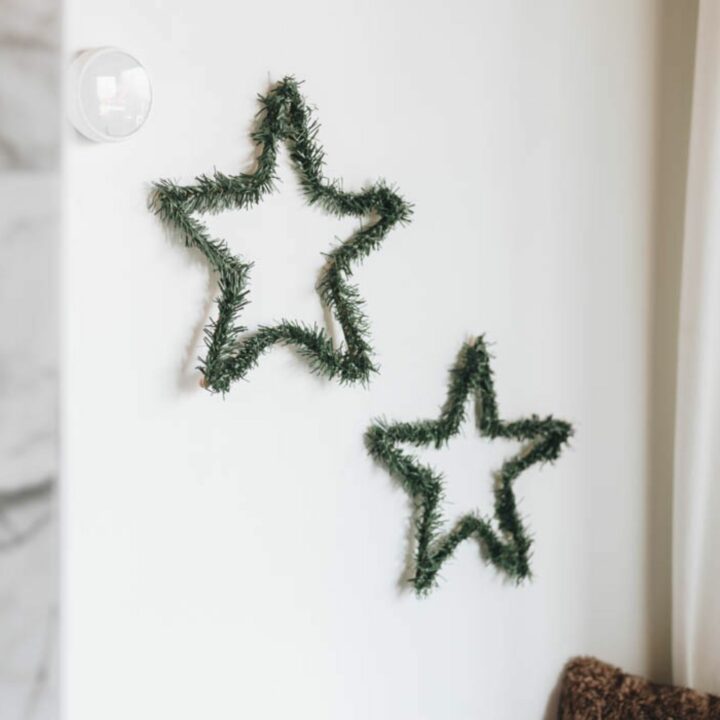 DIY Evergreen Stars
Easy DIY Evergreen Stars! Make these simple dollar store evergreen stars in minutes to be ready for the holiday season!
Materials
Dollar store wired evergreen garland ties
Dollar store craft popsicle sticks
Craft glue
Instructions
Glue the popsicle sticks together in the shape of a star
Glue the wired evergreen garland ties to the popsicle stick star, bending the garland ties as needed to follow the star shape