Easy DIY Christmas Crackers! Make these simple Christmas Crackers in minutes to be ready for the holiday season!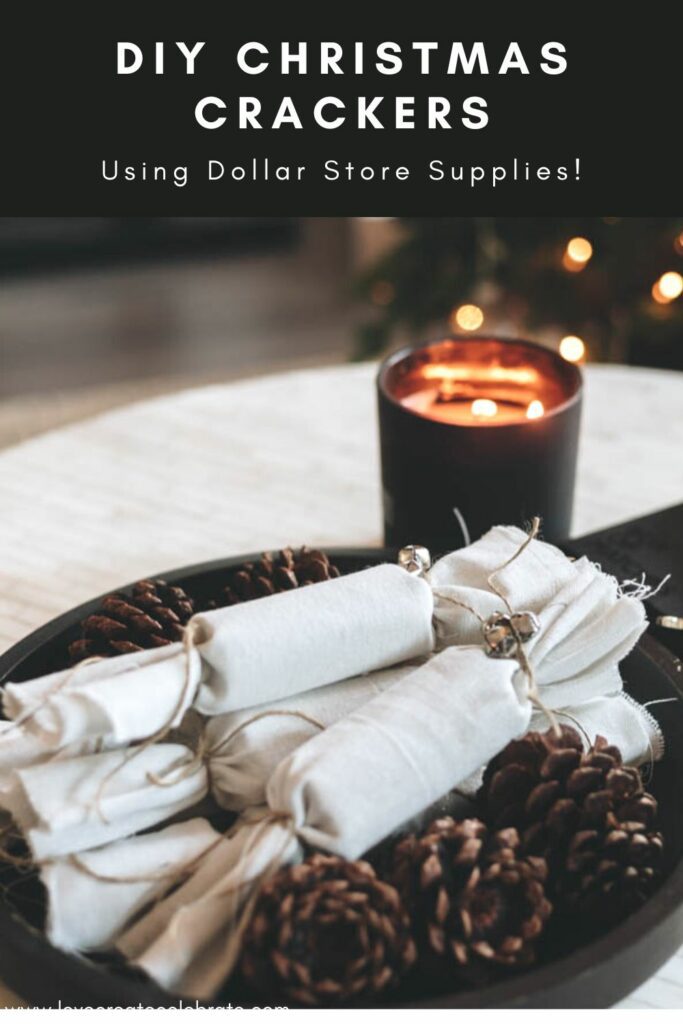 These DIY Christmas Crackers may just be one of my favourite holiday DIYs I've ever done! And I've done a lot of them! Something about creating a beautiful, sustainable, decor. I've seen so many Christmas crackers, but most of them are brightly coloured, and not quite my aesthetic, so I made an alternative.
This project is one of six holiday decorations we made, and it's a quick and inexpensive DIY that we did along with other dollar store projects to get ready for the holiday season!
*This post may contain affiliate links. When you buy a product through one of our links, we get a commission at no cost to you! Thank you for supporting our blog so that we can continue to bring you posts like these. For more information, please see our disclosure page.*
How to Make your DIY Christmas Crackers
Materials Needed
Dollar store linen fabric or this linen from amazon
Empty toilet paper rolls
Scissors
Toys that fit in a toilet paper roll
Paper tags
Washi tape
Step-by-step Tutorial for your DIY Christmas Crackers
When I saw this linen fabric at Dollarama, I was shocked! It was such a beautiful colour, and you rarely see fabrics like this – I knew immediately that I would be finding some DIYs to do with the fabric. If you don't have any at your local dollar store, you can use fabric scraps, or use linen sheets from amazon.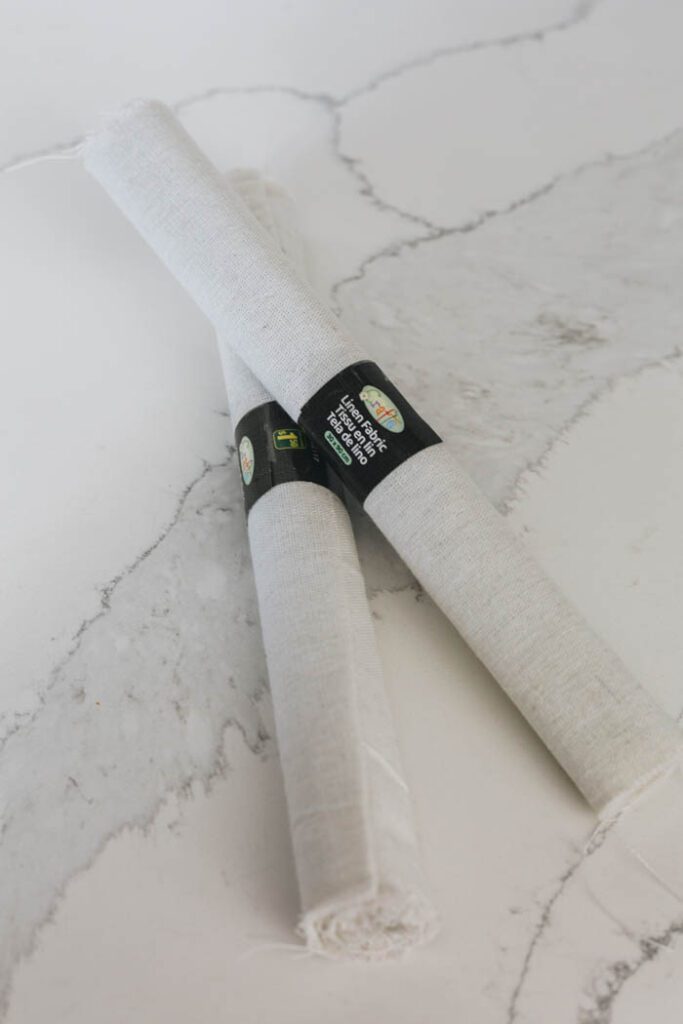 To make your simple DIY Christmas crackers, you'll need the cracker snaps too. These are what make the fun sound when you open the crackers. They are fun, but not necessary for these Christmas crackers to be super cool.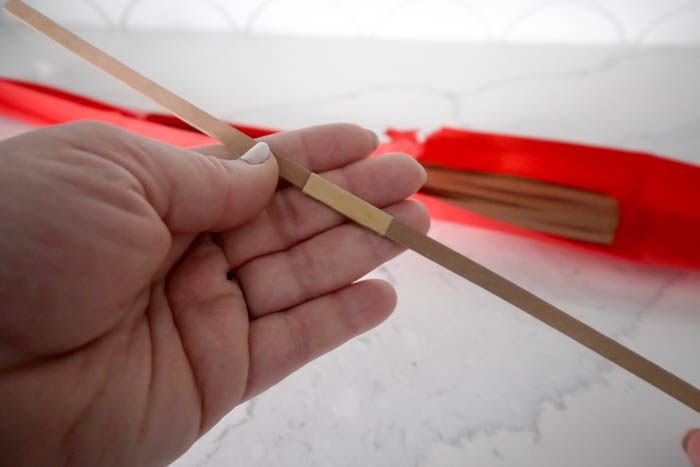 To start, unravel the linen, grab some empty toilet paper rolls and grab your cracking sticks.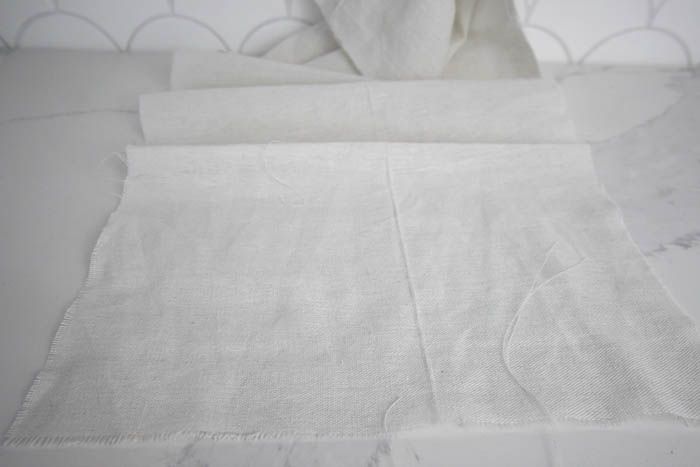 It turned out for me that the linen from the dollar store was the exact width I needed to make these DIY Christmas crackers work. You may have to cut your linen to the appropriate size.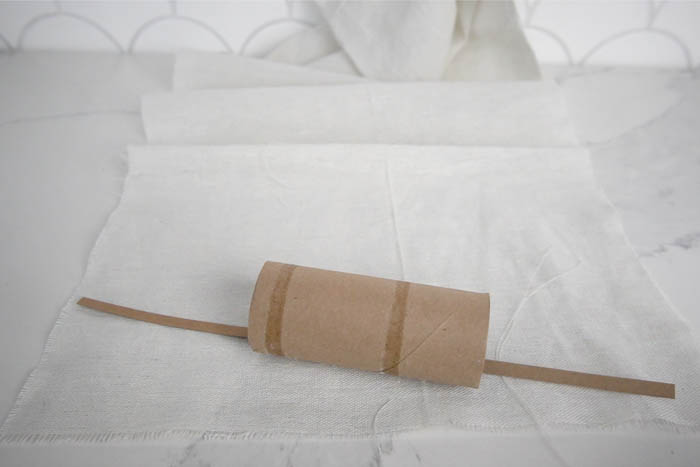 You can put anything you want on the inside, and since you're filling them yourself, you can cater to your audience at home. We bought some dollar store tags to write silly holiday jokes for the kids and a few little toys to fill up the space (a little notebook and pen, holiday stickers, rings, cars, etc.)
Then tape the sticks to the inside with washi tape, fill them up with toys and the tags, and wrap them in the linen fabric. Once they are wrapped, use some jute string to tie up the edges. I also ended up adding a couple of dollar store bells to the ends to bring a little extra holiday flare to the decorations.
One nice side benefit is that these are completely sustainable and reusable and/or recyclable! If you're curious about other tape and wrapping options that are sustainable, I shared a ton of eco-friendly gift wrapping ideas last year.
Cut enough of the linen sheet to wrap around the toilet paper roll twice so that it's not see through. From my dollar store linen, each sheet was able to make three Christmas crackers.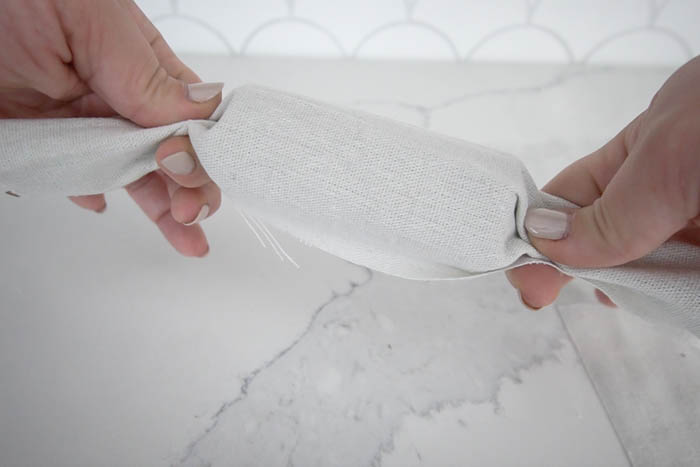 Our Finished DIY Christmas Crackers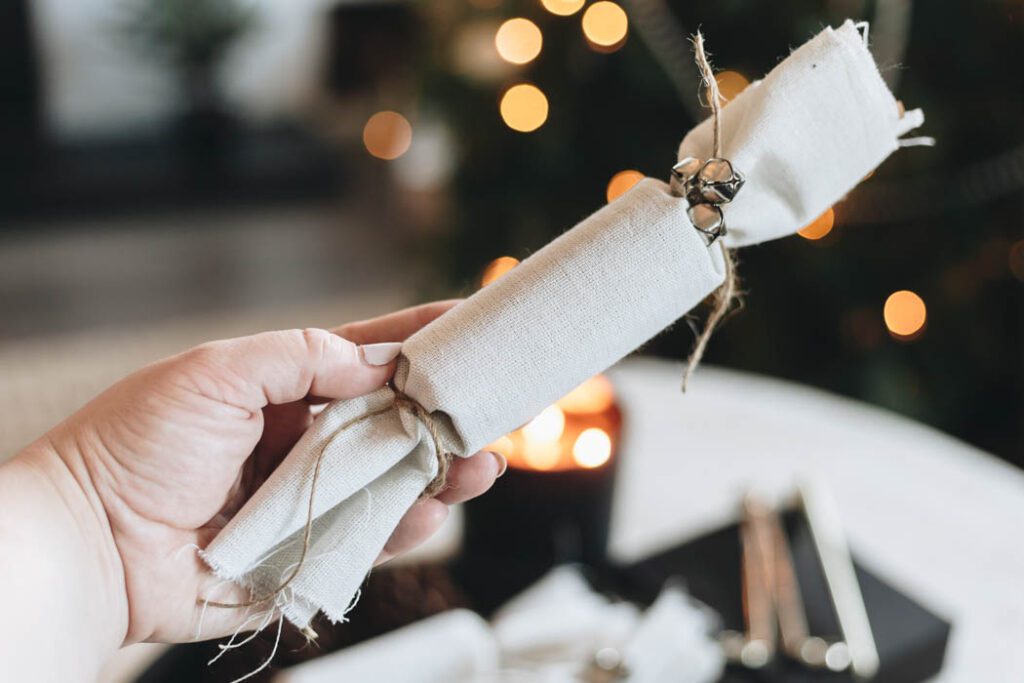 I absolutely love how these DIY Christmas crackers turned out. I think, honestly, the grownups and the kids are going to have a lot of fun with them.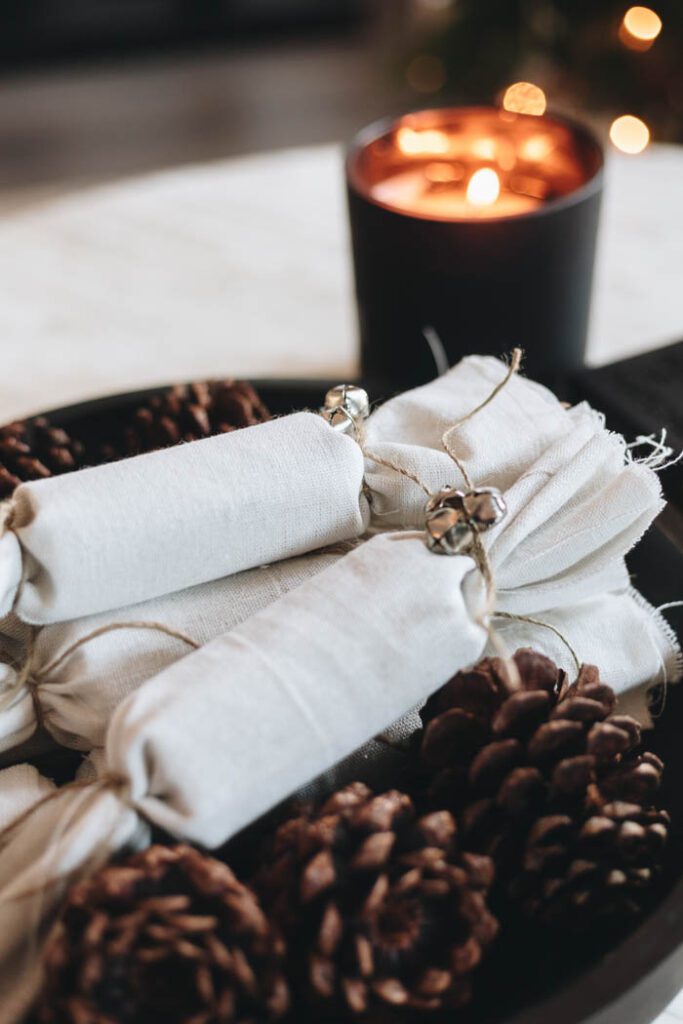 I put our DIY Christmas crackers on display in the living room because I think that they're really pretty and act as a decor piece until we open them and have fun with them. I was just overall, really, really happy with this project. I'll definitely be saving the fabric and making them again in future years!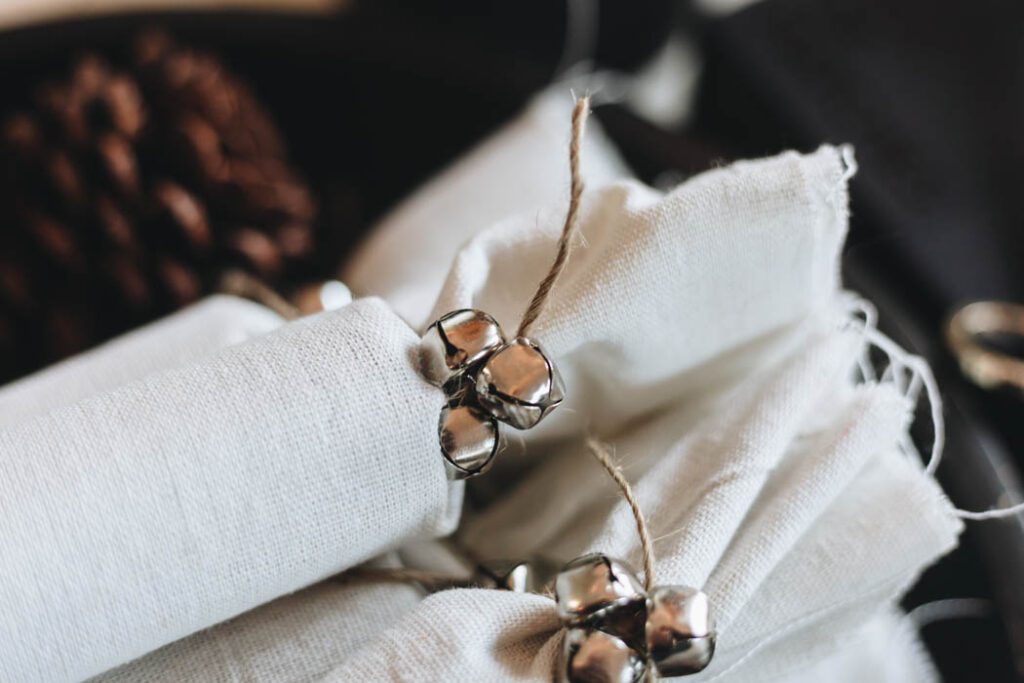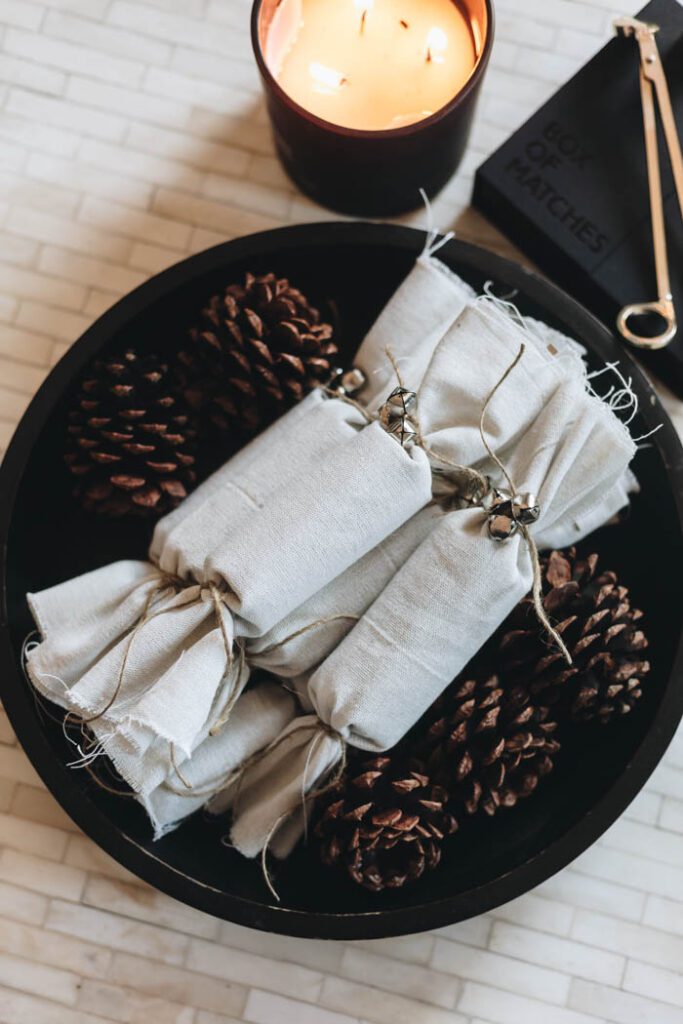 More Dollar Store Holiday Season Projects
This Christmas countdown was one of 6 projects I did to get ready for the holiday season using dollar store supplies. Check out the video below to see how I made the other 5 quick and easy projects!
Don't forget to subscribe to our YouTube channel for more great holiday season DIYs!
For more great easy holiday season DIY ideas, check out these beautiful DIY Mini Wreaths!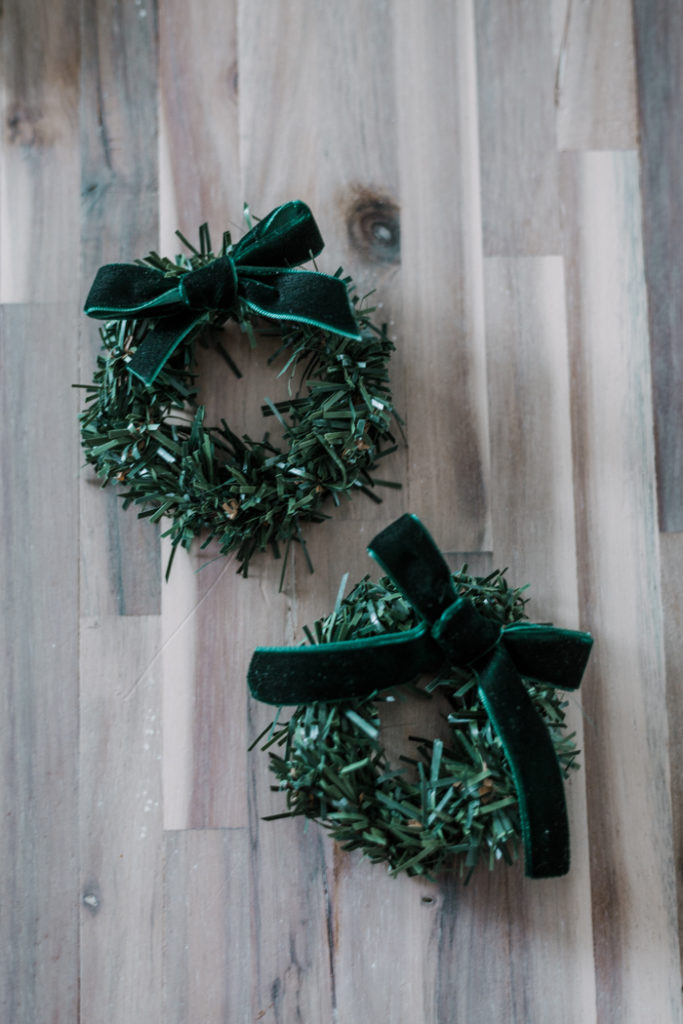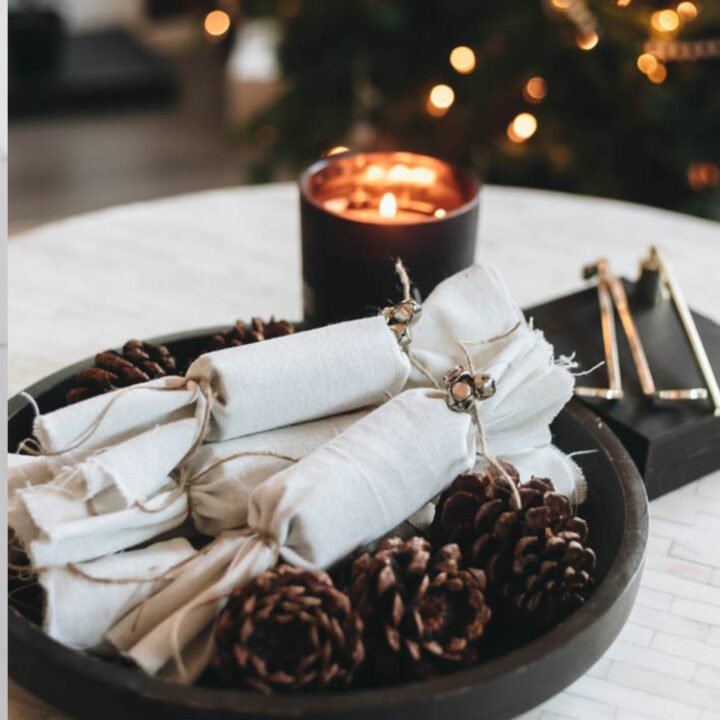 DIY Christmas Crackers
Easy DIY Christmas Crackers! Make these simple Christmas Crackers in minutes to be ready for the holiday season!
Materials
Dollar store linen fabric
Etsy Christmas cracker sticks
Empty toilet paper rolls
Dollar store toys that fit in a toilet paper roll
Dollar store tags
Washi tape
Jute string
Instructions
Unravel the linen sheet
Place the toilet paper roll centered on the linen sheet, and the Christmas cracker stick centered in the toilet paper roll
Cut the amount of linen that will wrap around the toilet paper roll twice
Write jokes on dollar store tags
Tape the Christmas cracker stick inside the toilet paper roll with washi tape
Place a toy and a dollar store tag inside the toilet paper roll along with the Christmas cracker stick
Wrap Christmas cracker in the linen fabric
Tie up the edges with jute string