Wondering how to keep a white rug clean? This bissell little green machine review tackles ketchup stains, spaghetti, & more, on white rugs and carpets!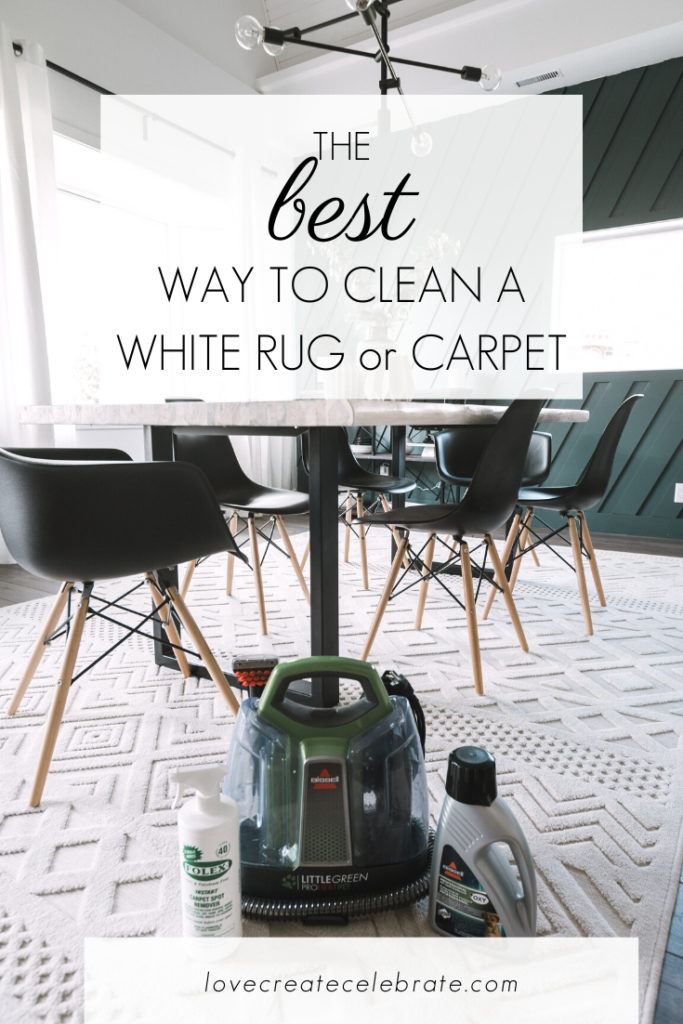 We've all looked at elements in other people's homes and thought, "ohhhh, why did they do that?" amiright? Last year my husband and I renovated our dining room in a weekend (yep – a three day transformation!), and a few weeks later, we dared to add a white rug under our dining room table. I know that you're already thinking that we are crazy, lol. But miraculously, we have kept it looking white! Since then I've been asked over and over how to keep a white rug clean, and I'm finally sharing my secrets.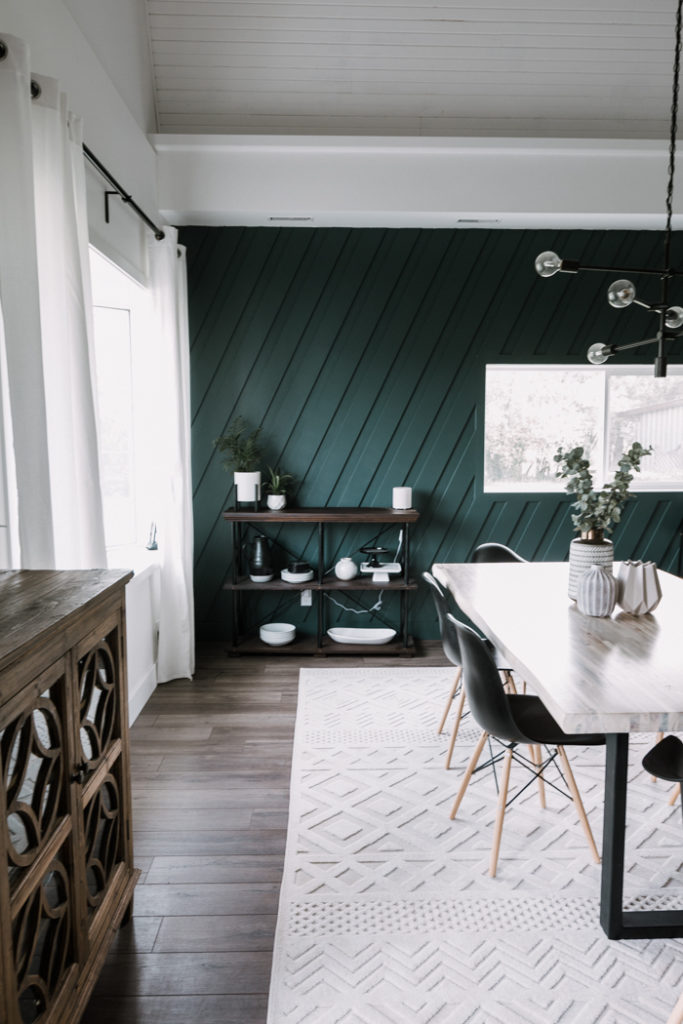 *This post may contain affiliate links. When you buy a product through one of our links, we get a commission at no cost to you! Thank you for supporting our blog so that we can continue to bring you posts like these. For more information, please see our disclosure page.*
Why Buy a White Rug?
When we initially suggested replacing our dining room rug with a white one, there was a collective gasp across Instagram. I mean, why would any sane person put a white rug in a dining room? lol.
Some people shy away from any rugs in the dining room, but rugs add so much texture and pattern (even in white) to a space. They frame the table, frame the boundaries for the chairs, and add new lines.
The reason the white rug worked for us is because I knew that the contrast of the bright, pure white rug against our new dark feature wall would be stunning. I really wanted something that would highlight our new DIY dining room table, and help that to pop out in the space. The white rug definitely did that for us!
In a area that gets a lot of traffic, I would recommend getting an Indoor/Outdoor rug like we did. I felt that it would be a smarter solution for the space, since it would likely need to be cleaned more often.
But keeping it clean is a whole new challenge….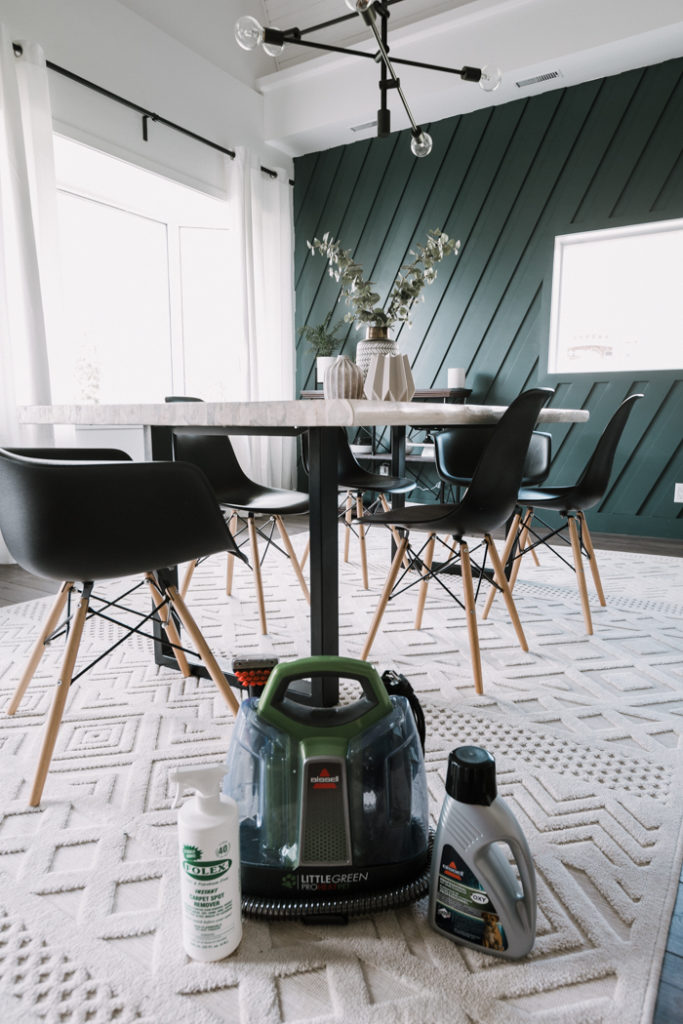 This is not the first white rug in our home, but it was the first one under a kitchen table! We have three children, 6 and under in age, and a dog (who was a puppy when we bought the rug!), so keeping the rug clean was definitely going to be a challenge.
Here's what we bought to keep the white rug clean
In the past we had tried other natural cleaners, essential oils, and store bought cleaners, but none of them worked perfectly. Since this was going to be an everyday rug, we knew we had to try something new!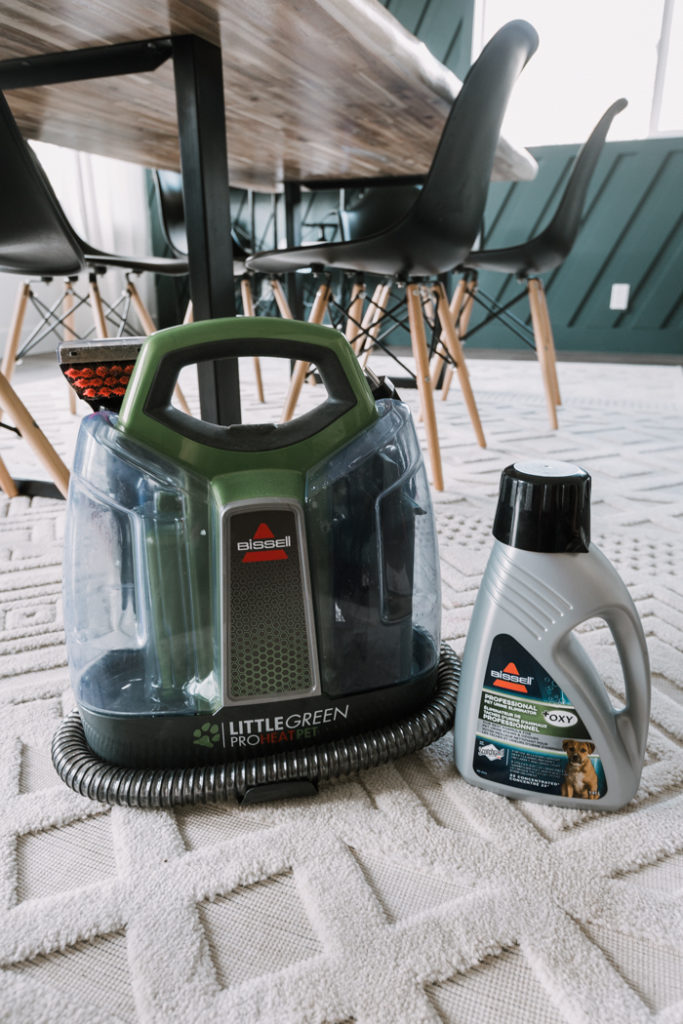 How the Bissell Little Green Machine Works
The Little Green machine is a portable steam cleaner. It uses water and cleaning solutions to lift stains out of carpets and rugs. You can also use it on delicate fabrics and upholstery. We have personally used it for our car seats, outdoor furniture, couches, and more.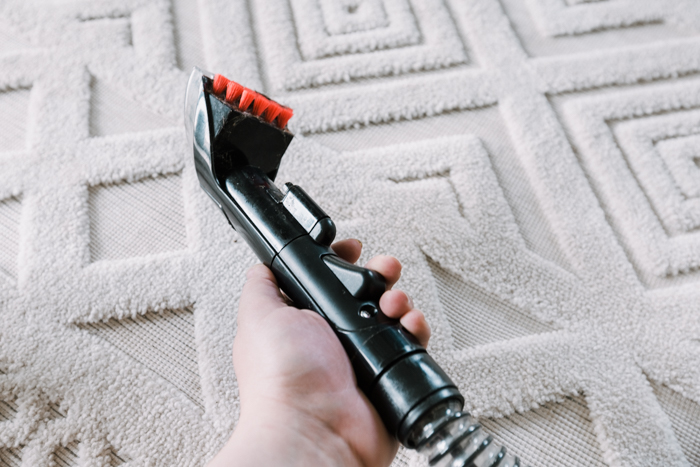 The machine has a long hose that extends from the little green machine, and has a bristle brush on the end. You simple push the button to release water or a water/cleaner mixture and gently scrub the area that needs cleaning.
Did The Little Green Machine Remove Stains?
Yes. The answer is a resounding yes. I'm not lying to you when I say that our white rug has seen some serious stains. Here are a few of the things we have gotten on the rug in the last year:
Ketchup
Purple applesauce
Fruit juice
Coffee
Muddy paw prints
Dog pee (from the first few puppy days!)
Squished raspberries
BBQ sauce, & more!
I am also not lying, when I say that you cannot even see ONE of those stains. If you came over to my house, I bet you wouldn't be able to find where any of them are. It's magical.
We tried to use the little green machine as quick as possible when a stain happens, although honestly we didn't always see them right away – I'm looking at you squished raspberries!
Occasionally we used the Folex spray first, to help remove stains faster, but that we only really needed on our other white rugs, not the indoor/outdoor dining room one. If you have a tougher stain, the Folex spray in conjunction with the little green machine does wonders!
For the most part though, we only used the little machine and oxy cleaner to remove ketchup, applesauce, you name it, and it worked amazingly well.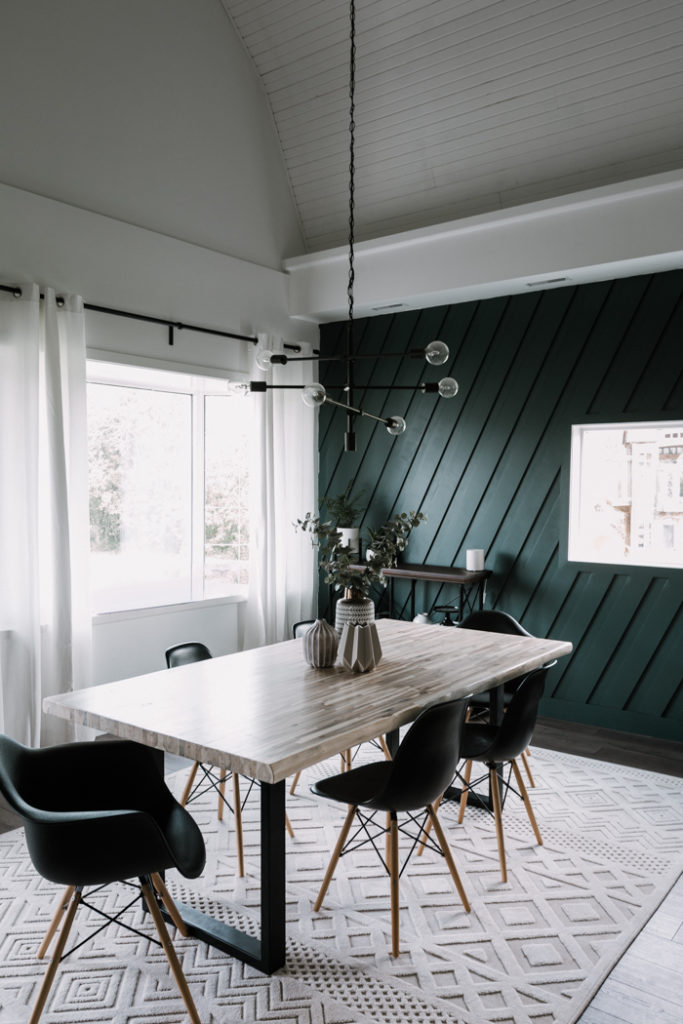 I hope you found these tips for how to keep a white rug clean helpful! Do I regret putting a white rug under my dining room table? Not at all! Even with three kids and a dog, it hasn't been high maintenance at all!
If you're looking for more cleaning solutions, you might want to read about the BEST laminate floor cleaner!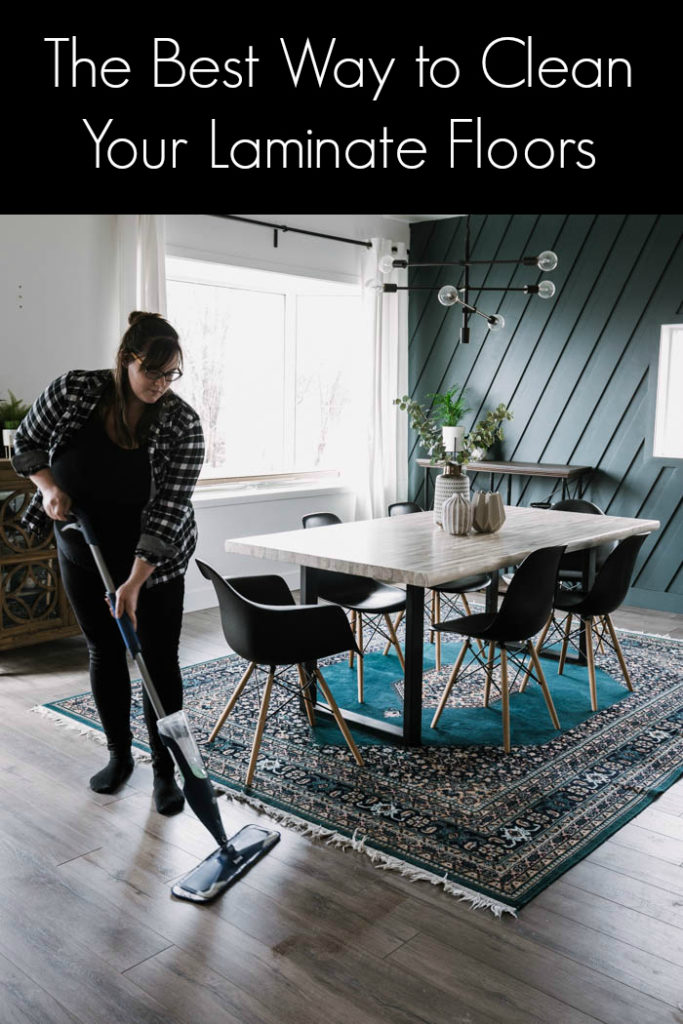 If you're curious about how we transformed a room in THREE days, check out our DINING ROOM WEEKEND RENOVATION!