This quick and easy tutorial will let you build a DIY Outdoor Bench over a weekend! Check out our build plans to build your own simple bench!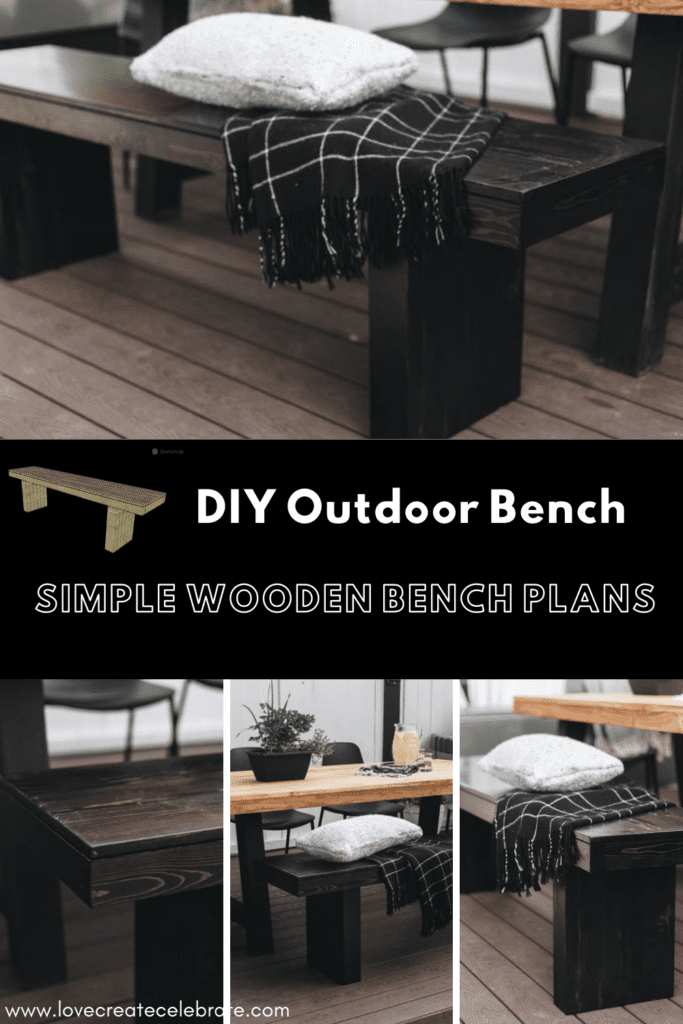 We wanted to add some seating to our outdoor deck area on a budget. We had a beautiful table and chairs from Article but wanted to change it up. Lindi found some inspiration pictures for a simple DIY Outdoor Bench.
The great thing about this bench is that it requires minimal materials, it can be made over a weekend, it is very sturdy, and it could be customized in length to fit your table. We even have simple DIY Outdoor Bench plans available to download!
*This post was sponsored by Wagner and may contain affiliate links. When you buy a product through one of our links, we get a commission at no cost to you! Thank you for supporting our blog so that we can continue to bring you posts like these. For more information, please see our disclosure page.*
Materials to build a DIY Outdoor Bench
I started off with a trip to the hardware store to get the materials, for this simple wooden bench your will need the following building supplies:
Tools
To build this DIY outdoor bench you will need the following tools:
Wood planer (could also sand smooth if planer not available)
stain/varnish brush, roller, and tray
Building the Simple DIY Outdoor Bench
Step 1 – Cut all you wood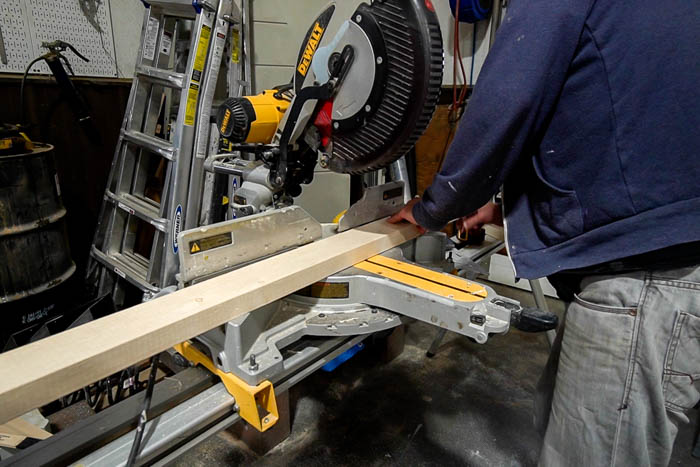 You can get the dimensions cut list from the build plans. First step is to cut all the lumber to size. I used my mitre-saw to cut all the boards to length and a table saw to cut the large top to size.
Step 2 – Sand your wood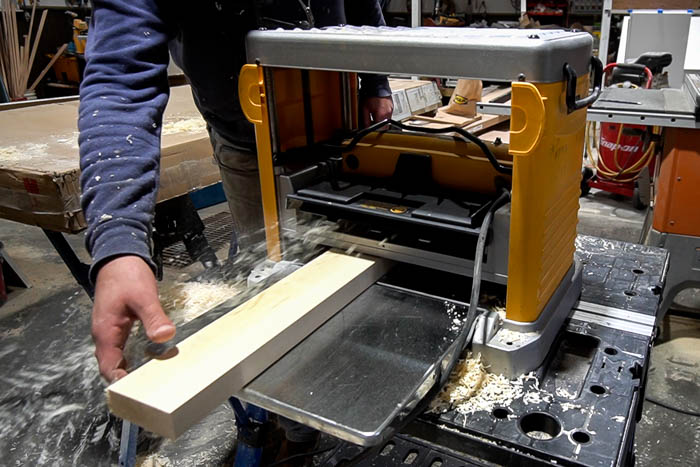 This step is optional and you can skip if you don't have a planer. I like to run the exposed faces of any of the lumber through the planer to get a nice flat/smooth surface to work off of. Depending on how much you remove you may need to adjust measurements for the bench width.
I also ran all the sides of the boards for the legs. This would allow a nice glue up as well as minimal sanding to get all the boards to look like a block once glued together.
If you don't plane or square the boards you will have gaps where the boards meet as the 2×4's have a small radius on the edges from the hardware store. You could also cut the boards down with a table saw, run them through a joiner, sand them down, or use a hand planer to try and remove these edges. I just find my planer is the most fast and effect way to do this job.
Step 3 – Assemble Legs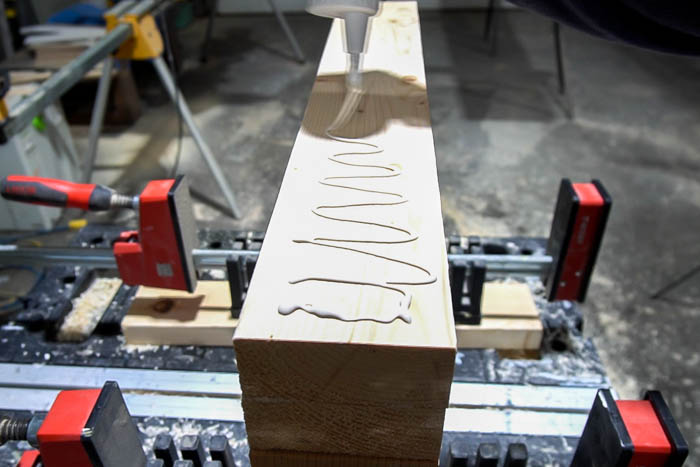 Glue and clamp them together so they make one big block. Try to align the ends as much as possible. Once the glue sets, remove the clamps. Sand any excess glue and smooth out the surfaces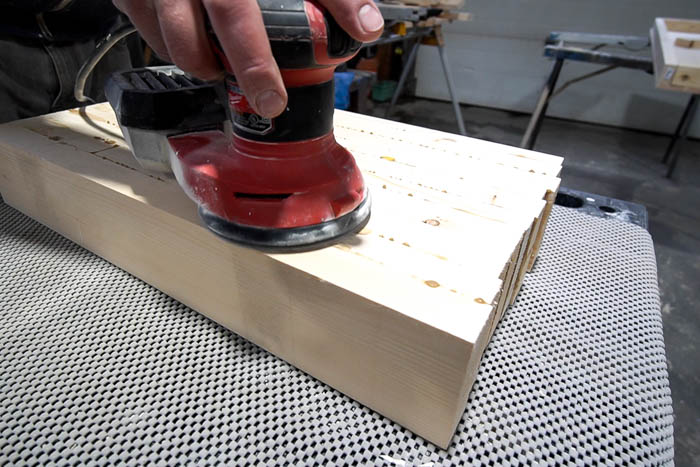 On your table saw you can cut the ends square and flush and to final length. Depending on you saw you may need to take two passes on either side to cut all the way through.
Step 4 – Drill Pocket holes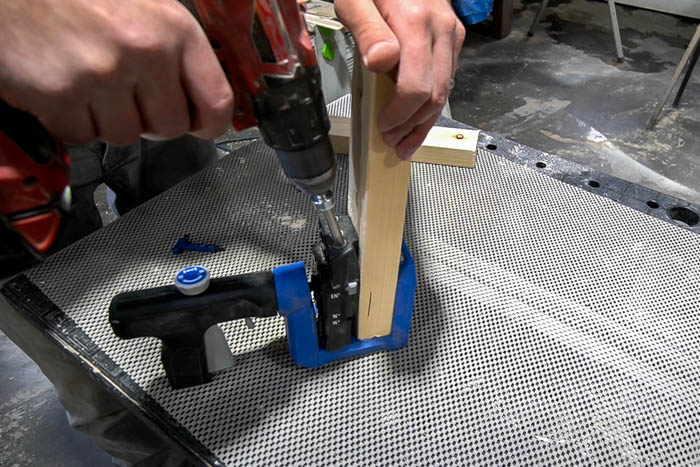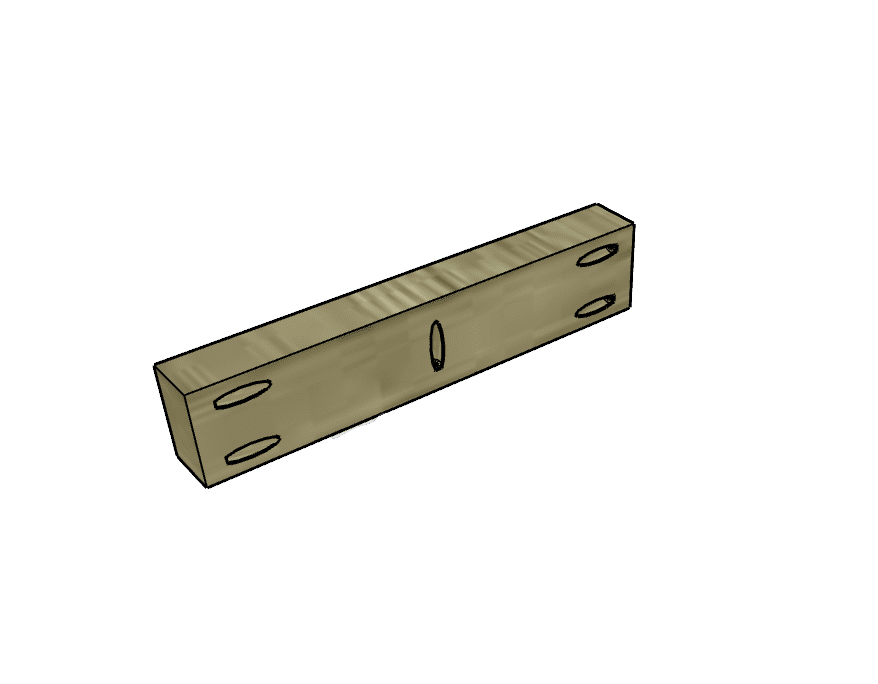 For assembly we used pocket holes to secure the frame, bench top, legs, and bracing all together. See DIY Outdoor Bench plans for details.
Step 5 – Add Chamfer to DIY Outdoor Bench Top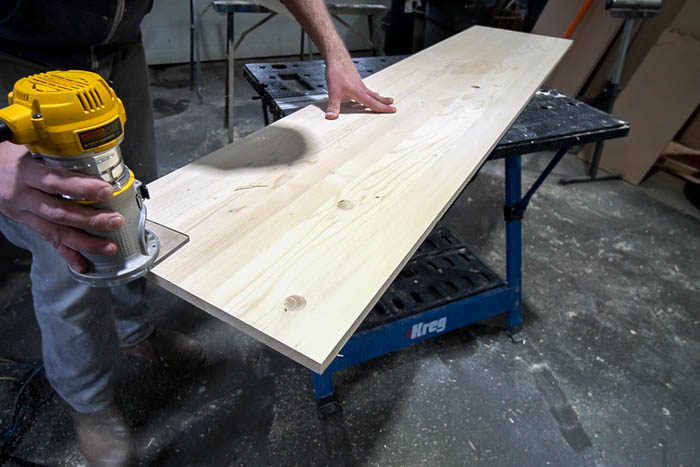 To give it a more custom look I added a 1/8″ chamfer (45 deg angle) to the underside of the bench with my hand router. This step is definitely optional, but it really added a unique look to the finished product.
Step 6 – Sanding
I gave all the pieces a quick sand before assembly, working up from 80 grit / 120 grit / and finally 150 grit sanding discs. This gave everything a nice smooth finish.
Step 7 – Assemble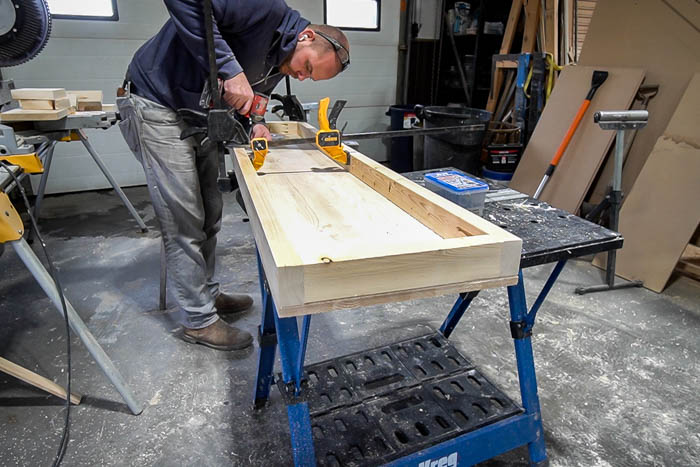 As this out door bench is going to be outdoors, I made sure that I used a glue that was for exterior use. Normal wood glue will not hold up too wet conditions so this is something you should watch for when building out door furniture.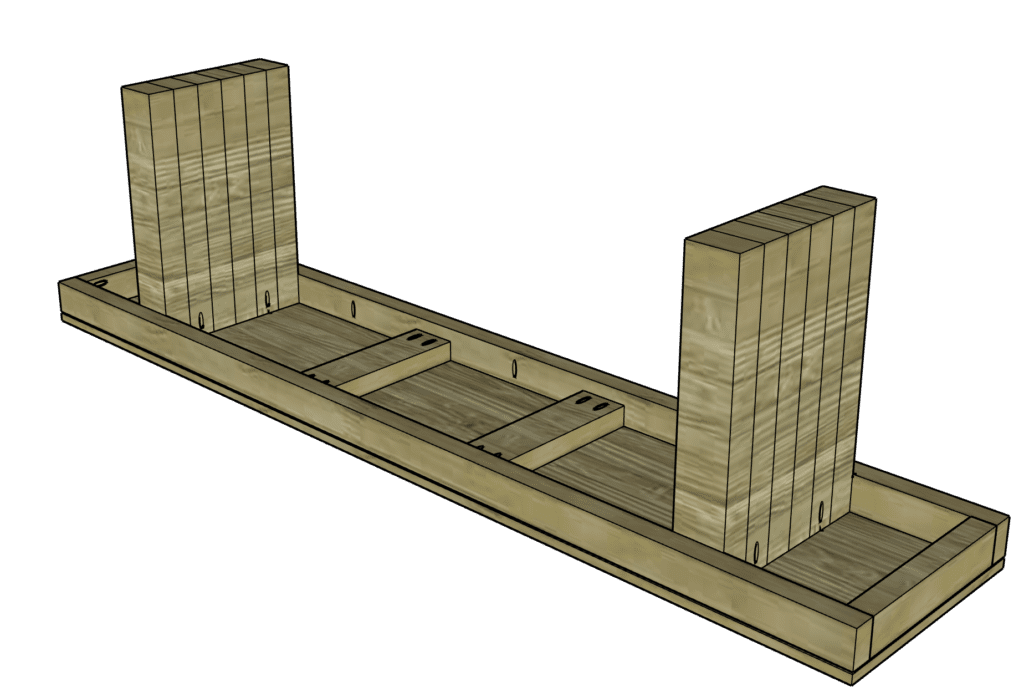 Using glue and wood screws and clamps I assemble and secured the frame pieces to the wood top. Then I added the legs to the bottom, check for square (both up right and to the frame) and secured them with glue and wood screws – making sure the screws didn't go through the top of the bench.

The final step for the assembly was to add the braces to the underside of the DIY outdoor bench. I used wood glue and screws to attach them to the under side.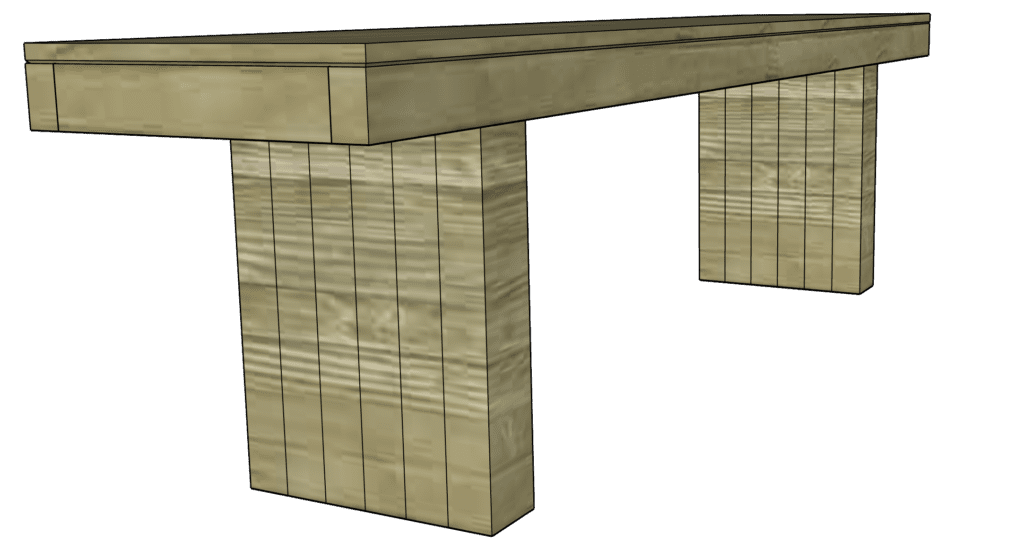 Step 8 – Finishing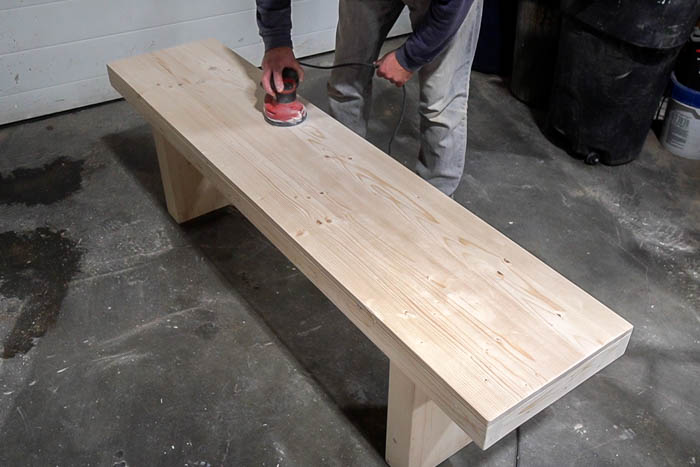 I gave everything a light sand with 220 grit sanding discs and made sure I got ride of any glue that spilled through any of the joints. I cleaned off any dust and prepped for staining.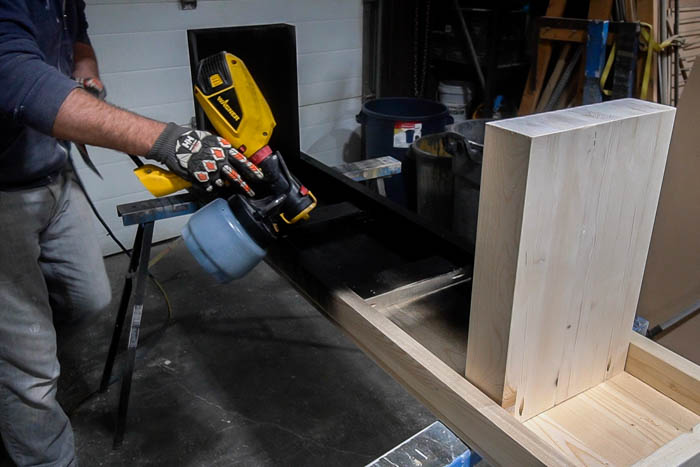 We used our Wagner QX5 Sprayer to apply the stain. For colour we used Minwax's Ebony wood finish. We sprayed on a light coat, let sit for about 3-4 minutes and removed the excess stain with a cloth.
Once the stain dried as per the manufactures specifications, we applied an outdoor protective coat. We applied two coats Minwax Helmsman Spar Urethane with our Wagner QX5 Sprayer following the manufacture's recommendations for time between coats. It also can spray transparent, semi-transparent, and solid stain, water based lacquer, latex paint (thinning may be required). So it is useful for lots of projects!
The great thing about Wagner's QX5 Sprayer is that it is super easy to use, applies the the stain / finish smooth and evenly (no brush marks), and is easy to clean (which means you will keep using it)! You can The QX5 allows you too easily get the stain and finish into all those cracks and corners. This bench only took a couple minutes to stain, where if we would have used a brush it would have taken at least 15-20 minutes to get stain or finish applied (per coat).
Finished DIY Outdoor Bench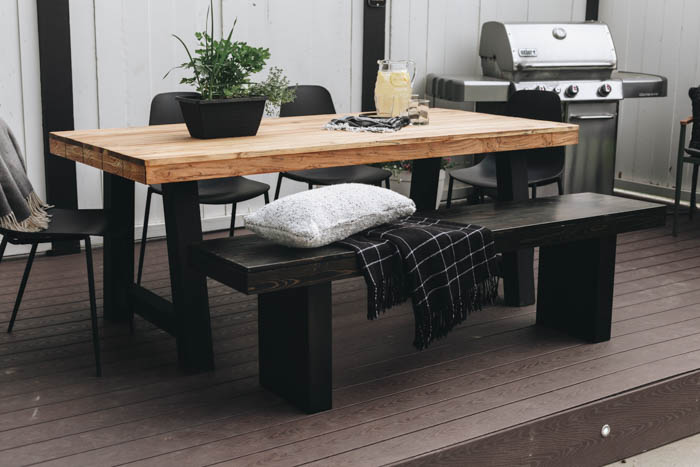 We couldn't be happier with our new DIY Outdoor Bench. For around $100 CND in materials (based on May 2022 lumber prices) we built this Outdoor Bench. Wagner's QX5 Sprayer made the staining and finishing process seamless and the bench turned out great! Now we have room for some extra people around our patio table and can enjoy those long summer nights! If you haven't already download your plans here to build you own bench!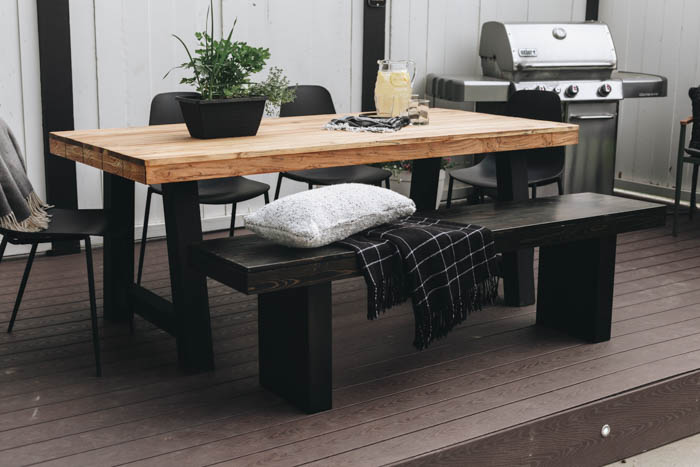 Buy your Simple Wooden Bench Plans HERE.
For some other great outdoor projects
Check our how we added string lights and pendants to our deck here
Read this post to see how to build your our firewood holder here
Or how we added a vine trellis to our deck here