Have some dressers that need an upgrade? Here's how we pulled a modern and beautiful DIY dresser makeover on these two thrifted dressers!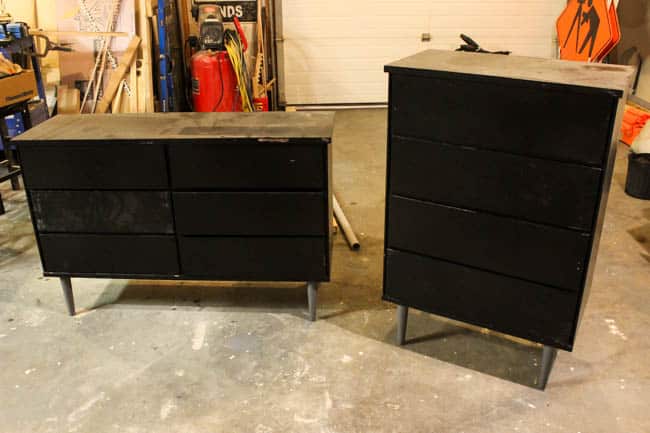 I don't know about you, but when I see that something is "FREE" I'm very tempted to bring it home with me. Very tempted. A free dresser is just asking for a DIY dresser makeover, right?!
When my husband saw these free dressers online we snagged them up immediately – not quite knowing where they would go yet. We had grand plans for a dresser makeover right away, but pregnancy, sickness and moving delayed our project a bit.
Luckily when we moved to Green Acres, it turns out we needed some new dressers for our Master Bedroom! So we finally finished the makeovers and I can't wait to show you the results!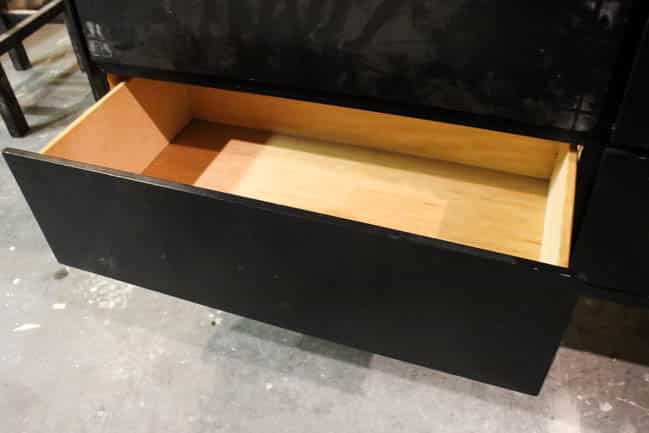 *Materials for this post were provided by Cricut and Hairpin Leg Shop. This post contains affiliate links. When you buy a product through one of my links, I get a commission at no cost to you! For more information, see my disclosure page.*
What should I look for in a thrifted dresser?
The best dressers for makeovers are made of wood. Wooden pieces are by far the easiest to update and refinish. Also, the older wood furniture is made with such nice quality, they tend to last a lot longer than the newer, cheaper made furniture.
When you find a piece that you think is made of wood, you can check inside and look for the end grain of the wood – does the wood warp around the side? You can also look for scratch marks so see if there is wood underneath another finish.
You can also look for pieces with a wood veneer, as you can still easily paint or stain those pieces. You just have to be careful with how thick the veneer is and how much sanding, etc. you will need to do.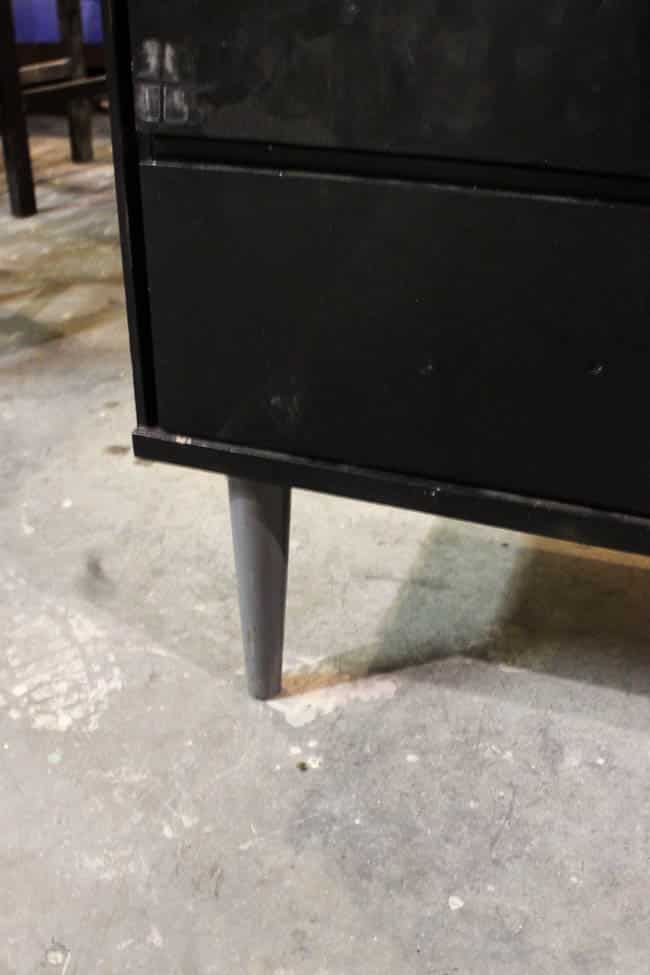 How to do a DIY Dresser Makeover
We were so lucky finding these dressers because they in great shape! Just some scraped paint here and there, and ugly legs, but definitely a ton of potential to update them!
Materials Needed for Dresser Update:
Fusion Mineral Paint – Coal Black
(the BEST paint for furniture!)
6″ hairpin legs (4 per dresser)
Cricut Maker
Gold Adhesive Foil
12″ x 24″ Cricut Cutting Mat
Paint Stripper
Clear Matte Polycrylic
Tools Needed for Dresser update:
Sander
Kreg Pocket Jig & scrap wood (only if needed)
Step-by-Step Instructions for this DIY dresser makeover
We used paint stripper on the drawer fronts, then sanded down any remaining paint.
When the drawer fronts were clean, we used a clear varnish to protect them.
We swapped out the not-so-pretty straight legs for some gorgeous powder coated hairpin legs! (<– great source for hairpin legs online!)
Because our dressers didn't have a thick enough base, we added a piece of scrap wood to the bottoms of our dressers, and used a Pocket Jig to attach the wood, so that our new hairpin legs had a good base.
Once everything was ready, we used the best paint for furniture that I know of – Fusion Mineral Paint – and gave the dressers a fresh coat of black paint.
Here's how the dressers looked when we were done these steps!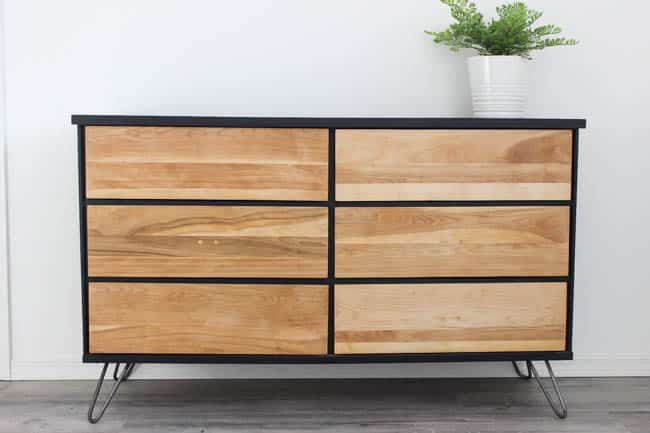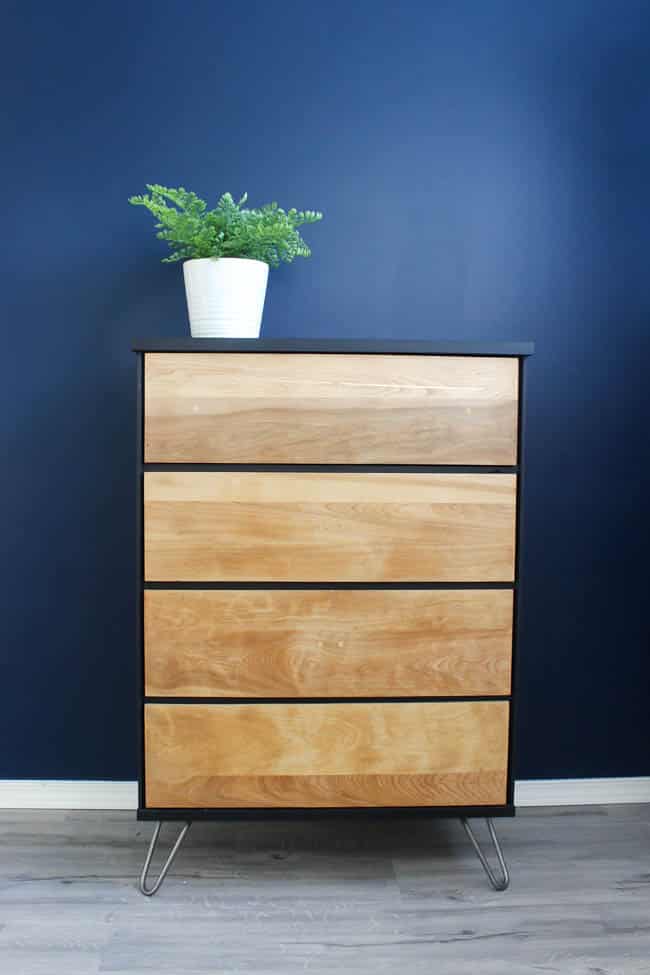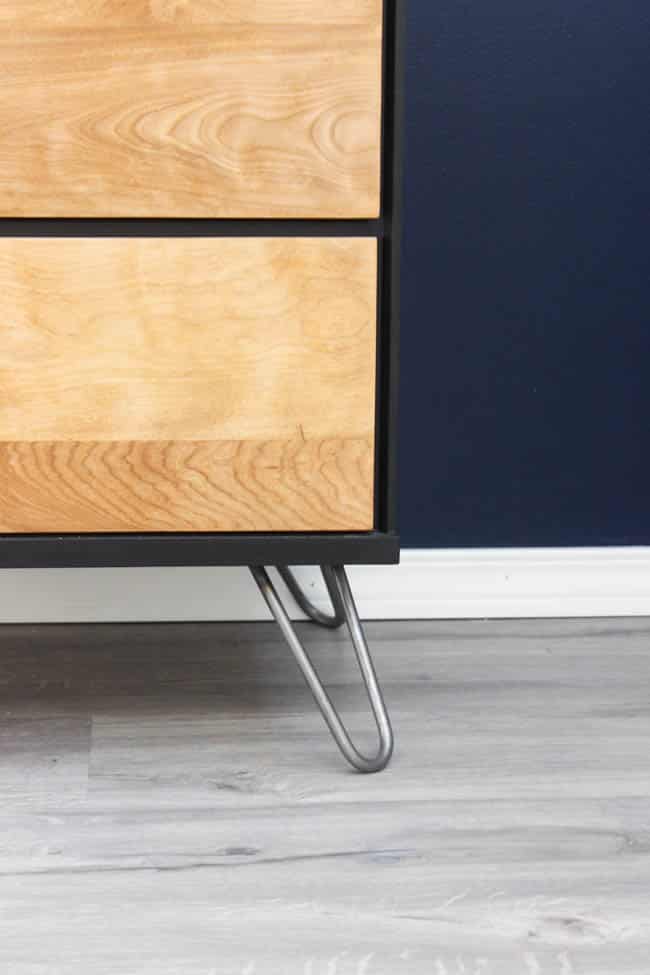 You could halt your makeover there, but I wanted to give the dressers a more modern twist by adding a faux metal inlay to the front. I used my Cricut Maker cutting machine and some adhesive foil to create the look!
How to Create a Faux Metal Inlay
I had seen some beautiful dressers with metal inlays, but they were far more expensive then my budget would allow, so I decided to make my own faux version. Adhesive foil was perfect for this because it has just the right amount of shine and is a nice thin material.
Start by opening THIS CANVAS in the Cricut Design Space. Once it's open, simply click "make it" to print the long adhesive foil lines.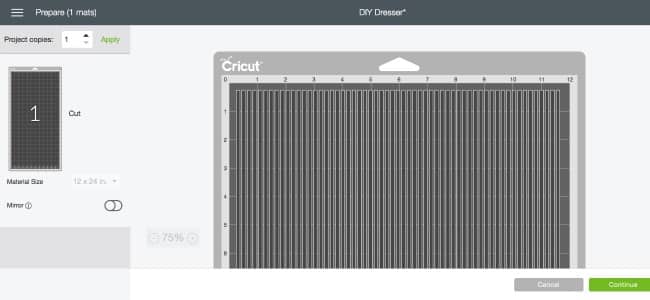 Make sure to search for "adhesive foil" when selecting your material.
Once the foil is printed, it will easily peel off in strips that you can add as faux metal to your dresser fronts.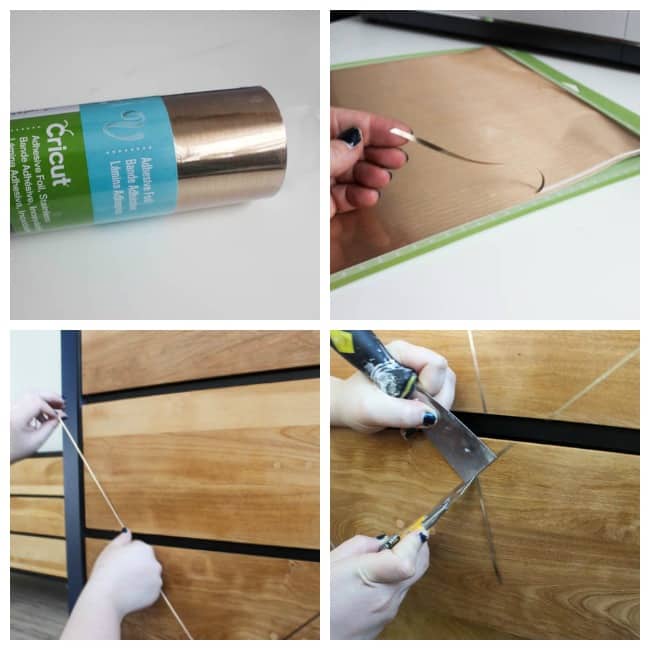 Place the foil on at any angle you want. I used an x-acto knife to cut the edge smoothly, and a putty knife to help keep my lines straight at edges, and when my foil lines crossed. When cutting on top of the drawers, just make sure not cut deep, the foil will slice easily with just a light cut.
The Finished Thrifted Dresser Makeover
Once the metal inlay was done on the dressers, I was thrilled with the results! Here's what the shorter piece looks like after it's dresser makeover: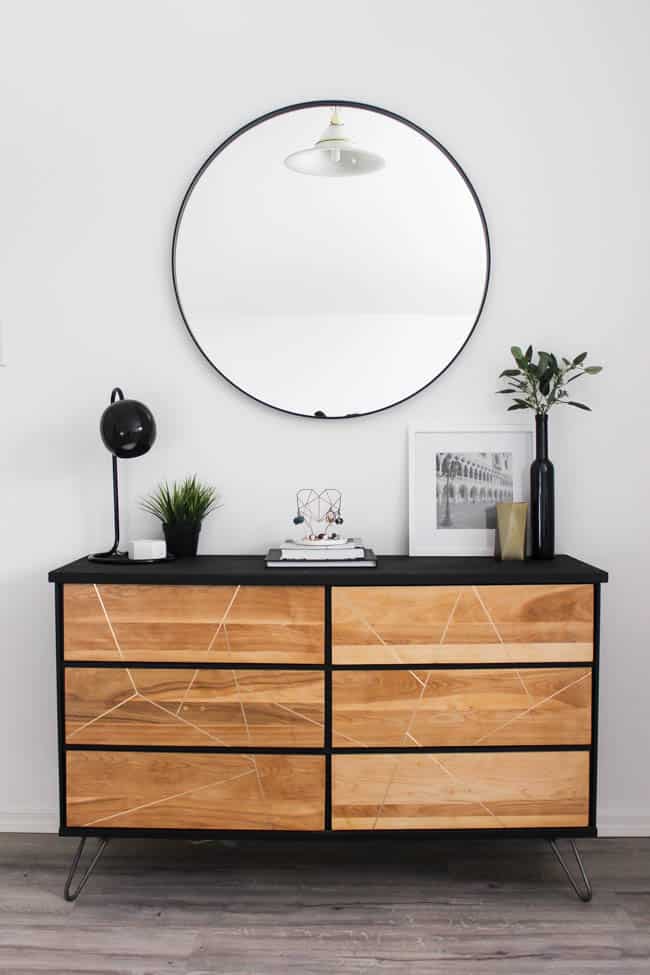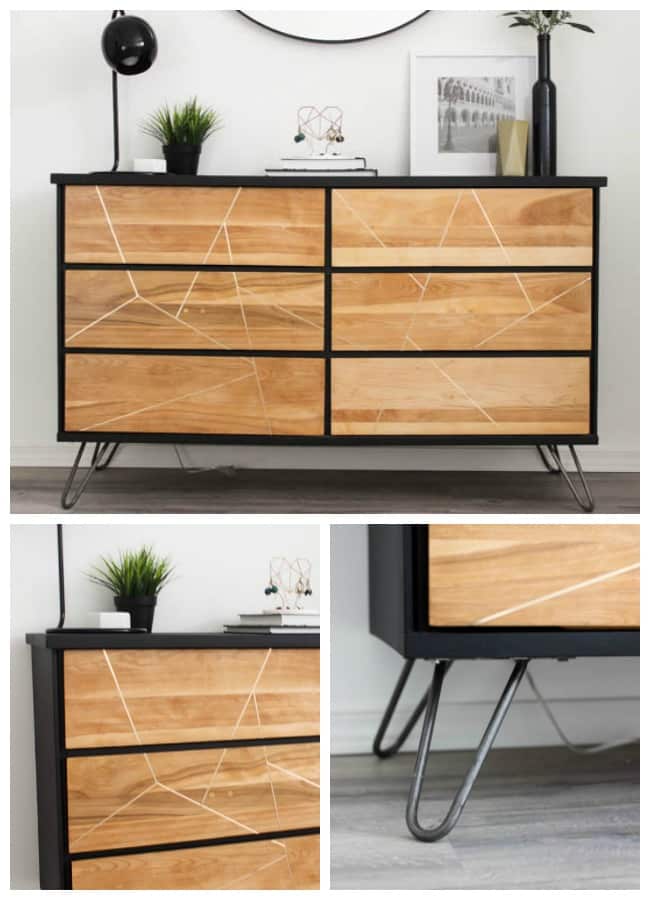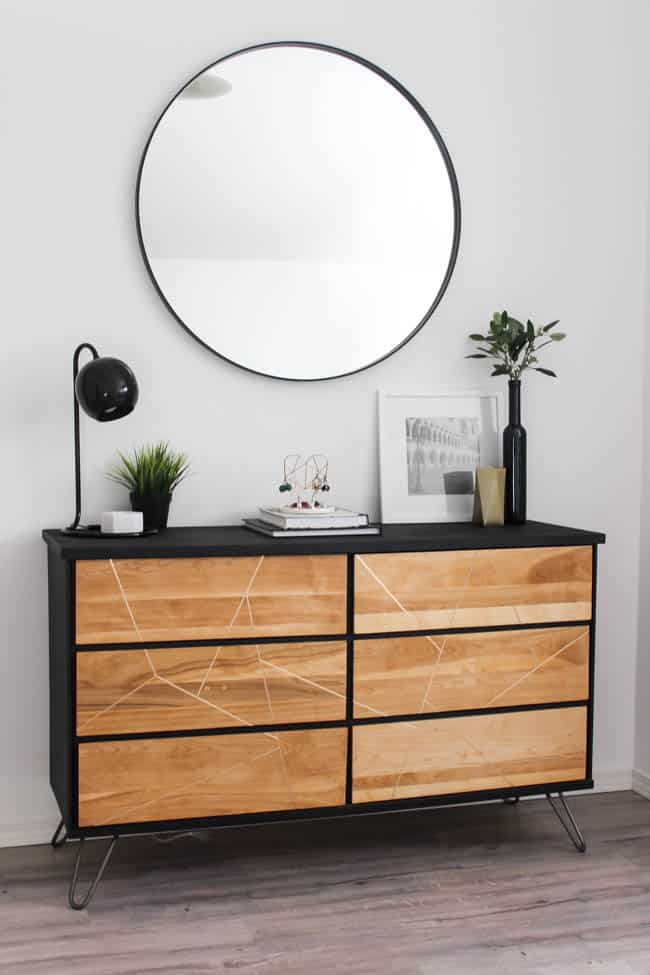 And here's how the tall dresser looks now…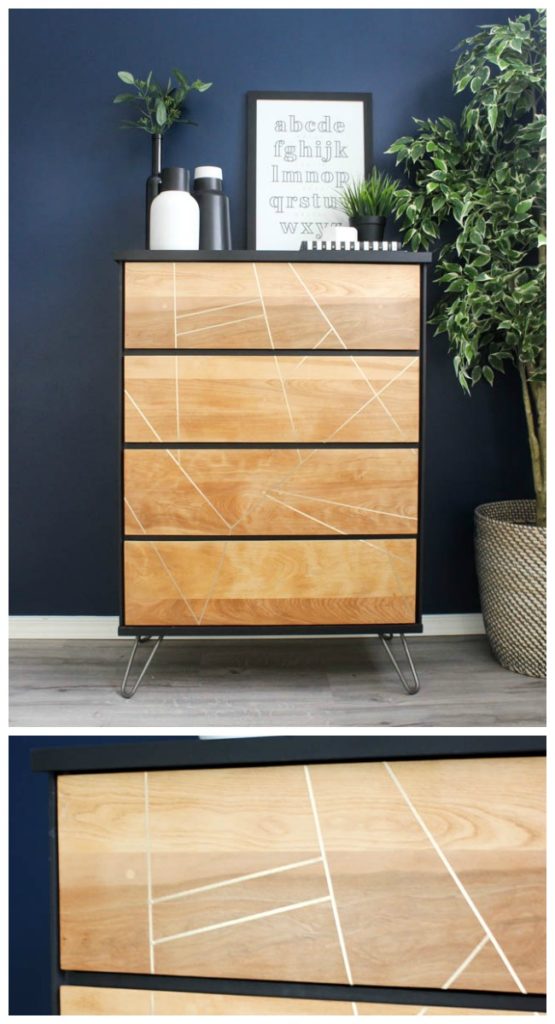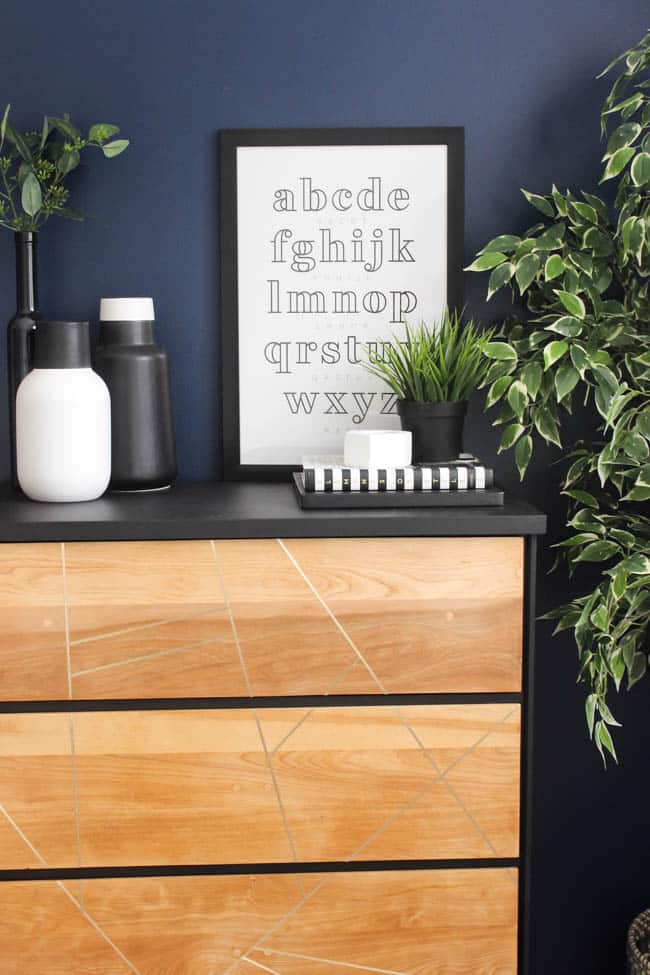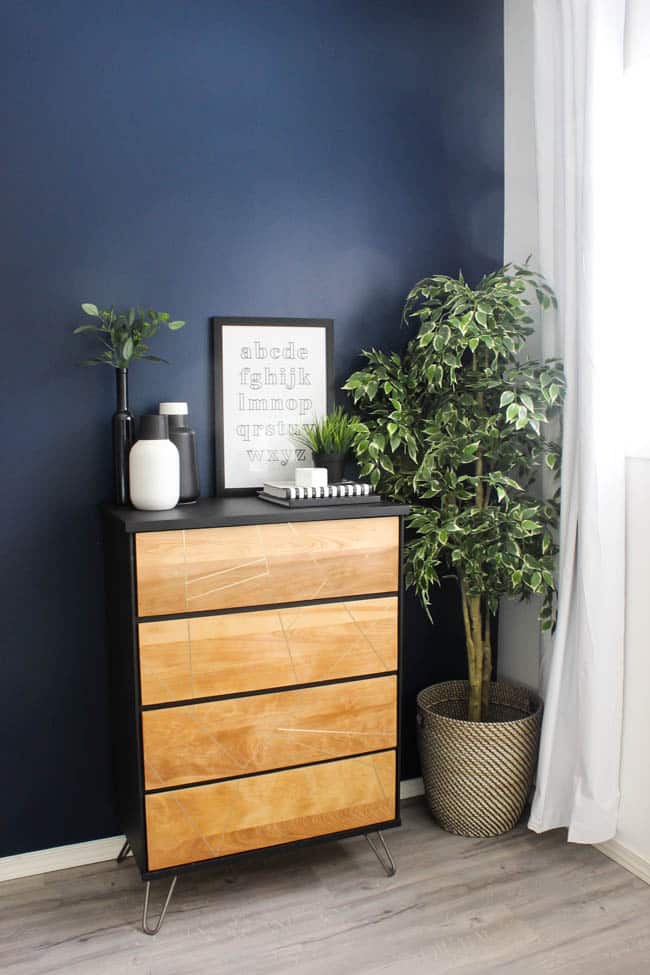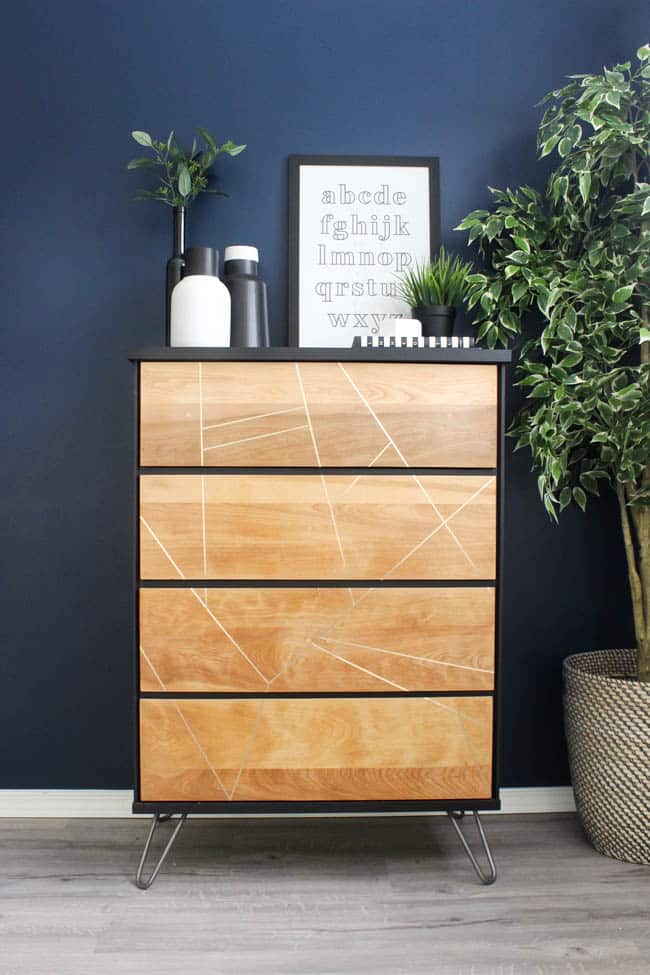 BAH! I'm so happy with the end results! They look beautiful in our new Master Bedroom!
What do you think of the new dressers?
If you LOVE furniture makeovers, you might like this side table makeover too!