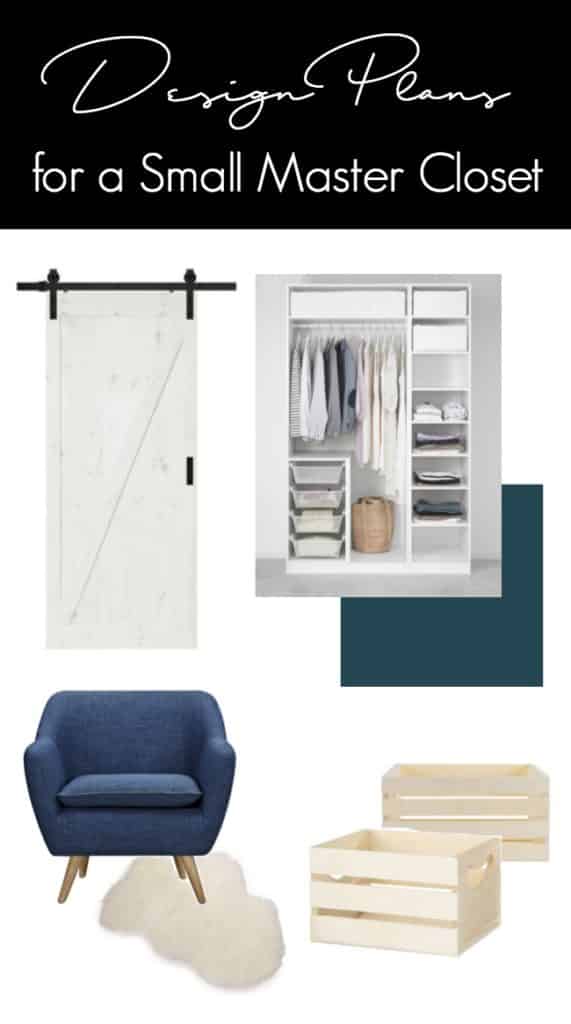 We are almost a month into the new year and I haven't shared any of our new Green Acres design plans with you yet! We've been busy planning a few new spaces behind the scenes, and this closet was one of my priorities. After moving away from what was honestly a DREAM closet, I've been missing those beautiful white wardrobes like crazy.
This is the room in Green Acres that has become our temporary Master Bedroom. It's actually a fairly big bedroom, which is great for now. Long term, we are planning to add an addition to this home and build our own master bedroom, ensuite, and walk-in-closet (the DREAM versions!). So why bother fixing up this bedroom?! Because that addition is likely 5+ years away (how am I supposed to wait that long?!?), and right now, there is not enough storage in this closet for my wardrobe! lol.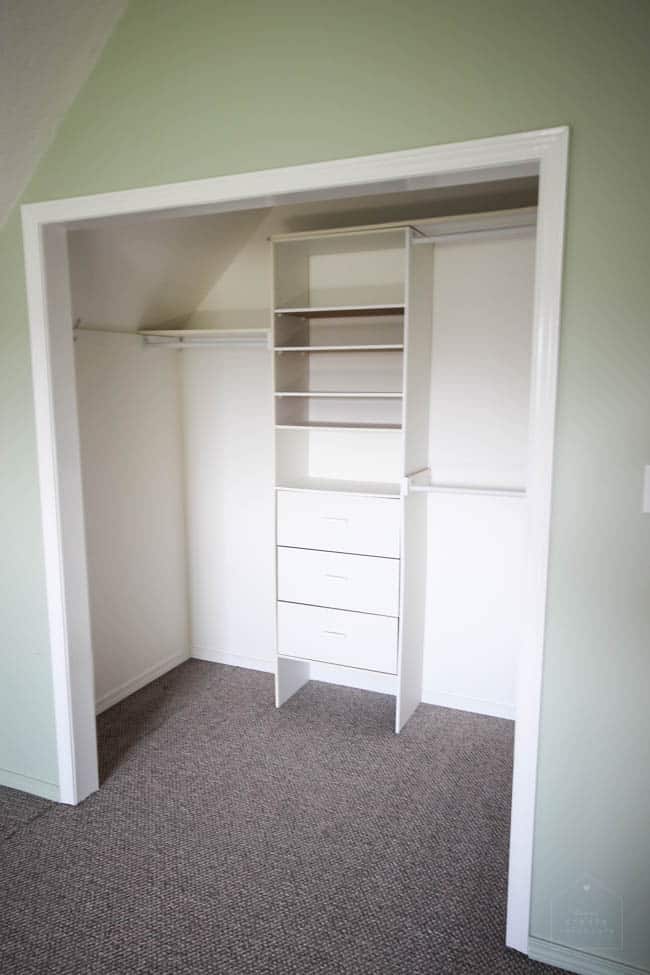 The closet had some temporary storage in place already, but I knew just from looking at it that we could make waaay better use of this space! The closet is actually fairly deep, so the first step was to dream up a way to make use of the space on the sides of the closet.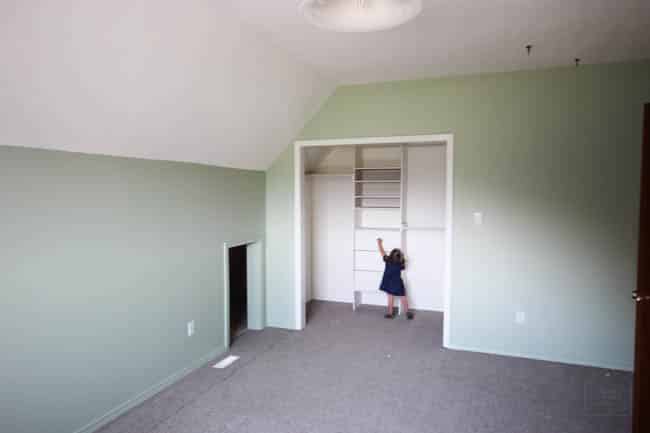 Our plan is to put in some IKEA pax wardrobes (yes, the same beautiful white wardrobes from my previous closet!), and to maximize the space, we wanted to make an "L" shaped wardrobe design. In order to do this though, we need to narrow the closet opening – the Pax wardrobes would be too wide and stick out like crazy if we left the opening this large. From the left, we will be closing off the closet a bit, so that the entrance is only 40″ wide (instead of the huge opening that's there now).
To make the project as easy as possible, I'm mimicking some of my favourite design elements from my previous closet makeover. Including…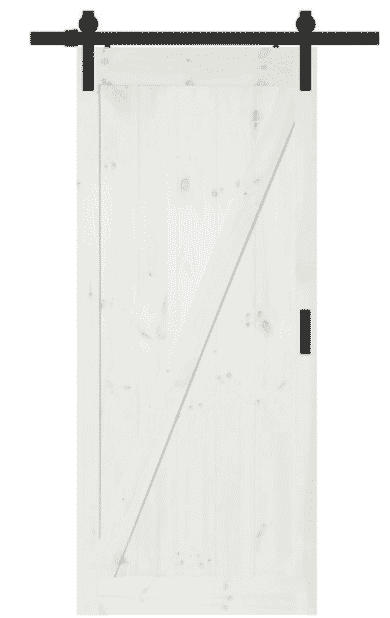 A sliding barn door! This time in a clean white :) They actually sell barn doors that are wider than a typical entry, which was perfect for this project! So we got a 42″ door, that will perfectly slide in front of our wide opening.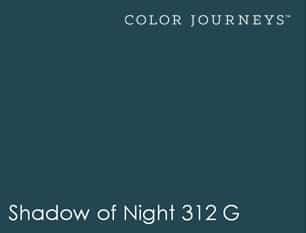 I really loved the pop of colour that we had on one feature wall in the last closet – it was a beautiful mauve (oh closet… how I miss you)! Since this one is shared with my husband, I thought I would use a colour he would enjoy too and opted for a blue! The actual Shadow of Night from Para Paints looks darker on the wall (more navy) than it does in this image, but you get the idea…
Then for additional storage on the top shelves, I'm going to use the same wooden crates I had in my old closet.
Can you envision it? Add a mirror, a few hooks, and a chair outside the door…. it's going to be beautiful and oohhhh so much more functional.
Here's my Dream Closet Makeover from our old home!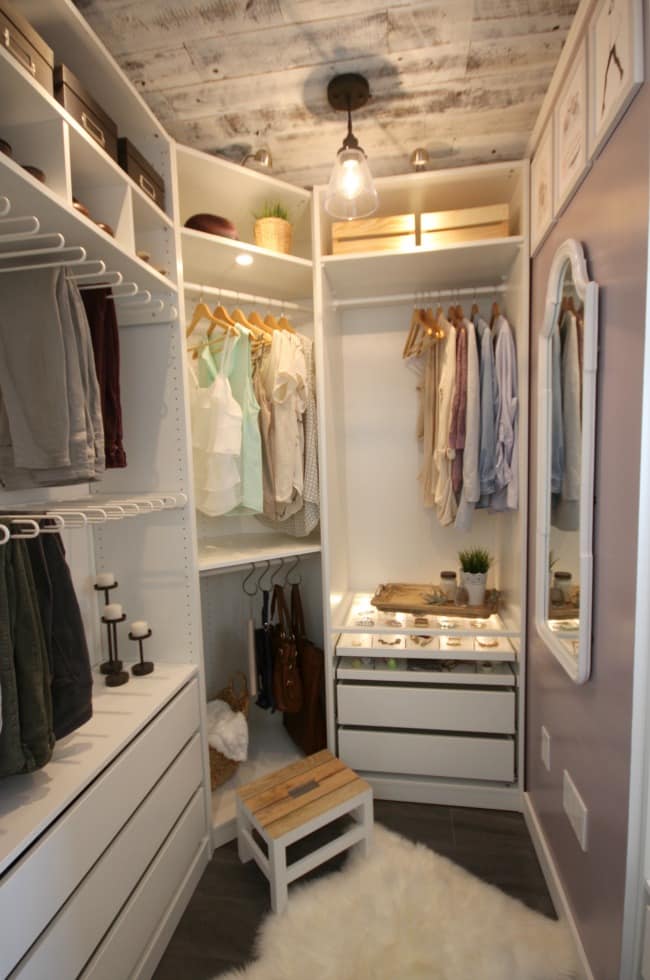 What do you think of our plans?